When it's indoors, it wants to go out, and when it's out, well, it wants to get in! You got it, we're talking about the cat! If you too have experienced having to get up in the middle of the night to let the cat in or out, then it's time to get a flap!
Nothing can stop a cat, least of all a door, that bothersome obstacle we put up to block its path! And it doesn't need a good reason either, the fact that the door is closed is reason enough for them to want it open. Cats can't stand it if they can't get in somewhere, and who cares if it's the house! It's a pointless exercise, until the cat has full access to the entire house, it's not going to give up! So a cat flap is a really good idea because it lets the cat come and go as it wishes, without having to meow loudly demanding to be heard (and served!).
With so many cat flaps on the market, how do we go about choosing the most suitable one?
First of all, you have to decide where you want to place the flap. Swing is made by Ferplast and is a universal cat flap that can go in a window, a metal, wood or glass door, and even in a wall so that you can choose the place that best suits your needs. Not only, but they come in white and brown, colours that easily blend in.
The models differ from one another based on the characteristics and optional features. Here is some information to help you choose the one for you:
Swing 1 is the simplest of them all, a classic cat flap with a two-way system, that is, either open or closed.
From Swing 3 to the other models, the flap door features a 4-way system, that is, closed, open, open only to enter, open only to exit. The latter features are really handy if you want to keep the cat either in or out of the house.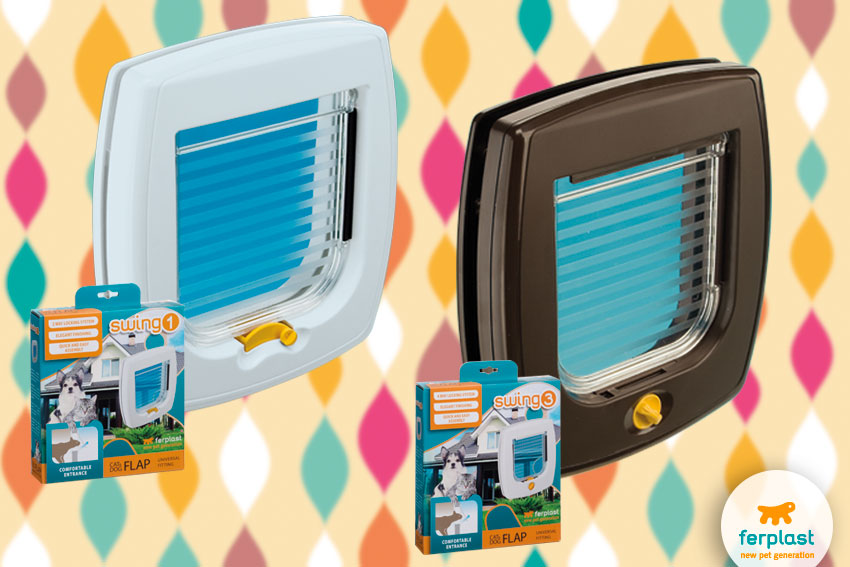 Swing 5 and Swing 9 have the 4-way system plus a wind stopper, which makes sure the draughts don't get through. Swing 5 also has a flag feature that lets you know if the cat is in or out! Swing 9 is also larger and ideal for medium to large cats.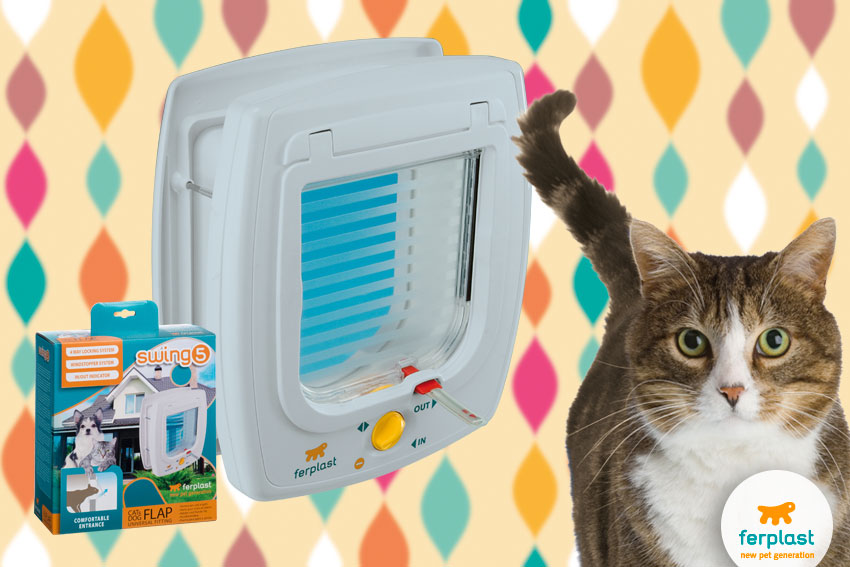 Swing 7 has the same characteristics as Swing 5, but differs in that it only lets certain cats in, a great feature when there are undesirable stray cats living nearby that you don't want inside your house. The door comes equipped with little magnetic collars that make sure only the cats wearing them can enter.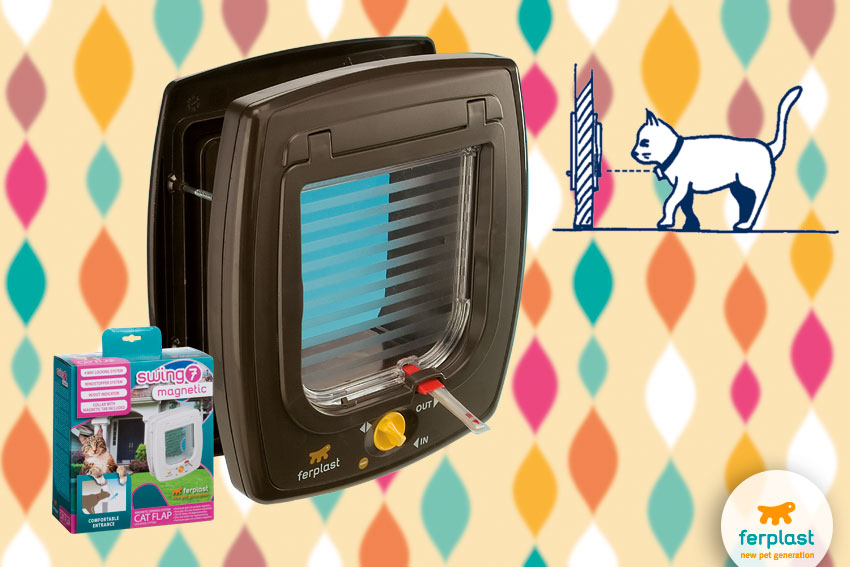 Swing Microchip and Swing 9 Microchip have a four-way system, the wind stopper and the flag, but also a special antenna that recognises ISO11784 cat microchips (and if your cat does not have a microchip, you can put one of the collars that comes with the door on it). These cat doors can memorise up to 32 microchips and, when needed, you can use it the traditional way and disable the microchip reader system. The system runs on batteries and comes with a gauge that will indicate when the batteries need to be replaced. Like Swing 9, the Microchip version can accommodate even large cats and the cat's location (whether it's in or out) appears on a little electronic panel that can keep track of up to four cats.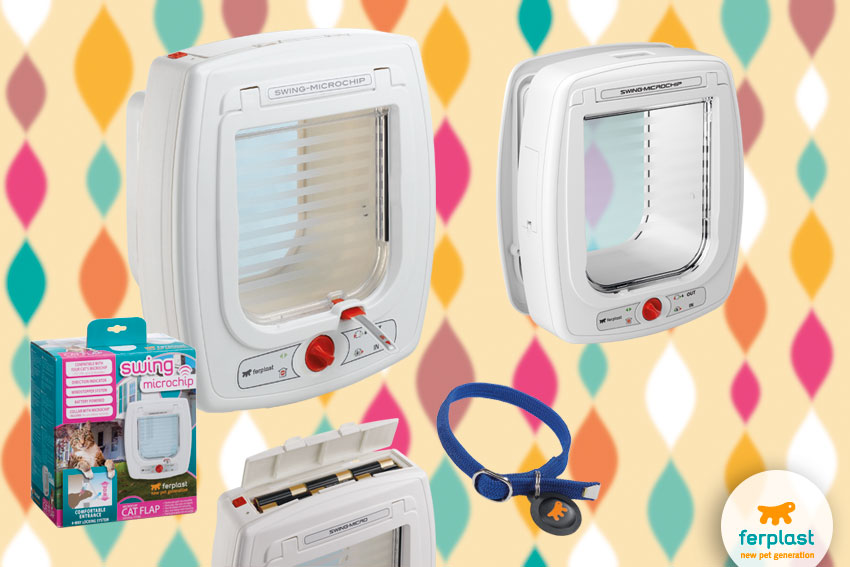 But what if you want to put the door in a really thick wall? That's not a problem! A modular extension tunnel is available for Swing 1, 3, 5 and Microchip, while Swing 7 and 9 come with a 5 cm tunnel that can be adapted to a variety of structures.
Ferplast cat flaps are not just for cats, but are also suited to dogs. There are two models designed specifically for dogs, Swing 11 and 15, each with a 4-way closure and wind stopper system. The first one is for small to medium dogs, the second one for medium dogs. Not only, but aside from Swing 7 and Swing Microchip (which are specifically for cats), all the other models are ideally suited to small and very small dogs, depending on their size.
The choice is yours, and the eternal meowing (or yapping) and the opening of doors at all hours of the day and night will finally come to an end once and for all!