It is always healthy and fun to take a walk with your dog even after sunset, whether it's a cold winter afternoon or a warm summer night. The important thing is to be very careful. When visibility is limited, it is necessary to have the dog wear reflective collars and leashes. Which are the best?
Reflective collars and harnesses for the dog
Walking in the dim light is certainly suggestive and relaxing. However, visibility is much lower, so it is easy to get confused with the environment and not be seen from nearby. In this way, not only one's own safety is at risk, but also that of the dog.
Ferplast's range of reflective and flashing collars and harnesses is the ideal solution to face the dark hours outdoors without running any dangers. There are many different solutions, suitable for all types of dogs and walks.
Reflex over-collar
Reflex is a reflective nylon over-collar for dogs. Practical and simple to use, it is applied over the animal's collar. It can be adjusted quickly thanks to the convenient hook and loop closure. Thanks to the particular edge covered with reflective strips it will make your dog easily visible even in the dark.
Night Over Collar
Night Over Collar is a flashing over-collar made of high-quality, water-resistant and particularly robust silicone that must be placed over the classic collar. This accessory, thanks to the LED light, is visible in the dark or in dim light. Depending on the state of charge and the ambient light conditions, it allows you to be visible up to 500 meters. It has three flashing modes: continuous light, slow flashing or fast flashing.

Reflex Club Collar
If you are looking for a real reflective collar, Club Reflex is the perfect model. Made of sturdy nylon, it features a continuous reflective stripe to guarantee maximum visibility. In addition, it is equipped with a Matic magnetic buckle that allows for quick and agile positioning. The Club Reflex reflective collar is available in blue, red and black.
Harness Agila Reflex
Agila Reflex is a solid and sturdy harness that has a reflective strip useful to signal the presence of the dog in low light conditions. It has a perfect fit and, thanks to the joint between the harnesses, it adapts perfectly to the dog's build. In addition, it is equipped with a quick release micro-adjustment system that allows you to easily find the ideal fitting for the animal. It is available in different sizes and in two colors, orange and black.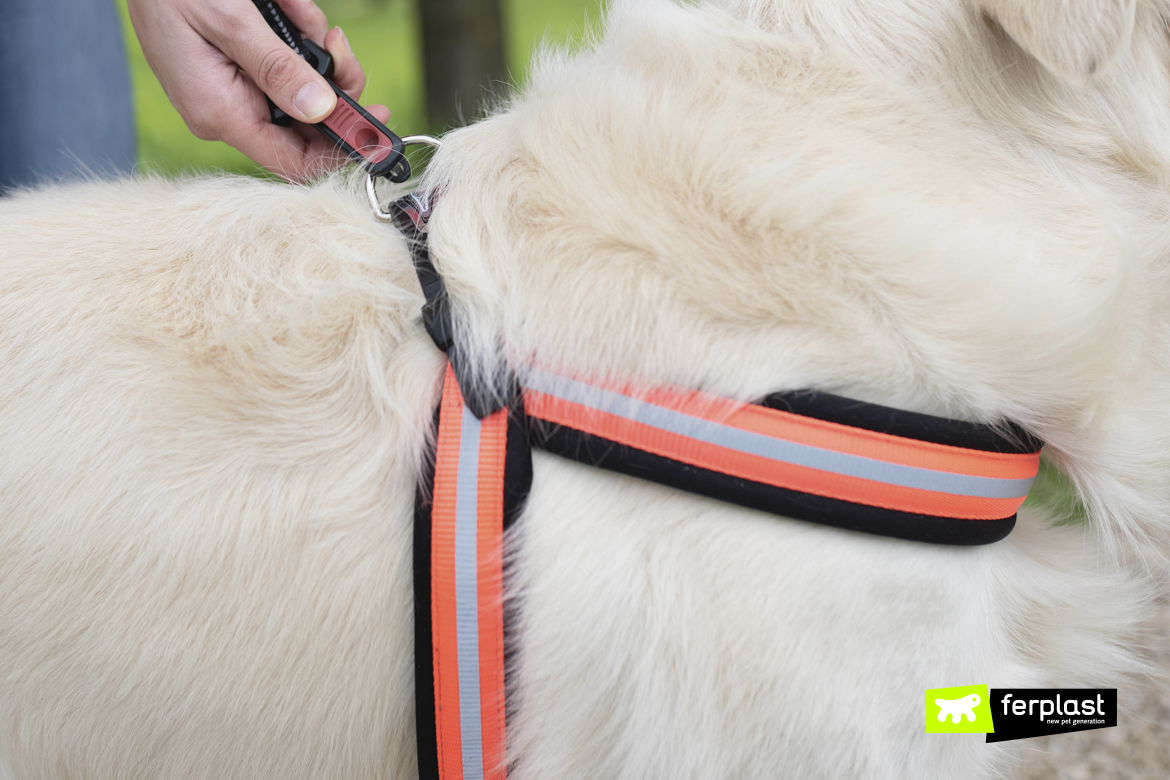 Reflective dog leashes
Collars are an excellent solution for walks in the dark, but they are not enough. In fact, a good reflective leash is also essential! The leash itself, in fact, can turn into an obstacle on the path. This is why it is important that it is reflective or has details that emit light, thus allowing to see the distance between the dog and the owner in the dark.
Club Reflex leash
Club Reflex is a leash made of sturdy and resistant nylon, available in red, blue and black, 120 cm long. It is perfect to use even when it is dark because it has a reflective strip along the entire length of the leash.

Sport Dog Matic lead
The Sport Dog Matic dog leash is made with top quality materials, resistant and long-lasting. It guarantees maximum comfort in use thanks to the ergonomic handle with soft padding. Features reflective seams to ensure good visibility during the evening or night.
Reflective accessories for dogs
Ferplast offers a series of other reflective accessories useful for improving the visibility of the dog during the evening outings after the sun has set.
Led Extension
If you already own a dog leash, you can opt for Led Extension, which is a reflective and flashing extension for dog leashes. It has 3 different lighting modes: continuous, fast flashing and slow, which can be easily adjusted by pressing the practical button.
Reflex Jaket reflective cape
Made of reflective nylon, Reflex Jacket is a reflective nylon dog cape, when the dog is wearing it, it is easily located by motorists. Available in acid green and in 3 sizes: S, M, L. It is easy to put on thanks to the hook and loop fasteners.
Don't be caught unprepared and go out with Fido even when it's dark without taking risks!