Summer, time of vacations, swimming and diving in the sea, streams, rivers or pools always with our dog. "Swimming with your dog is a way to relate and get in tune", explains Stefania Marchitelli, animal behavior therapist. The interaction between the animal and the human reinforces the bond and the trust, besides making an outdoor sporting activity fun and educational.

The arrival of summer brings with it a great desire for sea and sun, for Fido and for us. Going to the beach and swimming with the dog helps us to get in tune with him and is a valid exercise. Moreover, swimming and the relationship with water stimulate our dog, representing a novelty able to activate all the most important senses, from smell to taste and touch.
In Italy there are beaches dedicated to pet families, where we can bring our four-legged friends and spend sunny days in total safety.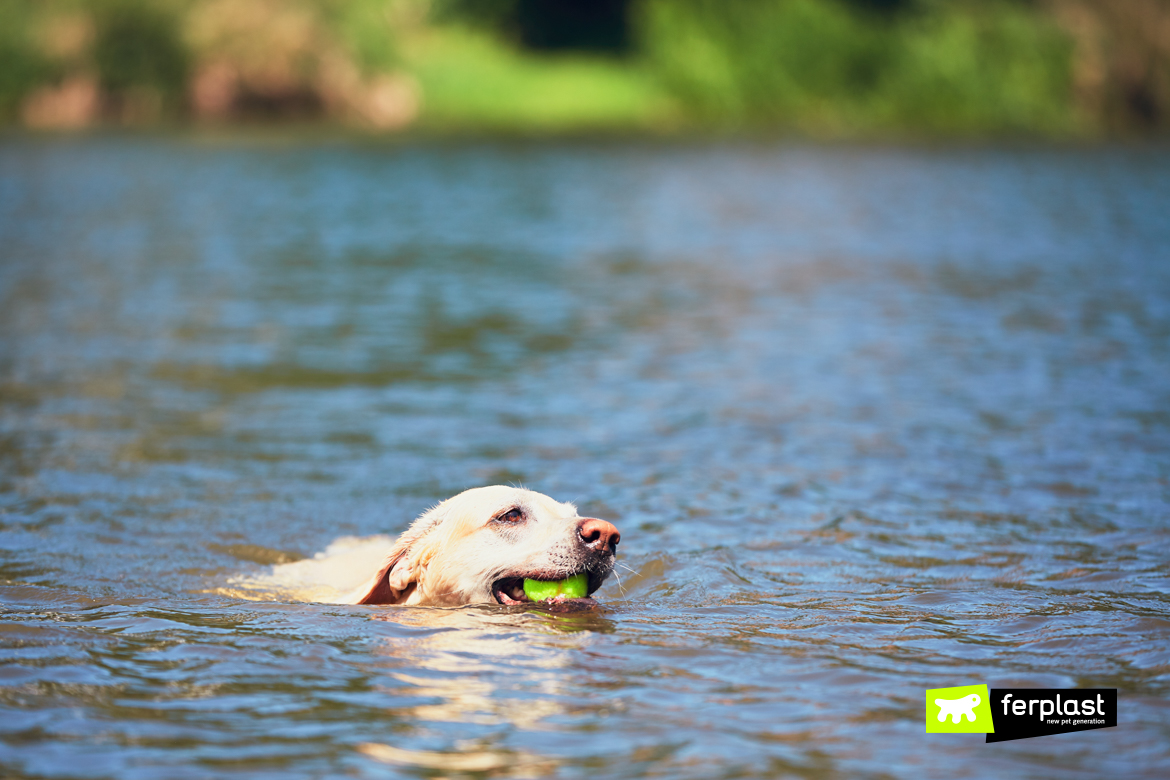 The benefits of swimming with your dog
Before starting to swim with your dog, he should get used to the water. We don't have to force Fido to get in, otherwise he risks to get traumatized. If he hesitates but is curious, it will be enough to encourage him with cuddles and compliments.
Swimming with the dog, especially at the beginning, is a way to increase the relationship of trust between parent and animal. During the first approaches with water, Fido needs our help to learn how to swim. It is good to get with him in the water and support him until he begins to float independently. Once the hesitation has passed, the fun begins.
Swimming, therefore, from a recreational activity, becomes an educational activity. In addition, it improves his health, decreases the pressure exerted on joints and tendons, relieves stress and promotes weight loss. It will be enough to swim 15-20 minutes at a time for the dog to keep fit.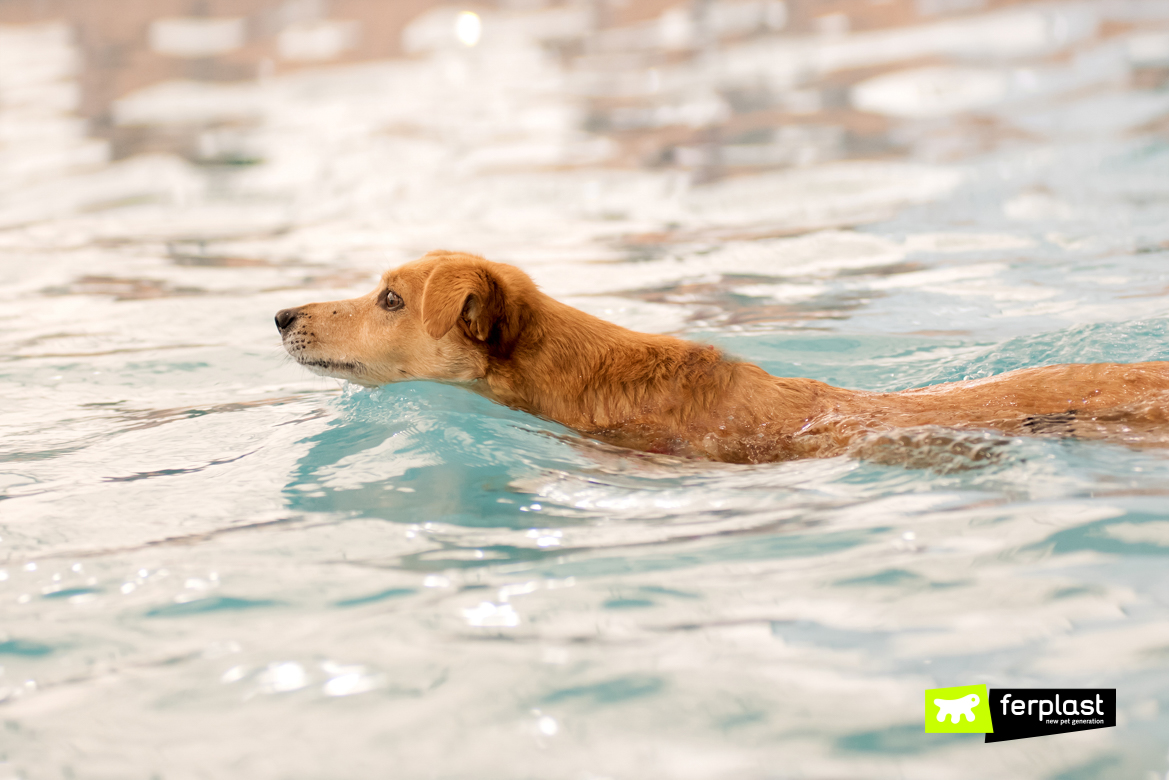 Water games to stimulate the dog to swim
To encourage the dog to enter the water and learn to swim, we can help him with Ferplast's water games. Playing, in fact, is a reassuring activity for our four-legged friends. Floating toys help the dog to become familiar with water and are a way to have fun together. The coloured propeller-shaped pad by Ferplast, for example, is made of light fabric and non-toxic materials. It is easily grasped by the dog and can therefore also be used as a retrieving toy. But to the beach you can also bring Frisbee, made entirely of latex and designed to improve speed, reflexes and endurance. The range of aquatic toys by Ferplast includes the one in the shape of a ball and the one in the shape of a lifebuoy, with a handy string to be grabbed and dragged on the water. Ideal for both the sea and the pool.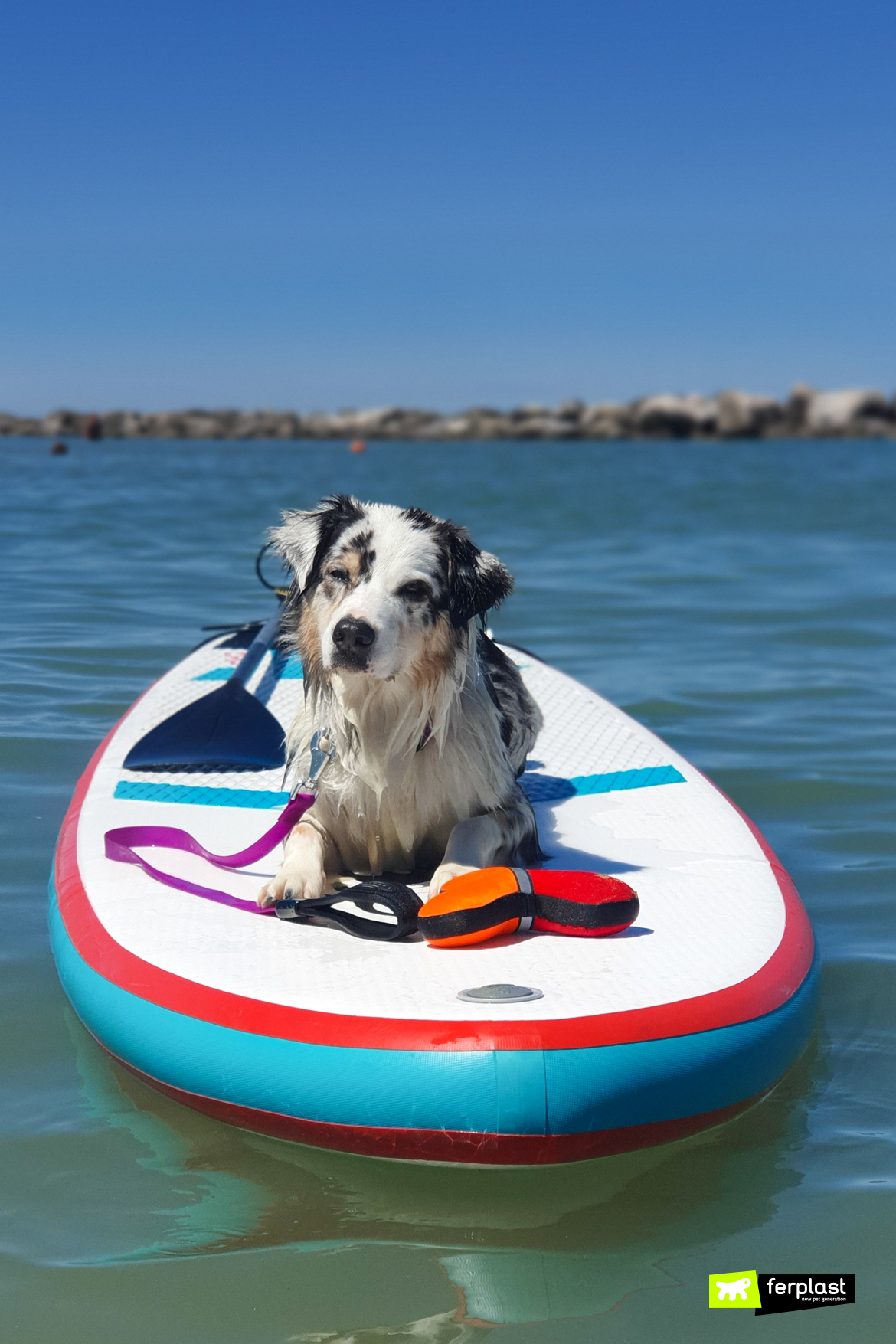 Waterproof collars and leashes
To get into some bathing sites it is mandatory to access beaches and water keeping animals on the leash. These limits are often imposed both to ensure that the animals cannot escape or stray too far from the shore, but above all to prevent them from disturbing or harming other bathers and their animal friends. For these occasions, waterproof leashes are essential, easily washable and with comfortable and manageable handles. For example, the Evolution line by Ferplast, which includes leashes and collars in techno-rubber, flexible, but resistant to high temperatures. These leashes and collars are ideal for beach days because they are water-repellent and easily washable from sand and salt. They also dry very quickly, so you won't leave your Fido wet for too long.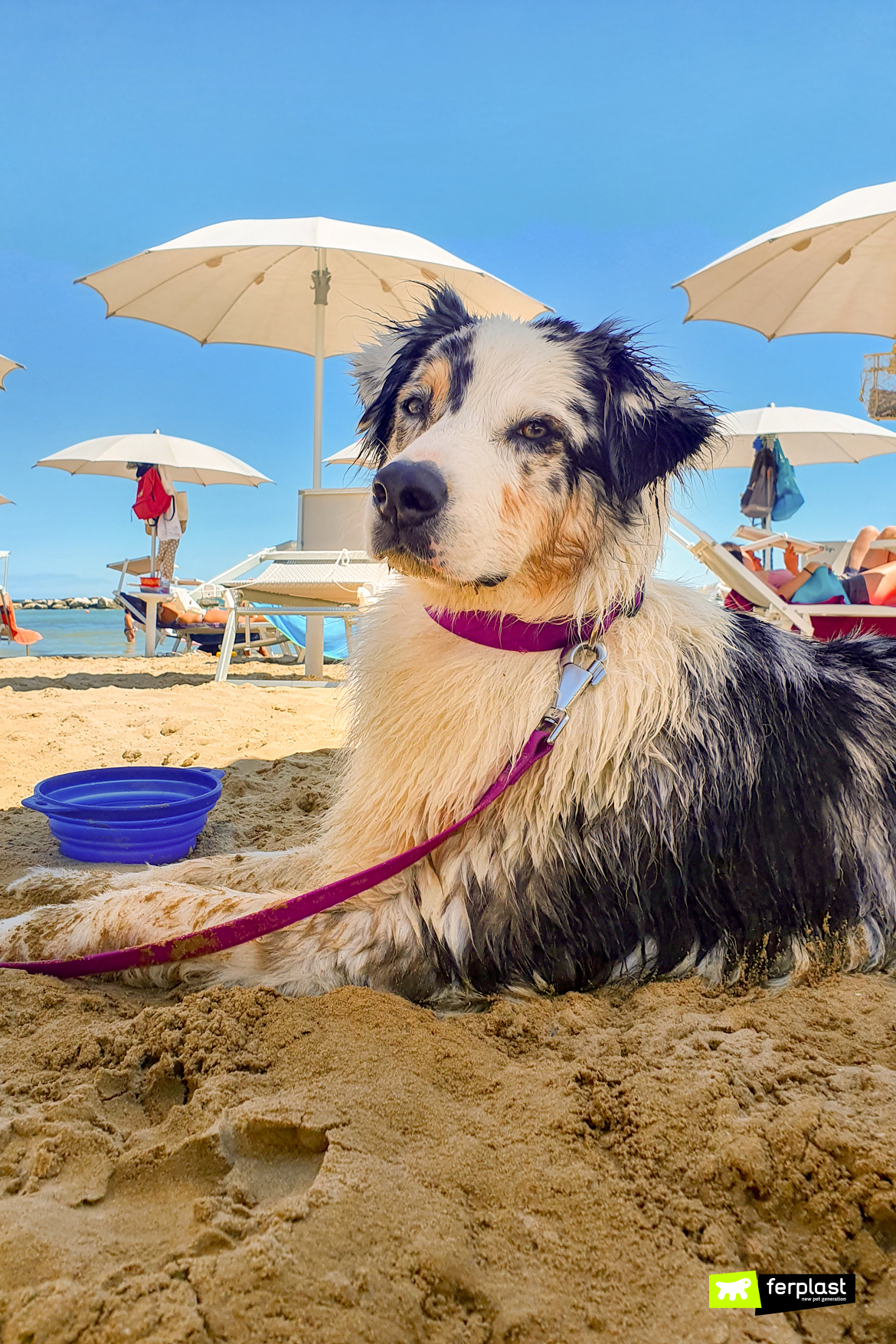 Swimming with the dog at the seaside
Not in all seaside resorts it's possible to swim with your dog. In Italy there are dedicated beaches where you can go with your four-legged friend. In some of these it is not allowed to bathe together, in others the access is allowed only at certain times of the day and on a leash. Each Italian region has its own dog friendly beaches: there are 700 beaches where dogs are allowed and over 100 equipped ones. In the free beaches is generally allowed to get in with dogs, but, it will be the owner's responsibility to bring everything necessary for the dog's welfare
Going to the beach and swimming with the dog is a pastime that combines fun, education and physical activity and helps us to improve our relationship.