March is halfway gone and it's almost impossible not to get excited about how near Spring is, impossible not to notice how the days are getting longer and the sun higher in the sky. So what's the first thing you feel like doing? Going out with the dog, what else!?
Ah, what bliss to feel that warm sunshine on your skin after three long months of cold air and grey skies. It's an amazing sensation that we are not alone in enjoying, dogs and cats too love to stretch out in the new and sometimes timid sunshine and bask in its gentle warmth. Have you ever noticed how excited they get when you ask them to come out with you on your daily errands? Even if it's just a trip to the shops in town! In a nutshell, it puts everyone in a better mood!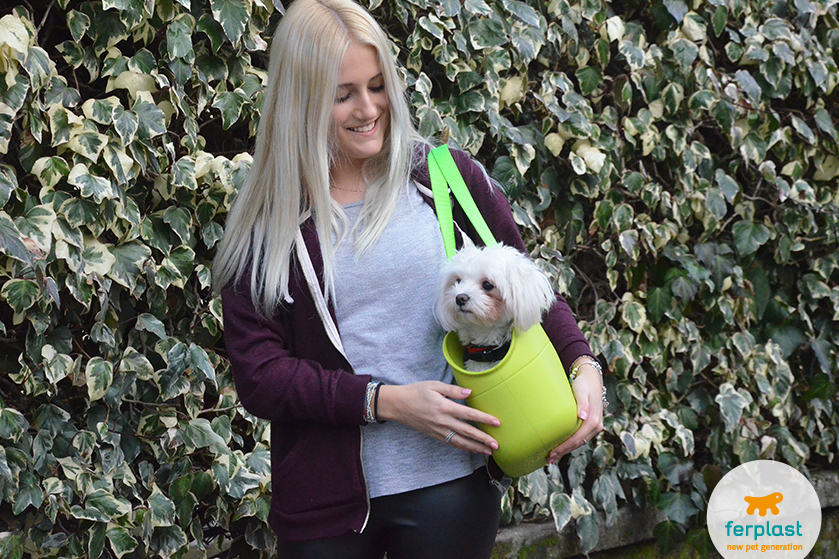 When the weather is good and you have a small dog or young puppy, one of the best things to do is take it with you. Not just on the leash, but in a nice and cosy bag with plenty of space to move around in. And we're not talking about any kind of bag, or bags that are absolutely unfit for transporting pets, but an accessory that has been specially designed to safely and securely provide the best possible comfort to our smaller pets.
The With-Me by Ferplast bags are very real it-bags for fashion and animal lovers. Beautifully designed in Italy, they come in a wide variety of seasonal colours like blue, pink, green, light blue and dove grey, great for really getting into the spring/summer mood. In order to be really fashionable, we suggest you adapt them to your own look and that of your dog. See how great Nicole and cute little Trilly look! A really well-matched pair!
Aside from standing out for the lovely bright colours, these bags also distinguish themselves for the fine quality of the materials they are made with, a special EVA (Ethylene-vinyl acetate) rubber that is non-toxic and incredibly resistant to wear and teeth (believe us when we say we know how much dogs love to chew on anything within their reach!). But above all, it is really easy to wash with a bit of soap and water to keep it fresh and clean at all times.
The hardy handles mean the bag can easily hold up to 8 kg of dog. They can be adjusted so that they fit perfectly and can be either hung over the shoulder or carried by hand. Just to be sure your dog is perfectly safe in his With-Me bag, you can hook his harness or collar to an inner belt. And to be really safe, all you need now is a Dudù baggie holder, just in case, well, you know!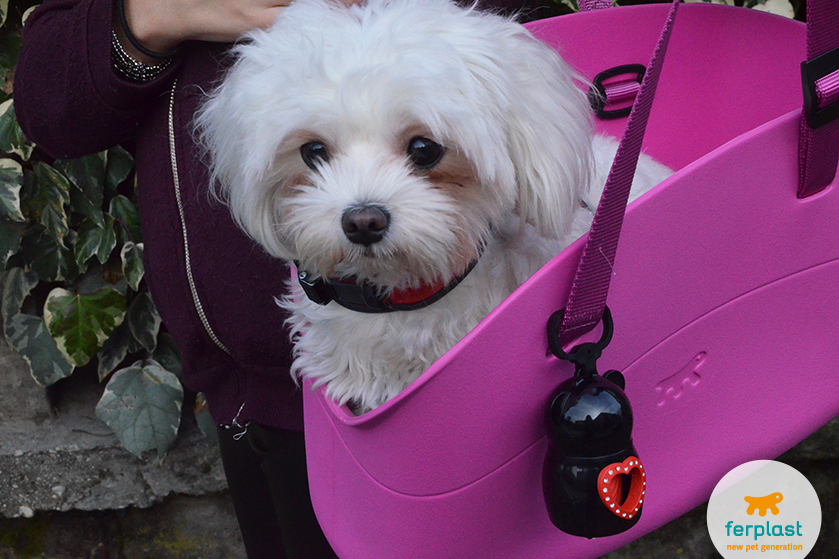 Spring is in the air, as the song says! Have you picked a colour for your With-Me outing bag?