It's finally that time of the year when we get to enjoy the spring sun while walking our dog. Dog bags are perfect for outings with small puppies in addition to the leash.
Choosing the right bag for small-sized dogs to take Buddy with you during springtime has several advantages, but it can't be the only alternative for outings. 
Why should you choose a dog bag?
Dog bags are a less bulky and more fashionable variant of the pet carrier. Usually their use is limited to city walks. They are specifically designed for the benefit of small, lightweight dogs, but can also be used for cats and rabbits. Having a dog bag is especially useful when the dog gets tired of walking, or to facilitate​ ​entry into public places​​, such as shops, bars and shopping centres. Also, it is useful to protect our furry friend from confusion when we find ourselves in a chaotic environment. For this reason, a dog bag must be safe and comfortable. For example, in winter it is a protection from cold, rain and wind.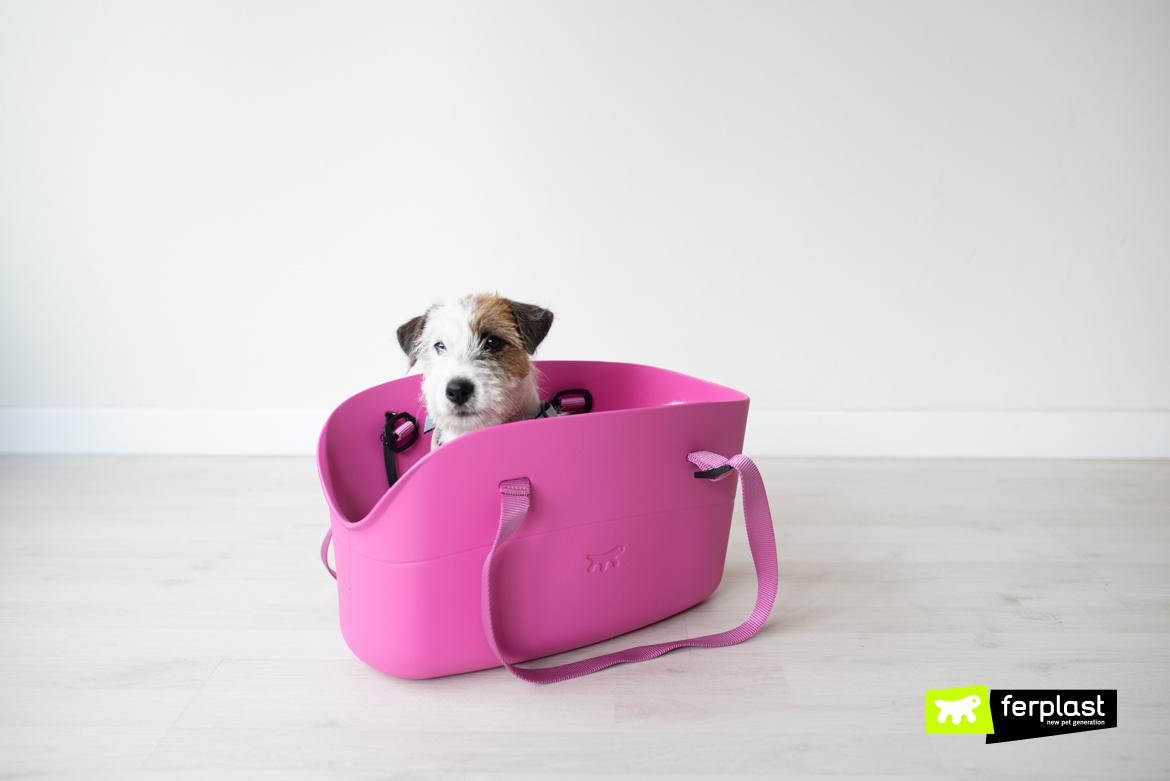 What to consider when choosing a dog bag?
Before purchasing the dog bag you need to make sure you choose a suitable model for the size and weight of our dog. The bag has to be large enough to allow movement and offer a comfortable position for Buddy.
What are the characteristics of Ferplast's With Me bag?
Ferplast bags have been designed to ensure a warm and welcoming environment for the dog while travelling with the owner. The Ferplast product range also includes backpacks and pet carriers of different materials and colours, but the most fashionable accessory is certainly the With Me dog bag, available in several models and glamorous colours.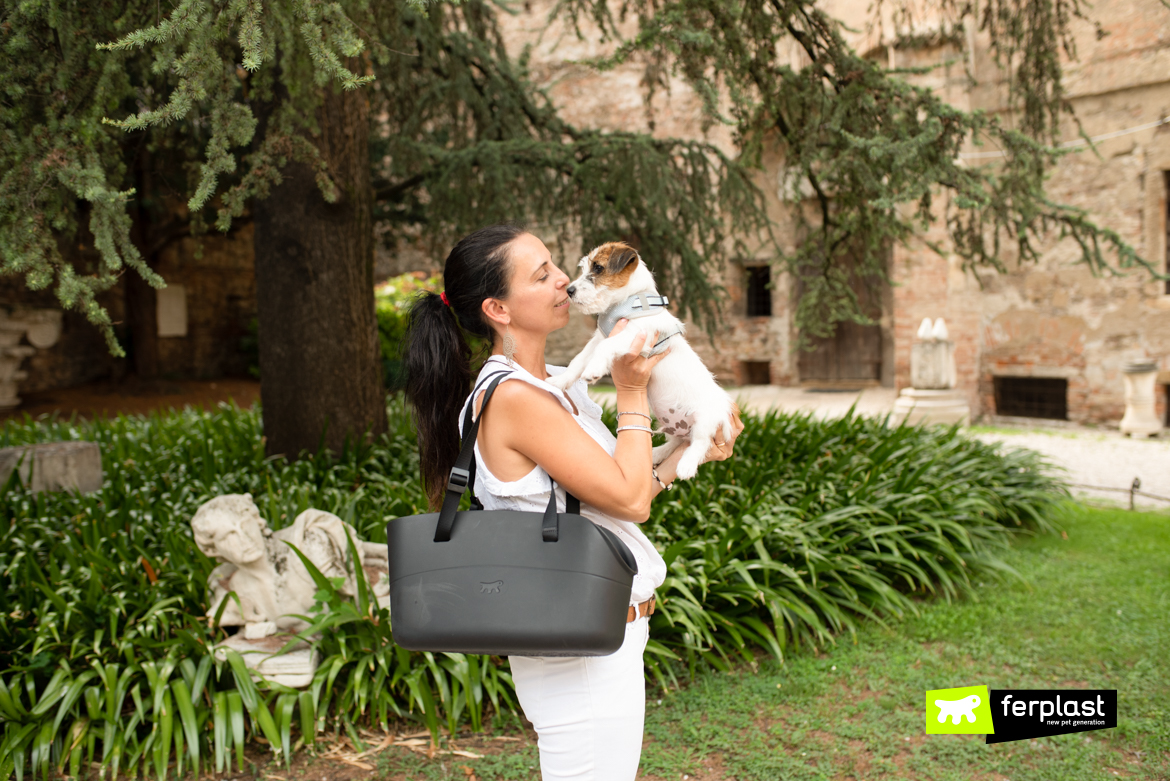 The most suitable model for springtime is the standard one, made in a special type of rubber called EVA (Ethylene-vinyl Acetate), which is soft, robust and comfortable. This bag is equipped with adjustable handles that allow you to carry it on your shoulder or by hand. That support a maximum weight of 8 kg. In addition, it is provided with a safety strap to be attached to the dog's collar to prevent it from running away or falling. It is waterproof and it can be washed with soap and water.
With Me is also available in its winter version, with a practical removable coating and faux fur trim. Choosing this model provides Buddy with a warm shelter in winter and a comfortable space for hot summer days.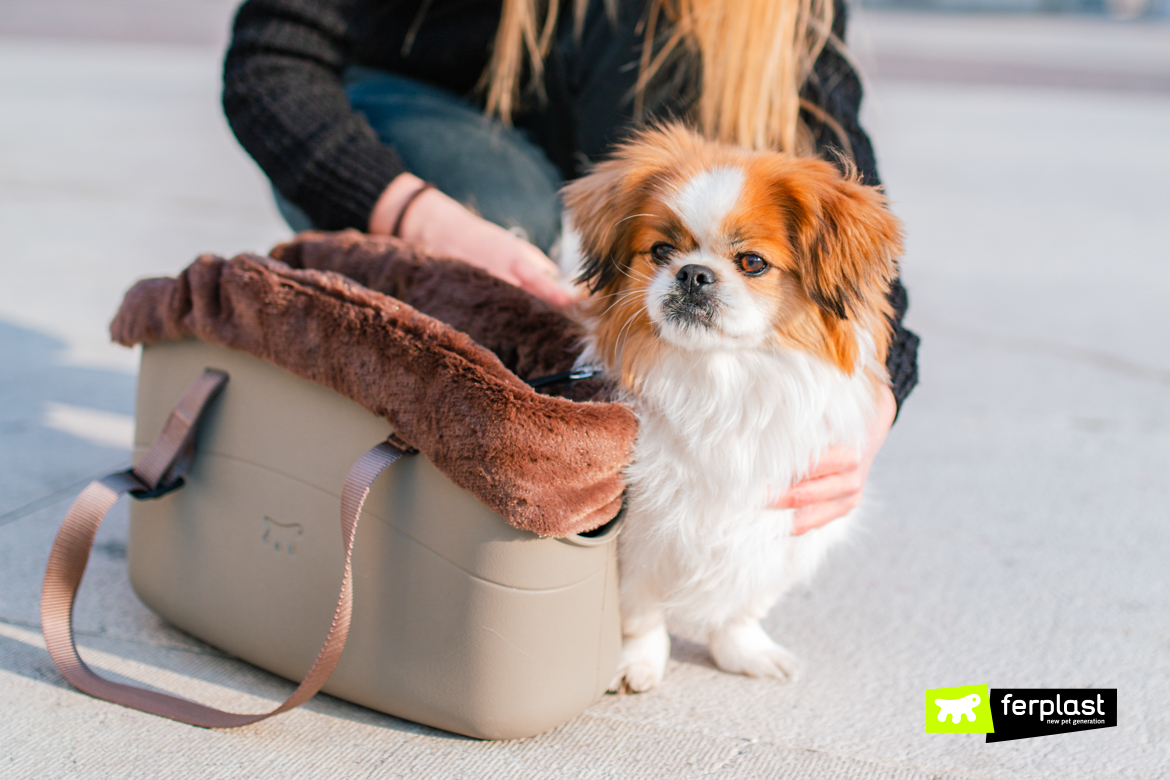 What to do after purchase?
In order for your furry friend to get used to the dog bag, it is important to allow them to become familiar with it before using it. To help him in this process it is recommended to leave the bag within the dog reach. Then you can encourage him to enter with small rewards, without forcing him in any way. Also, before going too far, it is better to take short walks around the neighborhood.
What should we keep in mind when using a dog bag? 
A dog bag is a good tool to be used for walks in the spring, but we shouldn't forget the exercise that the dog must do daily for his physical and mental well-being. For this reason, during outings it is good to alternate walking with lying inside the bag, to avoid an overly sedentary lifestyle that puts Buddy's health at risk.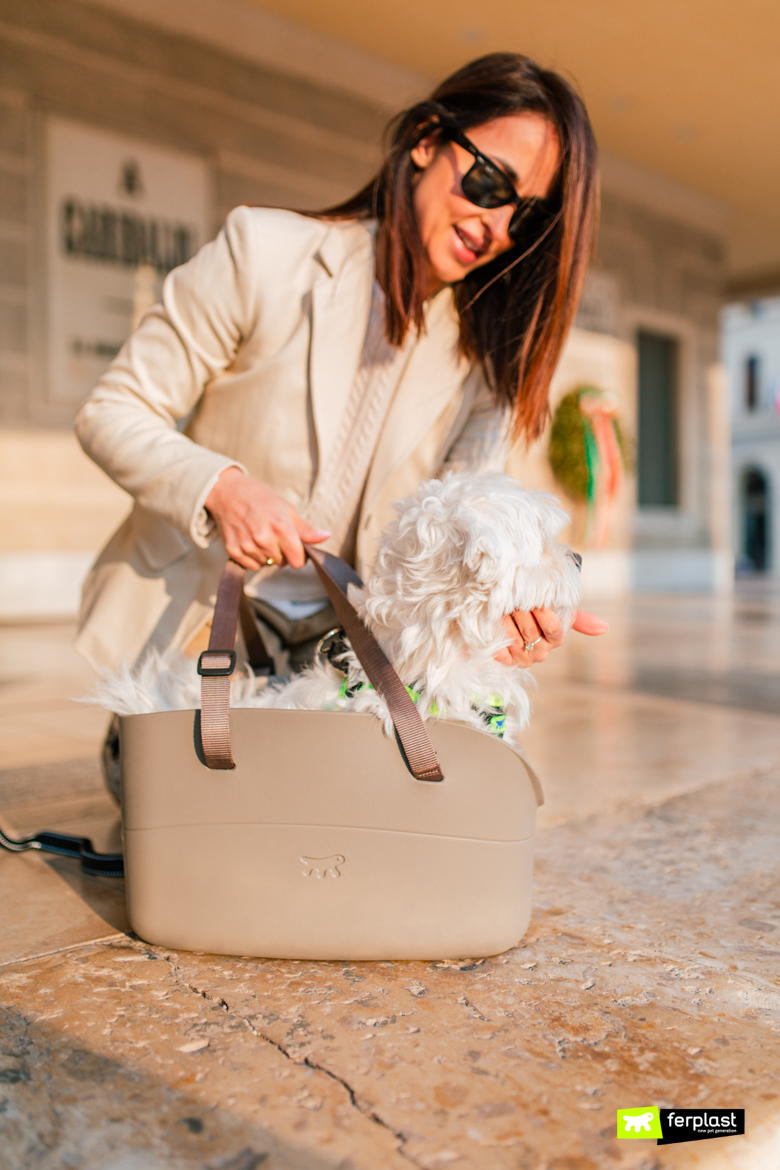 The Ferplast With Me dog bag is a useful tool for small dogs. The glamorous colours – taupe, black and fuchsia – and the materials with which it is made guarantee a fashionable, protected and safe space. In this space our dog feels comfortable in all seasons.