Are you about to buy a fish tank? Remember to focus on other than just the fish; you should also think of which plants to use, as they do more than just decorate your tank. Check our tips on how to choose the right plants for your tank!
Real plants or artificial ones?
The debate around the type of plant to place in a fish tank is always very animated. It all depends on the kind of tank and of fish, but also on the time you have available. Some people prefer real plants, which look better and help maintain the ecosystem in the tank, while others go for artificial ones, decidedly easier to maintain. In any case, the presence of plants gives the tank a natural look, but they're also important for the fish, as they work as great hiding places!

True plants
True water plants are useful because they make photosynthesis, using carbon dioxide from the water to make their own food and returning oxygen to the environment. This allows fish to survive and has other positive effects on the habitat. These plants also prevent algae formation. The drawbacks are they need plenty of light and must be cared for, otherwise they may die.
Artificial plants
Artificial plants are practical and don't need any particular maintenance. They're cheaper, but this doesn't mean they're poor in quality: fake plants for fish tanks available in the market today are very pretty, come in lovely colours and look a lot like true ones. They don't shed leaves that can clog the filter, which makes them perfect for those who don't have a lot of time to dedicate to their tanks. However, they can't be used as a source of food, and don't absorb toxins present in the water.
There are two types of artificial plants:
1. PLASTIC PLANTS: super practical, as they can be washed again and again forever. Once clean, they look as good as new.
2. SILK PLANTS: very pretty, they're also very soft, so your fish won't get hurt as they get close to them.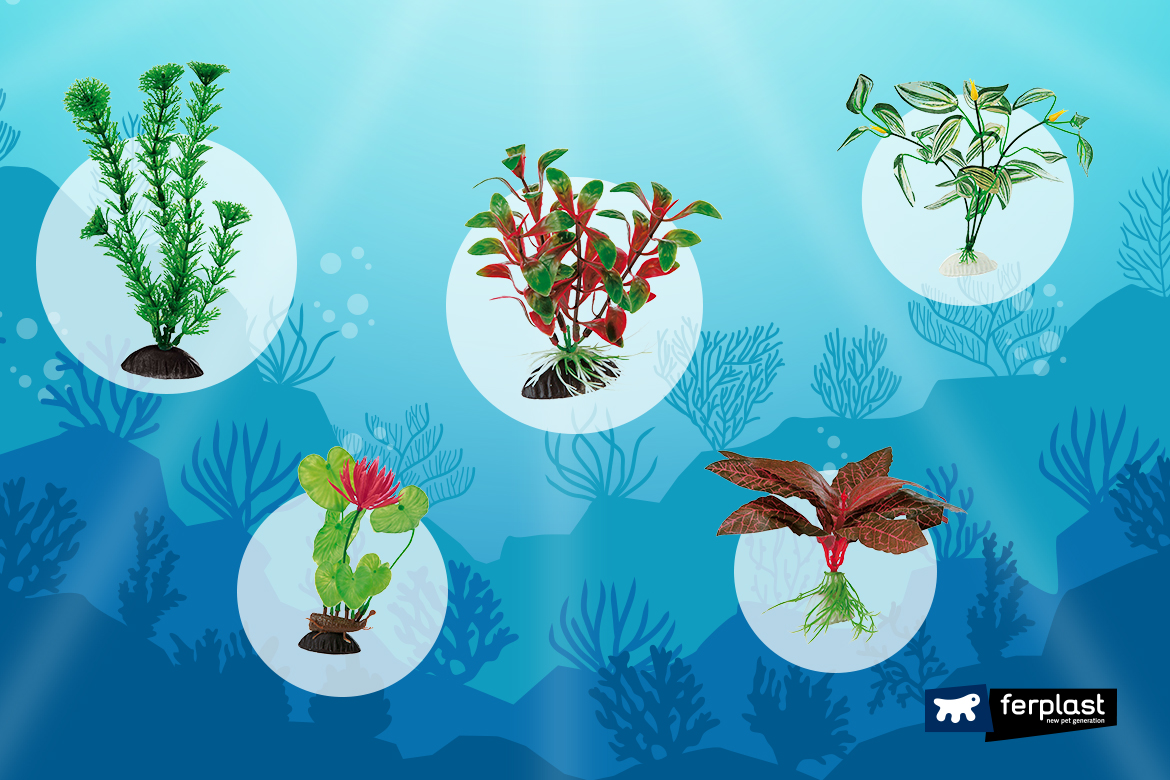 Ferplast has many types of plants for fish tanks made of both materials, all with a practical support base so they can be placed and removed very easily. You'll see how nice your tank will look with all these green decorations!