Our experience at the Interzoo exhibition in Nuremberg, the most important trade fair exhibition for the global pet supplies market, came to an end a few days ago.
During the four days of Interzoo, we had the opportunity to present the new products developed at Ferplast over the four years that have separated us from the last exhibition. Above all, it was very pleasant and rewarding to meet customers from all over the world in person and see their enthusiasm for our latest creations.
Innovation and quality have always been the hallmarks of our company, which for more than 50 years has been committed to finding solutions for the wellbeing of all pets, for their pleasant coexistence with their human friends.

So, what novelties have been presented? Let's find out together!
Kennels and carriers for cats and dogs
In pursuit of innovation, Ferplast has added the new SUPERIOR dog crate. This is an evolution of the category, with a solid structure and modern design, created to improve the human-animal relationship. The three openings allow greater flexibility of use and interaction with the pet.
But there's more: we have always put the well-being of pets first, even when travelling! That's why we have added to our catalogue the Skipper and Clipper renewed pet carriers. While the former has ventilation grilles and a plastic door that can be locked from the outside to provide optimum comfort, the latter has a painted wire mesh door with an effective 2-way locking system. 
Instead, to embrace the need for maximum hygiene and sanitisation, Ferplast created a new range of cushions made from a fabric that features a Sanitised® technology. Thanks to the active ingredients integrated in the material, bacteria are reduced by 99.99% and viruses do not find a breeding ground to develop. In addition, it leads to a reduction in odours, resulting in less washing and less detergent.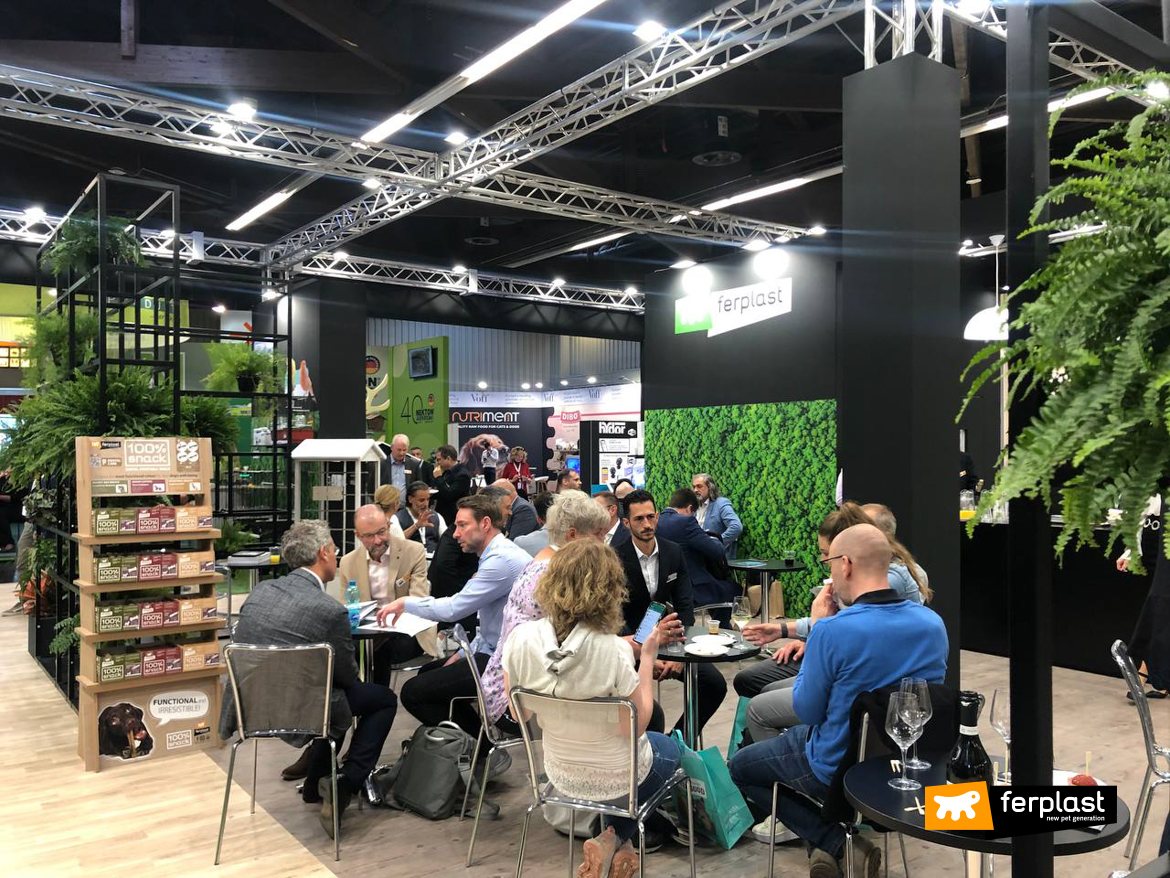 Another new-entry when it comes to comfort is Memor-One. It is a sofa for dogs, equipped with a thick orthopaedic Memory Foam mattress. It is ideal for providing optimum support for the animal as it adapts to the shape of the body and distributes the weight evenly, relieving pressure on the joints. It is also available in different models and is easy to maintain: the removable Memor-One kennel has a convenient zip that allows the mattress to be removed for cleaning.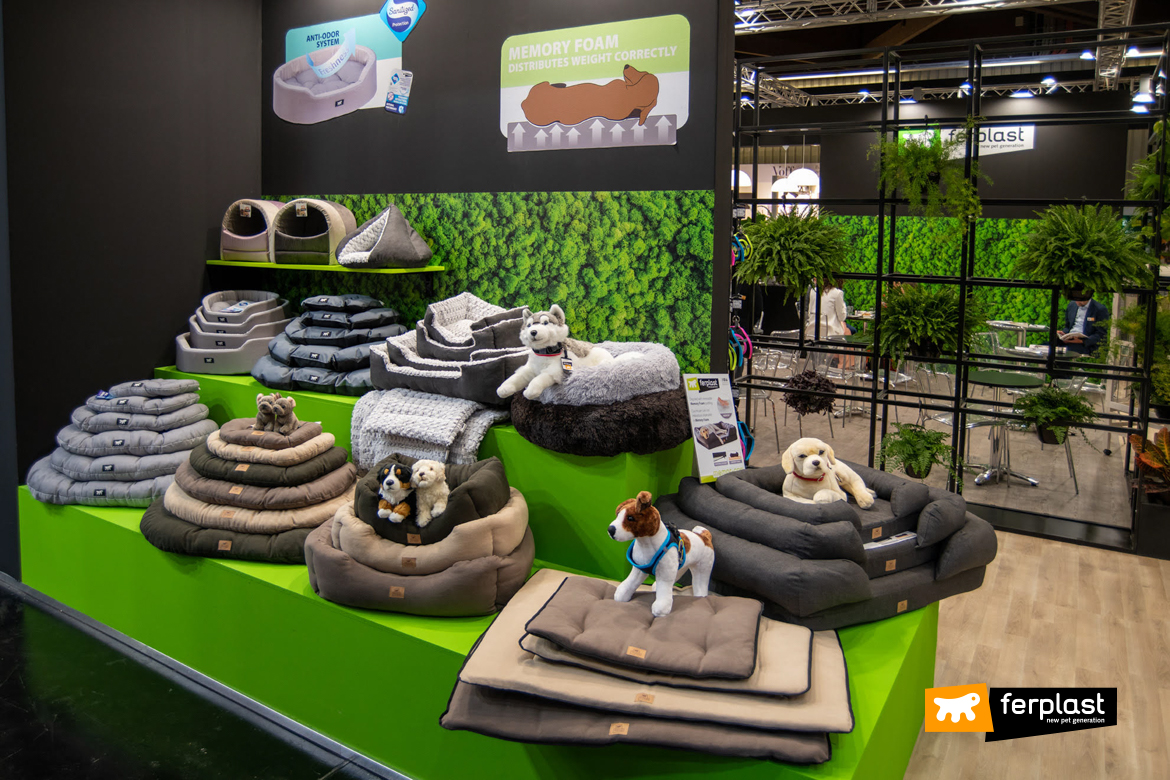 Finally, we also thought of our furry felines. As far as cats are concerned, in fact, Ferplast has introduced Catvilla. This is a outdoor thermoplastic resin cat kennel, made from recycled materials and with an internal liquid drainage system. Available in two sizes.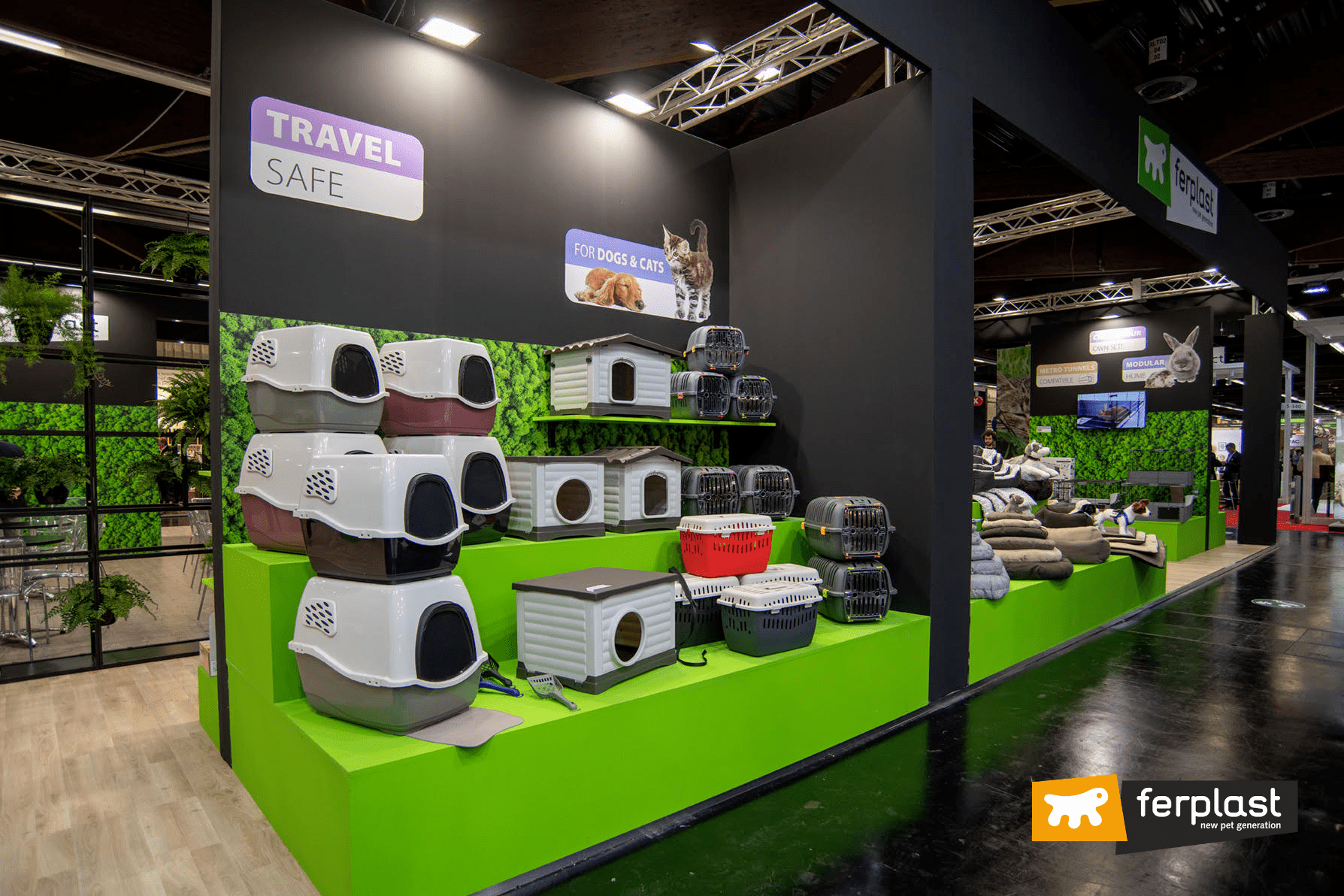 Tasty and healthy snacks for dogs
The latest super range of dental snacks for dogs, 100% Snack, was also a great success at Interzoo. These snacks meet all requirements, thanks to their brand-new shapes and functional ingredients. 100% snack is a range of completely plant-based snacks, but still tasty and attractive to the dog. They contain exclusively natural ingredients and are free of artificial colouring agents, as the colours come from vegetable concentrates. Three different functionalities are associated to the three colours of the snack range: red – odour control, beige – intestinal health, green – against bad breath. Finally, the new shapes allow the snacks to be used as they are or filled with dog toothpaste, appetising pâtés or functional pastes.

New solutions for birds and rodents
We did not stop at conceiving new solutions for cats and dogs, but we also thought about small pets, such as birds and rodents.
– For pet birds we have created Planeta Large, a large habitat ideal for canaries, parakeets and other small birds. Equipped with a double bottom drawer, it is easy to handle and maintain.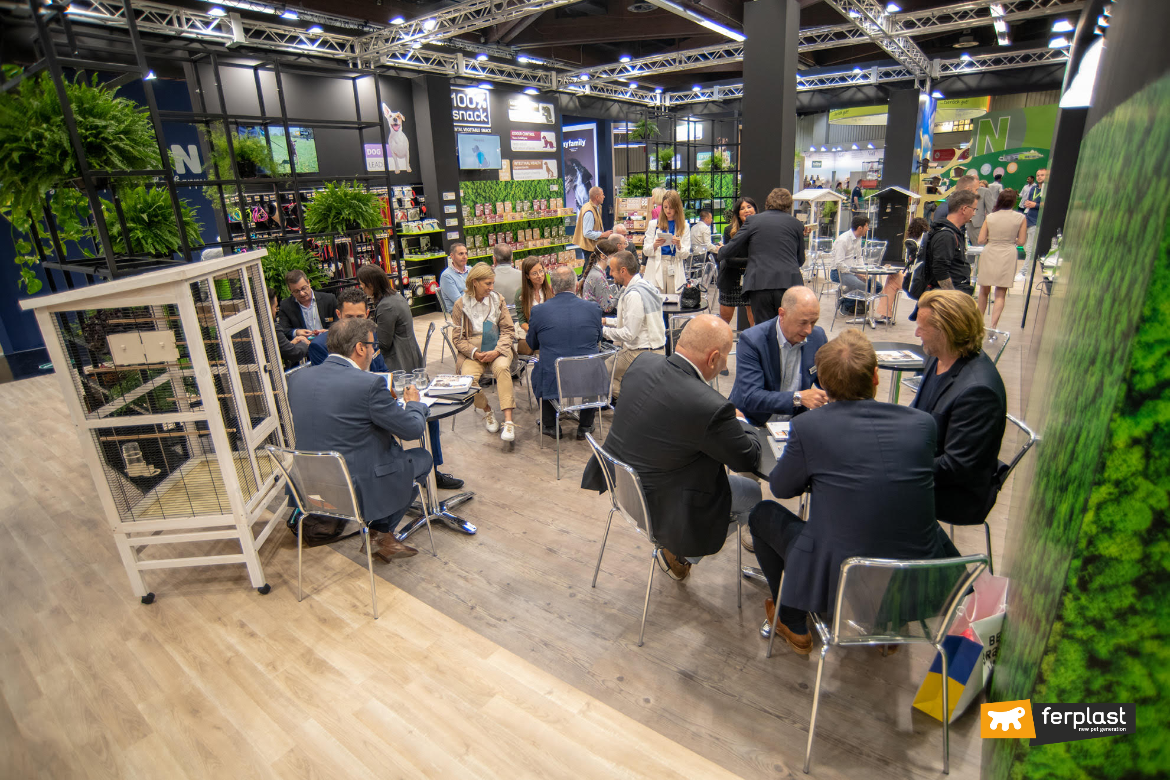 – For wild birds, on the other hand, we have the Jok range. These are innovative outdoor plastic feeders that provide food and feed for wild birds and can also become an excellent shelter in the event that the supplied transparent panels are not installed. With Jok, birds are ensured the necessary nourishment, especially during the colder months. They are available in different models to suit all needs.
We certainly couldn't forget about hamsters and mice, guinea pigs and rabbits. With their needs in mind, the Multipla and Multipla Hamster habitats were born. This is a new concept of habitat for small animals that is completely modular and adaptable to their needs. In fact, it is possible to increase the living space thanks to the two separately purchasable extension kits, until the ideal configuration is achieved. They are available in different models. For rabbits, you'll find Multipla, Multipla Maxi and Multipla Double, the duplex habitat, ideal for housing several rabbits together, and finally Multipla Open, the open modular cage perfect for guinea pigs. For hamsters you'll find Multipla Hamster, Multipla Hamster Large and Multipla Hamster Crystal, with completely see-through walls.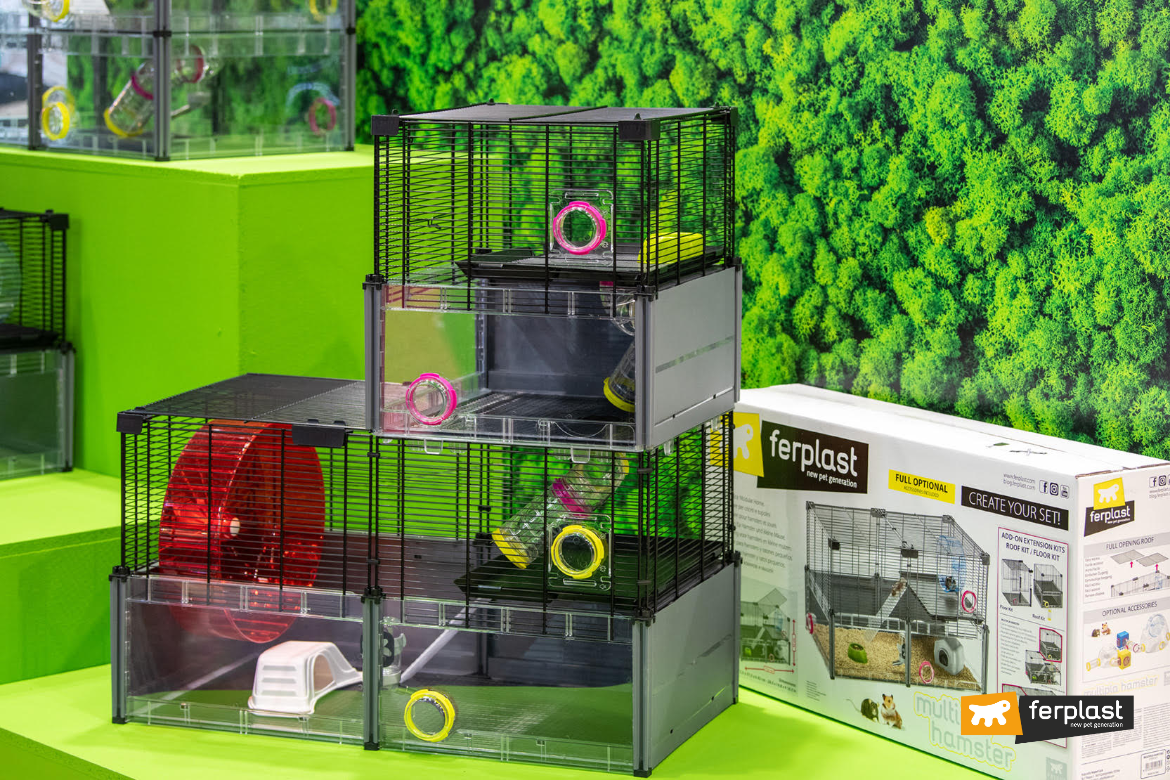 Metrò was created to maximise recreation and exercise. This special tunnel system allows you to create many different paths for rabbits and small animals, like guinea pigs or ferrets. In fact, it is possible to connect different habitats together, such as hutches and fences.  Metro Station is a small house equipped with a door on both sides, allowing to connect two tunnels for a T-shape conncetion.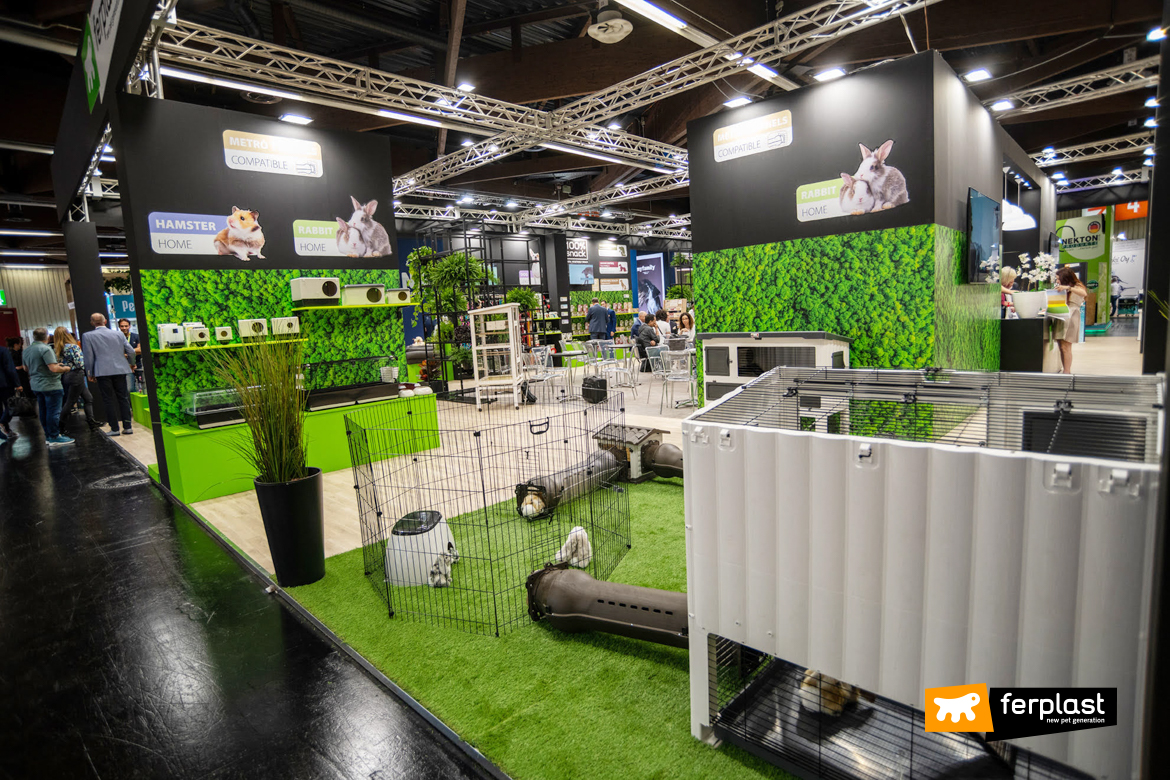 Hydor: the brand for aquatics lovers is back
Hydor has been the reference point for all passionate aquarists for over 35 years. Its know-how, combined with Ferplast's expertise, has resulted in a wide range of solutions for the creation and care of the underwater world. During the Interzoo exhibition we presented our new and extended catalogue, complete with aquarium pumps, controllers, internal and external filters, heaters, fish feeders, skimmers and lamps, as well as glass and plastic aquariums and tanks and comfortable stands.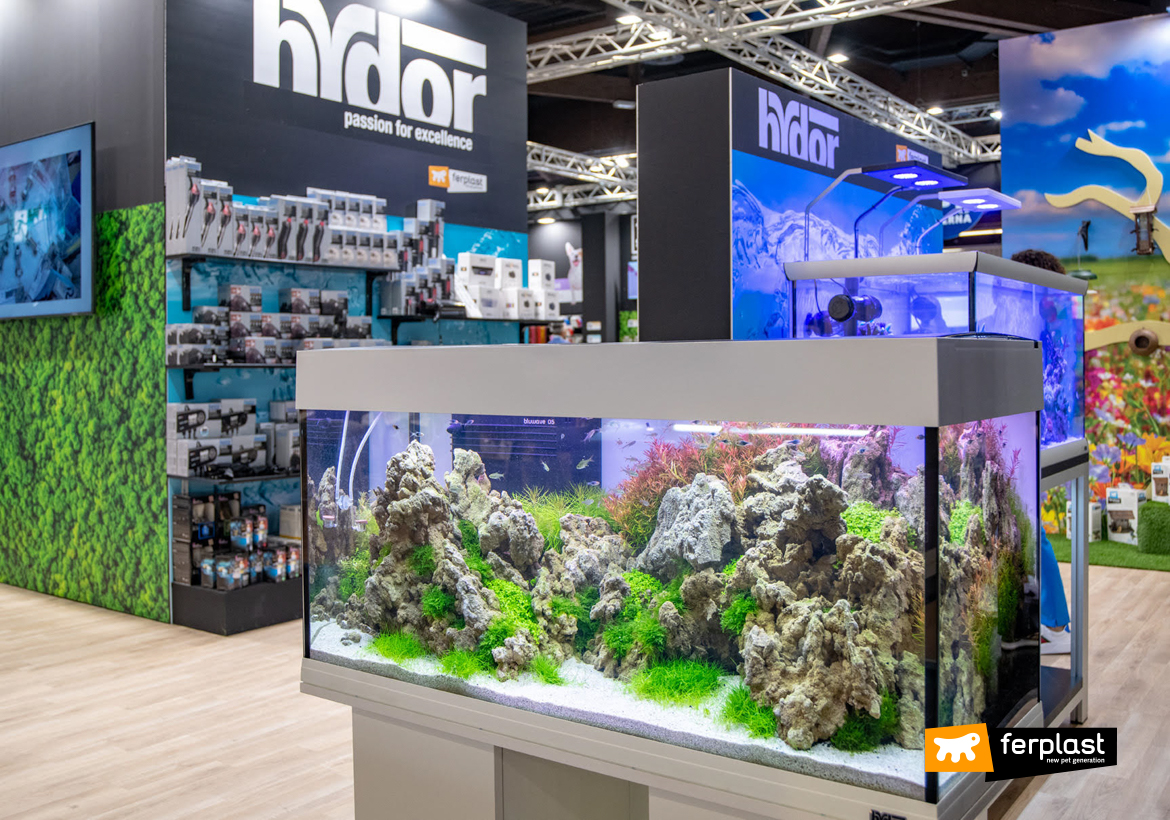 Innovation and Research remain the brand's founding values, combined with a taste for Made in Italy design and a leaning towards the Internet of Things with the creation of smart devices.
So here is a glimpse of the new Ferplast product catalogues. Are you ready to discover it all?