The cat litter tray is an indispensable tool for the hygiene and cleanliness of your cat.
Although cats are independent and clean animals, cat litter box is an essential accessory to give your cat a clean and private place to fulfil his physiological needs and cannot be missing in your home.
What is cat litter tray?
When we talk about cat litter tray, we mean the box that is used as a toilet for cats and it's also called a toilet or litter box. On the other hand, the litter is the sand contained in the litter box and can be agglomerating, non-agglomerating, silicon crystal or vegetable litter, the latter is the most environmentally friendly choice today. The different types of litter differ in the way in which their contents are disposed of.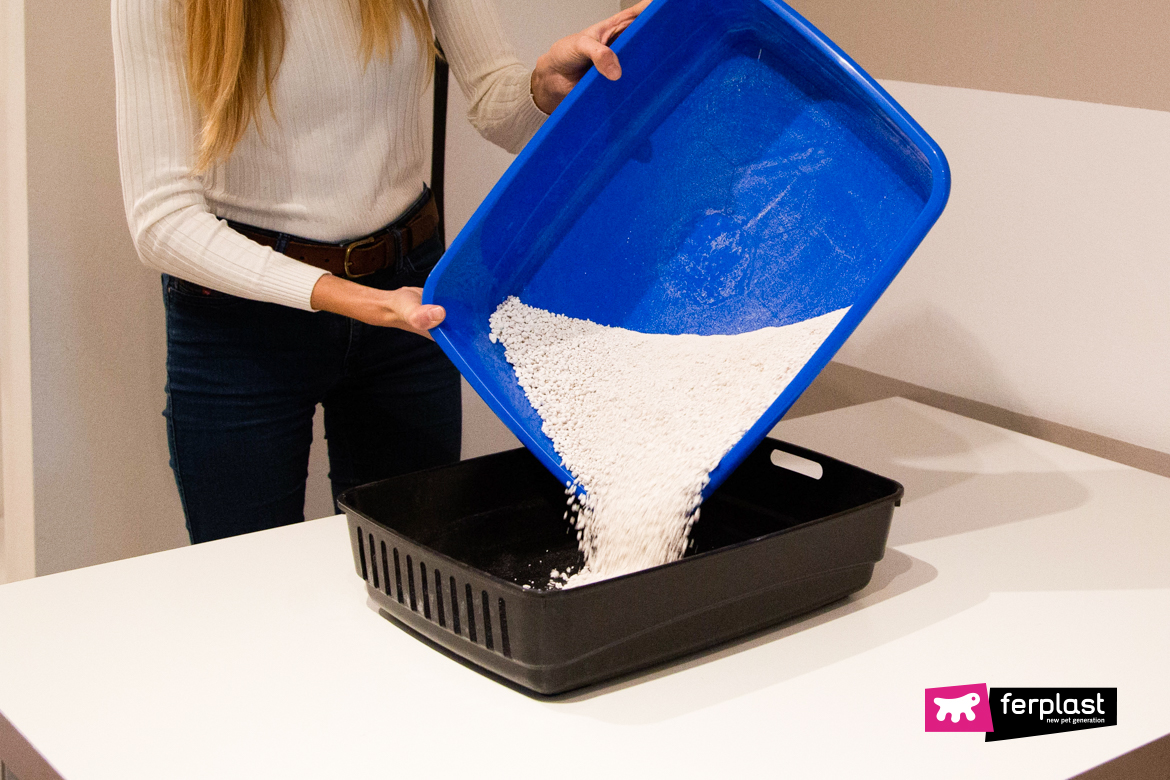 How to keep cat litter tray clean
The cleanliness of the litter tray is essential. Cats are particularly hygiene-conscious animals, so if the toilette is not properly cleaned, they may decide not to use it. To ensure cleanliness, it is necessary to check the condition of the litter box frequently and to change the sand regularly. 
To avoid the formation of unpleasant odours, the faeces should be removed at least once a day with a hygienic scoop, and the sand should be changed about every fortnight, making sure that there is always 7 to 12 cm of sand left, so that the cat can cover his needs completely.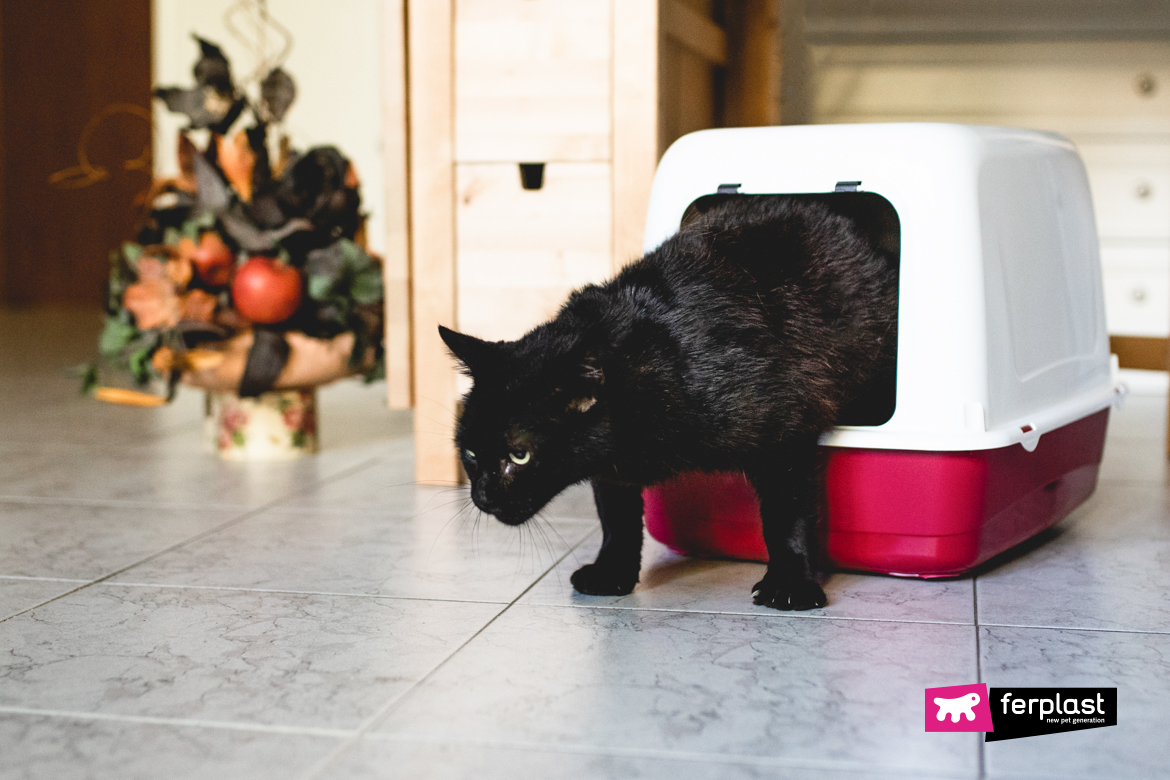 The sand should be disposed of in the general waste; it shouldn't be disposed in the toilet, as it would clog up the waste pipes in the long term.
In addition, to ensure a clean environment around the cat litter box, it is advisable to place a hygienic mat near the box to catch any dirt that remains under the kitty's paws.
Ferplast cat litter trays
Ferplast's cat litter boxes are divided into open and closed.
The open litters are Nip 30, made of sturdy plastic, and Nip Plus, with a containing frame, both practical and easy to clean. They are also suitable for larger cats, thanks to their generous size.
Among the closed litter boxes, the most advanced is the Prima Cabrio, a thermoplastic resin toilet with an opening roof and a tilting door. This model is particularly convenient because the opening roof makes daily cleaning quicker and easier. It is equipped with ventilation grids complete with active carbon filters to neutralise unpleasant odours and a handle to facilitate transport.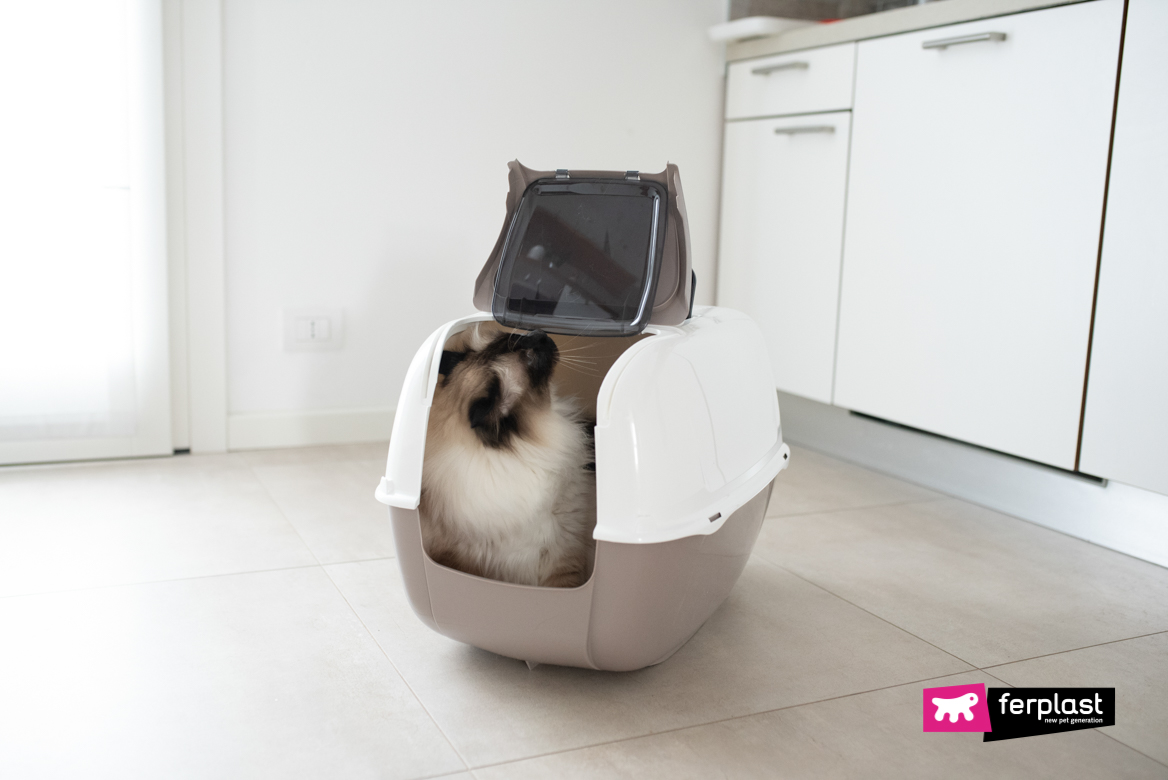 The cat litter box is an important accessory that requires the right attention so that your cat will continue to use it. Ferplast's litter boxes are modern, easy to clean and come in different models, offering a wide range of choices.