The French Bulldog is a small dog with a compact look. Lively, playful, clever and very gentle, French bulldogs are perfect companions for children and for the elderly alike – they're perfect for everyone! Let's take a closer look at this famous and much beloved breed.
Don't let yourself be fooled by its name: the origins of this breed are as English as it comes, descending directly from English bulldogs and cross-bred with Pug and Terrier. It reached the continent during the Industrial Revolution, when English lace workers moved to France in search of jobs. Here, thanks to their very sociable personality, they soon became the favourite dogs of bourgeois families.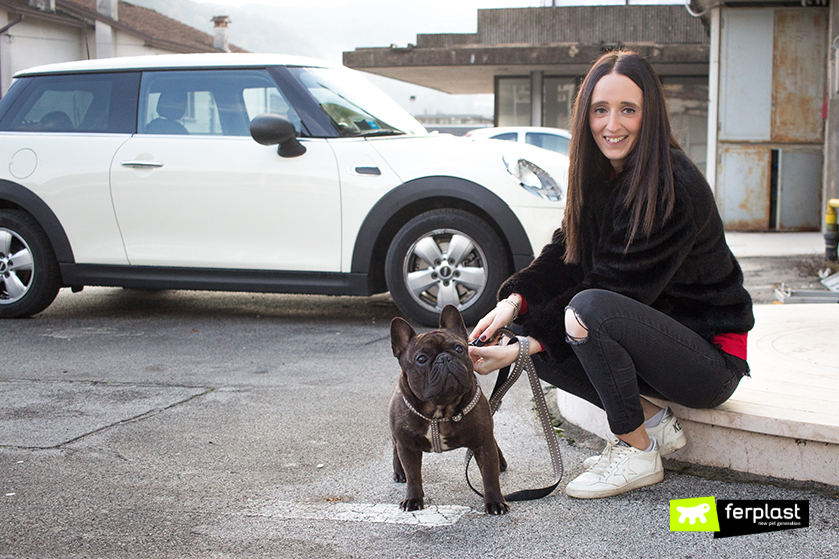 The French Bulldog is a molosser with a solid body type, which is they it's always brimming with energy, in spite of its small size. It has a little squashed nose and two big deep eyes, but its unmistakeable feature are its bat-like ears, wider at the base and rounded as they taper, which give this dog a very sweet look. The tail can be curved like a corkscrew or short and straight. Its short hair is well attached to the body and is very easy to clean; it comes in different colours: red, striped, white with black or reddish spots.
Its favourite pastimes are playing, playing, playing, and being cuddled! An unmistakeable characteristic of this breed is a desire to be cuddled and pampered: they become very strongly attached to their families, whom they're constantly begging for attention. They get along splendidly with children, and become their inseparable companions of adventures.
They also like keeping their owners company as they go shopping or for a walk. You can feel safe with your French bulldog around: anyone that does approach you will surely do so to tell you how lovely your dog is!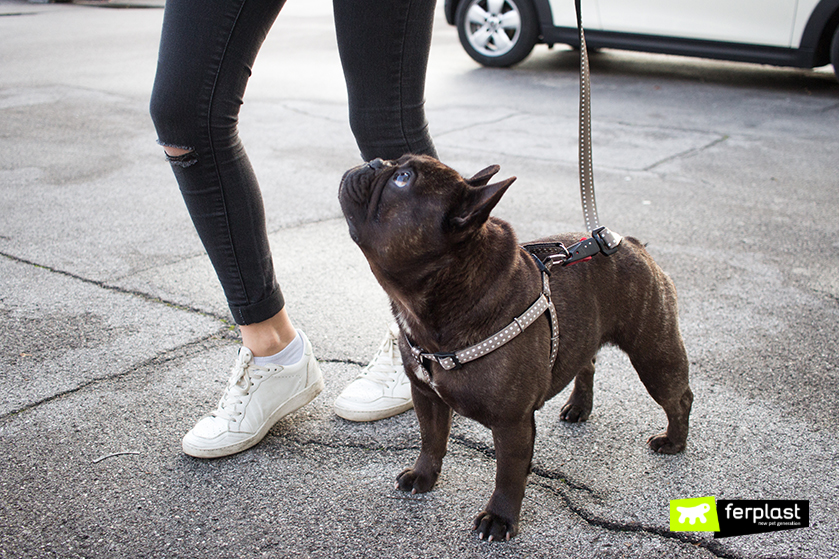 Our model Achille loves going for a walk no matter how cold it is – wearing his new Cricket chest harness, of course; brown with white stitching. This model is made of sturdy nylon and is very comfortable, thanks to its soft inner padding, and comes with a practical clip closure system. As you can see in the pictures, it fits your dog like a glove, as it can be adjusted for width using the two practical buckles. Achille is also wearing the Cricket leash in the same pattern, complete with our Matic automatic carabiner. With its magnetic mechanism, attaching and detaching it from the chest harness is a breeze. Achille and Sofia are a perfect match!