When we go for a walk with our four-legged friend, the first thing we think about is his well-being. The number one rule is to choose a leash suitable for his needs. The Flippy One retractable lead by Ferplast takes both dog and owner into account, guaranteeing comfort and safety for the whole pet family.
The Flippy One leash guarantees the best experience at the right price. The new Flippy model is designed to be reliable, compact, precise and intuitive, but above all to give pets and pet parents the maximum freedom of movement. It comes in four colors and four sizes, with both a cord and a tape.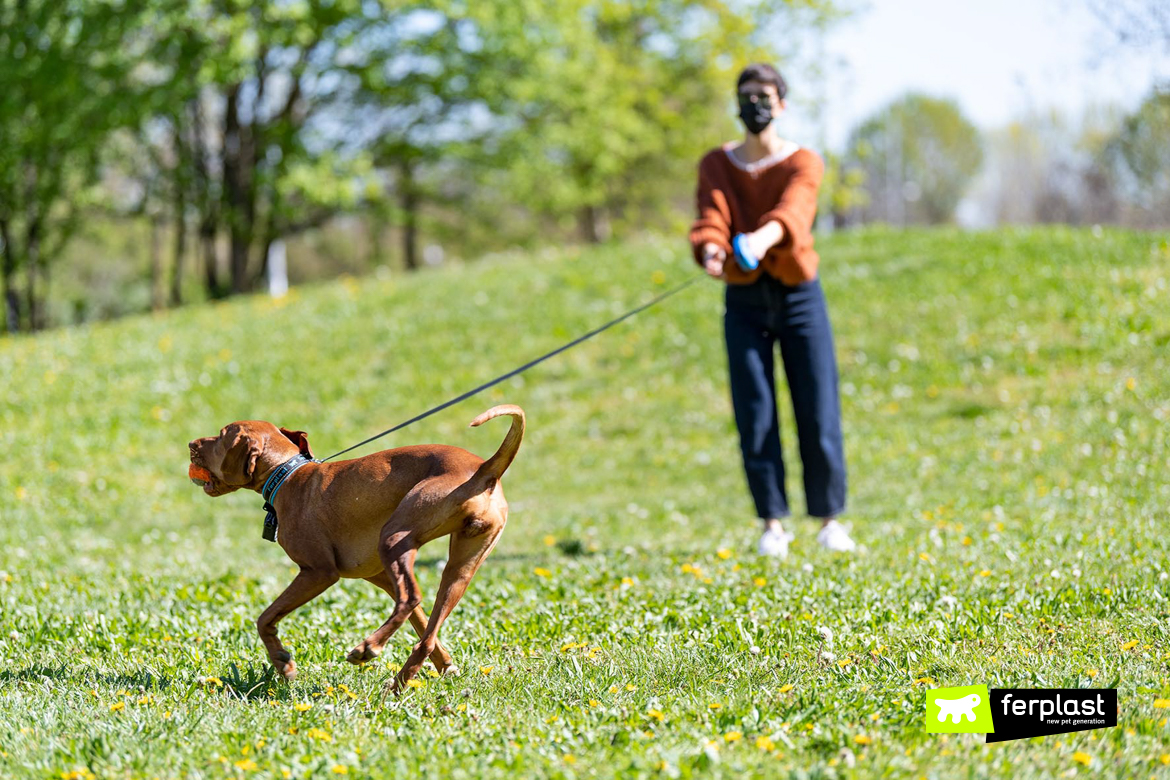 Flippy One lead range by Ferplast
The Flippy One range is divided into two models:
Flippy One Tape. This retractable leash model features a stretchable tape made of sturdy nylon that resists pulling and tearing. It includes different sizes designed according to the size of the dog: small (with a 4-metre long tape, for dogs weighing up to 15 kg), medium (5 metres, up to 25 kg), large (5 metres, for large dogs up to 50 kg). It's available in black, red, blue and pink.
Flippy One Cord. This is the extendable, compact and lightweight lead with a strong nylon cord. It's available in a mini (with a cord that can be extended up to 3 meters, for small dogs up to 8 kg), small (up to 4.5 meters and 12 kg of weight), medium (up to 5 meters and 20 kg) and large (5 meters and 35 kg of weight) versions. In addition to black, red and blue, it's also available in pink in the mini and small versions.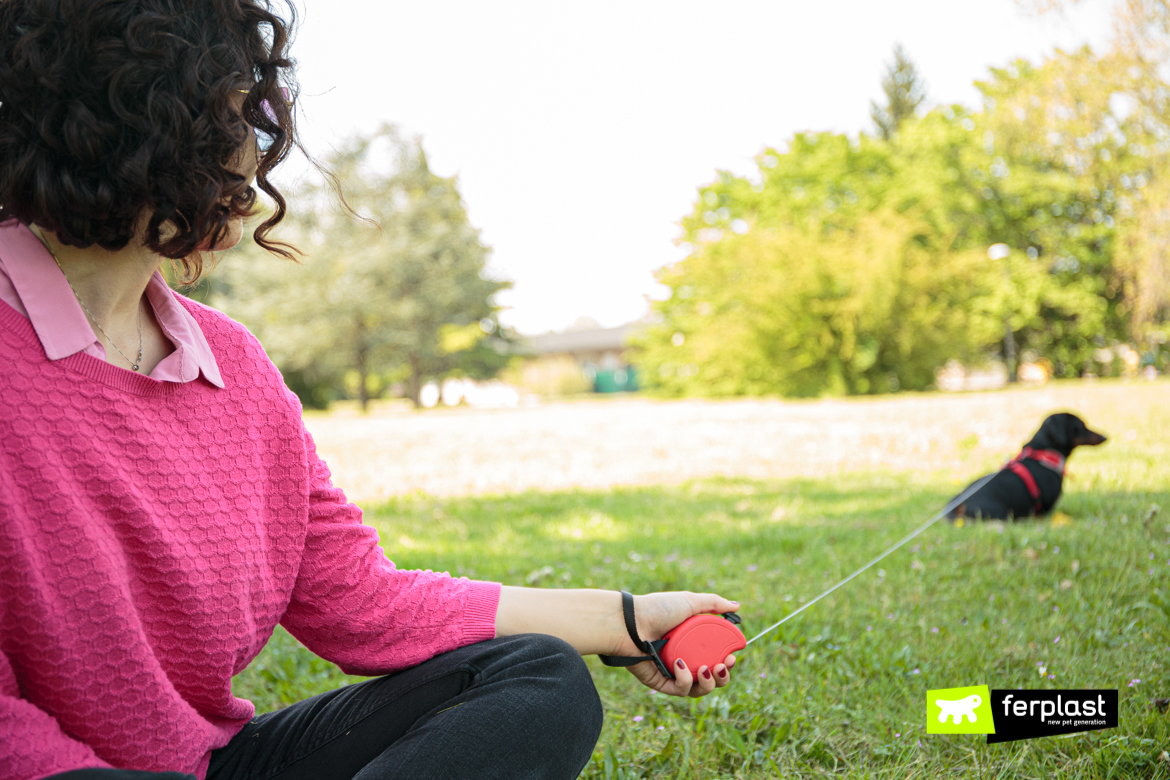 The general characteristics of the Flippy One
Robust and compact
The Flippy One extendable lead has been studied down to the smallest detail to guarantee the safety of both dog and owner. Although it is very light, it is robust and resistant, comfortable even for longer walks and takes up little space even in a backpack.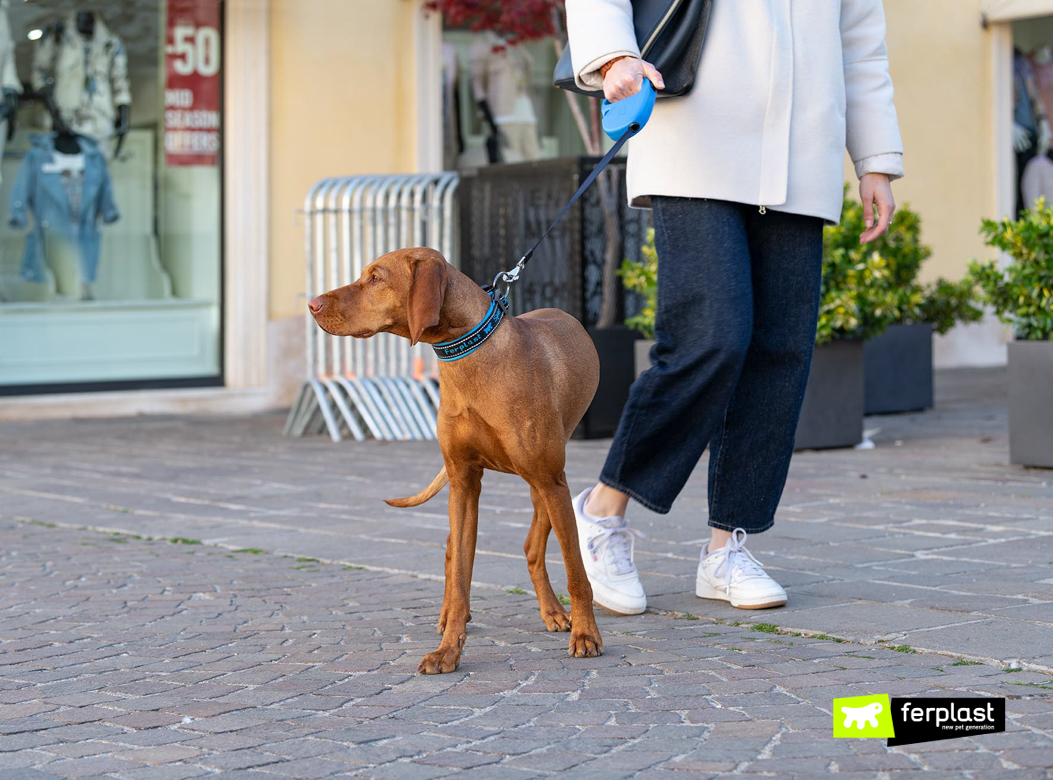 Intuitive
Flippy One has a single button for three different inputs: free sliding, momentary lock and permanent lock.
For free sliding, just keep the button released. The cord or tape will come out and rewind automatically following the dog's movements, allowing him to move freely.
To activate the blocking function, simply press the stop button, taking care to do so all the way.
It is also possible to choose a specific length at which to stop the lead: you can stop the release of the cord or tape at any moment by pressing the stop button and pushing it forward. To release the leash, simply push the button in the opposite direction, backwards.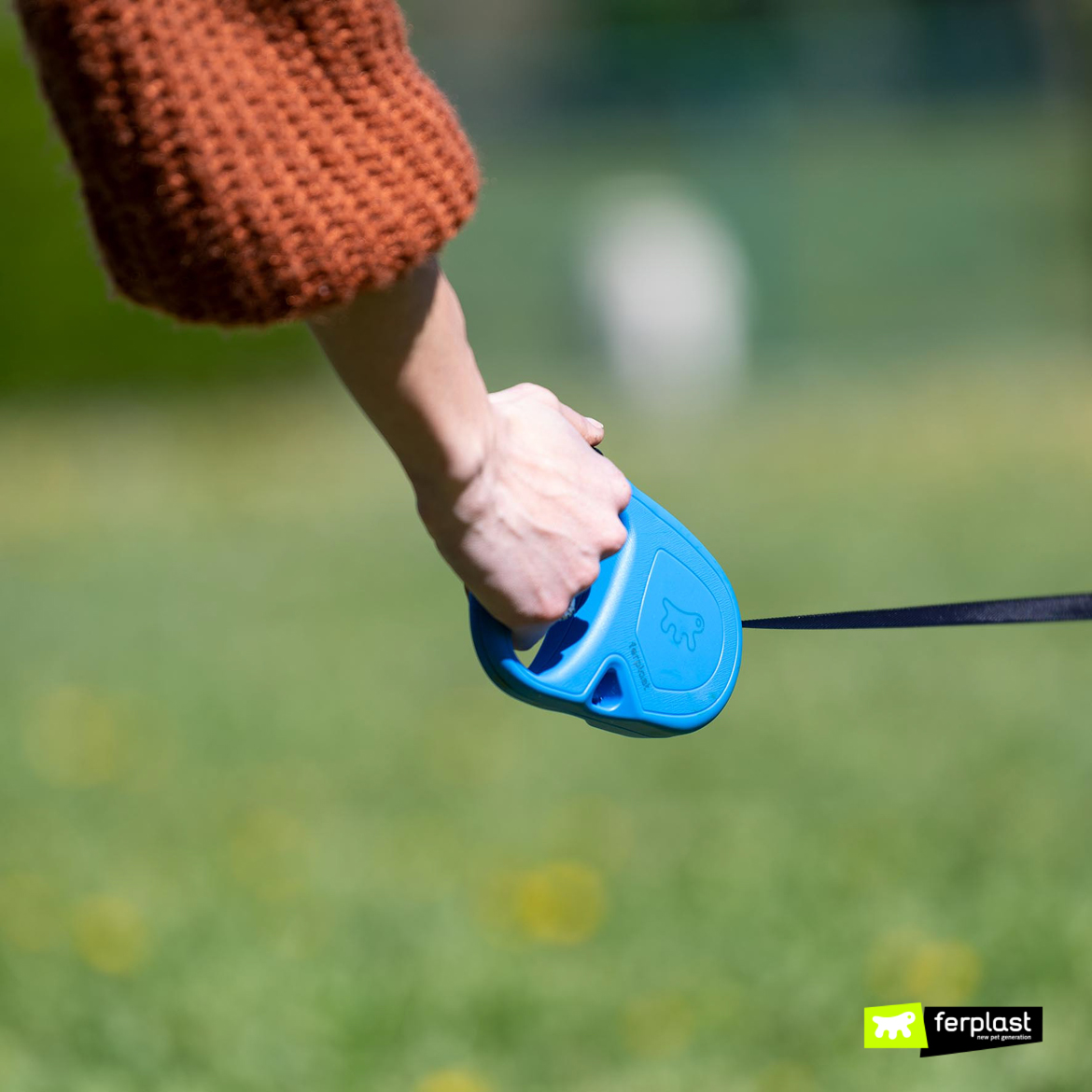 Practical and handy
The control button is ergonomic, easy and precise. It is easy to handle because it has a comfortable grip. It's also equipped with an anti-kickback system that allows the cord or tape to slide smoothly and silently. This way, both parents and pets would be able to move as freely as they want and enjoy their walks. All models, moreover, have a useful integrated hole for attaching the hygienic bag holder, like those in the Dudù line. The Flippy One Mini, on the other hand, features a convenient bag holder strap.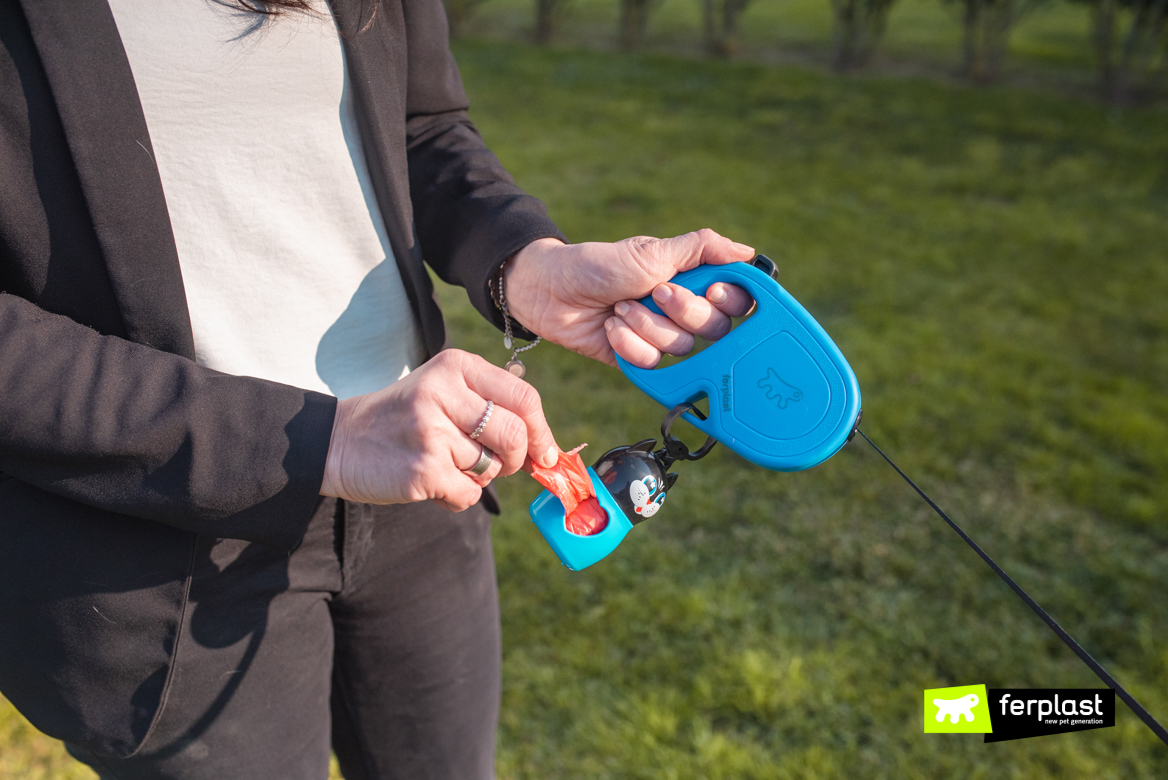 Reliable and durable
Before reaching the market, Flippy One by Ferplast went through rigorous quality tests, which highlighted its resistance over time and to the most extreme environmental conditions.
The leashes in the Flippy One range are also practical to clean. If the cord or the tape gets dirty, you can unwind them completely, activate the permanent lock function with the stop button and wash them with mild soap and water. Before rewinding, you must wait until they are totally dry to avoid malfunctioning.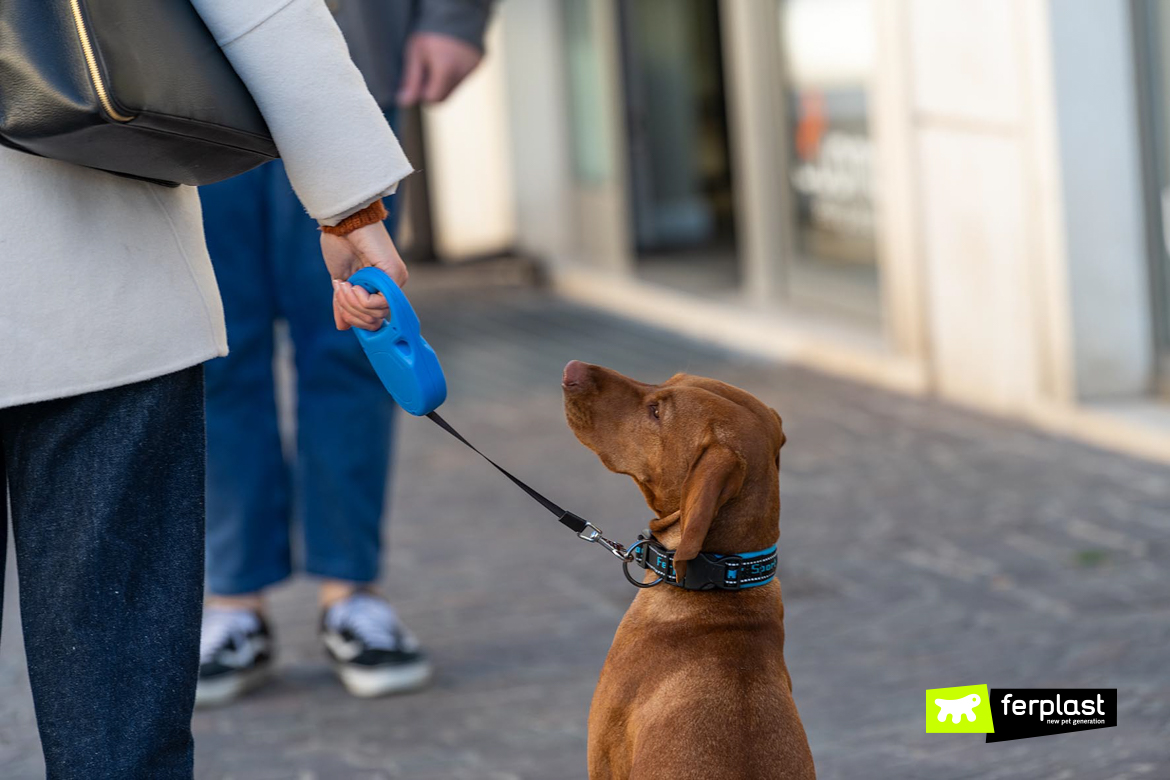 Environmentally friendly
In line with Ferplast's commitment to a more sustainable production, which protects nature and guarantees a future for generations, Flippy One's packaging is eco-friendly, because it is minimal and made entirely of paper.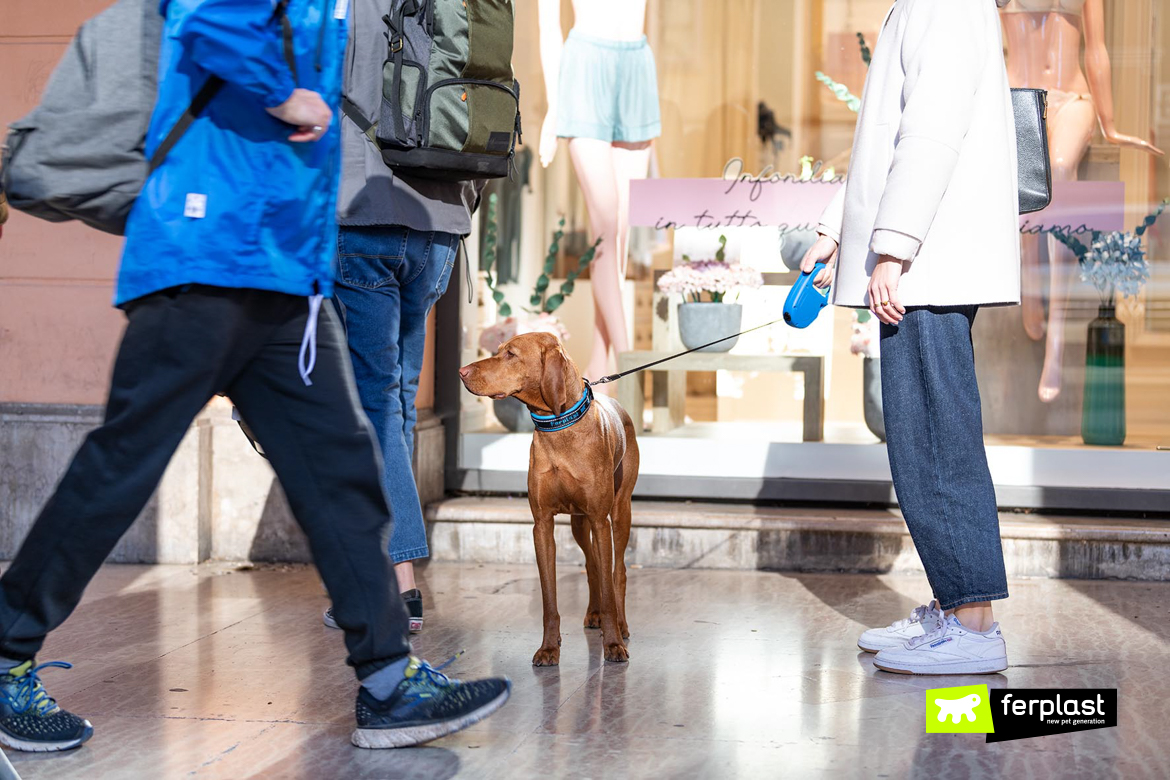 The leashes in the Flippy One range are the result of 30 years' experience in the production of retractable leashes, a long series of safety and reliability tests and a new user-friendly design. Designed and manufactured for the freedom of movement and for the comfort of the owner and the safety and well-being of the dog. Perfect in all situations, from a walk to a trekking, to fully enjoy life with your four-legged friend without worries.