The cat flap or overhead door is a very useful accessory that is usually associated with cats. However, this object can be used for dogs too. Let's dispel once and for all the myth of the up-and-over door for cats only and see how it can allow dogs to move in and out without problems!
Flap for dogs: why is it useful?
Who said that only cats like to alternate moments of resting on their cushion with other moments of running in the garden? Dogs may be less independent than felines, but that doesn't mean they don't enjoy going out into the garden to play and then coming back in.
It is not always possible to follow dogs in all their movements, but those who are lucky enough to have a garden or an enclosed area can install a flap in the doorway. In this way, Fido can get up and go out in complete autonomy with a simple paw!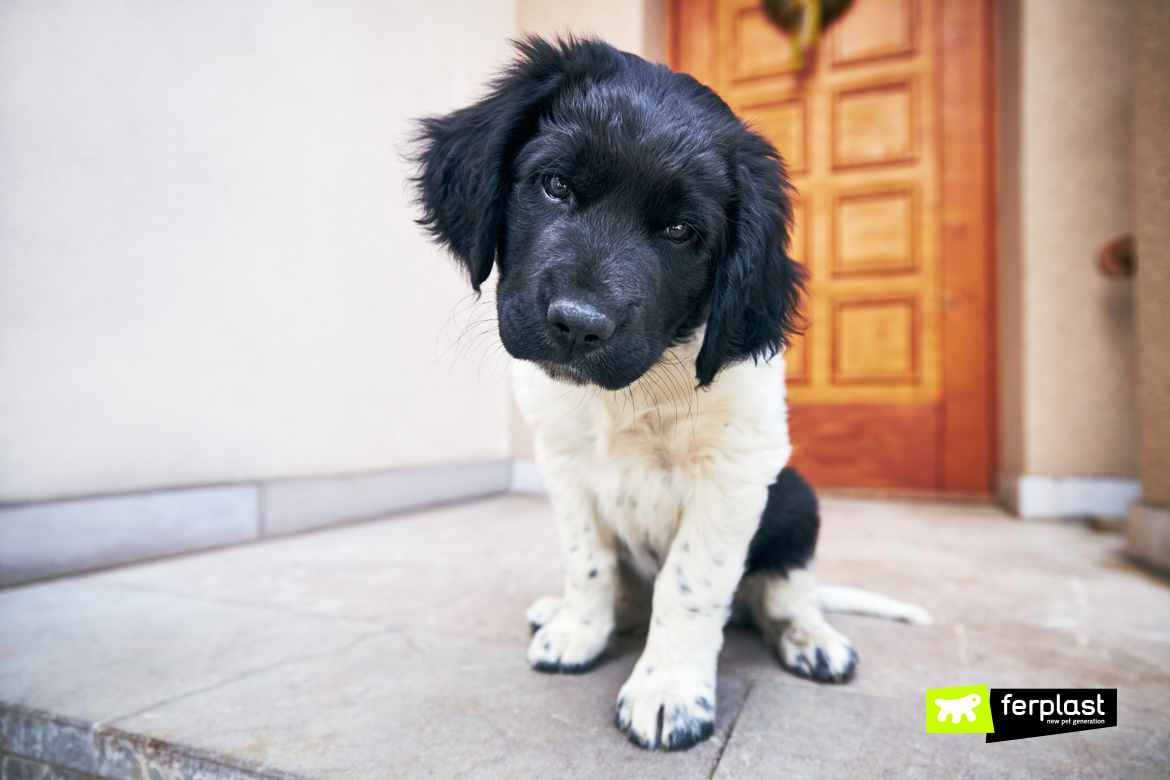 Overhead door for dogs: the Swing line by Ferplast
SWING 15
The flaps of the Swing line by Ferplast are designed for cats as well as for small and medium-sized dogs. There is also a model specially created for larger dogs, the Swing 15. These are very sturdy and reliable doors, made of plastic, featuring 4-way closures. The dog can go in or out, but it's also possible to keep the animal inside (entry only), or to lock him outside (exit only).
Fear of draughts? Not a problem, because Swing is equipped with a Wind Stopper system that protects against draughts. The warmth of your home is safe!
The Swing 15 up-and-over door is available in white and dark brown and comes with a 5 cm tunnel that allows it to be adapted to thicker structures and can be easily trimmed.


SWING 5 and you always know where they are
If you are apprehensive and want to know if your dog has gone outside, go for the Swing 5 flap for dogs. This cat flap is ideal for smaller dogs and is equipped with a direction indicator. There is a flag that remains oriented in the direction of the animal's last passage.
The Swing 5 also features the four-way locking system. Entry/exit, entry only, exit only or locked door and the Wind Stopper system, which protects against draughts and air currents.
SWING MICROCHIP: no more unwanted guests
 There is a flap model that allows the controlled passage of the animal through microchip recognition. Swing Microchip Large, in fact, has a special antenna that detects and decodes the dog's subcutaneous microchip, unlocking it and allowing it to be opened when the dog approaches. It is complete with a Wind Stopper protection system against draughts and has a useful anti-shock mechanism that allows the door to close without slamming. If your dog does not have a chip, a practical collar with a microchip is included in the package.
The Swing Microchip model, on the other hand, is suitable for small dogs and, in addition to the microchip recognition system, is equipped with a direction indicator. It monitors the dog's entrances and exits and allows you to check the dog's direction.
How to fit the Swing flap by Ferplast
Ferplast flaps are easy to mount on any structure or door made of wood, metal, glass and even on masonry walls. In the case of glass doors, we suggest you contact a glazier, who will assess the feasibility of installing the cat flap.
It will probably take your dog a while to understand how the overhead door works, but once he gets used to it, he will not be able to do without it. Just give it a push with your snout or front paws and you're done. The door closes easily behind him!