Do you love your cat madly? Do you have lots of cat friends? If you are looking for low cost but original and useful Christmas gifts, you are in the right place. We have created a list for catlovers, full of ideas and accessories, which you can buy for less than 30 euros. This Christmas will be very special!
What are the Christmas gifts under 30 euros? Here is our #FerplastGifts list dedicated to cats!
Toys for cats under 30 euros
All cats love to spend their time hunting and scouring the garden, but when it's cold, there's frost or even snow, there's nothing left to have fun with out there. For cats, playing at home is very important, because it gives them the opportunity to test their reflexes, break the meal-sleep routine and have fun. For this reason, games, interactive or classic tooys like fake mice, are an excellent gift idea to give to the cat with spring load, you are spoiled for choice!
Vertigo by Ferplast has a nice carousel shape with a spring rod and a plush ball applied to the end; at the base there is a two-lane circuit with two balls, one of which with LED light that is activated with movement. Fun for the feline! An excellent alternative for the playful cat is Discover, perfect for setting his mind in motion. You will have to hide the biscuits in the appropriate holes, close the sliding lids and push the cat in search of the prize!
PRICE FROM € 17.30
Set of cat bowls under 30 euros
What's the favorite thing about cats after sleep? You guessed it: eat! For felines, animals known for their refined palate, food must be served exclusively in equally special bowls!
Elegant and refined, the bowl holder Desco Wood is characterized by an essential style, it consists of a sturdy Tree Friend wooden base, completed by Orion stainless steel bowls, hygienic, resistant and easy to handle thanks to the comfortable outer edge. Perfect to inaugurate during Christmas lunch!
PRICE 24 €
For those who love patterns and bright colors, the ideal bowl to give at Christmas is Izar. It is in ceramic, with a rounded shape with original protrusions in the shape of ears and a decoration with a smiling cat on the inside.
PRICE € 10.20
Scratching post for cats under 30 euros
Protecting the house and Christmas decorations from claws of the cat is essential in this period! Give the cat a beautiful sisal scratching post with toy, easy to move from one room to another, and equipped with a ball attached to a spring that will distract the animal from the Christmas tree decorations.
PRICE € 20.90
There are those who prefer to receive useful gifts at Christmas, even if not exactly romantic. If your friend has just adopted a cat who always lives indoors, she will definitely need to periodically trim his nails to save the furniture in the house. The nail clipper for cats by Ferplast is a very useful and economical gift!
PRICE € 5.20
When the cat leaves the house: useful accessories under 30 euros
How many times does your cat drive you crazy because it wants to come in and out? During this holiday season, when everyone is at home and disturbing the cat's peace, the animal is likely to feel the need to go out into the garden more often. Keeping up with his demands can become challenging!
If you are tired of getting up every three by two from your chair to open the door, there is nothing more useful than a cat flap! Whoever receives this gift will be forever grateful to you. The cat flap Swing by Ferplast has a four-way locking system and is available in white and brown.
PRICE € 19.90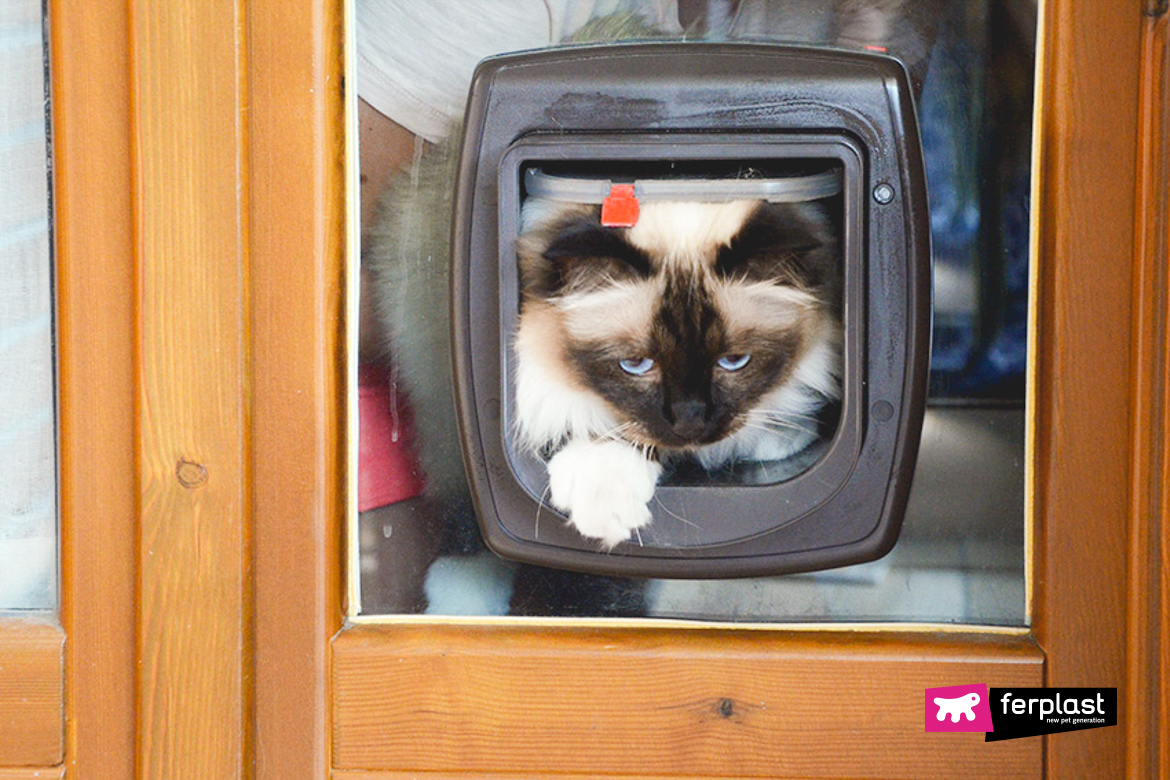 Did you find any interesting ideas by reading our #FerplastGifts list? Just a little good taste is enough to make a welcome gift, without having to spend an exaggerated amount!