This year Christmas will have a different flavor. The holidays will be spent with a few close ones and most families will have lunch at home. Good excuse to try something new in the kitchen! Those who live with Fido can take the opportunity to prepare delicious recipes for dogs: here are our proposals for the Christmas menu!
Correct and specific recipes for dogs can be prepared by using both homemade food (home diet) and commercial products. In this case, for the Christmas menu we have collected recipes specially designed by the vet-nutritionist Barbara Tonini.
First Course: Cantonese rice
Cantonese rice is a very tasty dish that pays homage to the oriental tradition and is highly appreciated. The ingredients are: a bowl of classic rice, a small piece of pork tenderloin, an egg, a handful of peas, a carrot and some low-fat cream cheese.
Rice is a light food but very rich in carbs and proteins, perfect to give the dog the energy he needs. You can boil the rice in hot water and add some peas at the end.
Pork, on the other hand, is an excellent protein source, that should be cut into cubes and cooked well in a pan. Also in this case, almost at the end, add small pieces of carrot that contains a lot of fiber. Finally, break an egg, an ideal protein for dogs, and mix it with the meat.
When it has cooled, place everything in the bowl and add a spoonful of low-fat cream cheese as decoration.
Second course: Creamed cod with crispy polenta
A nutritious dish, easy to prepare and that will satisfy Fido. It's creamed cod with crispy polenta.
The ingredients are only a few and are very easy to find: 2 slices of cod, a few tablespoons of ricotta, a little polenta and peas.
Cod is a low-calorie, digestible and rich in phosphorus fish and has to be boiled in water for a couple of minutes, in order to become soft, and then it has to be blended with ricotta.
Buckwheat polenta has a great abundance of fiber, which is perfect for increasing the dog's intestinal transit. Once ready, let it cool a bit and cut it into cubes and then put it in a pan and to crisp it.
Peas are rich in fiber and serve perfectly as a side for this tasty dish!
Dessert: Raspberry semifreddo
No Panettone for Fido, but as a dessert we offer you a delicious raspberry parfait. The ingredients are: breadcrumbs, melted butter, ricotta, raspberries, mint and cream cheese.
Butter is rich in saturated fats, which have important energy properties and can be good for the intestine. Melt a couple of pieces in a bain-marie, move the melted butter to a bowl filled with breadcrumbs and let it rest in the fridge for an hour.
To create the cream, use cream cheese and ricotta, a protein source, and a spoonful of honey. Mix everything and add the raspberries to flavor it. This fruit has purifying and detoxifying properties.
Now you can create the base with the mixture of breadcrumbs and butter and add the raspberry cream on top!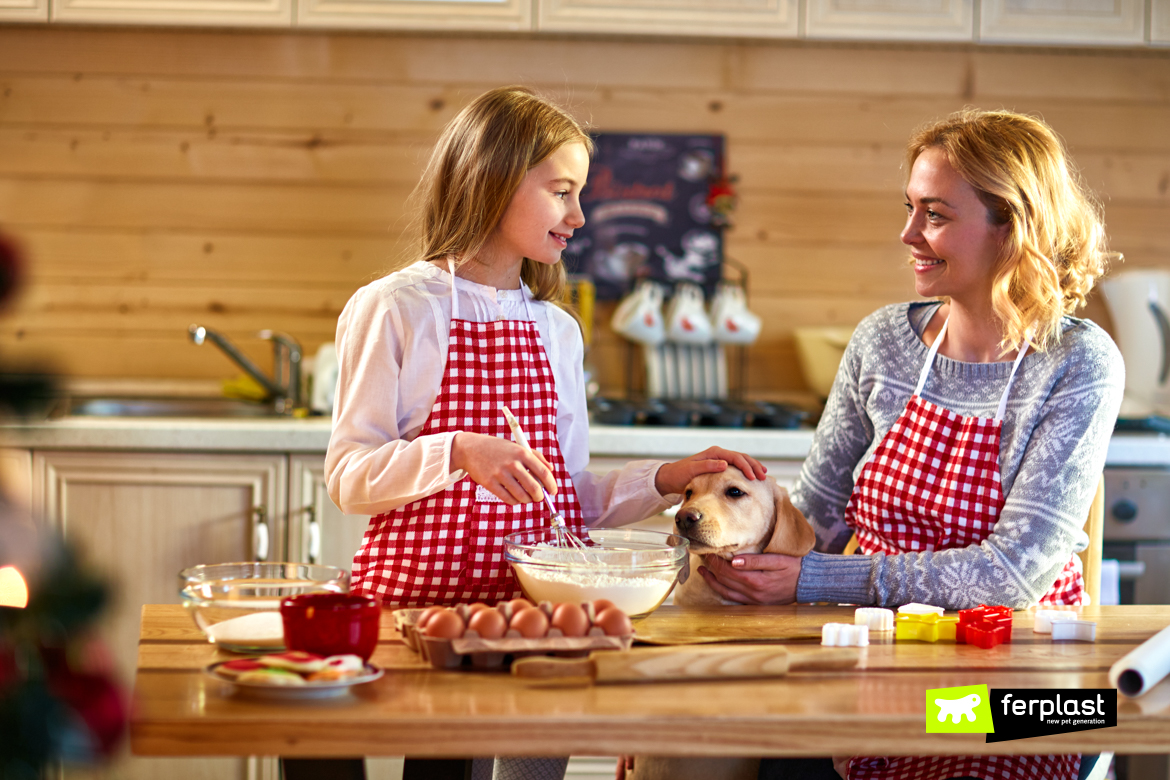 We hope we gave you great ideas to make your furry ones lick their lips at Christmas or New Year's Eve. Send us photos of the results with the hashtag #FerplastWinterland!