Do you know the story of Bowie The Cat?  This beautiful cat saved from the street was born with heterochromia, that means with eyes of two different colors, one blue and one green, like the famous London singer David Bowie, his (deliberately) namesake. Today the cat Bowie is an Instagram star!
The Bowie The Cat Story
Bowie The Cat came into the world suffering from heterochromia, specifically with the eyes of two different colors; because of this physical difference – a factory defect might have thought his first parents- was abandoned shortly after birth.
His life, which started unhappily, took a positive turn when Maria Lloret arrived, who seeing him alone and forgotten by everyone, did not hesitate twice before taking him home, becoming in all respects his adoptive mother!

The distinctive features of Bowie The Cat
Bowie is a cat that you remember because of its atypical appearance, which is so reminiscent of that of the eclectic singer Davide Bowie. Both have large and expressive eyes, one green and one blue, David Bowie also had one pupil larger than the other. Too many elements in common so why not to call the cat with the same name as the rocker, Maria thought!
The wonderful white fur, covered here and there with tiger spots, makes him funny but at the same time fascinating. However, as the owner of Bowie says, he is also his sweet and cheeky, his curiosity and the desire to know others that makes him so special and loved by everyone!

Instagram and the pro-adoption campaign
Bowie filled Maria's life with happiness, who in order to pay him homage and make his story known, decided to open an Instagram profile at the end of 2018. In a short time he became a real star, he seems born to be in front of the photographer: on his soft bed, in the arms of his mistress or dressed up as a lion!
Taking advantage of the visibility of her four-legged friend, Maria has however decided to transform the entire social page into a positive message asking everyone not to buy the animals but to adopt them, because each of them is special and has so much love to give and receive.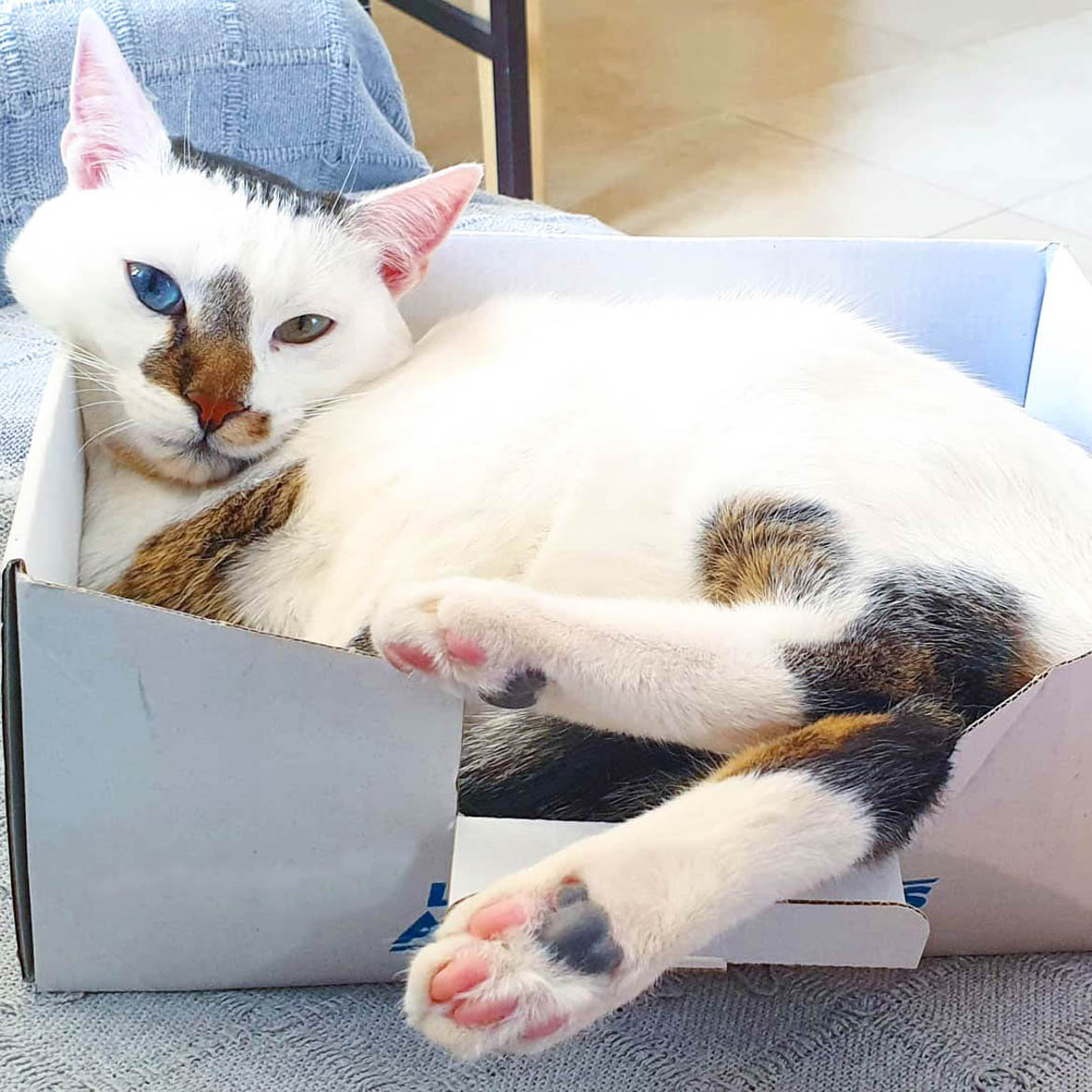 We too are big fans of Bowie The Cat, mainly because he has become an ambassador of a message we care very much about. Adopting a dog or cat from a kennel, abandoned along the street, is a beautiful act of charity and solidarity!