The harsh winter has finally come and the best solutions to warm up our four-legged friend are Ferplast's ultra-soft faux fur beds. Here is our special "Faux Fur Ferplast" selection!
Faux fur cushions are the fluffy accessory your furry ones need to face winter with the right sprint. Warm and enveloping accessories to be placed on the bed, next to the sofa in the living room or on the chair to always have your favorite pet by your side.
Best dog beds in faux fur
Sofa: Marquis and Dandy F
The sofa-shaped bed is a super cozy and modern nest and has a stable structure ideal for supporting even the most restless dogs. Among the most beautiful there are Marquis and Dandy F by Ferplast, covered in a super soft eco fur.
The round sofa Marquis is equipped with soft padding on the sides for absolute comfort. Inside, it has an ecological fur lining to welcome Fido in a warm hug and has a comfortable removable cushion. Dandy F is a fabric dog bed complete with removable reversible cushion. The pillow has a cotton side, ideal for the warmer season, and an ecological fur one, for the colder months. These details always make a difference when the main purpose is to pamper and warm up the dog!
Pillow: Lagoon and Relax Soft
What's nicer than resting on something soft and cozy? With the Lagoon and Relax Soft cushions covered in faux fur, Fido will fall into a deep sleep, feel pampered and above all warm. Lagoon has a round shape, a simple design that meets the most refined tastes. Relax Soft, instead, has the classic oval shape and is available in different color combinations.
Both can be machine washed at 30 ° and the fur remains intact and soft.
Best beds in ecological fur for cats
Cat beds: Astro and Pouf
Cold, I'm not afraid of you! For your cat, choose a sofa covered in ecological fur, very soft and enveloping, such as Astro and Pouf by Ferplast. We are sure that they will immediately improve the feline's mood. Astro is a soft house finished in the smallest details, with a faux fur lining and a nice pattern with black and white kitten on the outside. Pouf, made of cotton, is a padded basket with a large entrance and a nice adjustable edge. Thanks to the refined and elegant design it will be perfect in any room of the house. Inside, the soft and warm plush will provide great comfort and coziness, especially during winter!
Closed beds: Imperial and Tufli
If your cat prefers to stay away from curious eyes, you should opt for closed beds like Imperial and Tufli by Ferplast. Tufli is often cats' favorite, because, thanks to the compact shape, it guarantees greater comfort and safety. One more reason to love these kennels is their softness, guaranteed by the ecological fur lining.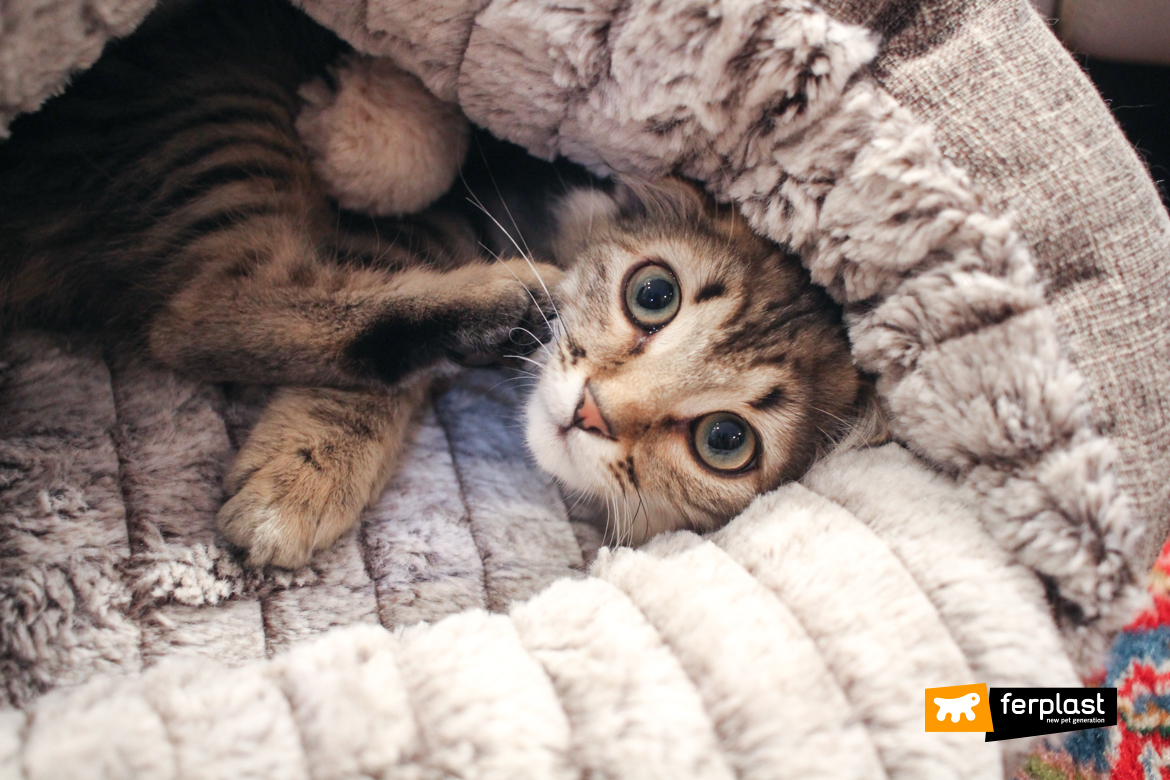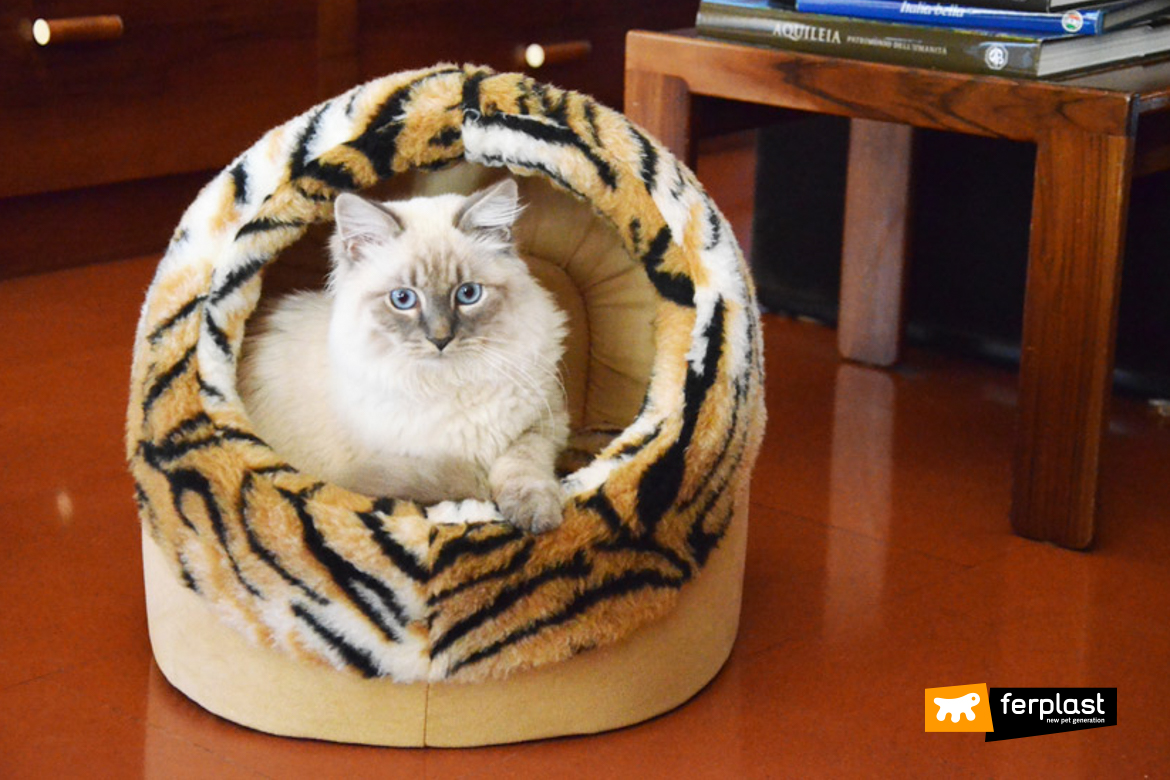 To face the cold, faux fur beds can become the best allies for dogs and cats!