Valentine's Day is a holiday for those who are in love. Single people or those who can't celebrate with their significant others can still have fun on this romantic day, with their own pets. Isn't it true love, what we feel for our own dogs and cats? Here goes a list of gifts we've come up with for all dog lovers and cat lovers!
Whether you're a dog person or a cat person, we're well aware of how much you love your pet, so don't let yourself be caught empty-handed on 14 February! Are you out of ideas? We from Ferplast can help you surprise your pet, renewing his wardrobe by filling it with hearts and red prints.
DOG LOVERS
NAPPING. For naps and relaxation, try our Candy stuffed pillow, with a print that says "I love. If you prefer a bed with sidebars, our Nido model is perfect. Its fabric has a pleasant velvet effect that is soft, warm and comfortable. Machine washable at 30° C.
ACCESSORIES. Dogs love the outdoors, so why not give yours a leash? Take your pick: Amigo, an automatic leash, or a classic Daytona with a Matic automatic carabiner? The important thing is, it's red, the colour of love and passion, a great match with our Dudù Heart plastic bag holder!
TOYS. You won't find a better occasion to replace that old toy your dog has chewed beyond recognition. Here's a new fire-red rubber bone, which doubles as a toy and a tooth cleaner.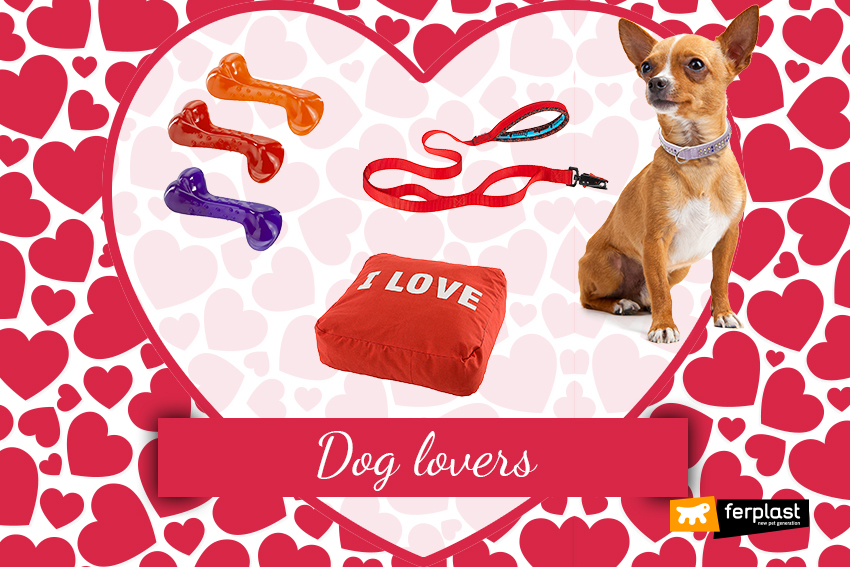 CAT LOVERS
NAPPING. Cuore is an adorable heart-shaped cushion (can't go more Valentine than this!), soft and cosy, chic enough to become your cat's favourite refuge in a heartbeat! Super easy to wash, which means no matter how much your cat sheds, all it takes is a quick wash, and it'll be good as new.
ACCESSORIES. If you have a cat, you know one of her favourite pastimes is giving herself a manicure. Do something about it before she turns your sofa into shreds! We suggest our super practical Tripod scratching post. It has four different sisal surfaces waiting to be scratched and is available in a natural wood colour or in red! For meal times, give your cat a glamour bowl such as Glam – for Valentine's Day, go for red and you're good to go.
TOYS. How about using Valentine's Day as an excuse to replace those old battered toys? A classic that never fails to entertain felines are fishing rods with a furry fly, to make your kitten jump around!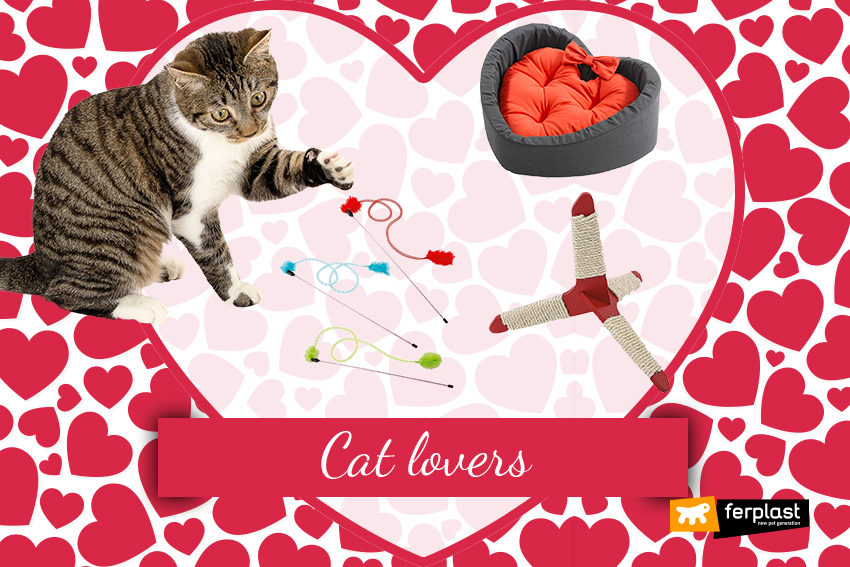 Are you happy with these suggestions? Remember, Valentine's Day is a great occasion to show your love for shelter animals that don't have a loving family. Make a donation, go visit a shelter, do something nice for those in need.