What is a gerbil? The gerbil is a small rodent, a very intelligent kind of mouse native to Mongolia and the desert of Northern China. It is a perfect pet for children too, but before you let yourself be conquered by its funny face and adopt one, there are (at least) five things to know!
Gerbils are very small animals, approximately 12 centimeters long, not counting the other 10 cm tail, and weigh around 100 grams. Males are slightly larger than females, and exist in different color varieties: light brown, white, black, grey and in different shades on these tones. For some years they have been increasingly in demand and loved by families, so much so that last year a gerbil was almost about to be elected mayor in a small town in Vermont, competing against a goat, a dog and 13 other animals, on the occasion of a special solidarity initiative to raise funds to renovate a playground in the village.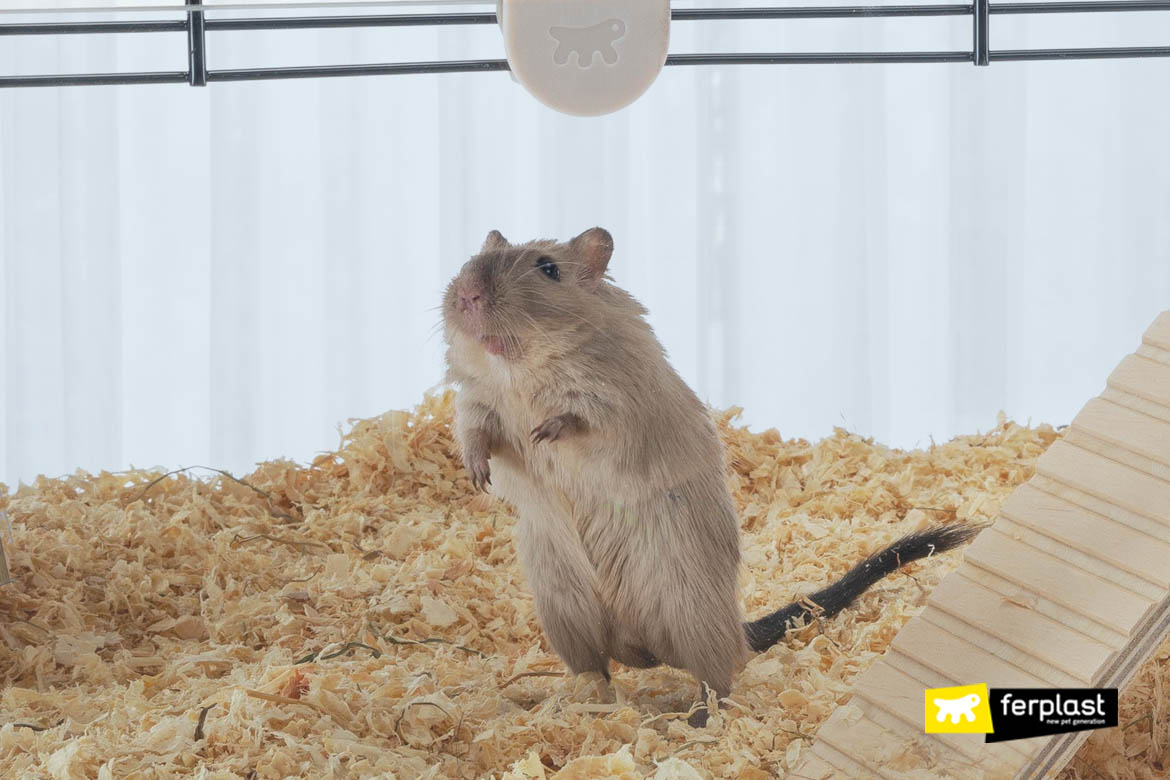 But what are the things to know about the desert rodent?
1. HE LOVES HAYY
Hay is the basis of the gerbil's diet, it helps digestion and the regular functioning of the intestine, but it also uses the hay as a soft base in which to sleep. The feeding of the gerbil is varied: it eats wheat, barley, oats and corn, small quantities of fruit and vegetables (apple, pear, carrots, pumpkin) and occasionally larvae and crickets.
2. HE IS A SKILLED EXCAVATORS
Gerbils are skilled diggers, thanks to their long and strong nails they manage to create deep and long tunnels under the ground, in which to take refuge. Because of their propensity for digging tunnels in the ground, gerbils must live in cages with high walls, at least 30 cm, since they are also good jumpers, and equipped with abundant bedding, with pipes and various hiding places. The models from the Karat range by Ferplast are sufficiently large, developed on two floors with a high depth tank allowing the animals to dig and hide in the sawdust thus supporting their natural disposition. In addition, since it is made by transparent glass, it allows the rodent to be kept under control as well as containing the litter.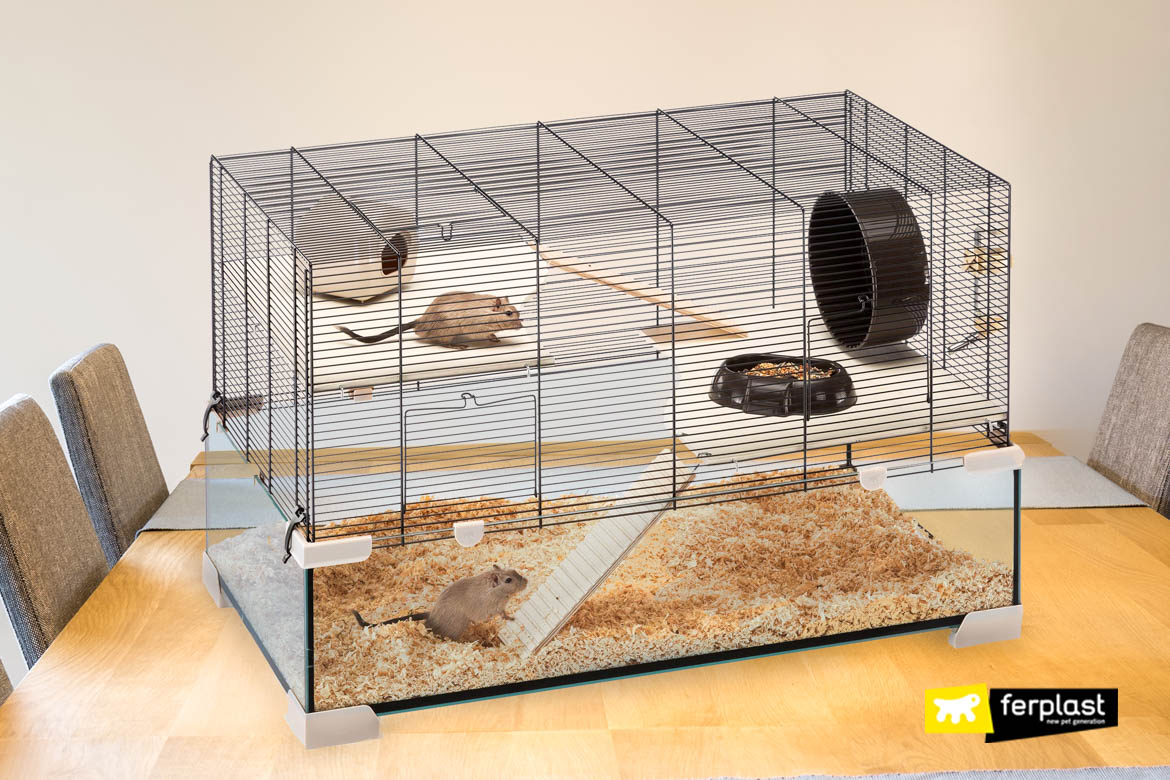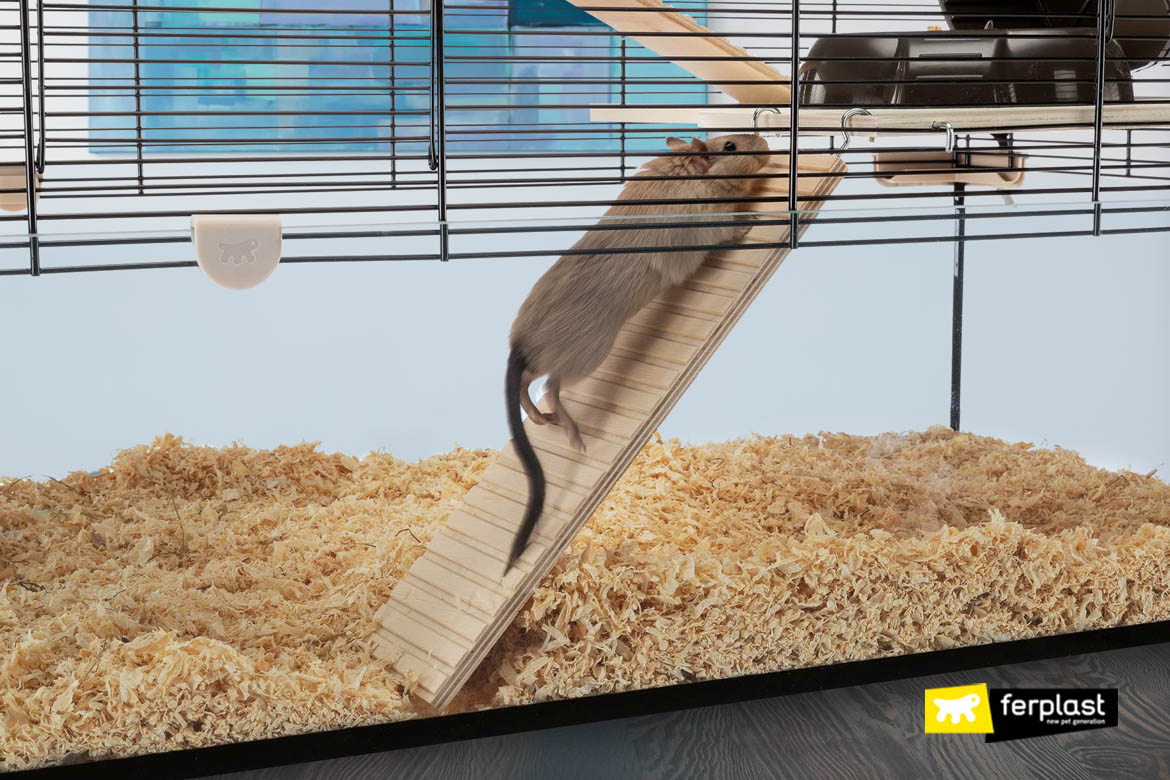 3. HE SUFFER SOLITUDE: BETTER TO ADOPT TWO
These small desert rodents are very sociable, they love the company and can't stand spending the days in solitude, so better to adopt them in pairs and possibly of the same sex. Gerbils reproduce very easily, so you risk finding yourself looking after litters of gerbils!
4. GREET BY RUBBING HIS FACE
Gerbils love being in a group and have the funny habit of greeting each other by rubbing their nose and kissing. They are very affectionate animals and love contact, in fact they are used to sleeping all piled up and cleaning each other. It is a docile and active rodent, a feature that makes it a perfect life companion for children too. The important thing is to teach them to treat it with respect, without pulling it by the tail.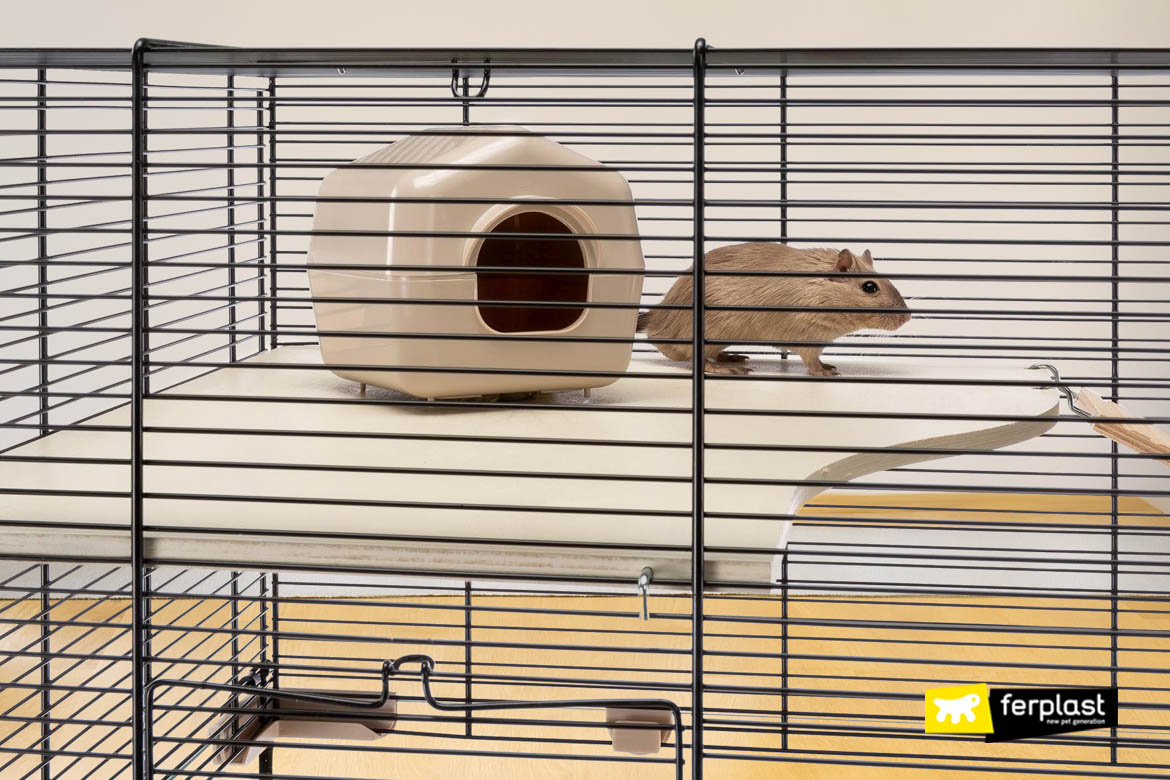 5. THEY KEEP ON NIBBLING
An instinctive behavior typical of the gerbil is to gnaw (but not bite humans!) everything they find. Therefore, you need to provide them with a variety of suitable materials: sprigs of wood, untreated wicker objects, hay, cardboard rolls, pieces of kitchen paper, cardboard boxes with which they can let off steam.