One of the first purchases after having brought a cat or a dog to our home is a dispenser for water and dry food. These dispensers are very useful in a variety of occasions, for example if we want to manage our pet's meals and nobody is home.
How much food should we give our pets?
The daily quantity of food for dogs varies according to their age, the time of year, the physical activity the dog has and the type of food it eats. It is always a good idea to alternate between dry food and wet food, because they each have specific properties that help maintain a healthy diet for your pet; should you decide to opt for a homemade diet instead, it is preferable to ask your vet for advice first.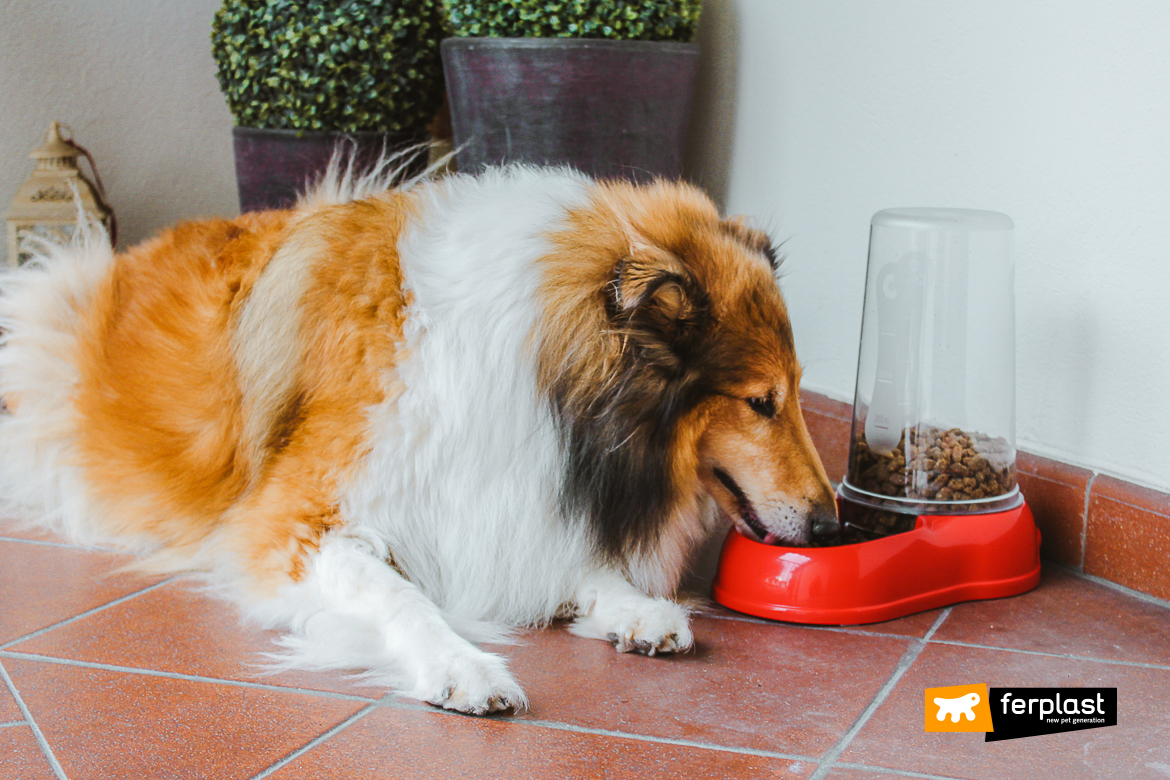 Pet owners frequently ask how many times a day their furry friends should eat. The best solution is to pour a precise amount of food into their bowl in the morning (as agreed with your vet) in order to monitor how much they have eaten by the end of the day.
If for various reasons one leaves a pet at home for the weekend and still wishes to control their diet, food dispensers are available with a measure incorporated in the reservoir, that release food gradually as the pet eats it. Remember to consider the size of the container to make sure your pet gets enough food!

Ferplast Azimut distributors for large dogs
If you have a medium-large dog, the Azimut 5500 dispenser is ideal for you! This dispenser has the advantage that it is very versatile as its container has two openings, meaning it can be used for both water and dry food. It can be useful if you are on a trip with your pet and only have little space in your luggage: a dual purpose object! The transparent container has a capacity of 5.5 litres and has a useful capacity marking so that you always know how much food is being delivered. It is extremely easy to clean and has anti-slip rubber edges so that even the greediest of dogs won't be able to knock it over.

Zenit and Nadir, the dispensers for medium-small pets
Owners of cats or small dogs can chose the pair of dispensers Zenit and Nadir, that have a maximum capacity of 3 litres. The first dispenses dry food, whereas the second is for water. The advantage is that both containers are transparent and feature a graduated scale, so it is easy to see when water or food are running out. With its ergonomic handle it is easy to hold in safe and secure manner when its being moved, so even the youngest can help when its time to feed the family pet.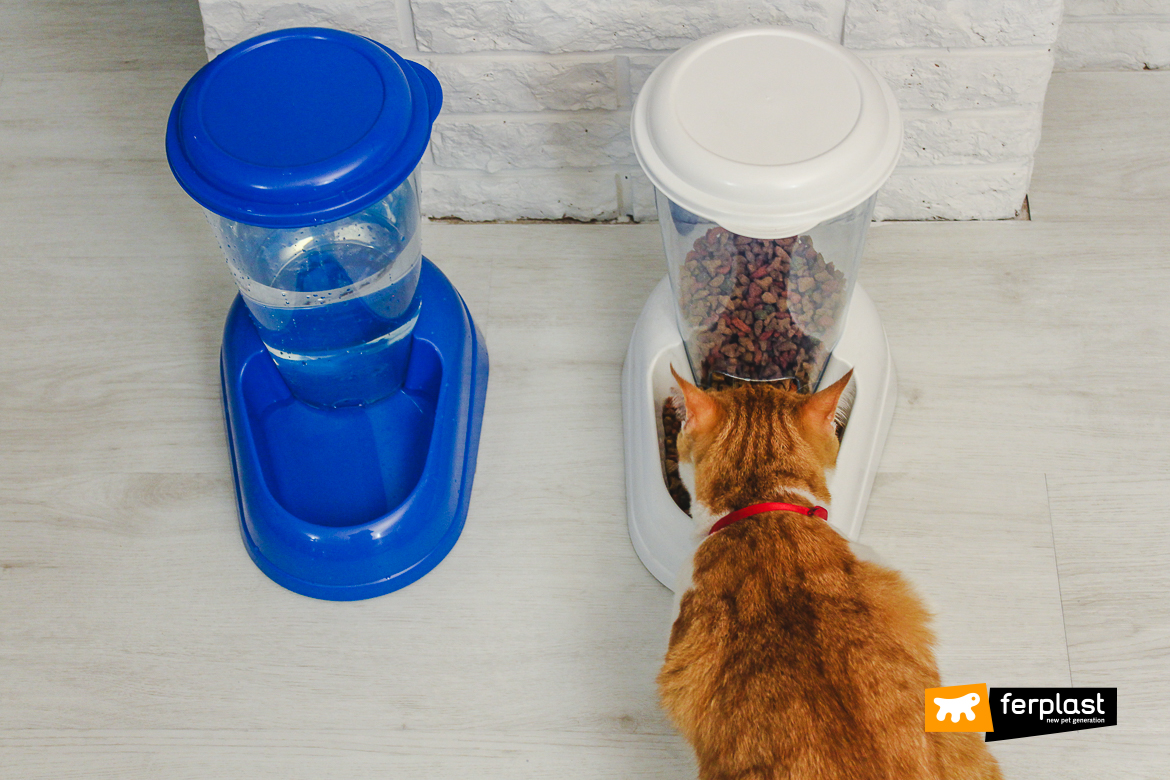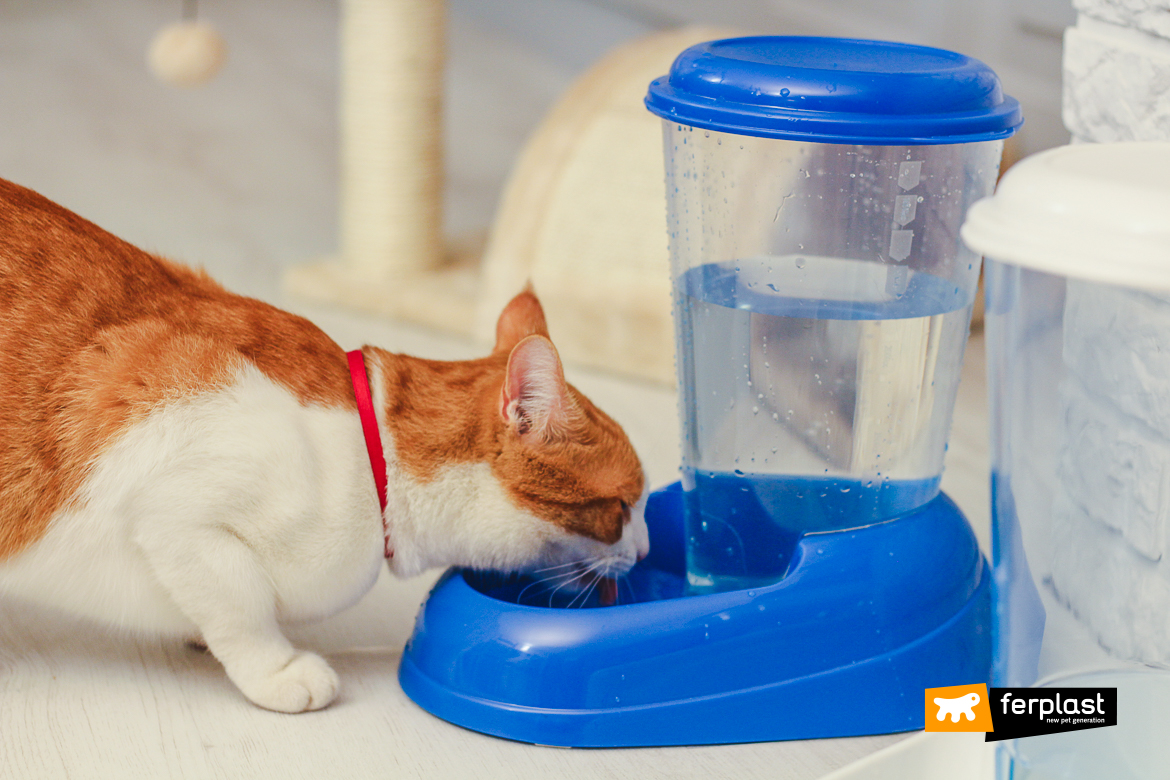 See how easy these dispensers are to fill? Sweet collie Emi and Meo, the cheeky little cat, love food time even more since the arrival of their new dispensers!