Cats scratch with their claws to make them stronger, to mark their territory and sometimes even to relax. If you want to prevent the furniture in your home from falling victim to their claws, it is essential to get a scratching post. Which are the best scratching post models for your cat? Let's find out together!
When you adopt a kitty cat, the best thing to do is immediately provide him a scratching post, so that he will get used to using it while he's still a kitten. If, on the other hand, you bring home an adult cat, you can get him used to it gradually.
Types of scratching post
There are different types of scratching posts on the market. Here are the main ones:
1) CAT FURNITURE OR TREE
The furniture or tree scratching post are larger and are vertical, consisting of several floors. They also have different elements, like cushions, hammocks, ladders and games. They are undoubtedly the type that cats prefer, because they offer more ways for them to have fun: they are like a gym in which they can play, jump, climb and take a nap. Zagor and Jago are included in this series. They are made from sturdy wood, with soft synthetic plush trimmings and sisal supporting column, perfect for some scratching with their claws. If you want designer objects, the best model is Kubo2, made of wood and covered with waterproof fabric. As these are very elaborate scratching posts, they are also the most expensive.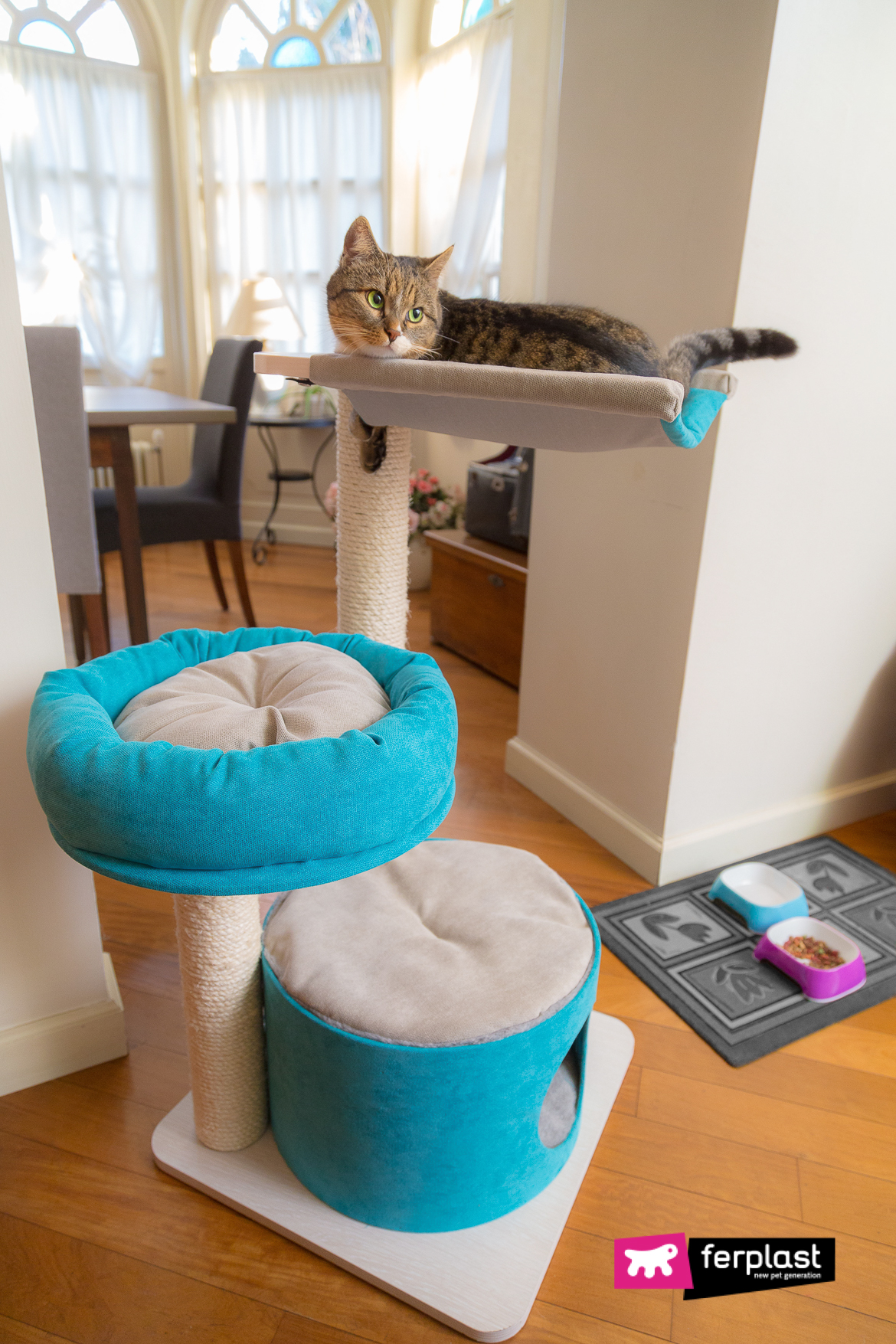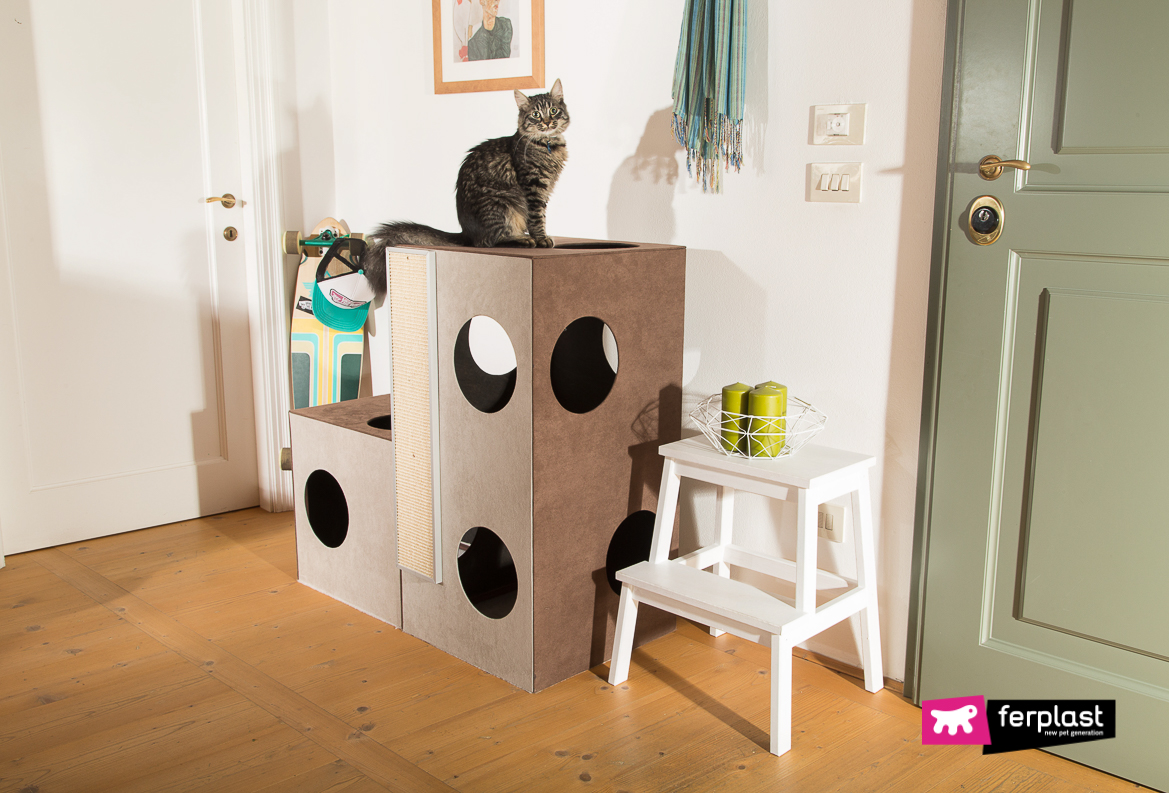 2) TRUNK
Trunk-style scratching posts are basic, but equally effective if you want to protect your furniture. They are ideal for people living in an apartment and who do not have much space at their disposal. The structure consists of a very wide base and a sisal column in the centre. It can be decorated with little balls or hanging objects, useful for distracting kitty, for helping him do some exercise and keep moving. The height of this type of scratching post is about 50-55 cm: the important thing is to make sure that the structure is stable and that it does not tip over and, therefore, the width of the base should be half the height of the pole.
3) MAT
Scratching mats are horizontal, they take up very little space and are useful when going on holiday with your cat and if you don't have much space at your disposal. These models do not always have integrated games and balls, so they could be a good solution to use with a tree scratching post, if you have multiple cats at home. Ferplast offers a version with catnip included, to be spread over the surface and entice the cat to approach it.

How to choose the perfect scratching post
The variables to consider before buying a scratching post are: size of your house, size of your cat and weight of the scratching post. If a scratching post is too large, it could be cumbersome in a mini-apartment, while if it is too small, kitty might find it tedious. Keep in mind that, as well as being a useful object on which your cat can scratch his claws, thanks to the various games and accessories it provides, it is a great way to stimulate kitty intellectually.

Suitable position
First of all, the scratching post should be in a room where there is a lot of movement or where you spend most of your time, which generally coincides with the place where the cat spends most of his day.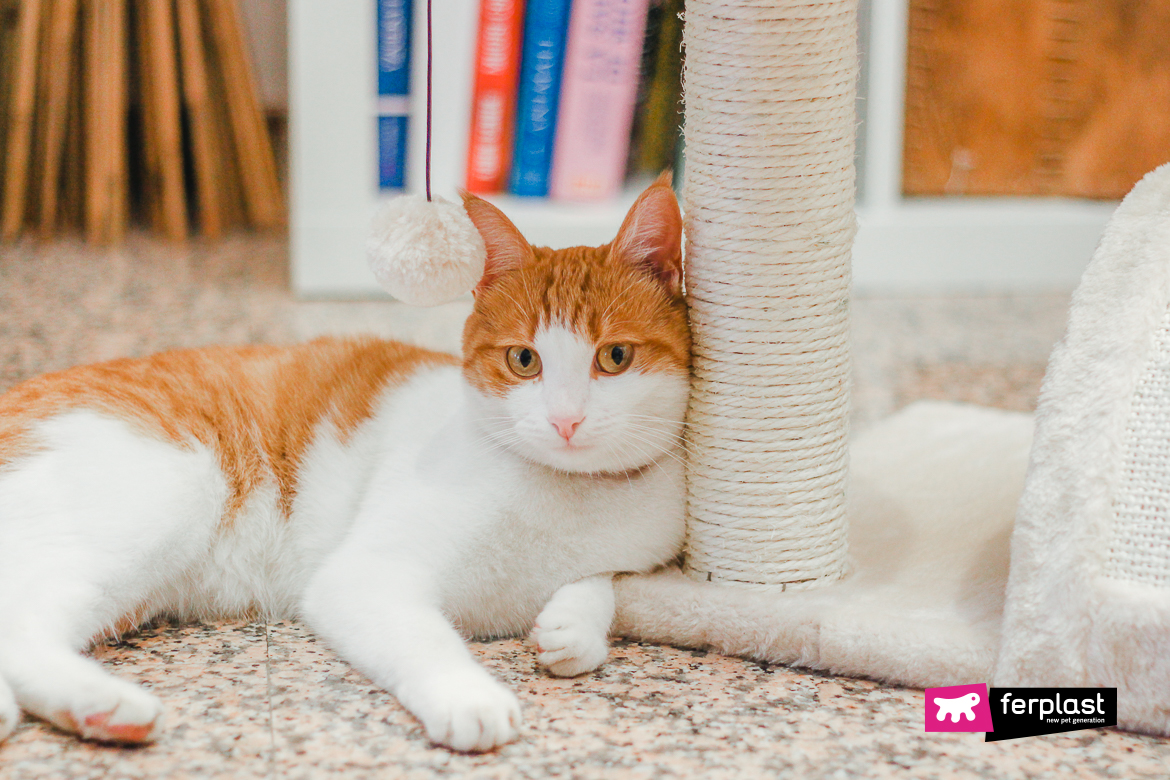 Now all you need to do is choose your favourite scratching post… and remember this is a very useful purchase for you and your cat!
Now all you need to do is choose your favourite scratching post… and remember this is a very useful purchase for you and your cat!