Every dog ​​needs a soft and cozy pillow, comfortable to move and easy to wash, which must be placed in his exclusive corner of the house. The range of Ferplast cushions for dogs is truly rich and varied both in terms of shape and fabric. Here is a guide to the best pillow for your four-legged friend.
How to choose the best pillow
To choose the right pillow you must first of all get the right size: a pillow that is too large or too small could prove uncomfortable and therefore not suitable for ensuring maximum comfort for Rex during his moments of relaxation. To find the ideal size, we invite you to read this blog article, where we explain in detail how to find the right size pillow.
The second aspect to consider is the type of fabric. It is important that the product is able to withstand frequent washing and that it is resistant. Ferplast offers cushions for all tastes: in cotton, velvet, tweed and technical fabric.
Cotton dog cushions
The cotton cushions are the classic passpartout, to be used safely both in warm and cold weather. Being a basic accessory, every dog ​​should have one.
Ferplast's Relax range of cushions have an oval shape, they can be used alone or to make the rigid plastic bedding even more comfortable. They come in many colorful patterns, often even double-sided so that they can be used in different ways depending on the mood. The padding is soft and designed to preserve its shape, always offering optimal support for the dog.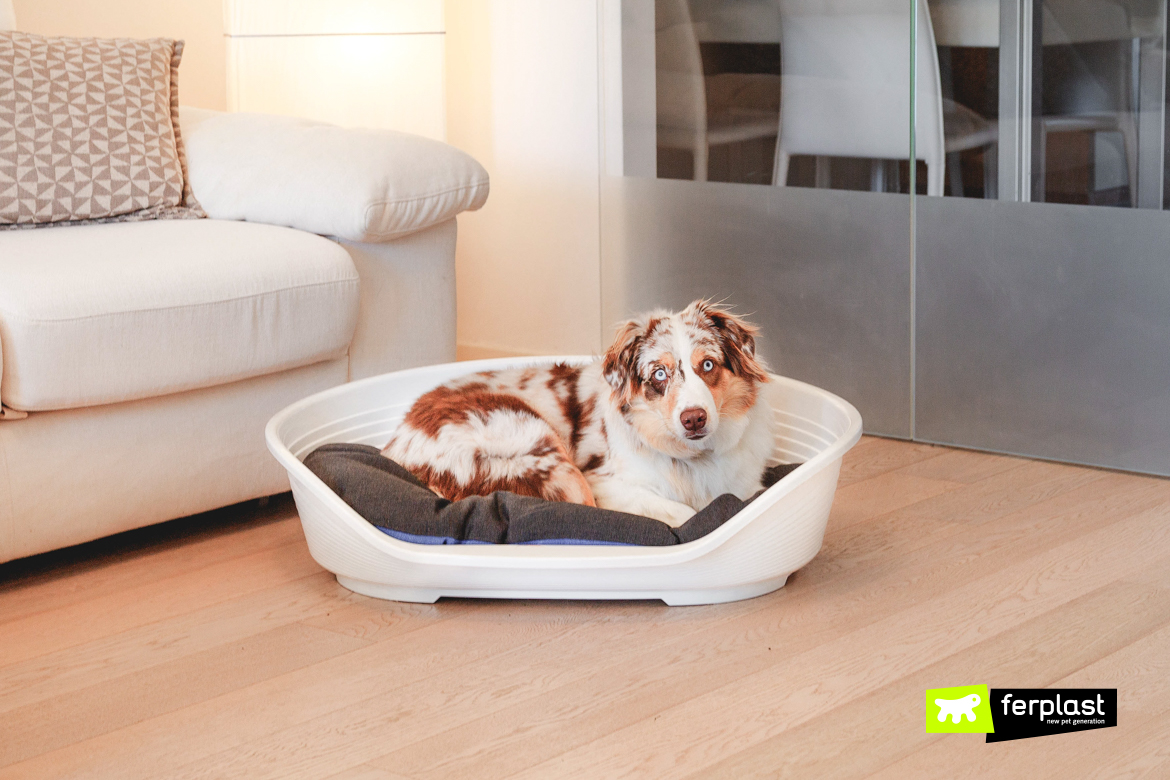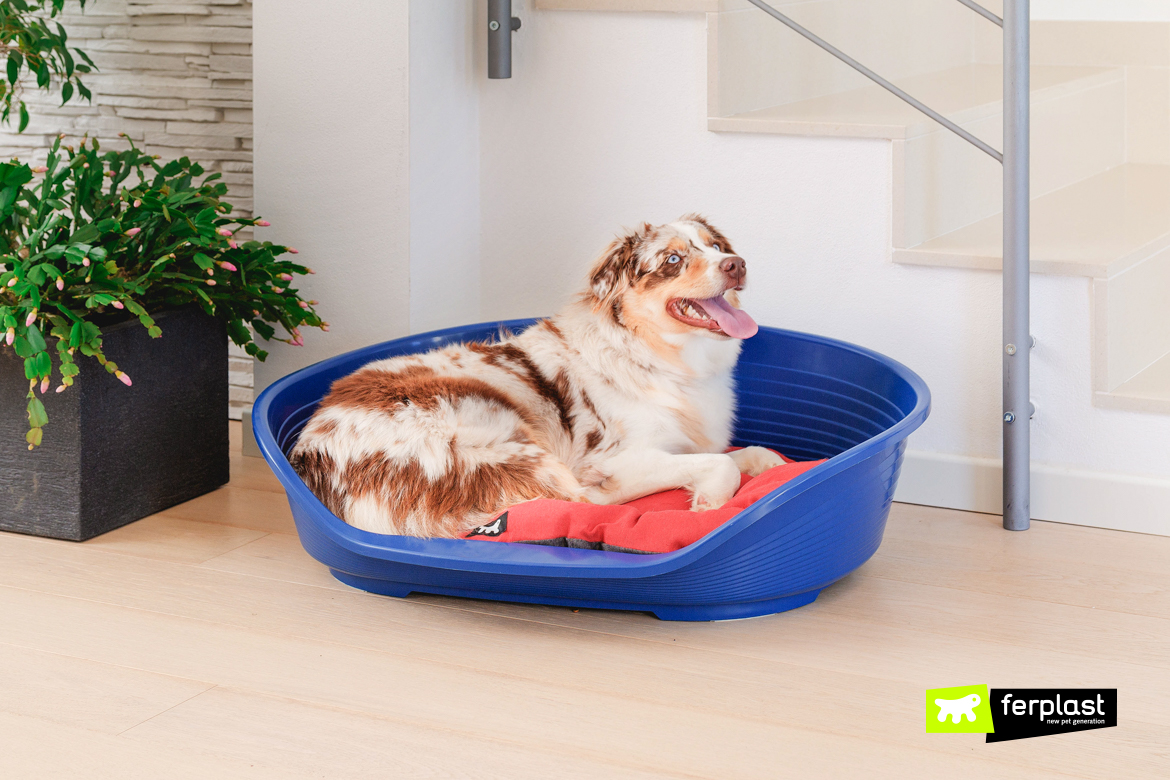 In our collection of indoor cushions there is also Sofà Cushion especially created to be inserted inside the Siesta Deluxe bedding. This cover, made of cotton fabric, is particularly soft and comfortable, as it is equipped with a soft and thick padding that makes it a perfect bed for resting and taking comfortable naps. It is provided with a useful tightening lanyard in the back, through which it is easily attached to the bedding.
Velvet dog cushions
Velvet is a super trendy material characterized by softness and delicacy to the touch. It is definitely one of the best winter fabrics, and that is why we recommend that you give your dog a pillow of this type as soon as autumn begins, and the temperatures drop down.
Prince is a super padded and double-sided cushion that can be used alone or inside the Siesta Deluxe rigid plastic bedding. It is wear-resistant and can be easily washed in the washing machine at 30 °. It is available in different sizes to please animals of all sizes and in different colours such as beige and green, beige and blue, beige and pink.
Tweed dog cushions
If you love the English style and want to give a touch of elegance to your home, you must choose a Tweed patterned pillow for Rex. The famous herringbone pattern, typical of men's jackets and originally made only with black and gray yarns, has been revisited by the Ferplast designers and re-proposed in the beige, brown and blue cushions.
The Stuart pillow, for example, with its oval shape and double face, is a warm and very comfortable bed, which ensures pleasant moments of relaxation for the furry ones. The range offers five sizes designed for animals of all sizes.
Dog cushions in technical fabric
Anyone who has to deal with a dog that has a tendency to nibble anything will certainly need a very resistant product, so we recommend cushions in technical and scratch-resistant fabric.
The cushions of the Tech line by Ferplast such as Jolly, Oscar and Polo are made of technical fabric, completely water-repellent and scratch-resistant, but above all resistant even if subjected to intense use. This aspect does not diminish comfort and softness, even if compared to cotton pillows they are less warm. They can be cleaned with a wipe of a sponge or in the washing machine at 30°. Jolly and Oscar, which are thinner, can be inserted in the wooden kennels Baita, Domus and Argo or in the Atlas pet carriers, or even in the car as a seat cover.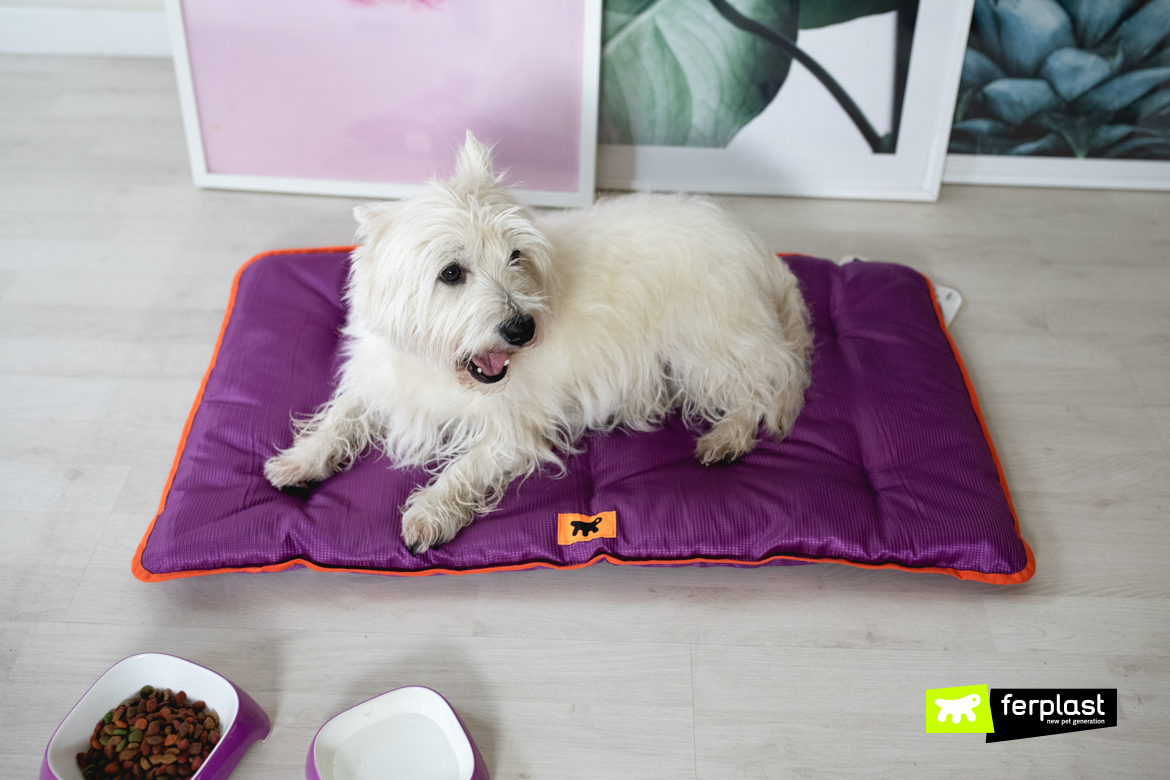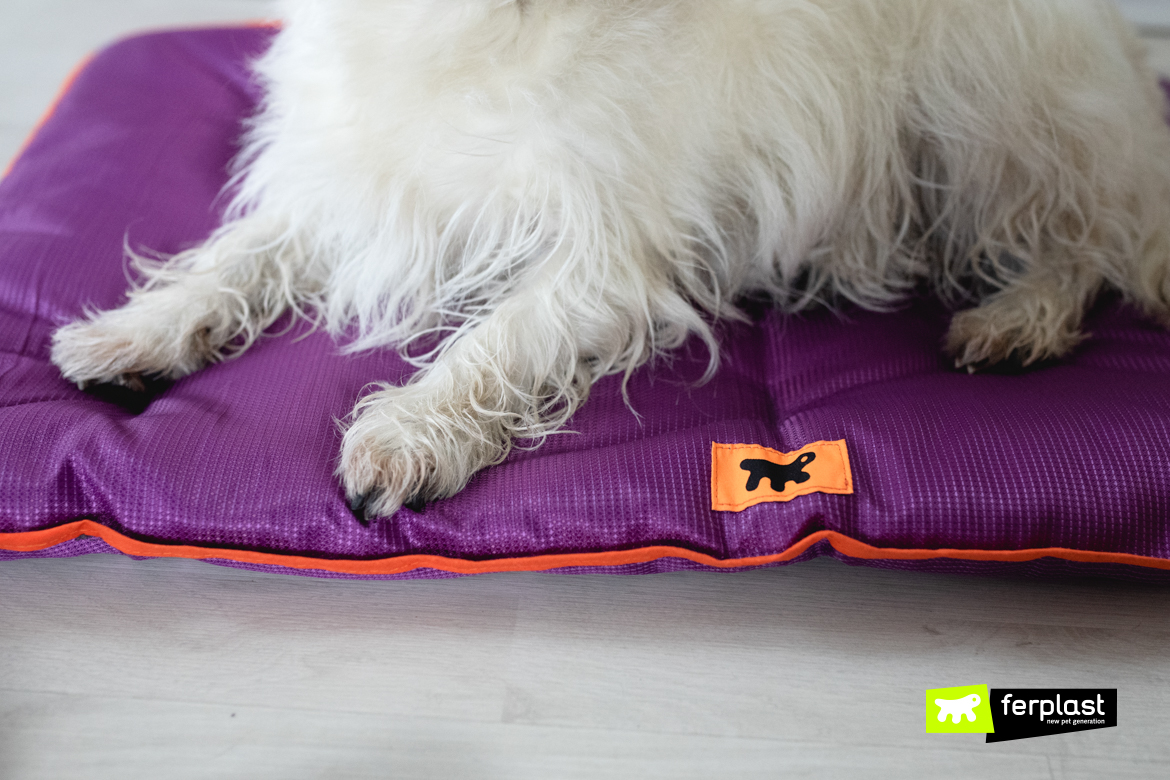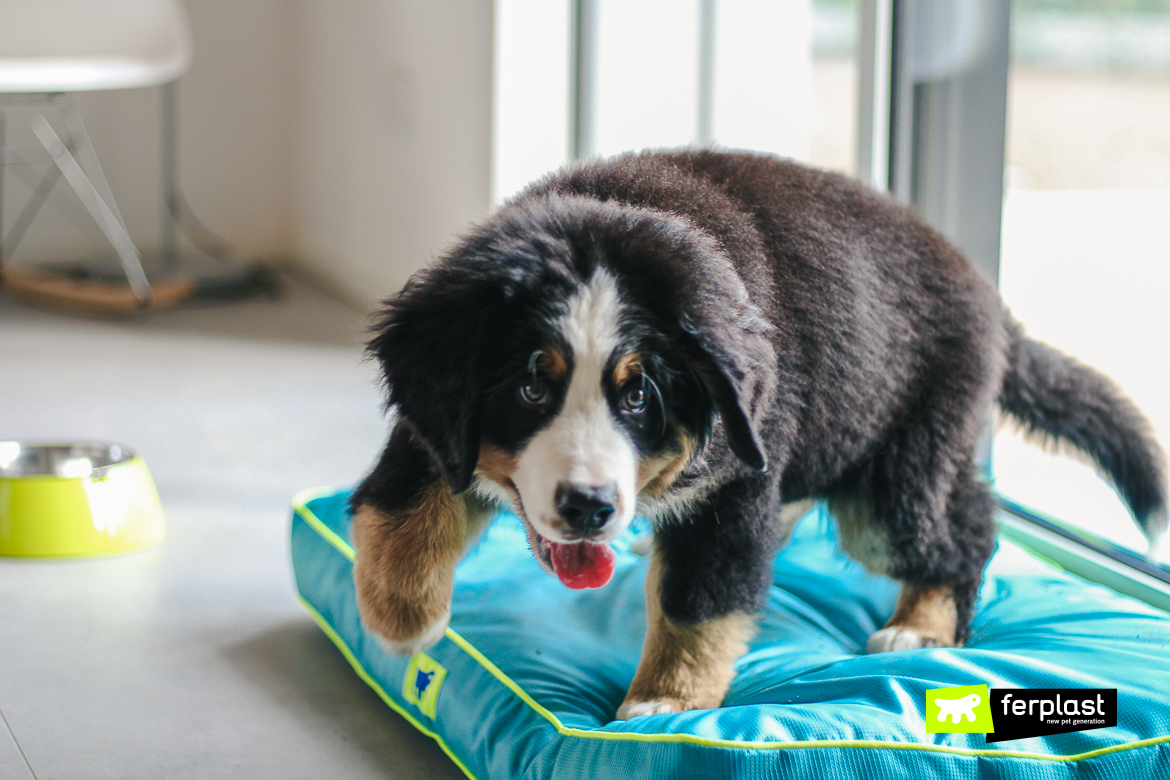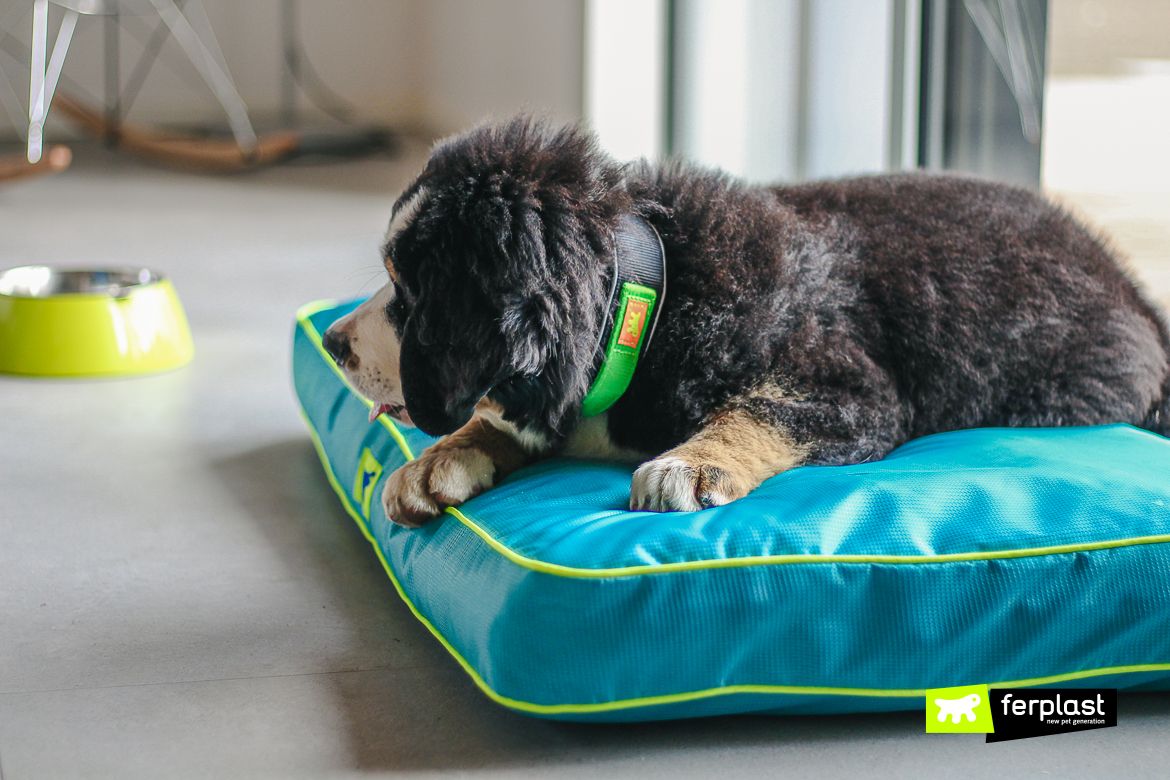 Are you really spoiled for choice, which one will you buy for your dog?