For many of us, Instagram is our social media platform of choice. Yet it is also much adored even by our four-legged friends! Despite them being creatures who would have some difficulty posting images, the profiles of dogs are positively dominating Instagram. With their adorable pictures, these pooches very often have better profiles than us humans, and with scores of followers! Here are the most 'aww-inspiring' of the moment.
Whereas once upon a time, the idols of young and old alike were singers, actors or sports figures, today those who stand out the most by far are our animal friends, at least in the shiny world of the Internet. If followers were to have any say, these puppies would enter straight into the Olympus of the stars!
MARNIE THE DOG
Marnie is categorically the most famous by far, an adorable female Shih Tzu, adopted when she was 11 years old. It is not by chance that her objective is specifically to raise public awareness regarding the adoption of older dogs. Her account boasts more than 2 million followers, with there being many photos capturing her in the arms of certain celebrities. (@marniethedog)
PS.NY – Pumpkin and Sunshine
If you have a penchant for beautiful photos that are chromatically harmonious and balanced, and which have as their subjects (aside from a dog) nature, cities and vegan dishes, then you must absolutely follow @ps.ny! The protagonist is Cookie, an apricot-coloured poodle, immortalised in spectacular contexts, surrounded by green foliage, colourful flowers, and sometimes absorbed in enjoying a healthy little lunch. This is an account that is carefully curated down to the last detail, just like the real fashion bloggers.
POOCH OF NYC
Agador is another poodle that has popped up in the world of Instagram. He loves to travel around New York, always in new and trendy garments, almost never taking off his sunglasses (at least for the photos)! In addition to being one of the most fashionable, much attention is given to his appearance, being recognisable mainly due to his rather voluminous hairstyle. How many followers? Almost 85,000! (@poochofnyc)
SAMSON THE DOOD
Canadian by birth, New Yorker by adoption, he loves wearing luxurious robes and playing golf. Samson is a Goldendoodle – a cross between a Golden Retriever and a poodle – with 168,000 followers. When he is not busy cheering for his favourite baseball team (the Mets), he goes out with his friends or with a nice girl-blogger. It is impossible not to fall in love with him, which is why people of all ages and all types can be found amongst the ranks of his followers! (@samsonthedood)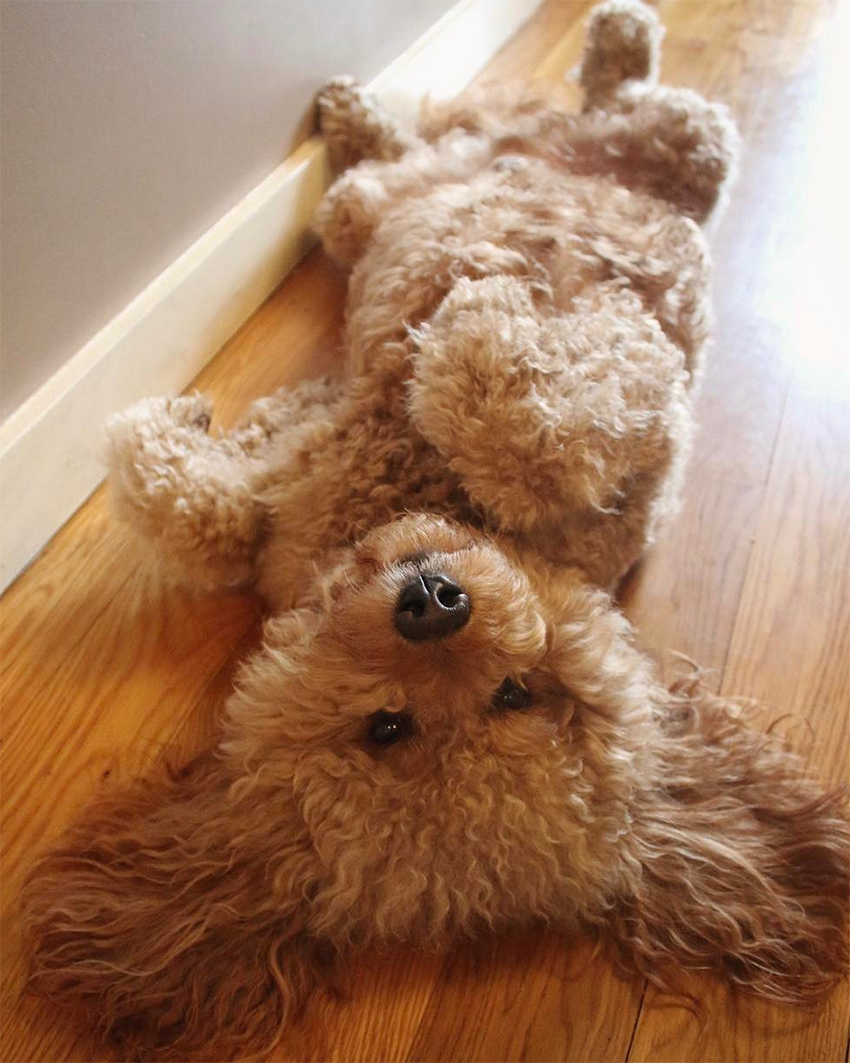 Have you also created an Instagram profile for your dog? Take inspiration from these and yours too may well become a veritable influencer!