Autumn is a moment of transition for cats too. Some cats appear to appreciate this season, while others seem to experience it with melancholy. If the cat living with you belongs to this second category, we have the right recipe for you: here are some nice ways to entertain your cat in the autumn!
1. PLAYING IN THE GARDEN WITH DRY LEAVES
Nature always offers lots of ideas for entertaining felines: the leaves that fall from the trees in autumn look like red and yellow butterflies to chase and catch. Cats are attracted by their dry consistency that, when touched, makes that famous scrunching noise, as if they were strange little creatures to hunt, bite and rip into a thousand pieces. That's not all though: heaps of dry leaves can also be excellent (and soft) hiding places, in which cats can find shelter and then roll all over them! You can create paths with the leaves or you can use them as bait and encourage your cat to run around the garden. A very simple game for everyone. Try it!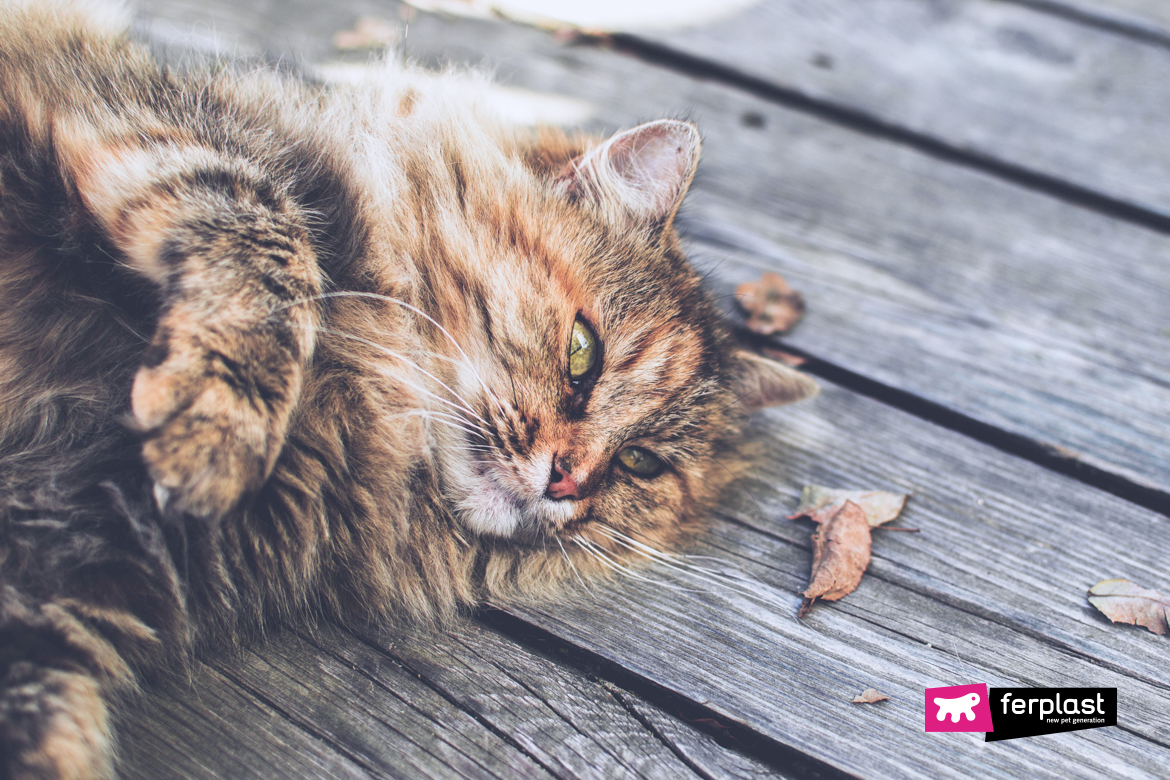 2. TRACKS AND LOOPS WITH GLOWING BALLS
When it rains and your cat is at home with you, you can't really sit her in front of the TV and force her to watch your favourite series! To keep your cat busy and make sure she doesn't get bored, get some tracks or loops with balls. Ferplast, for example, offers two games along these lines, Labyrinth and Turbine, both modular games in the Clever & Happy range, specifically designed to stimulate your pet's interest and keep her active and in perfect health. Labyrinth is a track around which you can shoot a glowing ball that emits a pulsating light when activated by movement, complete with a spring and a soft pom-pom for your cat to grab at and make it swing. Turbine, also shaped like a loop, is equipped with a glowing ball and two amusing plumes with springs and soft feathers. These are two ideal pastimes that will stimulate your cat on the gloomiest of days!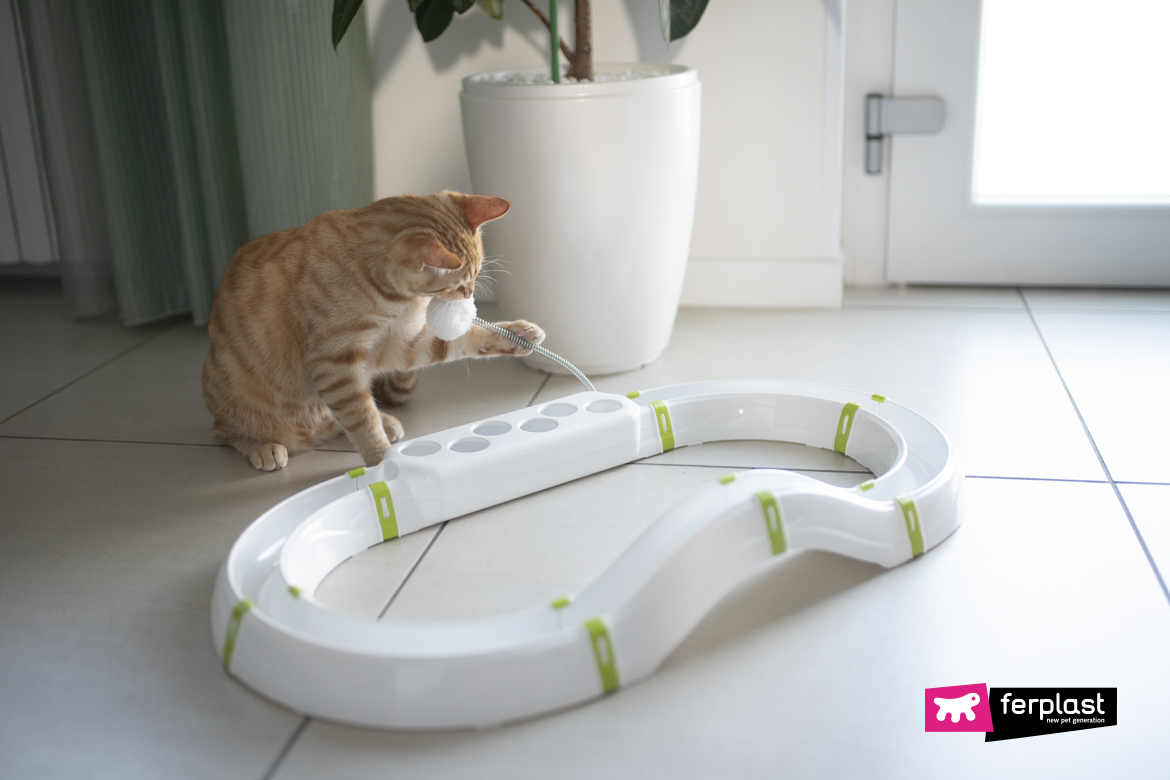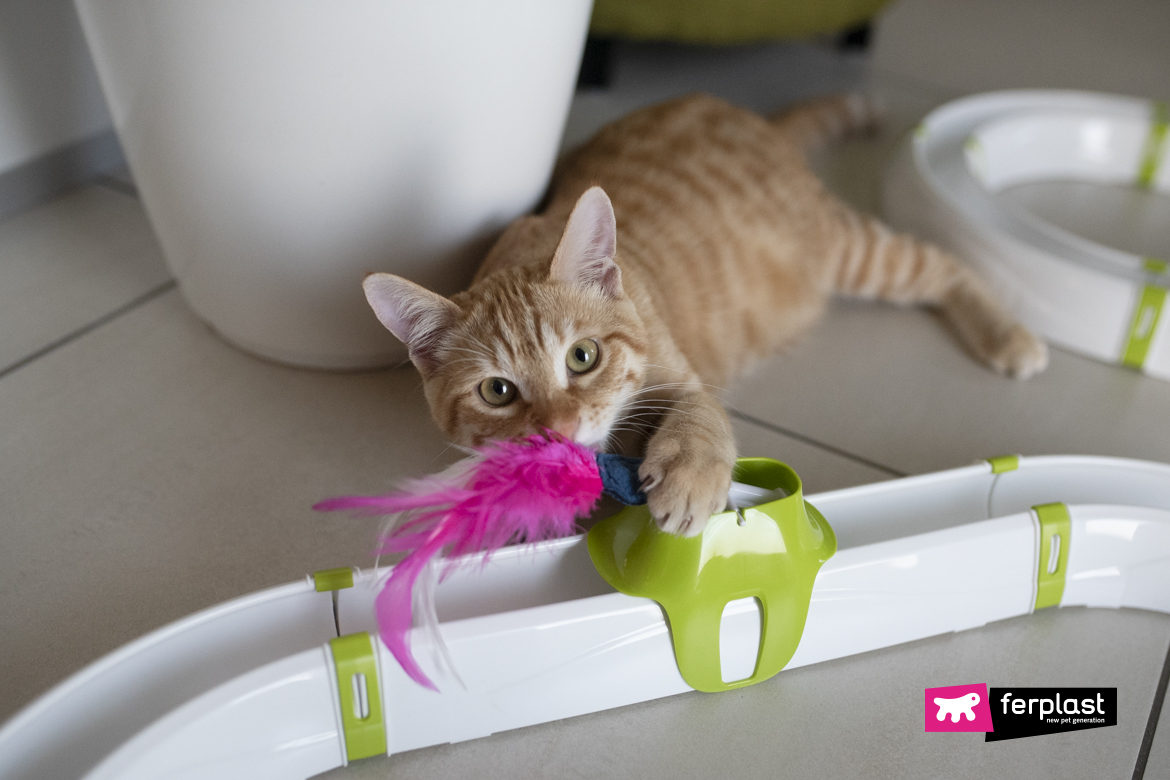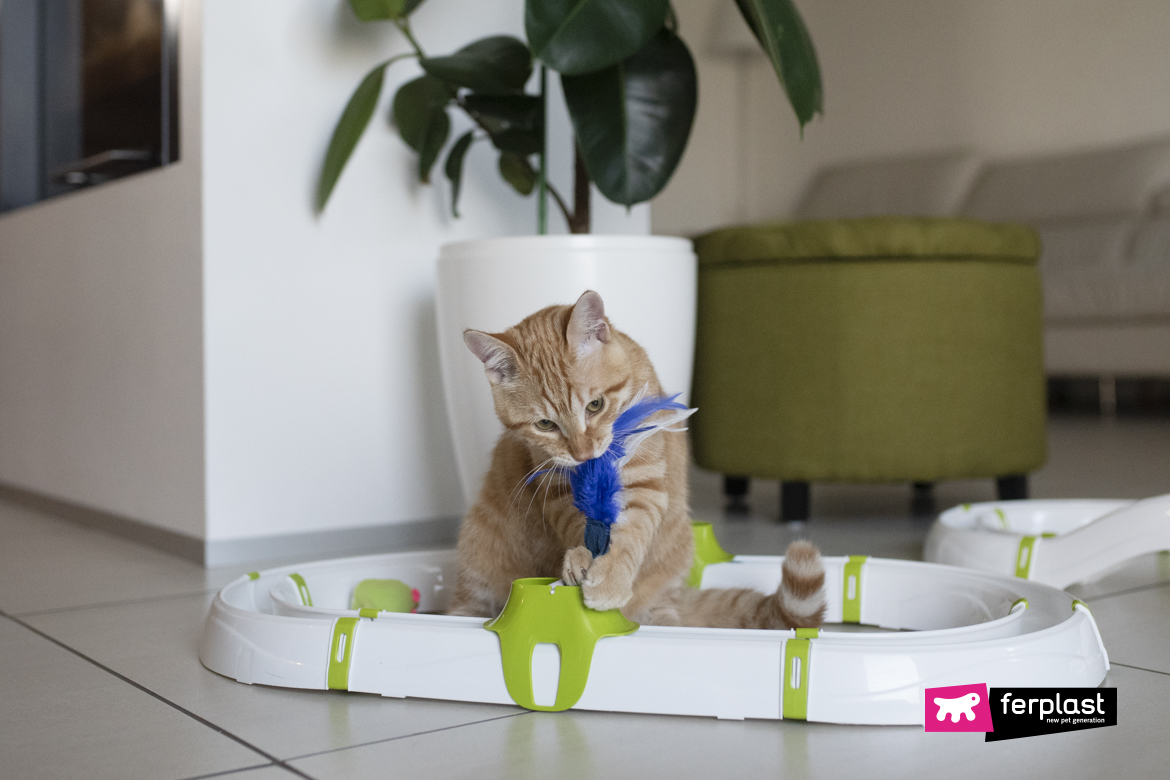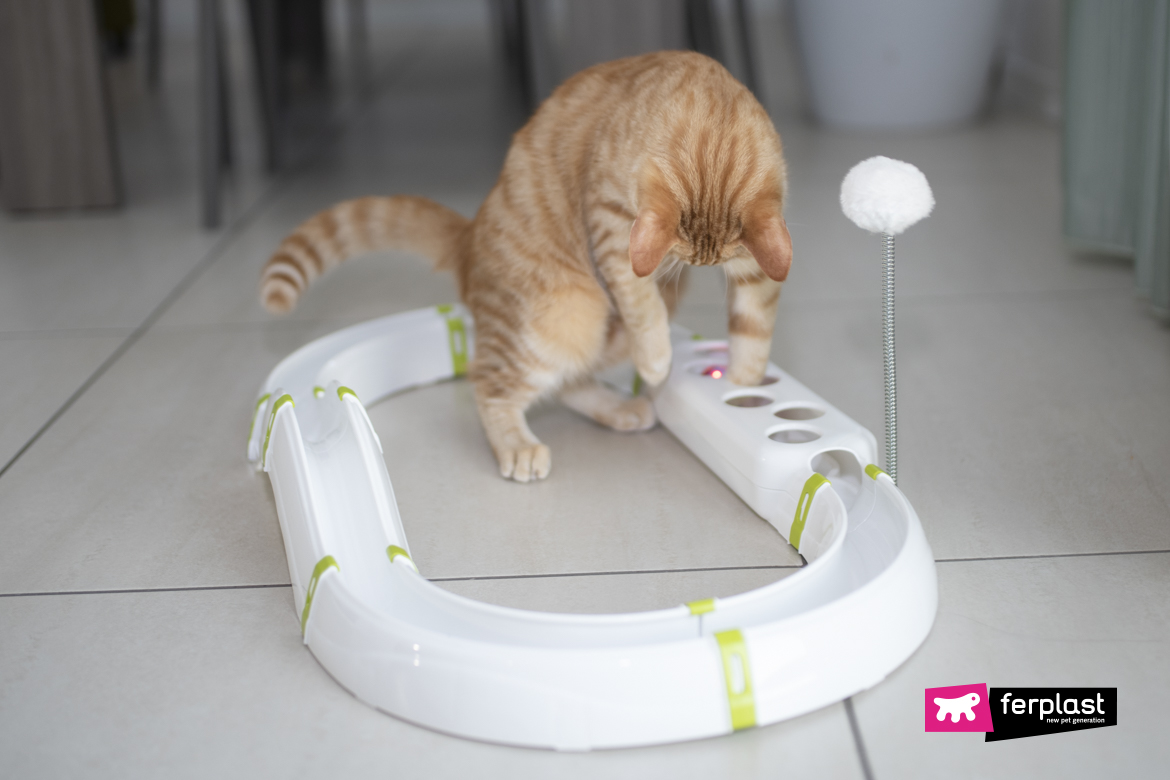 3. HUNTING GRASSHOPPERS
Cats love everything that moves and as soon as they go out into the garden in the autumn, they can't help but lay their eyes on the grasshoppers hopping around like crazy. Hunting, chasing and playing with their prey is in their DNA and, no matter how hard we try to protect and safeguard these poor insects, they will always fall into our cat's clutches, giving them a moment of true enjoyment! Nevertheless, you could try to stay close while your cat is playing and free the poor, unfortunate creature from its claws as quickly as possible.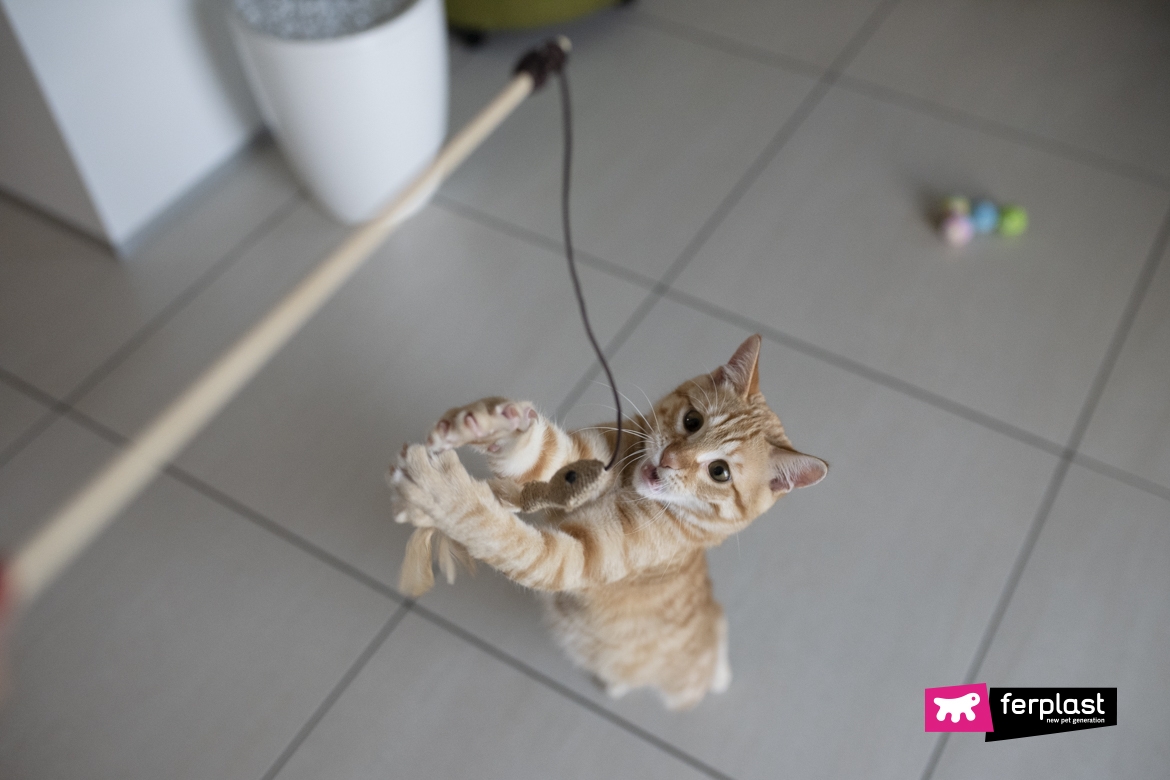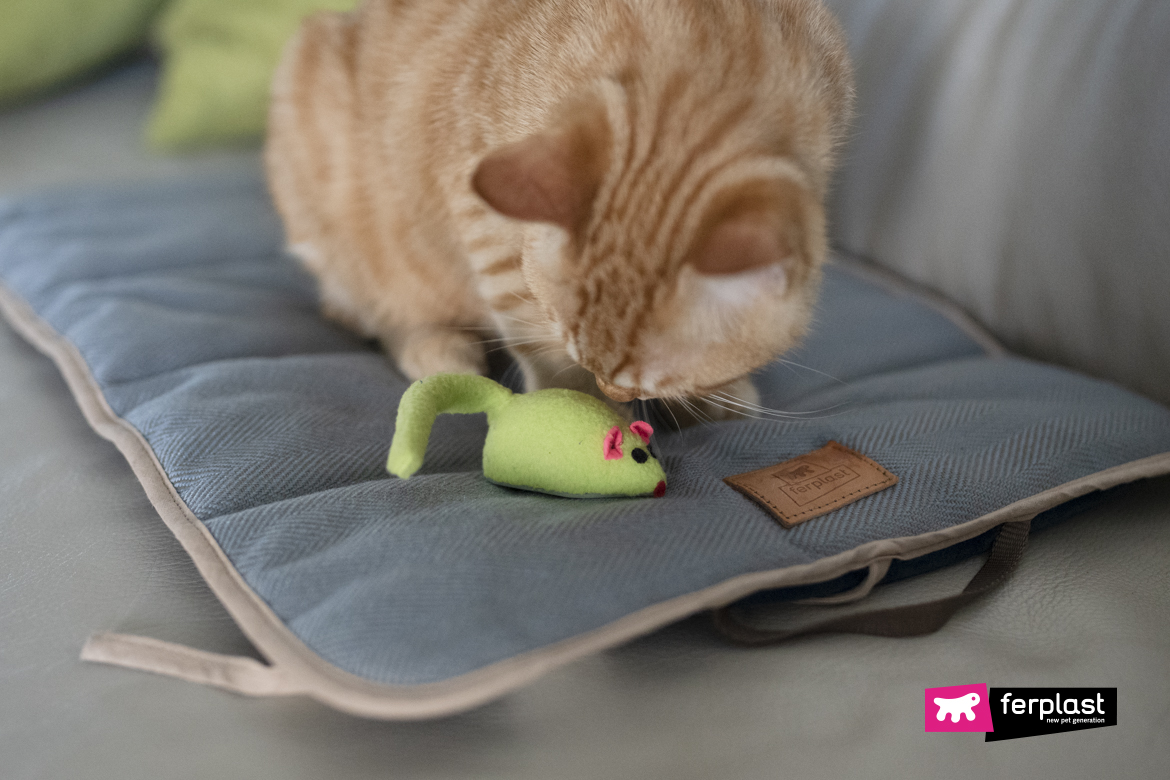 4. BRUSHING AND PAMPERING YOUR CAT
One way to help your cat appreciate the autumn is to pamper her … and what better way than by brushing her? For felines, this is the moulting season, when they lose more hair than usual, so you have all the more reason to comb them frequently (it is also a health issue). If a cat gets used to being brushed as a kitten, it will be like having a relaxing massage! In general, stroke her a lot: the perfect way to stroke your cat is by starting from her head, reaching all the way down past her hips, moving gently over her hair from top to bottom.