A few months ago we devoted a section to those ever-beloved darlings, the Golden Retriever. Remember? We all know how smart these dogs are, how much they love to play and be with people. Unfortunately though, they are also the breed that most easily puts on weight. But don't worry! As long as you have some healthy basic routines you'll be able to keep this lovable furry beast in good shape. The most fundamental is: physical activity!
Golden Retrievers love to eat, it's their nature. They will put just about anything in their mouths and sometimes don't even worry too much about whether it's actually something to eat or not! In order to keep them healthy, therefore, you need to control this gobble-it-all-up mania and maybe even lighten up on the liberal use of reward munchies and treats.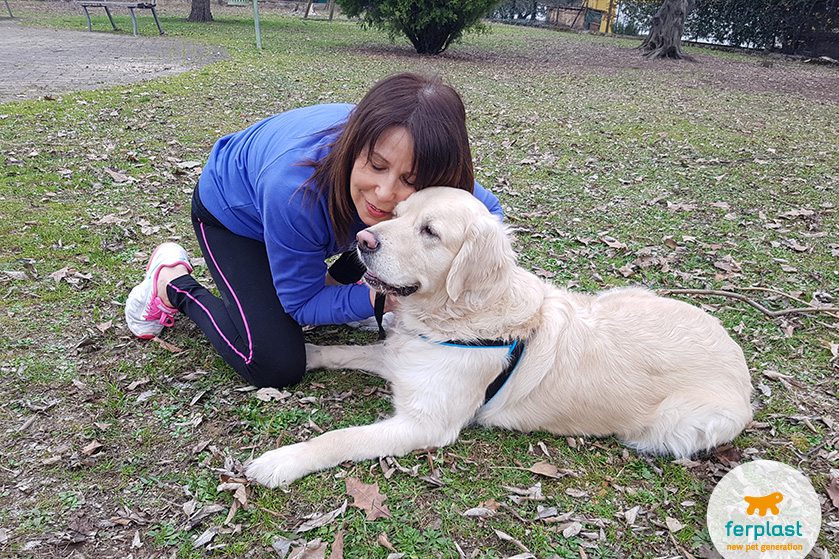 Many factors come into play when talking about what their ideal weight is. There are genetics and size – some dogs are smaller, others larger – to take into consideration. Males are larger and can weigh from 29.5kg to 34kg, while females weigh in at from 25kg to 29.5kg.
If a Golden Retriever is out of shape, it should exercise to get the extra weight off. Don't sit around and discuss it, get out there before it's too late and the weight gets out of hand to the point where the dog has difficulty moving freely, leading to painful problems in the ligaments and tendons (not to mention cardio-respiratory issues!).
So on the one hand you need to design a healthy diet and on the other put together an effective daily physical fitness plan. This means walking the dog a few times a day, and not just walking, but alternated with a bit of light jogging (ten to twenty km per day is a good guideline),  let him run freely out in the open, get him to play fetch with balls and maybe even a frisbee, and when it's nice and warm out, get him swimming!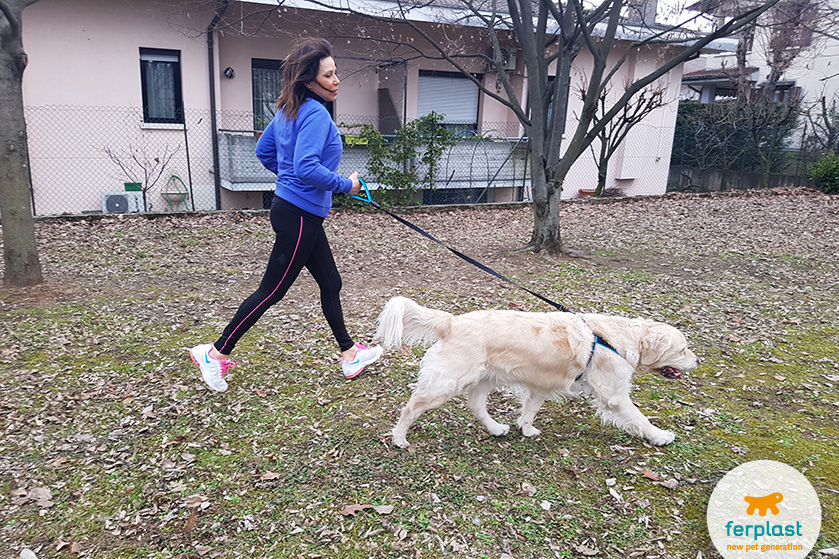 Just leaving the Golden Retriever out in the garden is no substitute, it does not mean he'll be doing exercise on his own. On the contrary, he'll probably just sit there and wait until someone opens the door and lets him back in the house! So don't be lazy, get up and take your four legged buddy for his daily walks, just like Viviana does with Cloe!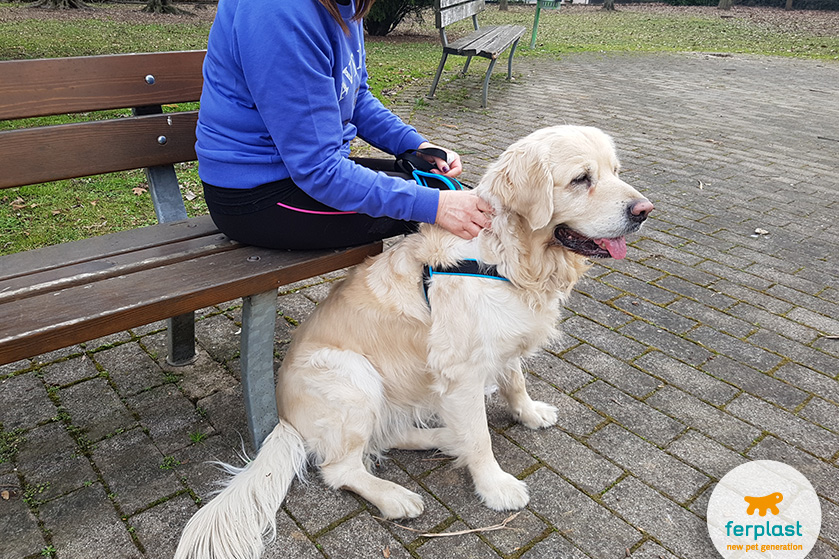 And to make the outing a proper sporting event, remember that the best accessory is a quality ergonomic chest harness, like Ferplast's Agila Fluo. It reduces the strain brought about when the dog pulls hard on the lead. It is ideally suited to any body type thanks to the patented micro-adjustable closure system and the connections between the component parts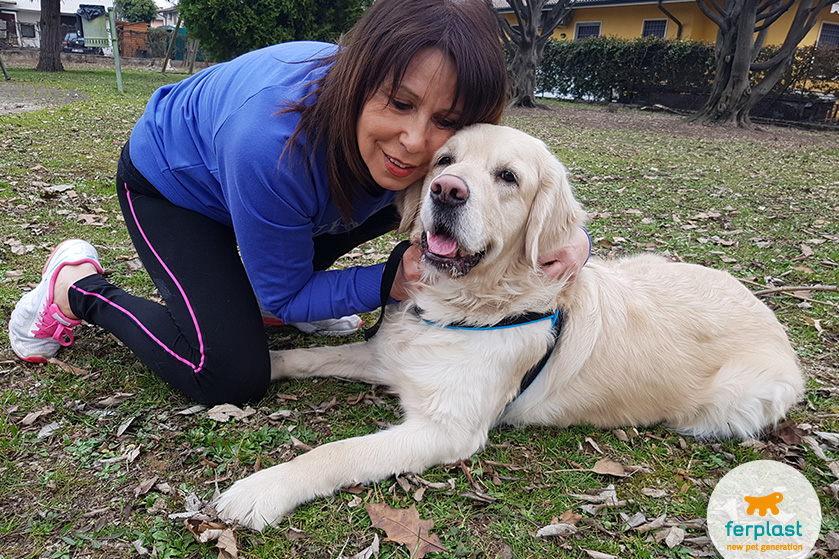 The harness can be combines with the Ergocomfort lead, made with ultra-resistant high-tech material and equipped with a padded ergonomic handle that makes sure you always have a good grip. The real strong point of this lead is the automatic Matic karabiner with its magnetic mechanism that makes securing (and removing) the lead to the harness quick and easy. Maximum safety and simple to use!
It doesn't take much to keep your Golden Retriever in tip-top shape, and remember that dogs that get to go out and run are active, healthy and happy dogs!