As promised, here we are for our first appointment with Luca, an expert pet groomer who will work with us at Ferplast and offer tips on how to best take care of your dog's coat. Luca's not used to taking the spotlight: he doesn't usually spend his time in front of the camera, his days are spent lovingly pampering and grooming the dogs owners bring to his grooming salon, the Silver Dog, in Valdagno, in the province of Vicenza.
We know that dog owners always have loads of questions, and we hope these videos will answer most of them. Our first topic is caring for the coats of long-haired dogs.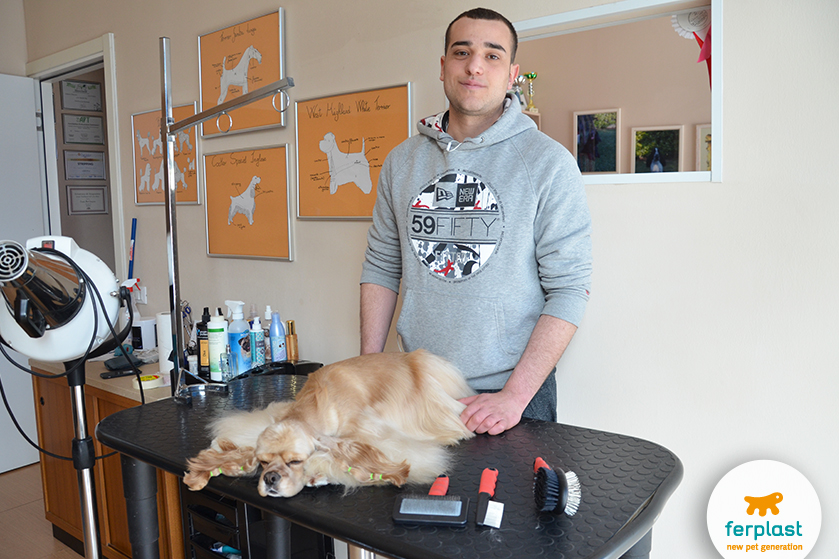 The most frequent problem faced by long-haired dogs is knots. The best way to handle them is to brush puppy – carefully and delicately – at least once a day with a Pin Brush, starting with his head and then slowly brushing outwards all along his body.
If you come across knots, use a slicker brush, ideal for untangling and separating hair, and then gently follow up with the pin brush so that you don't break the hair off or split it at the ends. After you have finished, it's a good idea to give the dog one final brushing with a more densely toothed comb.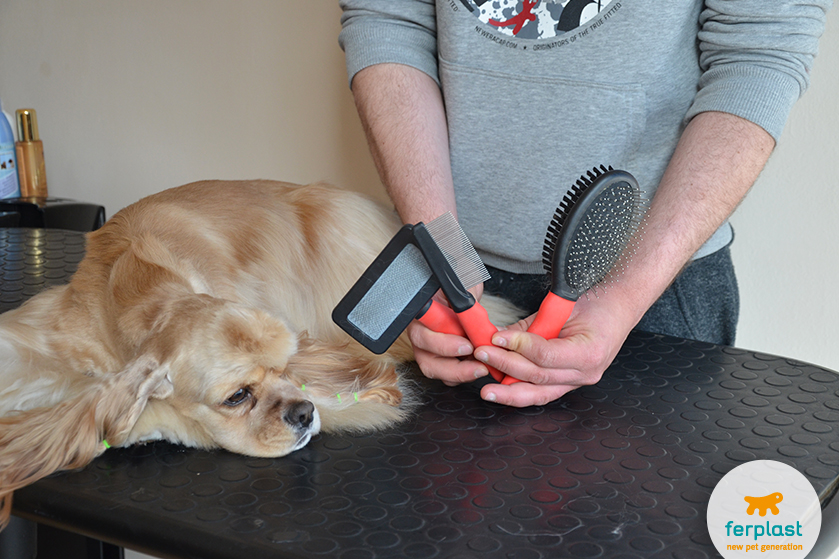 You'll be needing three different types of tools to care for your dog's mantle:
PIN BRUSH – SLICKER BRUSH – COMB
A pin brush is ideal for daily brushing even the longest parts of his coat. Luca can be seen here using a combined Ferplast GRO5928 pin brush, which is easy to use thanks to the practical sure-grip plastic handle. It has two sides and serves two purposes: the soft bristles give the hair a nice shine while the hardy stainless steel bristle side untangles knots and eliminates dust and dirt.
The slicker brush is ideal for brushing the dog's legs, for handling those areas where hair is somewhat shorter and for untangling knots. The Ferplast slicker brush is available in three sizes and designed to dig deep without hurting the dog's skin. The bristles are stainless steel and curved, perfect for getting rid of dead hair from the undercoat and even eliminating knots.
The comb is used to make sure no mini-knots are left behind after grooming, knots that should be removed using the slicker brush. The Ferplast model GRO5862 comb is especially designed for long to medium-haired coats. It has long chromed metal teeth with rounded tips to easily handle even the smallest of knots and to comb your dog without harming his lovely coat or irritating his skin.