Just like us, our four-legged friends also look forward to going to the beach. Just like our hair, their coat gets very damaged by the salt and sand. 
So let's have a look at how to care for your dog's coat after swimming in the sea.
Step 1: Dry the coat after bathing
After our Fido has bathed in the sea, it is necessary to dry his fur immediately with a microfibre towel. This prevents possible air blows that could cause him to get sick. In this step, particular attention must be paid to the snout, tail hairline, abdomen and ears. The latter are in fact a very delicate part of the dog's body. If they are not dried out well, there is a risk of them causing a painful ear infection!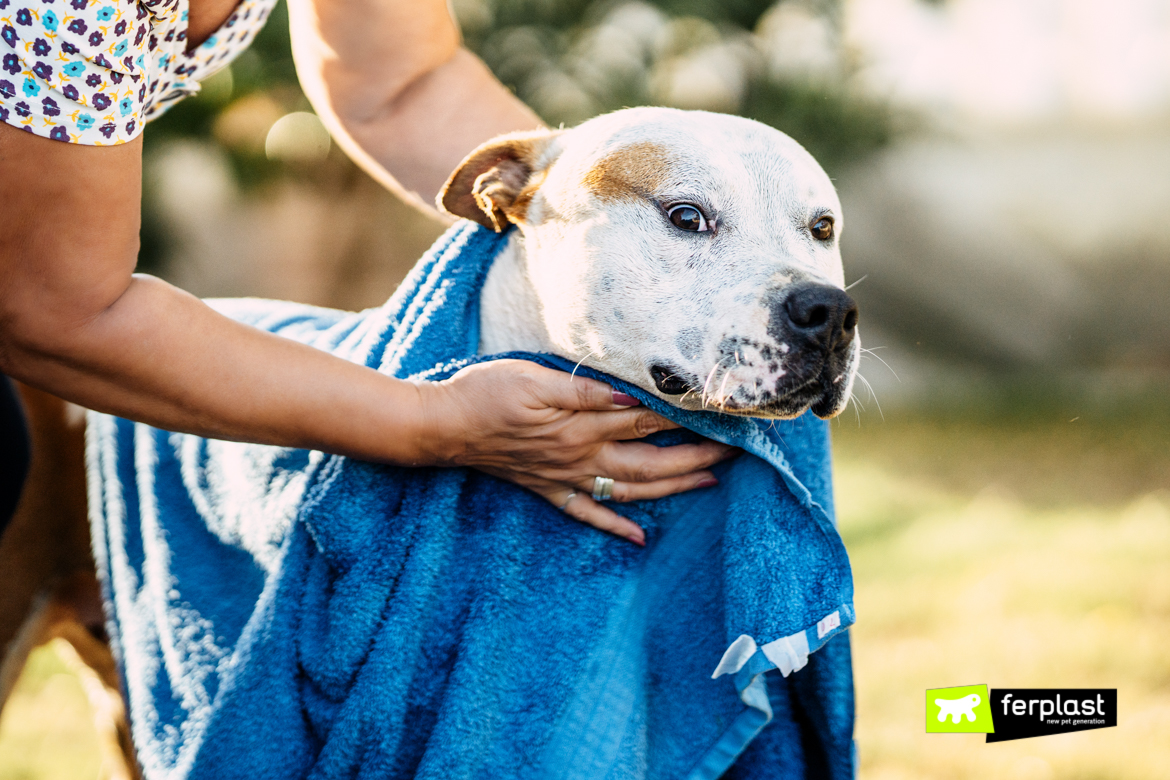 Unfortunately, especially in dogs with long fur, drying can take a long time. There is always the risk that the undercoat area retains a lot of moisture. As a result, very unpleasant skin fungi tend to form on the animal.
For this reason, if temperatures are not too high, it would be good to leave the dog in the sun for about half an hour after drying. This way the sun will remove any possible water residue from the coat.
Step 2: bathing at home
Obviously at this time the dog is completely dry but still has some salt residue on him. For this reason you should proceed with a fresh water bath. Especially if the dog takes several baths in salt water during your holiday, it is sufficient to rinse him off with water only. The shampoo in fact has a disinfectant function but in the long run causes dryness of the coat which could lead to dermatitis.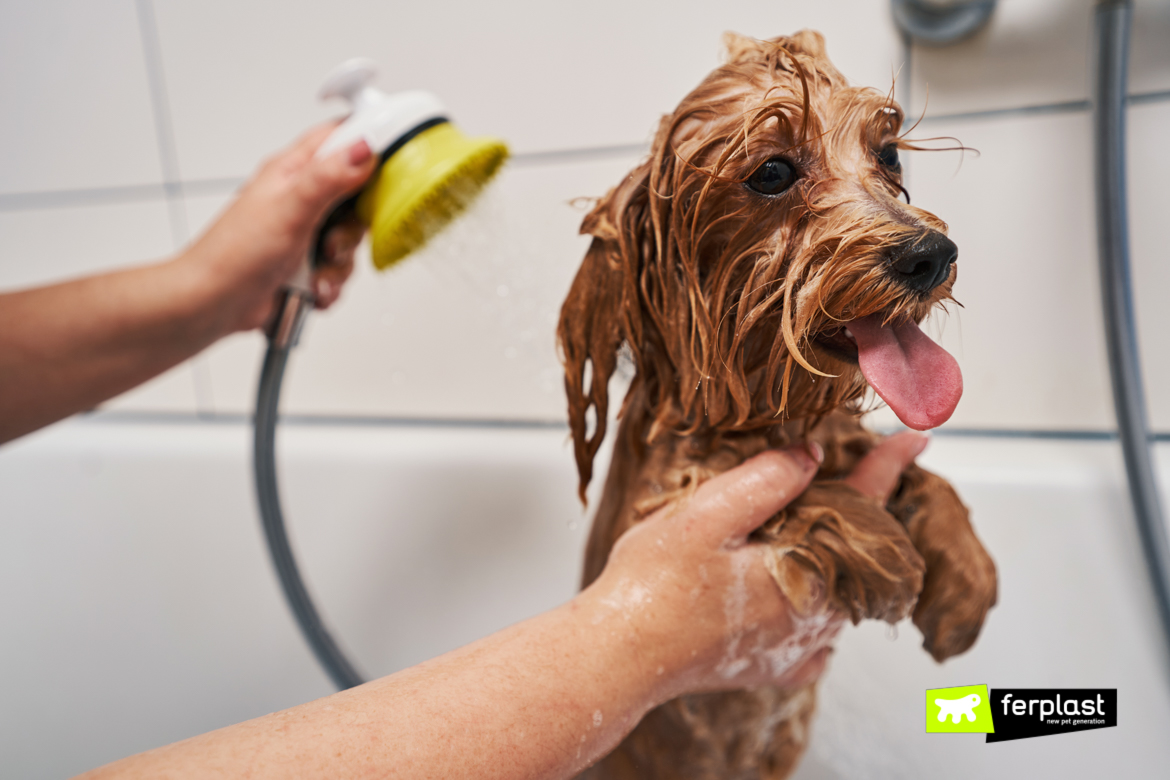 Once the freshwater bath is done, once again you can proceed by drying the puppy first with a microfibre cloth and then with a hair dryer, if necessary. The latter must be set at a low temperature so as not to overheat the dog.
Essentials for taking care of your dog's coat in summer
You know that space in your suitcase is always too limited, so you only need to take a few tools with you to care for your dog's coat. Let's see which ones.
1. Mild shampoo with neutral pH that does not damage the dog's coat and skin.
2. Microfibre bathrobe or towel: microfibre has a high absorbent power and is machine washable.
3. Dog brush or comb: for example, the comb from Ferplast's Grooming Premium line is perfect for the sea. It has a single row of metal teeth, very close together and arranged in such a way as to alternate the long ones with the shorter ones, thus guaranteeing a deep and effective action. In addition to this, the small teeth have the particular characteristic of rotating on themselves. They therefore accompany the movement of the comb, helping to easily and gently remove knots and dead hair from the undercoat. Finally, they smooth the coat without tearing it and clean it of any impurities.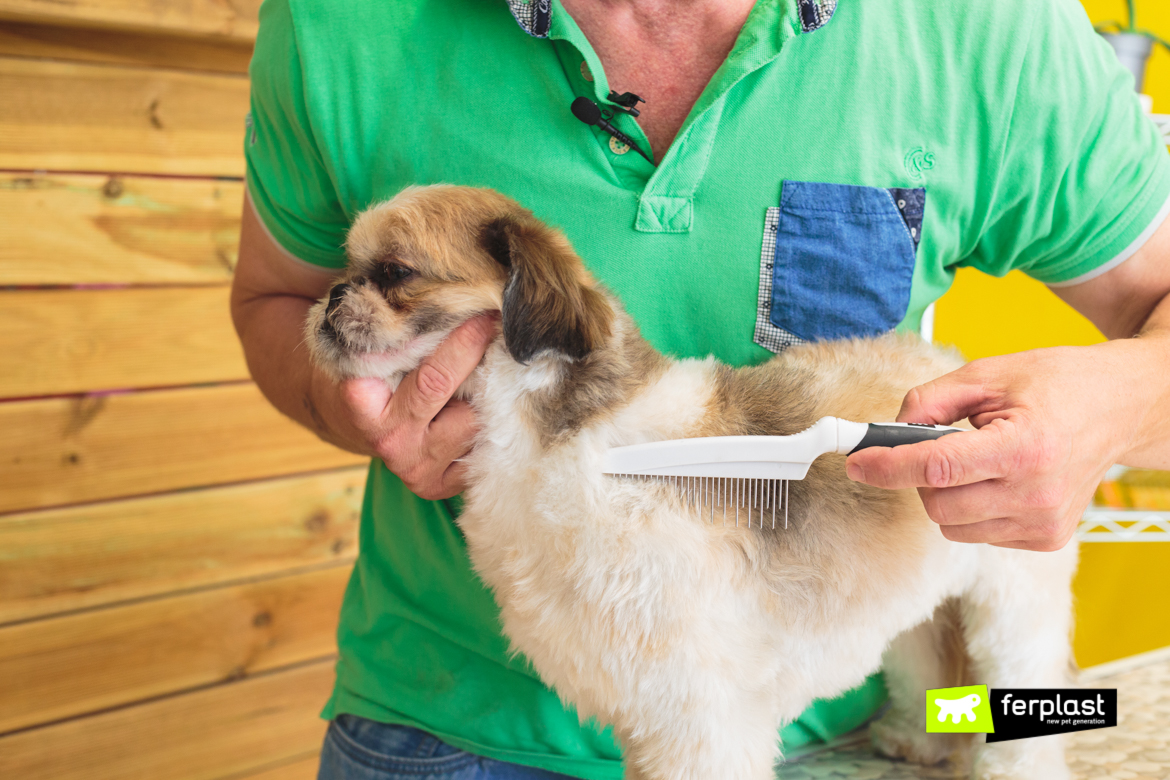 4. Hair dryer: always use at low temperatures so as not to damage the animal's coat.
5. Sun cream for dogs: essential to avoid skin tumours and dermatitis.
Taking care of your pet during, before and after the holidays is a duty of every pet-parent. It only takes a few steps to have a wonderful holiday with your pet.
Happy holidays everyone!