Do you love that special Christmas atmosphere? The colourful trees flickering brightly, that excited feeling that takes you back to your youth? Well, you're not alone! If your enthusiasm for Christmas is anything like ours, if it lifts you – and everything around you – off the ground like a fun-filled tornado, then you know you absolutely have to include the dog in this Christmas euphoria! 
This is the season to take off the hand brake and just go out and throw yourselves headlong into the magic of the holidays, decorate the home with whatever strikes your fancy! And it's so much fun to dress up the house in Christmas colours! Shades of red, pine green, glimmering gold and shimmering silver… And, of course, the twinkle of brightly sparkling rhinestones is a must as well. It wouldn't be Christmas without them!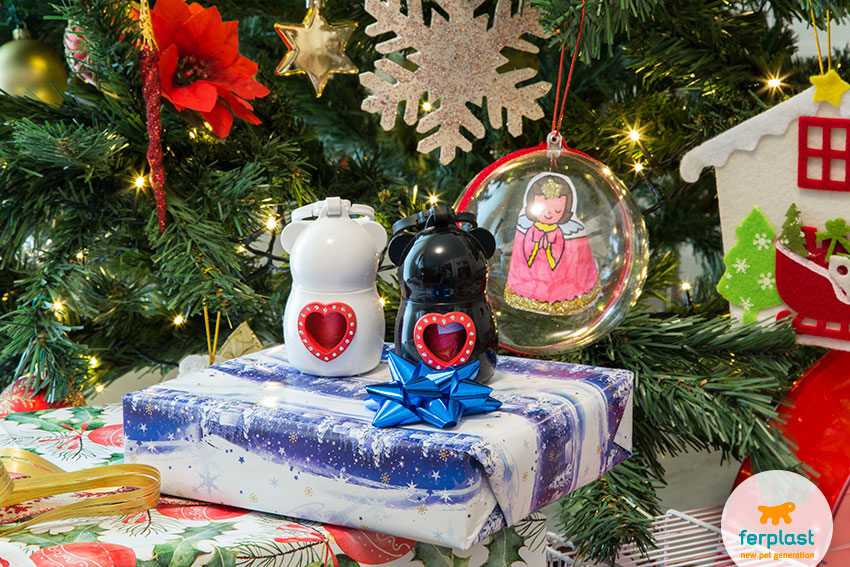 It therefore stands to reason that this year we at Ferplast have chosen to be fully traditional and use these colours on our holiday pet accessories, starting with those cute little Dudù Heart poo-bag holders. They are teddy bear shaped and have a little red heart-shaped opening trimmed with shining diamonds on the tummy through which to pull out the baggies.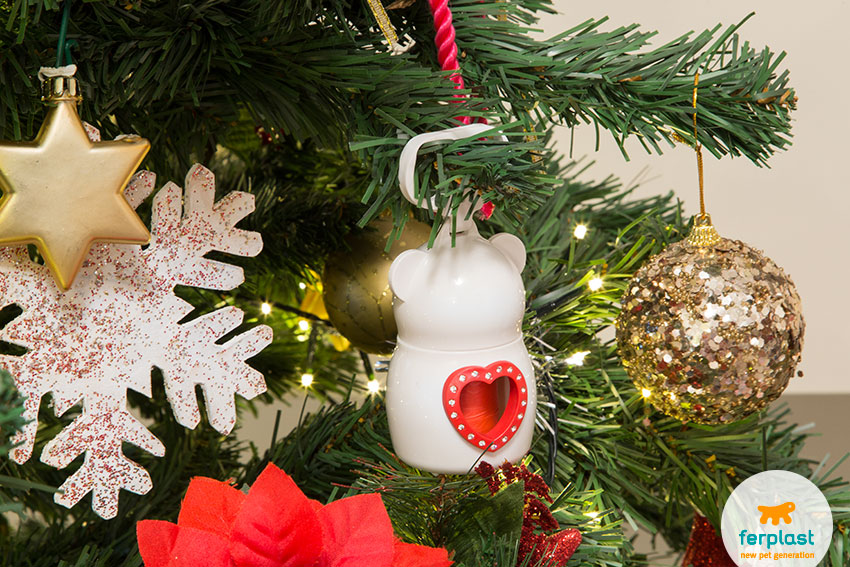 They are even – yes – great as tree decorations! That notwithstanding, the proper place for the Dudù baggie holder is dangling on the handle of your dog leash when you go for your daily walks. And so it stands to reason that you'll need to get a leash that matches the little teddy bear, maybe even a matching new collar! A really cool and very practical one is the Amigo automatic leash in, of course, the red and white Christmas version, or the black model with red kisses on it. The more refined and elegant dog will want the Parure Ruby leash-collar set, decorated with white beads and romantic ruby red roses trimmed with gold.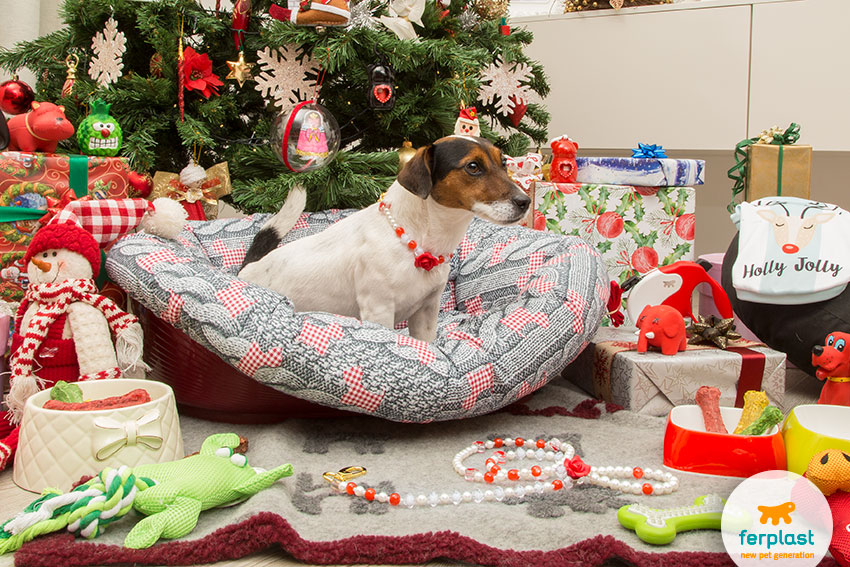 Getting back to decorating the house, how about getting Rex a really Christmassy food bowl!? The new Glam line dishes come in red and acid green and are ideal for anyone who wants to give Rex's mealtime that extra splash of fun! Gemma, on the other hand, gives the pet dining room something of a sweeter touch. Shiny white enamel with a big raised bow with golden sparkle. It doesn't get prettier that that!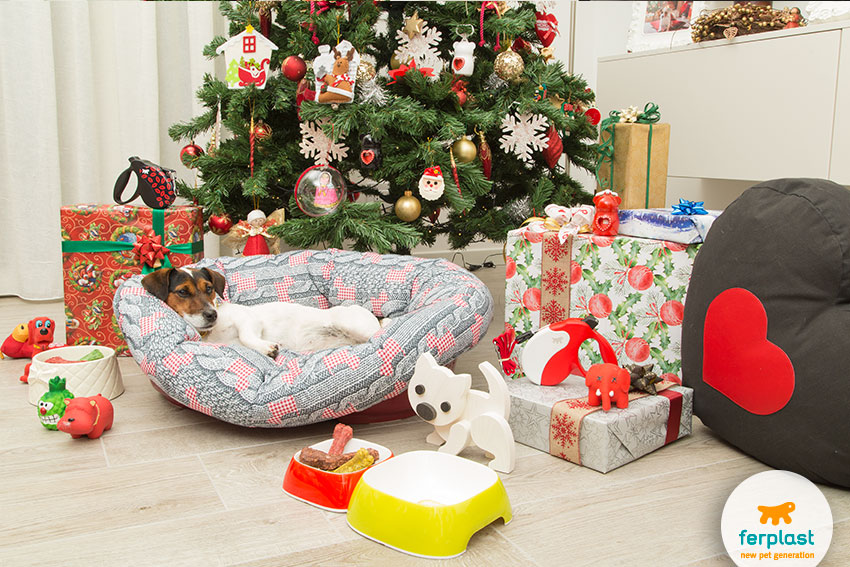 And let 's not forget about toys! Under the Christmas tree there should be at least one new chewable toy for Rex to play with, and we all know how much he likes them! Ferplast has a wide selection of dog toys in a range of festive colours: balls, puppies, little elephants and other red and white creatures to chew and wrestle with. That said, there are also the very delicious traditional bone-shaped chewy dog toys.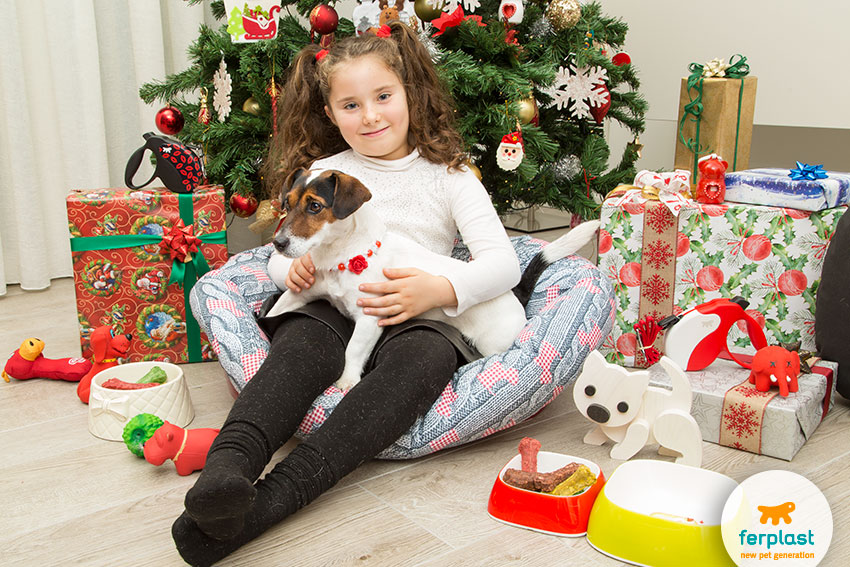 And, finally, our beloved beastie will certainly be happy to get a brand new throne on which to nap away the time between winter walks. So why not give him a fluffy new cushion or soft fabric dog bed? Maybe even one that goes with your Christmas décor! The choice is yours!