September is here, and this means changing your wardrobe! What will be the trends of the upcoming autumn-winter? It's looking like denim will be all the rage. We from Ferplast like to keep ourselves up-to-date when it comes to fashion, so we've come up with a collection for our furry friends that is fully dedicated to jeans.
Created as a simple fabric for work garments, denim was first taken into consideration by Levi Strauss, who understood its potential and used it to create the first pair of jeans. It became very popular in the 50's, thanks to actors such as James Dean and Marlon Brando, who used these denim trousers almost like a trademark. In the 70's, denim garments came to symbolise an entire generation, and since then they've never gone out of fashion, always available in different shapes, washes and colours.
Denim is a must-have this season as well. Comfort, versatility and a high cool factor are the secrets of its success. This year it'll be the protagonist in body-hugging skinny jeans and in flare trousers, perfect for an evening out when paired with high-heeled shoes. It'll also be seen in jumpsuits, miniskirts and super-washed jackets very obviously inspired on the 90's, as shown in shows by Miu Miu, Gucci and Moschino.
As our furry friends are no less fashionable than we are, Ferplast has come up with a denim line just for them, with jackets, beds, bags and Amigo leash sleeves. Let's take a closer look.
Suit Denim is the perfect garment for a walk even when it's chilly outside: this denim jacket is made of a technical windbreaker fabric, with a waterproof membrane that enables transpiration and lined with warm fleece. The collar is built-in to make sure your dog's neck is protected from the cold. For a full-jeans look, pick an Amigo leash with a denim sleeve.
The collection also includes several dog beds and cushions with a denim print, such as Coccolo or Sofa, available in different sizes, for big and small fashionistas.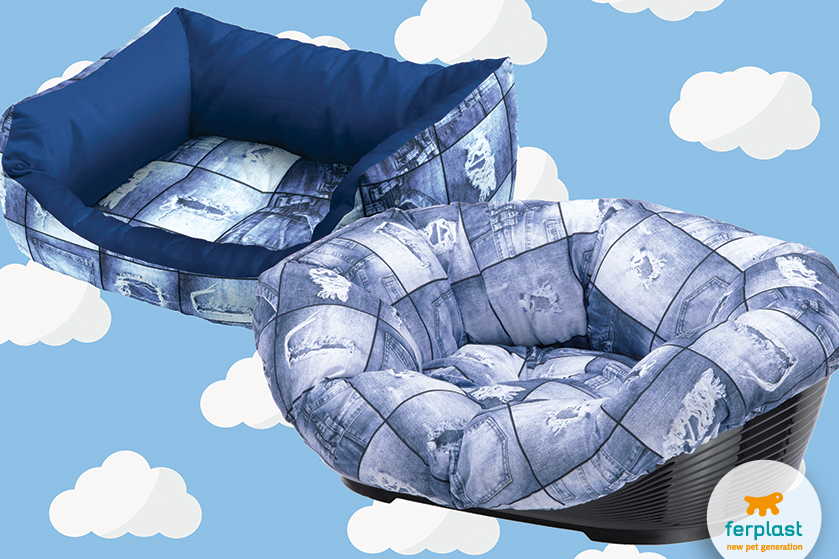 One of the most anxiously expected novelties of this blue denim collection is the Milù carrier, designed for cats and small dogs. Made of a cotton fabric, it can be used either as a tote bag or across the chest, thanks to its sturdy adjustable nylon handles. Its soft inner padding ensures maximum comfort to your pet, and there's also a safety belt to keep even the liveliest of puppies safe.
For brief trips out, go for Trip, carried like an ordinary backpack either on your back or on your chest, if you want to keep an eye on your friend at all times. Whatever it is you need, we've got it covered!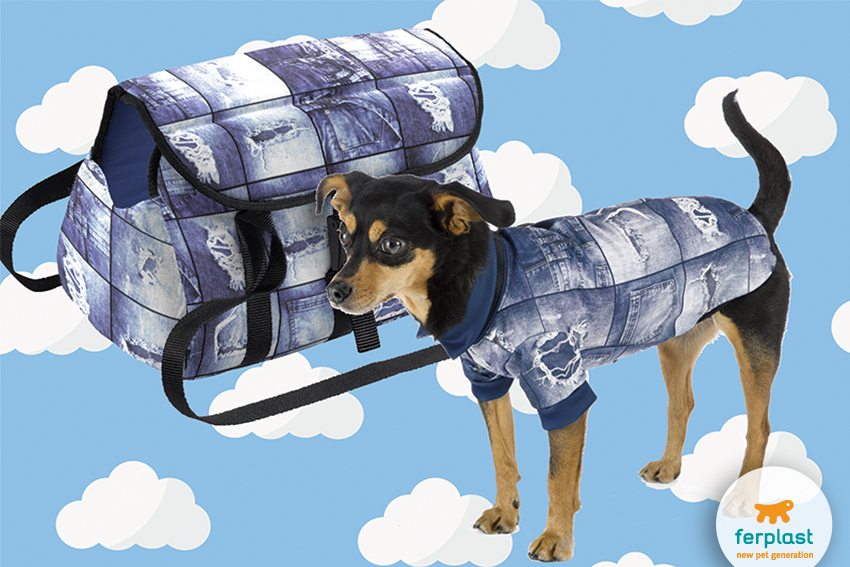 You and your puppy are now ready to go out in style, in matching outfits!