It was time again for Ferplast's summer festivities as just a few days ago the 51st candle on the cake was blown out! Like every July, the company throws a party for its current and retired employees to celebrate the many long months of hard work and to get together before everyone takes off for the August summer holidays.
The Ferplast company party has become something of a ritual at the beginning of summer, an excuse to gather together as friends and enjoy a nice evening in one another's company, even with retired colleagues!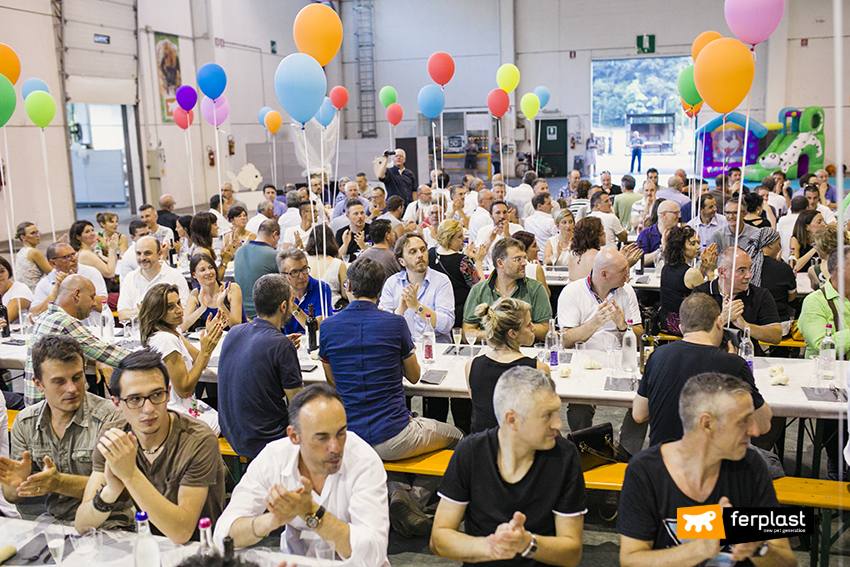 Like every year, the venue is one of the Ferplast warehouses at Castelgomberto, which, although it's an informal place, is the true heart of the company.
The real planners of the party are those who spent the past few days working hard to make sure everything was perfect, from cleaning up the venue to perfection, to the placement of the tables, organizing the areas and, of course, the most important feature of any party: getting the food ready!  There were areas for the aperitif complete with buffet starters and the first courses, and then ended with the fruit and desserts, including a huge fruit tart graced with the brand new Ferplast logo!
Those who manned the stoves and ovens deserve a very special mention. Under the guidance of Federico, our Ferplast-starred Chef who directed the remarkable work in the kitchen, they designed a menu that left everyone speechless! Literally! Our retired workers also made a tremendous contribution manning the BBQ, laughing and sharing old stories of the early days together.
Halfway through the evening our CEO, Nicola Vaccari, gave a talk that filled us with hope for the future of the company and the continued growth it is enjoying. He graciously thanked the many workers and employees for the great efforts over the past year. Not only, but the new version of the Ferplast logo was also officially presented, the one that graced the dessert!
The evening continued with music and dancing. The kids had their own safe play area filled with all kinds of fun things to do, decorated with blow-up flamingos and palm trees.  And, like any major event worth its name, there was the photo-booth, the perfect setting for taking pictures and posting them on social media in memory of an unforgettable evening.
The 250 guests enjoyed an evening filled with emotions and tremendous joy because, as many of them say, being part of this family really is a privilege!