Ferplast's celebration of the beginning of summer is a ritual that has been going on for several years. It is a regular event allowing us to spend an evening together and share a carefree moment of happiness with our colleagues. This year it was special…and had a country theme!
Ferplast's celebration of the beginning of summer took place a month earlier this time and saw the participation of 250 employees of the Castelgomberto branch, from the marketing office and the quality control office to the warehouse workers and so on. A big family that once again demonstrated how working together always brings excellent results!
The event took place in one of Ferplast's warehouses in Castelgomberto, the throbbing heart of the company: a spacious area, ideal for accommodating numerous tables, the kitchen, a dance floor, a cocktail bar and a "photo booth" area dedicated to photos, decorated in country-style with hay and obviously a few cushions from Ferplast's new collection.
Like every year, numerous people were involved in organizing the event, which was skilfully managed by staff from the warehouse and from the production departments. In the days leading up to the event and even on the day of the celebration itself, everyone worked hard, from dawn until late at night, to ensure that the evening would be a success and it must be said that everything was perfect, even beyond expectations!
Some people took care of cleaning and arranging the tables, some turned part of the warehouse into a restaurant room and others lent a hand in the kitchen: our designated chef had to be our colleague Federico Sandri…a real guarantee!
The menu was received with great enthusiasm and was greatly appreciated. There was a large buffet of appetizers, followed by two first courses, including Spanish-style risotto and pennette pasta with vegetables; at the end of the dinner, there was a delicious cake with fruit, shaped liked Ferpy!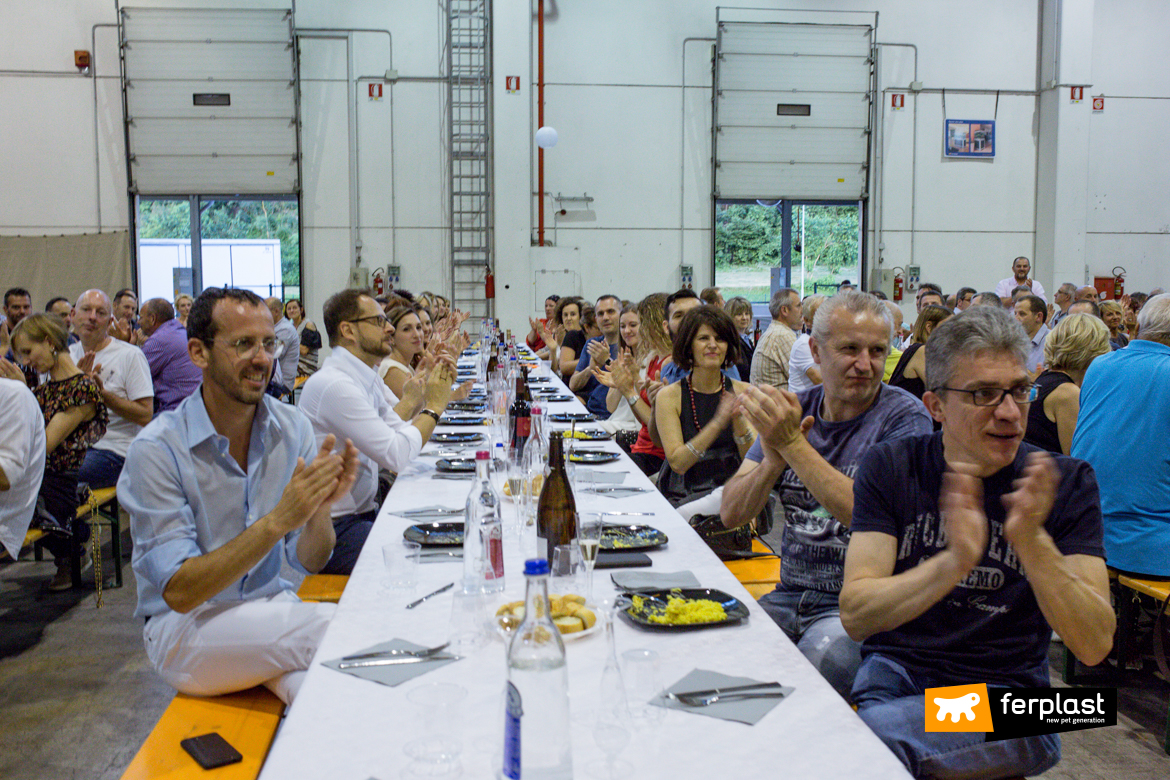 Half way through the evening, the Director General, Nicola Vaccari, made a speech, thanking everyone who had worked to make the celebration an absolute success, highlighting the importance of harmony between employees, because only strong and solid teamwork makes it possible to tackle everyday life and above all win future challenges!
He then wished everyone a good summer, presenting the company's new mascot, the little dog named Mia: a small Bolonka lifesaving dog, trained to help people suffering from diabetes, thereby preannouncing the company's support to voluntary associations that, through our animal friends, help people in difficulty.
The festivity, with entertainment provided by Roberto Visonà and several professional dancers, continued with music and wild dances, and no one from the big Ferplast family refrained from having fun!