Soft, white, cool and romantic, snow makes us all kids again, and when we look at freshly fallen snow, all white and clean, all we want to do is dive right into it! And what do you think dogs want? What a silly question!!! They too are thrilled when the world outside turns white and, with the exception of a few rare breeds, can't wait to get out into it.
Although we humans may be somewhat wary of the cold, our four-legged buddies couldn't agree less with us! They love Autumn because they can go out and run around like crazy, chase falling leaves and jump into puddles, and they love winter because they can go out and roll around in the snow to their heart's delight!
It's obvious your dog loves the snow because for him it's all one big, white playground. It's easy to understand what he's thinking when, instead of the usual green lawn, he sees a great field of white. Some dogs run back and forth in it, others love sinking into it, digging holes or simply rolling around in it with legs skywards! It's everything they could ever want for a fun time!
The fresh and cool feeling they get when this radically different substance touches their hides goes far in explaining why our furry friends so love the snow. It's probably a bit like when we let ourselves be rocked for hours by the gentle motion of the sea. Dogs love new and exciting things and, as John Bradshaw of the University of Bristol has proven, snow is a new sensorial experience for them (unless, of course, the dog lives on the North Pole…), and it stimulates their senses even more.
In order to make their time in the snow even more memorable, the dog does actually need to be protected. His paws should not freeze, for example, so we need to put protective padded paw-wear on them, little shoes with an anti-slip feature on them that makes sure the dog gets a good grip on the icy ground below him.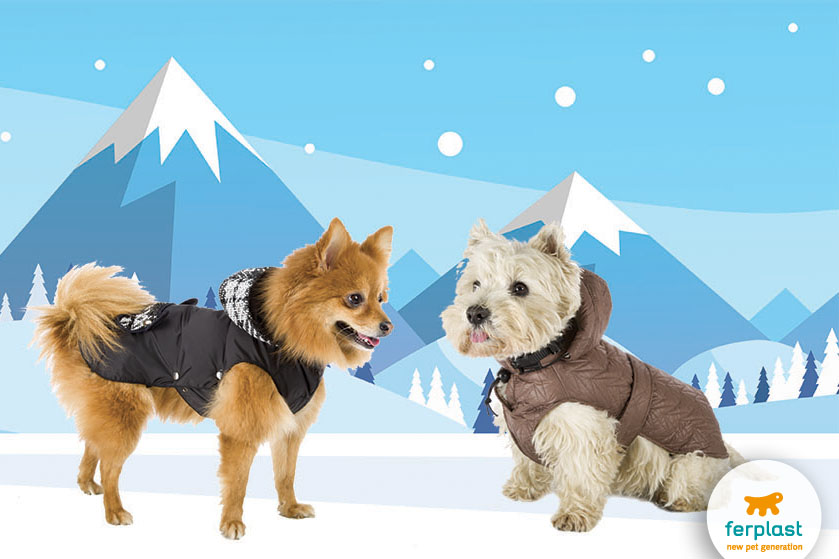 It's also a good idea to prevent to dog from getting a cold by dressing him in a warm, water-proof coat before he goes out. For this very purpose, Ferplast has designed a line of incredibly trendy coats that are perfect for outings in the snow. There's something for everyone: from wind-resistant to water-proof coats lined with warm micro-pile, from synthetic fur to models with padding. Many of the models also come with an attached collar to make it even easier to get ready to brave the elements!
Even dogs can't wait for it to snow!