Summer is over, but don't let yourself get all gloomy over it: winter holidays are upon us! We from Ferplast are getting ready for Halloween. Why on earth would we miss the chance to have fun in good company? We've picked a few Halloween-themed accessories for those who want to go trick or treating with their furry friends.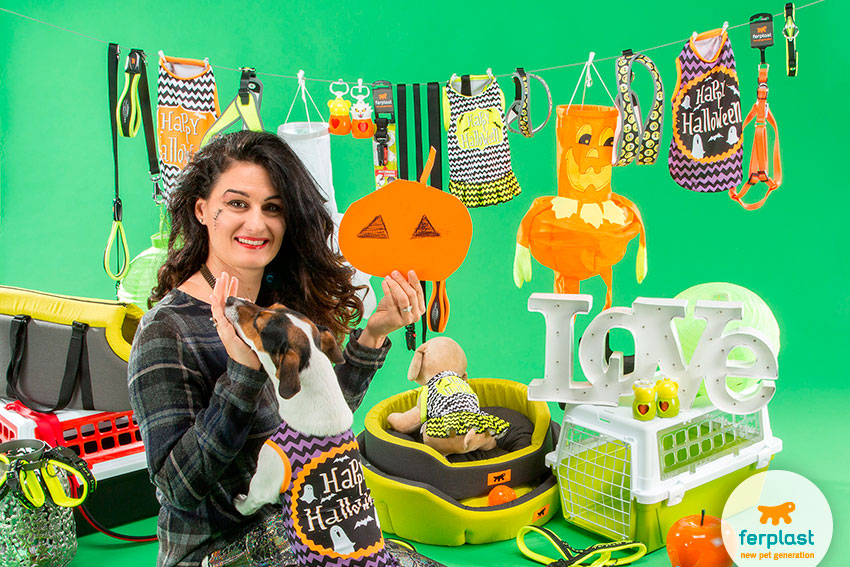 Let's start with a walk! We've selected the most suitable colours for the occasion. Ideal for a perfect Halloween look, the Ergoflex collars and leashes are available in bright orange for lively dogs, purple for mysterious canines, and black for the darkest of pets. If you have a thing for Jack-O'-Lantern, the Dual Colors and Ergocomfort Fluo collars and leashes are available in orange-and-black prints. And for a Hound of Baskerville effect, of course, we offer our timeless Giotto Luxor collars and harnesses made of black leather and studs.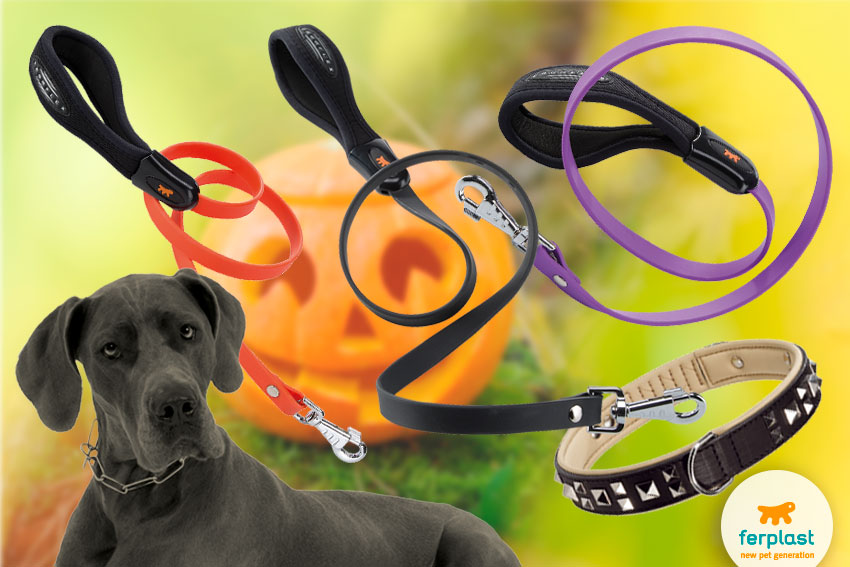 Want to be seen in the dark of night? Use Ferplast's Ergoled and Night Collar reflective and luminous leash and collars, or our Night Over-collar, pumpkin orange for a better effect. Being civilised dog owners, the Halloween leash should be accompanied by Dudù bag holder. Pick your style: do you prefer a fierce little tiger, a little punk guy, or a romantic teddy bear that is as black as shadows?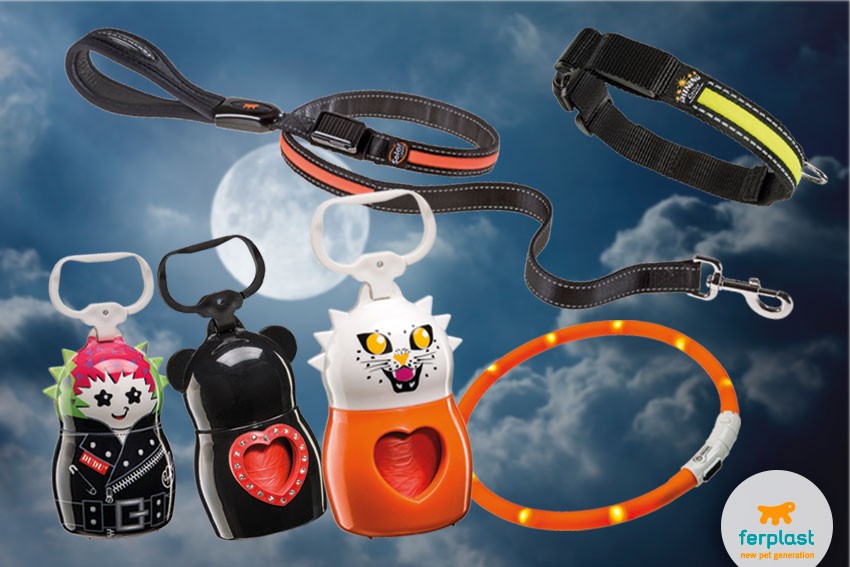 Are you hosting a Halloween dinner? Why not personalize your pets' accessories? Stick to classic black and pick a bowl like Mira Black, or have fun with fluo colours and get a bright green Glam. They're both a perfect match with Jolly, a cushion made of technical material, black with fluo green piping. If you're into that sophisticated and mysterious all-black look, go for a Coccolo Deluxe padded dog house. You can't possibly neglect your cat on Halloween: get her an interactive toy like Tornado or Vertigo, with a little ball and pompom in a cheerful combination of white and orange, or Phantom, the tower that projects an irresistible laser beam that your cat will love to chase.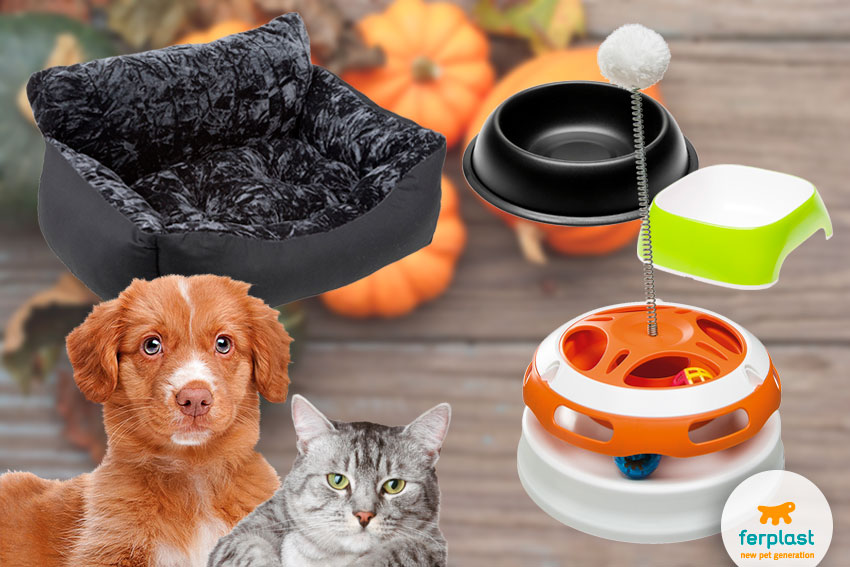 We have pet carriers in Halloween theme as well. All-black is eternal – take a look at our With-Me carrier bag – but if you fancy some level of variation, here are the new Atlas Trendy Plus carriers, with their original design and practical crossed strap, with Atlas Trendy in its fluo green version.
The cherry on top is the must-have trick or treat. No candy for Toto, of course; his health is always on our mind, but should we let him just sit there and drool at our treats? Of course not. We have plenty of delicious snacks for dogs that also help with their oral hygiene. Or get him a toy, like a great polyurethane chewing bone… Orange, of course!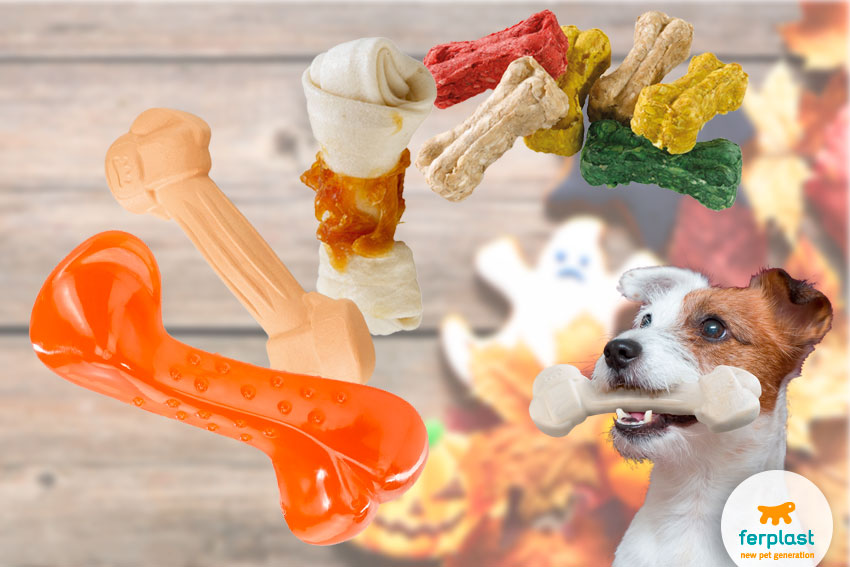 Let's see all the Halloween-themed pet accessories… Are you ready to celebrate?