Spending your free time in the city with your furry friend is even funnier while cycling on your bike. Taking your dog on a lead while on the saddle can be not so safe and is also prohibited by law in some countries, such as Italy. What we can do is to take our dog on a bike with special bicycle carriers.
Maria Giovanna and Ares have chosen the Atlas Bike Rapid carrier by Ferplast to spend a pleasant and relaxing time together in the city. 
Why should you take your dog on a bike ride?
The decision to buy a carrier to take your dog cycling has many positive aspects. First, it allows you to take your dog with you at all times, without having to leave him at home alone during your bike rides. Also, cycling with Buddy has a therapeutic, anti-stress and anti-depressant power.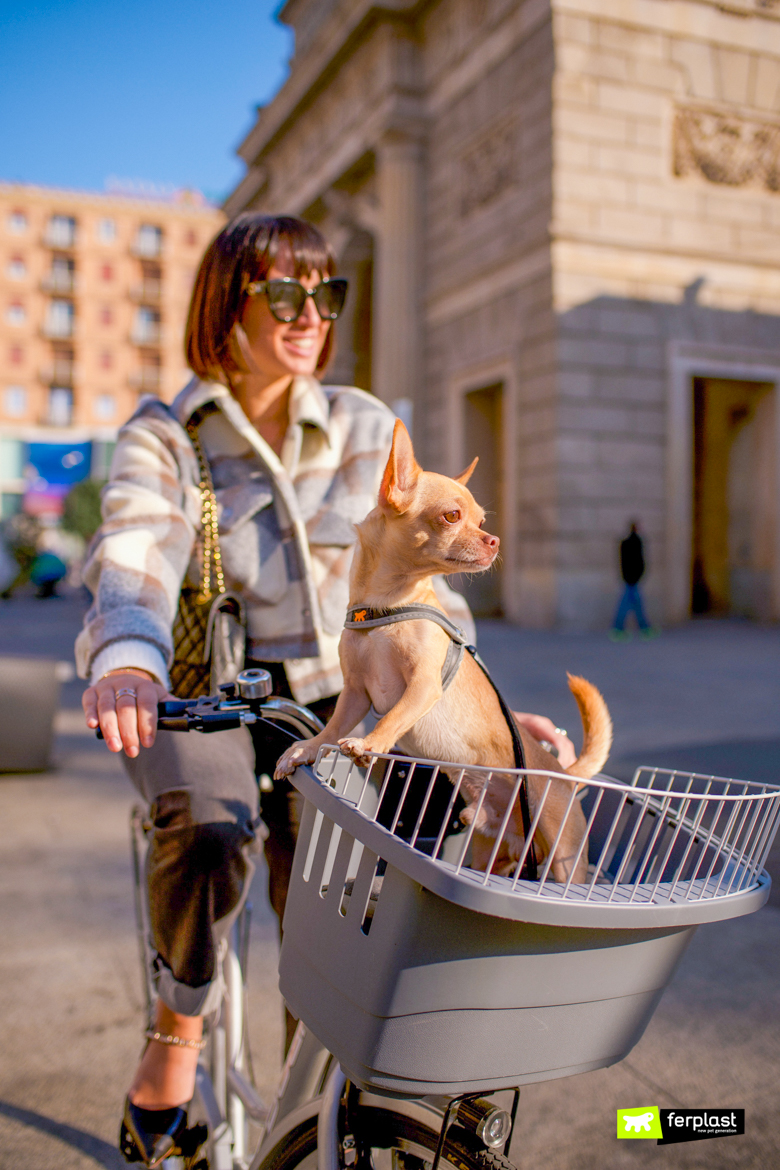 Another benefit is related to the dog's health. With the arrival of warmer weather, paved city streets can be abrasive for your dog's paws and, anyway, too hot for walking. For this reason, carrying him around on a bike instead of on a lead can be an alternative to avoid putting his well-being at risk. Bike carriers are suitable for small dogs or puppies. Also, there are other options to take Fido on a trip like, for example, bike trailers for medium-sized dogs.
What are the benefits of Ferplast's Atlas Bike Rapid carrier?
The right accessory to go for a ride with a small dog is a basket or carrier that can be attached to the bike handlebars. The Atlas Bike Rapid model by Ferplast chosen by Maria Giovanna for her chihuahua Ares is perfect for a city bike ride.
Comfort and convenience
Atlas Bike Rapid is designed to be attached to the handlebar in a quick and easy way. It is very comfortable, because it comes with a washable cotton cushion. In addition, it is equipped with storage pockets to carry your dog's gear. It is made of a lightweight but robust plastic and it can bear a maximum weight of 7 kilos.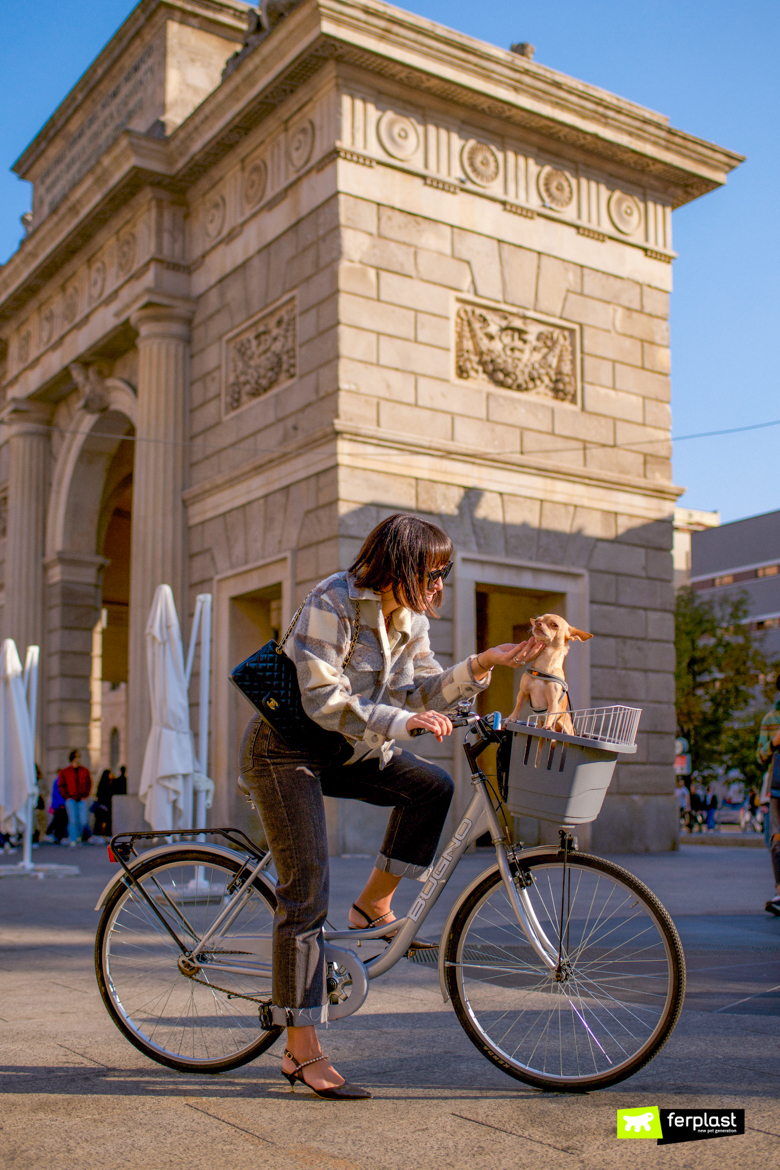 Safety
The carrier is equipped with all safety devices such as a protective net and a front edge for preserving the pet's paws. Also, it is equipped with a safety strap to be attached to the harness or to the collar, to prevent the dog from being thrown off balance during the ride. The accessories can also be sold separately.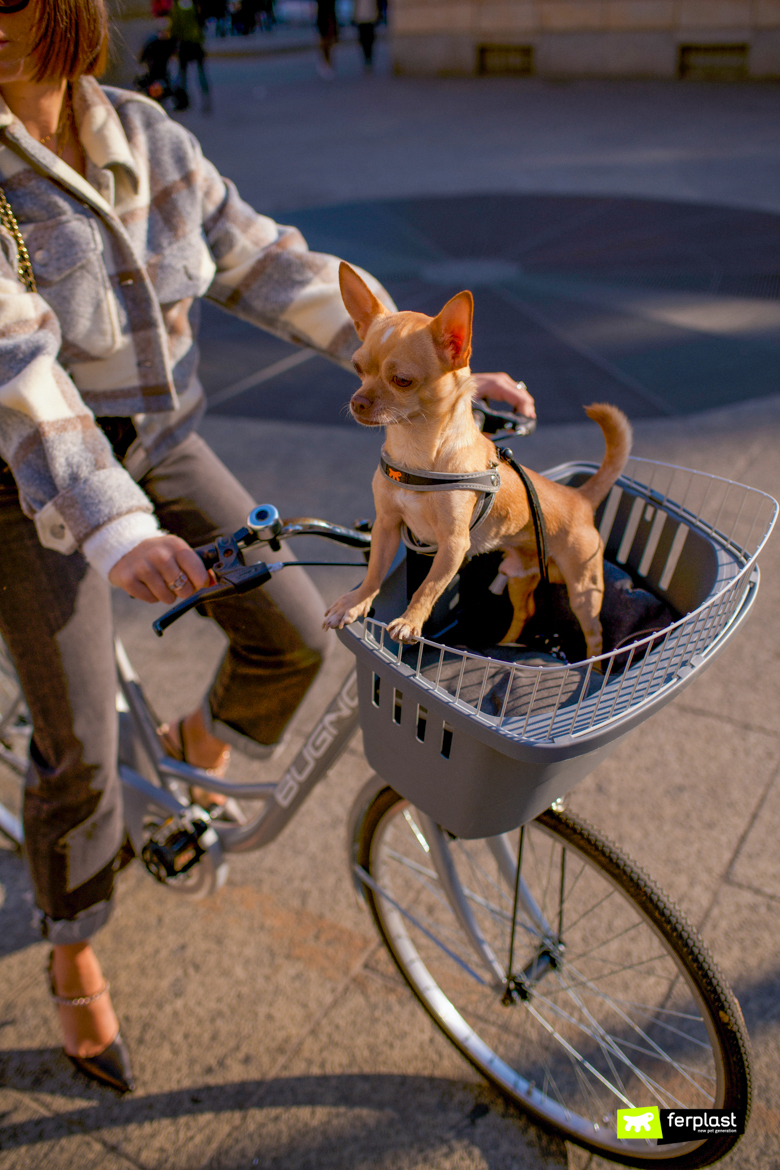 Convincing the dog to use the bicycle carrier requires patience. It is important to get used to the new accessory gradually, first trying it out indoors and only later testing it in the city. It is recommended to start with short trips and to bring along everything you need to take care of your dog out of the house. Once your furry friend gets used to it, you will be able to enjoy the benefits of cycling together.