The arrival of a puppy in the family brings great joy, but it can alter the balance of the house. That's why it's important to provide for his crate training right from the start.

From day one, the puppy must be brought up to respect the rules of the house and get used to recognizing the spaces set aside for him. Thanks to tools like Ferplast's Superior dog kennel, for example, your dog can live in a comfortable and protected environment.
The advantages of crate training
The dog kennel is not a simple cage but an essential accessory for your dog's training. It's a den where dogs can take refuge and find tranquility. The most important function of the dog crate, especially with puppies, is to help them manage their needs and control their movements, so that they do not have a destructive attitude towards their surroundings.
The dog crate helps puppies understand their spaces in the house. In this sense, it is also useful for newly adopted adult dogs that must get used to a new home. In addition, the dog perceives the kennel as a protected and safe place to shelter if he is bothered by the movements of the house.
The dog crate can also be transported in the trunk of a car, and can therefore be used as a carrier during holidays or on the way to the vet.
The advantages of the Superior dog crate by Ferplast
Superior by Ferplast is an innovative and complete dog crate, thanks to its technical features, the top-quality materials used and its modern design.
Foldable and practical
The most interesting feature of Ferplast's dog kennel is that it can be completely disassembled and folded down easily. This reduces its volume and makes it easy to carry by hand. It is made of thermoplastic resin and the base is equipped with a drainage system to keep it dry at all times. In addition, it has four small wheels for easy movement.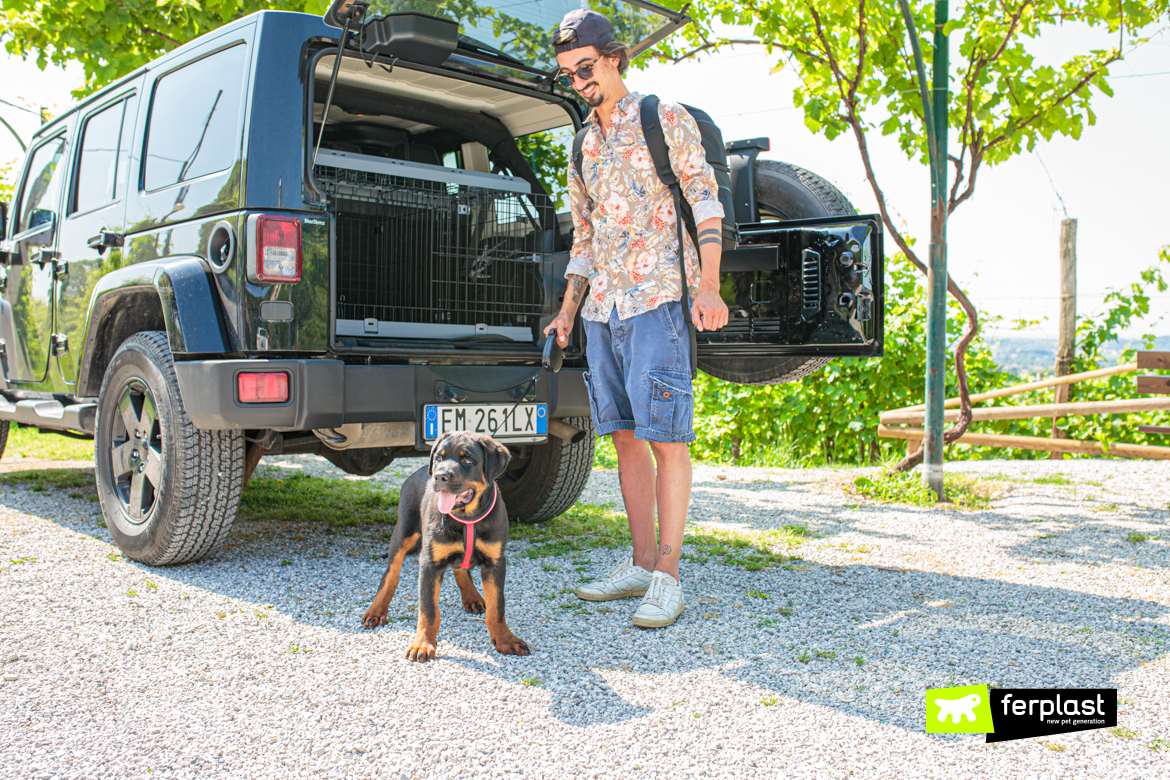 Superior by Ferplast is designed to guarantee your dog moments of relax and quiet, but also moments of interaction with the family. In addition to the doors located on two sides, in fact, it is equipped with a roof that can be fully opened and removed. This way it's possible to cuddle and interact with your puppy from the top of the crate, so that he feels safe but not left alone.
Suitable for all sizes
The Superior dog kennel is equipped with an internal divider, which makes it adaptable to all stages of your dog's growth. During the training, it's important that your puppy only has access to a portion of the space big enough for him, so that it learns to do his business only when take outside. By nature, dogs do not dirty the place where they rest or eat, so reserving a part of the kennel for your puppy will keep it clean and teach him to hold his own business. The divider is adjustable and will make it possible to gradually enlarge the area available to the dog according to his size.
For this reason, the kennel should be purchased in the size that fits your dog in his adult years, so that it is suitable for all stages of his growth and can become his safe place for life.
Superior by Ferplast is available in various sizes to suit different breeds. Find out more at www.ferplast.com
The Superior dog kennel by Ferplast is a very valuable tool for crate training a puppy or a newly adopted adult dog, combining aesthetics and functionality and providing a safe shelter for our four-legged friend.