Many people wonder if it's possible to take their cat to the beach to spend a day outdoors together. Although the answer is yes, it's important to remember that cats are creatures of habit, so there are several factors to consider.
If you dream of a beach vacation with your cat, here are all the Ferplast tips for a stress-free and problem-free stay!
How to help your cat at the beach
Cats are generally animals that do not like changes. That's why moving to an unfamiliar place could cause your cat a lot of anxiety and stress. For these reasons, it's necessary to make them feel comfortable and help them acclimate.
If you want to take your cat to the beach, the most important thing is to organize! First of all, find out about the location of free beaches and which private beaches allow cats. Then try to make a list of necessary things to bring with you! To help you not forget anything, here is the Ferplast list of essential products for your cat at the beach.

Food and water
For your cat at the beach, first of all, remember to always have food and fresh water with you. You can bring with you Pet-Ristò, a convenient box that contains two airtight jars for food or water, or a comfortable foldable travel bowl like Yappy by Ferplast and a container like Borraccia to have everything at hand. These are convenient and not bulky accessories, which can be stored in a backpack or bag without any effort.
Carrier
Of fundamental importance for your cat at the beach will be the choice of the right carrier. This will not only be the place where your pet will travel, but also a comfortable, sheltered, and safe place where it can take refuge if it feels the need. Here are the best Ferplast carriers for your cat at the beach!
Atlas Deluxe open: Made of sturdy plastic and with a rounded shape, it guarantees maximum internal ventilation thanks to the convenient side and roof openings. It is equipped with a handle with an ergonomic grip and a plastic-coated steel door that can be closed from the outside thanks to a special lock. The Atlas Deluxe carrier also includes a comfortable washable cotton cushion, to ensure comfort and relaxation for your cat.
Jet: This is a modern, innovative carrier made of scratch-resistant plastic and with a rounded shape. The door is made of transparent plastic to allow visibility to your pet and the large ventilation slots have been designed to ensure optimal aeration.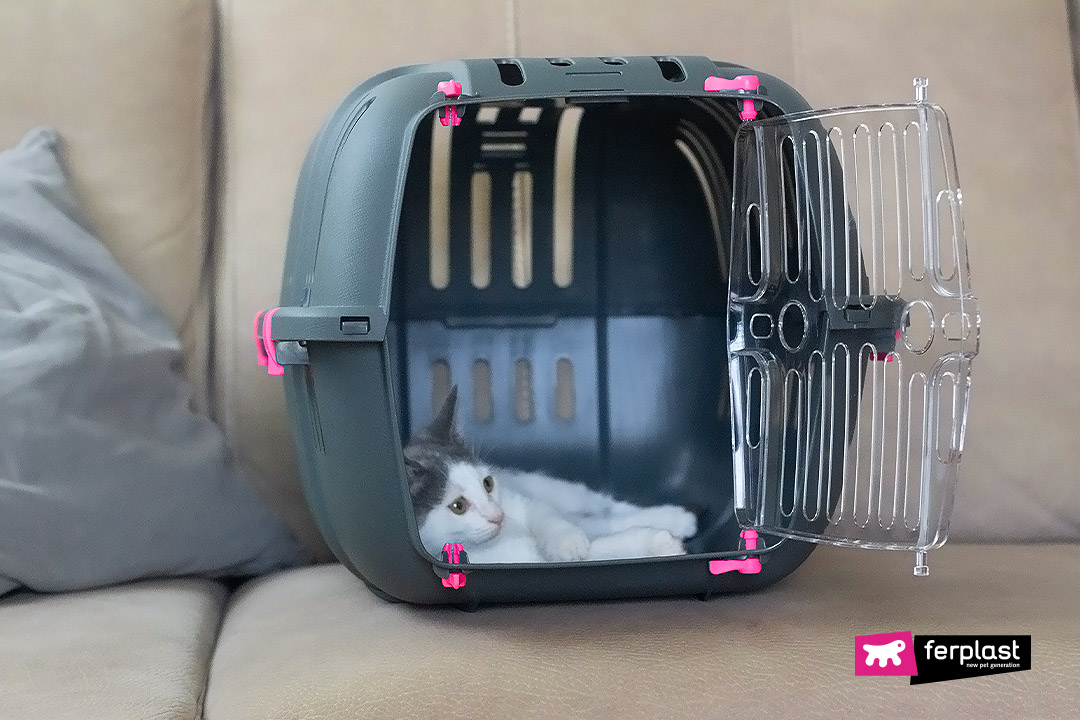 Trolley: If you are looking for something comfortable to take your cat to the beach, we recommend the Ferplast Trolley! It is not suitable for travel, but perfect for taking your pet with you during walks, trips, and excursions. It is made of sturdy nylon and equipped with an extendable and adjustable handle thanks to the convenient central button. It can also be used as a backpack, but can be easily dragged thanks to the wheels.
Jolly Mat
The Jolly cat mat can be useful in various situations: in the car to protect the seats from cat hair, in the hotel and on the beach to isolate your cat from the hot sand. It is made of scratch-resistant and water-repellent technical fabric.

Harness and leash
If you decide to take your cat to the beach, you can also decide to use a comfortable harness with a leash! Those by Ferplast like Nikita or Jogging are made of breathable nylon, which ensures maximum comfort for your pet even during the hottest months thanks to the lightweight fabric.
You can also opt for an extendable leash like Flippy One Cord Mini, which will allow your cat at the beach ample freedom of movement thanks to the extendable nylon cord.
Brush and sanitizing wipes
The beach environment, in particular salt water and sand, can damage your cat's fur. Having a suitable brush will be important to preserve the softness and shine of your feline's fur. Try Gro 5762 Premium! The combined action of the stainless steel bristles and those in polyamide will easily remove knots, while at the same time providing a relaxing massage.
A damp cloth can also be useful for cleaning your cat's fur at the beach and at the same time refreshing it, giving it a regenerating sensation. The Genico Fresh Glove is soaked in non-foaming detergent, does not require rinsing and is equipped with an inner fur to keep the hand dry during use.
Taking your cat to the beach is therefore not impossible! But organize yourself at best and don't forget our suggestions to avoid being unprepared.