Spring is here and nature is painted with the brightest and most vivid colours. The multi-coloured With-Me bags by Ferplast, the coolest and most glamorous dog carriers ever, are appearing on the streets! Who wants to come for a walk with us?
When to use the bag for walks with your dog
On sunny days, one of the most fun things to do with your dog is to go out for a walk around town, get some sun and spend an afternoon together in a different context from the usual one. Particularly when your furry friend is still a puppy, it is very important for him to get used to being around people! If you notice that chaos makes him uneasy, instead of using a classic lead all the time, you can take a handy bag with you, like Ferplast's With-Me model, so that as soon as you feel that Fido needs privacy and security, you can put him inside! Not only that, but it can come in very handy if you wish to enter a shop or a place that does not allow our furry friends to enter.

Technical features of Ferplast's With-Me bag
The With-Me bag is one of Ferplast's top models and it is completely Made in Italy from the highest quality materials and it is distinguished by the special type of EVA (Ethylene Vinyl Acetate) rubber, which has the advantage of being super-resistant, waterproof and washable. After all, however clean and polite he might be, a dog always tends to dirty and nibble everything he comes across!
The sturdy handles can support dogs weighing up to 8 kg and are adjustable, so they can be adapted perfectly, allowing you to choose whether to carry it over your shoulder or in your hand. The With-Me Small bag is also available in the small version, which is more compact but equally safe and ideal for small dogs weighing up to 5kg.
There's no need to worry about your dog leaping out and running off, because there is a useful safety strap inside it, to fasten to your four-legged friend's collar.

Colours and design of the With-Me bag
It's undeniable – this bag is a real gem with an all-Italian design… and you can see this in the details, the colours and the impeccable style! For those who love accessories, With-Me is a real must-have, available in five different colours to satisfy everyone: from the eccentric fuchsia and teal, to the classic black, dove-grey and blue. Therefore, it is perfect to combine with your pet's other accessories, giving him a stunning new total look! And if your furry friend doesn't want to know about it, you can also use it as a shopping bag.
The really fantastic thing is that you can take advantage of it all year round: on cold winter days, you just need to apply the fabric cover with ecological fur edges to make sure that your dog has a warm and sheltered space!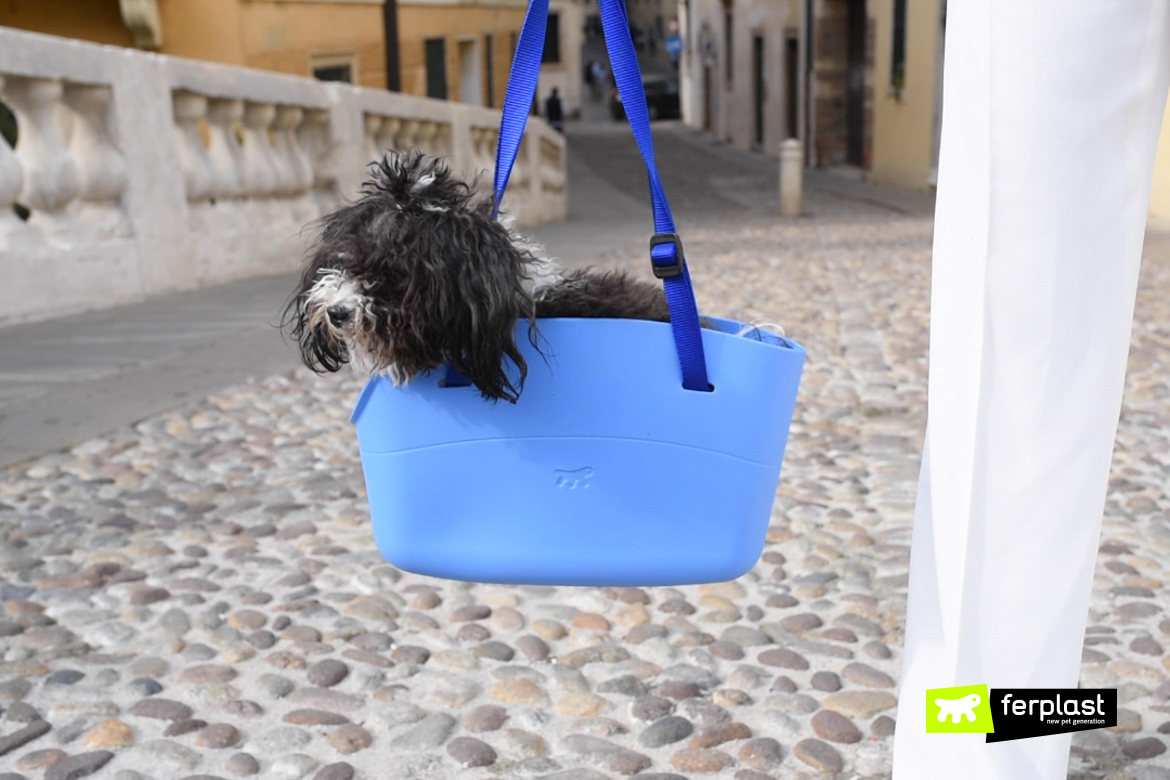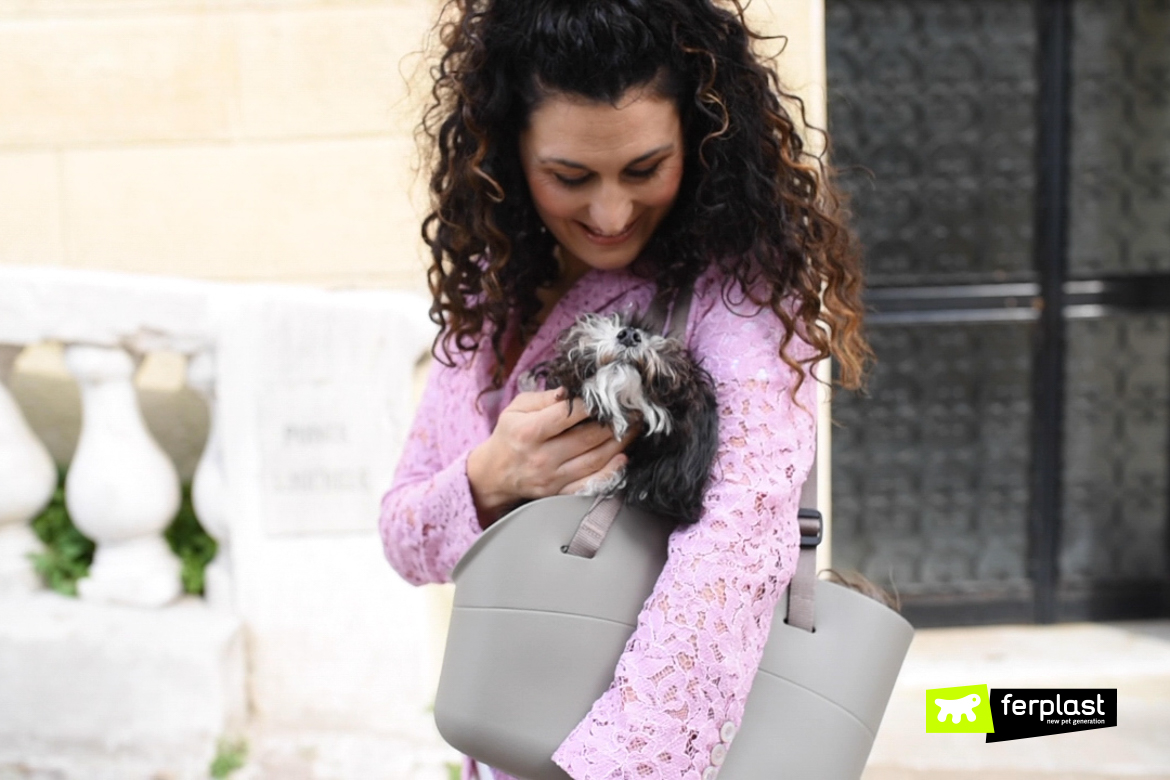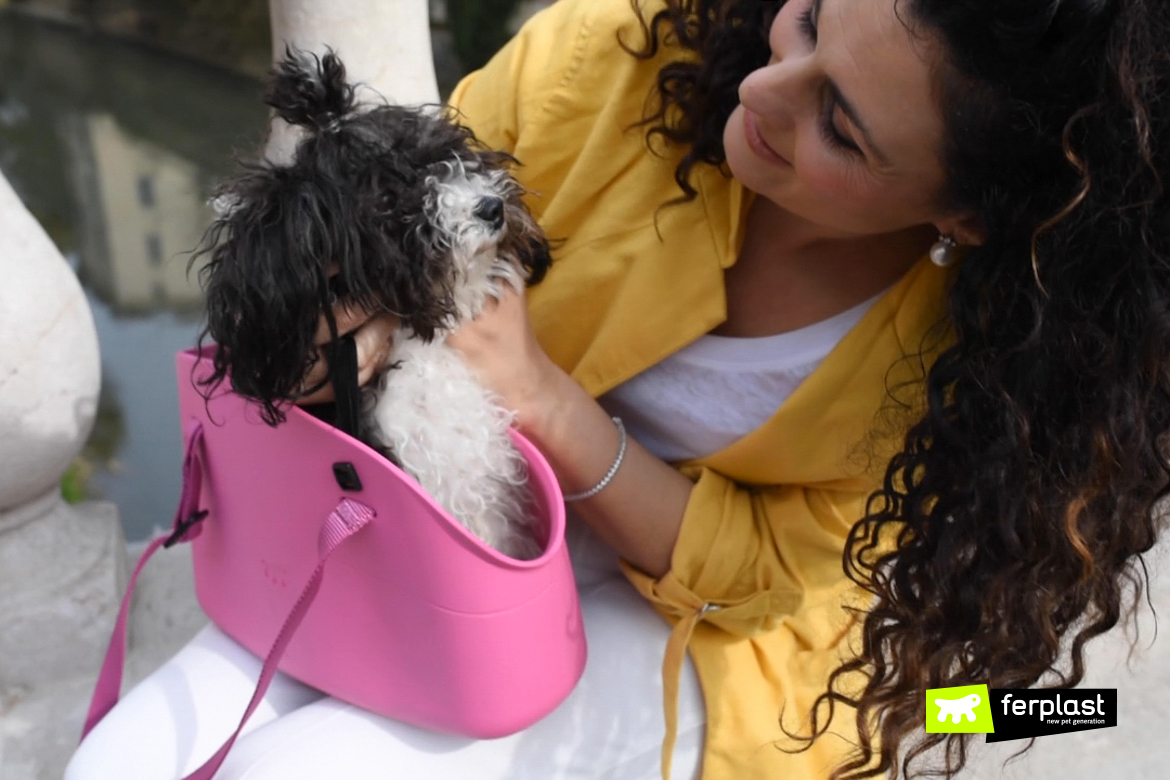 Take a look at our mascot Mia having fun turning around in her bag; which colour do you like best?