Those who love the great outdoors, being immersed in nature, holidays in absolute freedom, and who are also not keen on leaving their pets at home, would do great to choose to go on holidays on a camper. But before you leave, let's see what you should pack for your dog.
Travelling on a camper is like carrying your home with you, with all the trinkets you need in your everyday life. Travelling this way makes it much easier to bring your dog along, as long as you make this new environment as comfortable and familiar as possible.
What may your dog need? Before you depart, make sure you have all his updated documents, should you need to show them to authorities or to take him to the vet. Remember to pack his updated health booklet and, if you're going abroad, his pet passport and rabies vaccination certificate.
Now for your dog's suitcase:
1) BOWLS. Include two bowls, one for food and the other for water. Ferplast's Duo Feed is the perfect accessory, consisting of two stainless steel bowls and a plastic base with anti-slip feet to keep it grounded to the floor, even during sharp turns or bumpy roads. Easy to clean, it provides food and water at the same time in a safe and hygienic manner. Its reinforced edges keep the contents from spilling out. If you intend to go on a trek, you'll also need a silicon-rubber folding bowl that takes up very little space when closed, and a practical canteen, to make sure your friend will never go thirsty. Of course, don't forget to pack his collar or chest harness, and his leash.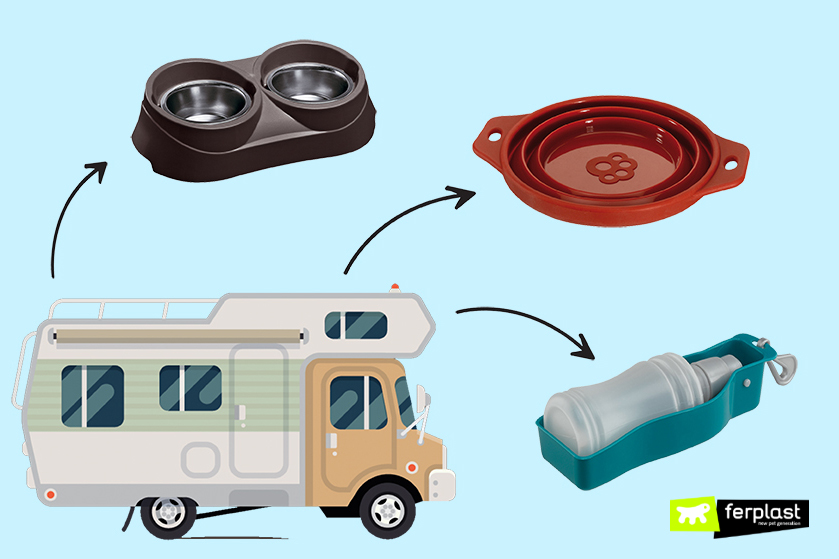 2) DOG HOUSE and CUSHION. Make up some room for your dog inside the camper and place his house there. Holiday is a portable doghouse perfect for small and medium dogs. In addition to the ceiling, which can be opened, it has three windows on the sides, all with nylon mesh, to allow air and light inside. If you want something sturdier (and if your camper trailer is big enough), you can also go for the Dog Home house, with a safety door. It's easy to detach and remove. To ensure more comfort for your dog, which will help him rest better, place a soft cushion inside. A cushion, a soft dog sofa, and a good night's sleep are a good method to keep your dog away from your bed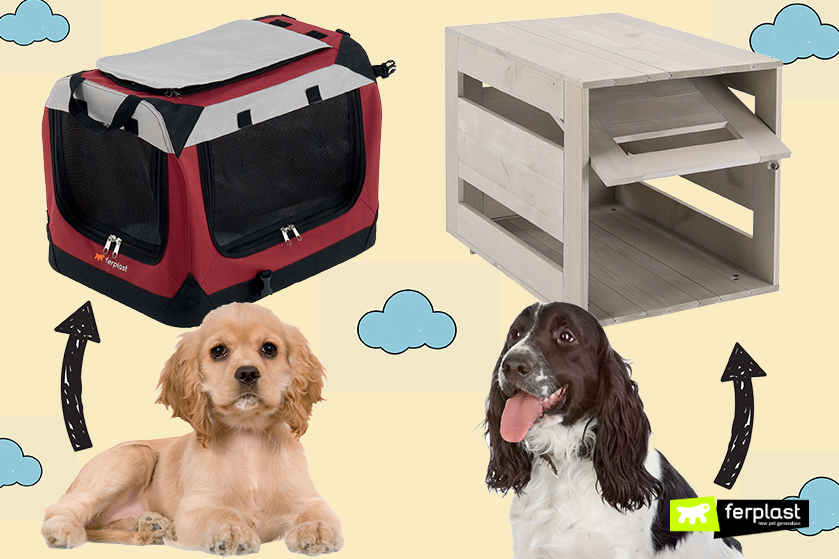 3) CARRIER. Alternatively, you can also use a carrier. Ferplast's Atlas range has numerous models to choose from. Make sure it's roomy enough, choosing the model according to your dog's size.
4) COOL MAT. When it's super hot, even Toto needs a break. Get him Ferplast's Pet Cool Mat: it's foldable and takes very little space, and can be placed on the floor of your camper or inside your dog's carrier. It requires no power or fridge: it's activated by the pressure of your dog's body weight on it, and produces a temperature that is up to 10° C lower than room temperature.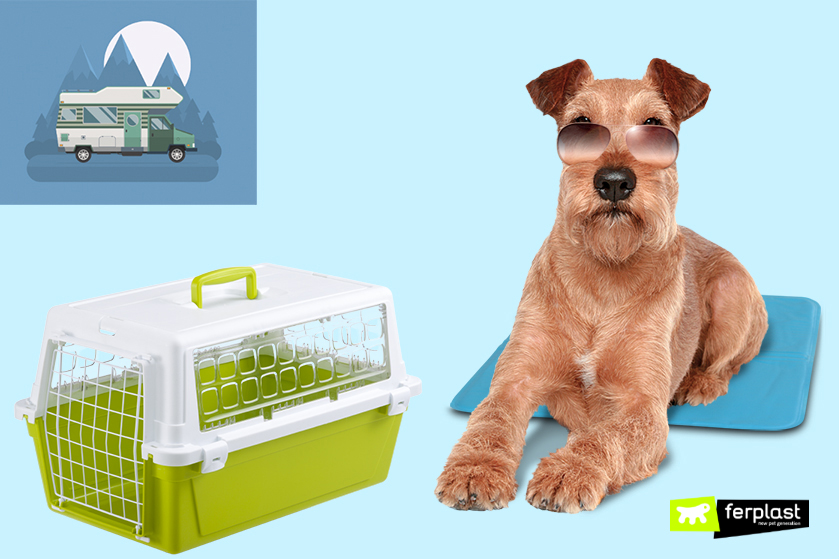 5) BRUSH. Your dog needs grooming regardless of being on holiday or not. Wash and brush your dog just like you usually do back at home.
6) TOYS. An effective method to keep your dog from feeling too homesick, bring along some of his favourite toys, leaving them in his house or carrier. Just like children, dogs also need distraction when the road gets boring!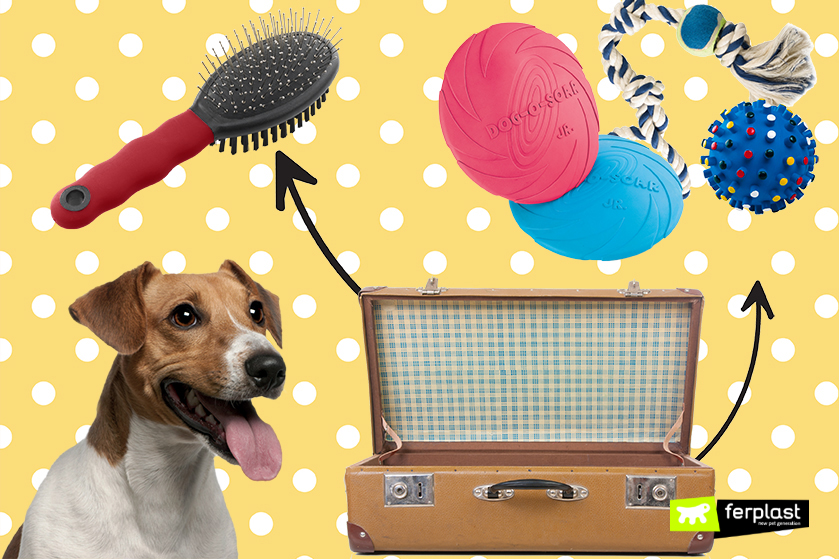 7) BIKE BASKET. Camper vacationers usually carry their bicycles with them, to discover places that can't be reached otherwise or simply to have a closer contact with nature. If you have a small dog (up to 7 kg), remember to pack our Atlas Bike bicycle carrier, so your dog can come with you on your rides!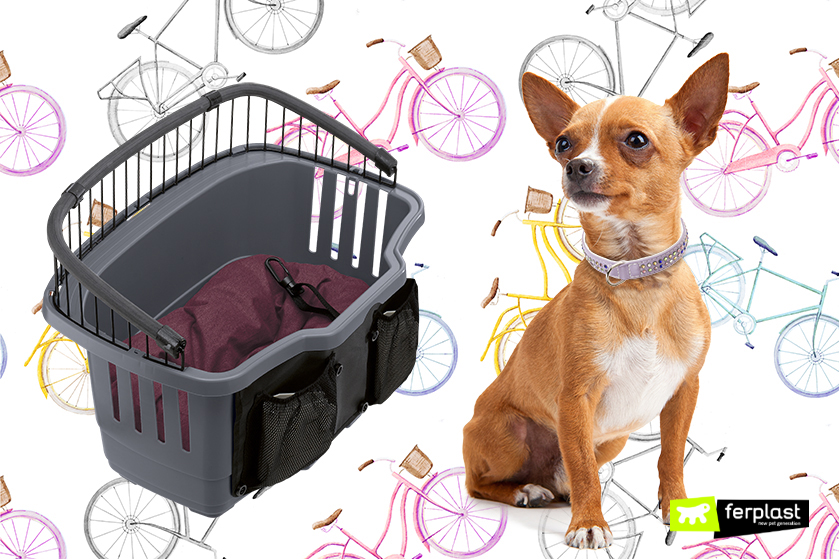 So, how's your checklist going? Now you're ready to enjoy your holidays. Have fun!