Travelling by plane with a dog has become a habit for most owners of these four-legged friends. Over the years, large and small airlines have become more and more sensitive towards animals, to the point of now being, for all intents and purposes, pet-friendly. Here are the current 2019 regulations on the subject.
Dogs and animals: rules for taking them by plane
Before travelling, always check the rules of each airline, as each one has its own and it would be very unpleasant to have to leave your furry friend on the ground due to sheer negligence!
Most airlines accept dogs weighing up to 10 kilos, including the pet carrier. If they exceed this threshold, they have to travel in the hold. Basically, only small and medium-sized dogs and cats are allowed to travel by our side, inside a pet carrier.

Travelling in the aircraft cabin with your dog
According to the standards promoted by IATA (International Air Transport Association), any pet carrier allowed inside the cabin of the aircraft must have several precise characteristics.
1. DIMENSIONS. The pet carrier should not exceed these dimensions: 46 x 25 x 31 cm. The rule of contacting the airline also applies in this regard: each one has its own rules regarding size and weight.
2. VENTILATION. The pet carrier must have ventilation slits on all four sides in order to guarantee more than enough ventilation and guarantee Fido a peaceful journey. However, these slits must not allow your furry friend's snout or paws to pass through them.
3. SAFETY FASTENERS. To prevent your animal from suddenly getting out, the pet carrier must be equipped with safety fasteners.

Dogs travelling in the hold: regulations
If your dog is medium or large in size, he will have to travel in the hold. We know that it is not an easy experience for our furry friends, as they will have to stay away from their owners and in an uncomfortable condition. Nevertheless, you can try to make the flight more enjoyable, starting with the pet carrier in which your pet will be travelling.
1. DIMENSIONS. The pet carrier must be large enough to allow the animal to stand upright, turn around and curl up in a natural way.
2. VENTILATION. Air must circulate inside the pet carrier, so it must have ventilation slots on all four sides.
3. FOOD AND WATER. Most airlines require the use of a bowl and a water bottle attached to the door of the pet carrier, to avoid the contents from spilling out.
The pet carriers in Ferplast's Atlas Professional range lend themselves to this task very well and are made in compliance with IATA regulations for air transportation. They are equipped with snap fasteners with a safety lock on the sides and a solid plastic-coated steel door, side ventilation grids, feeding trough and a hygienic draining mat, in case your furry friend needs to pee.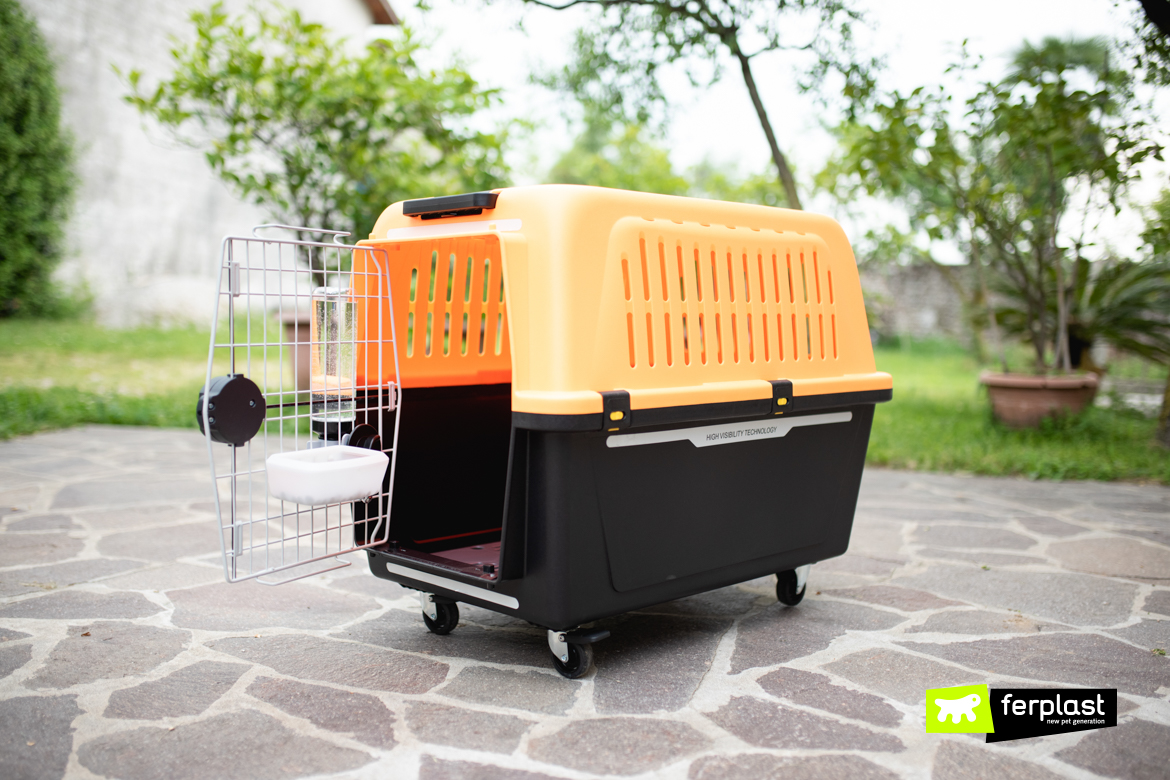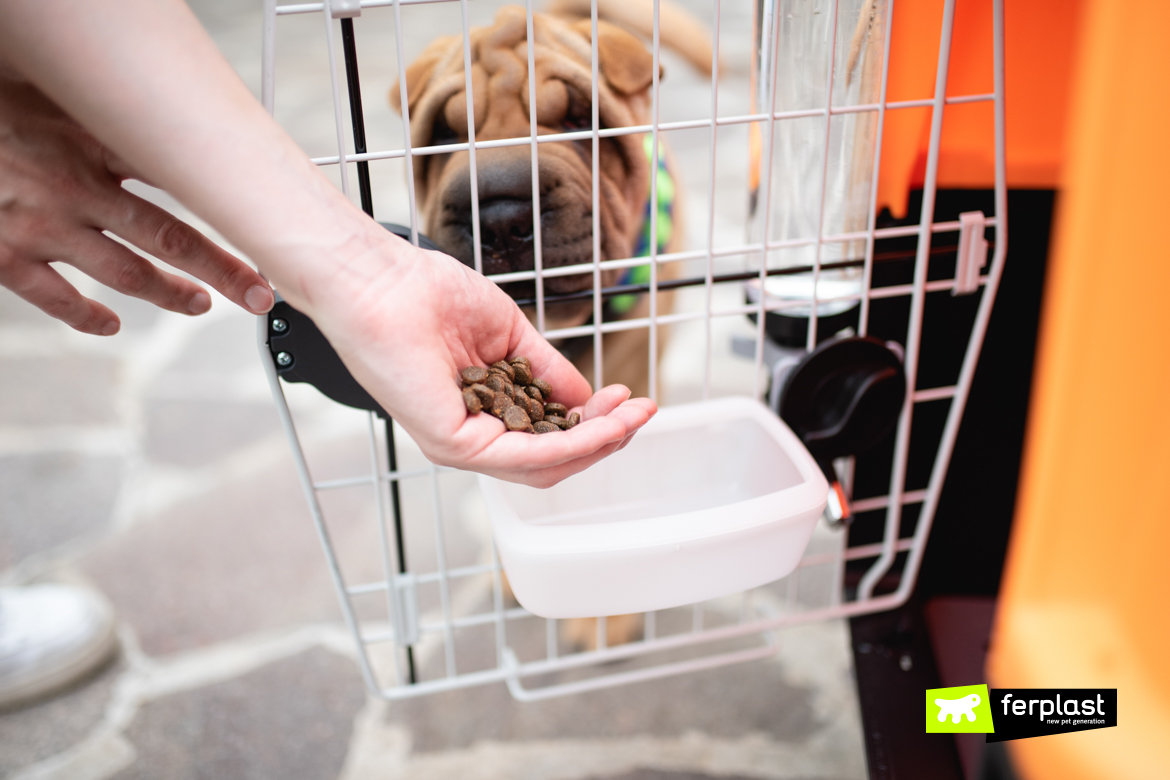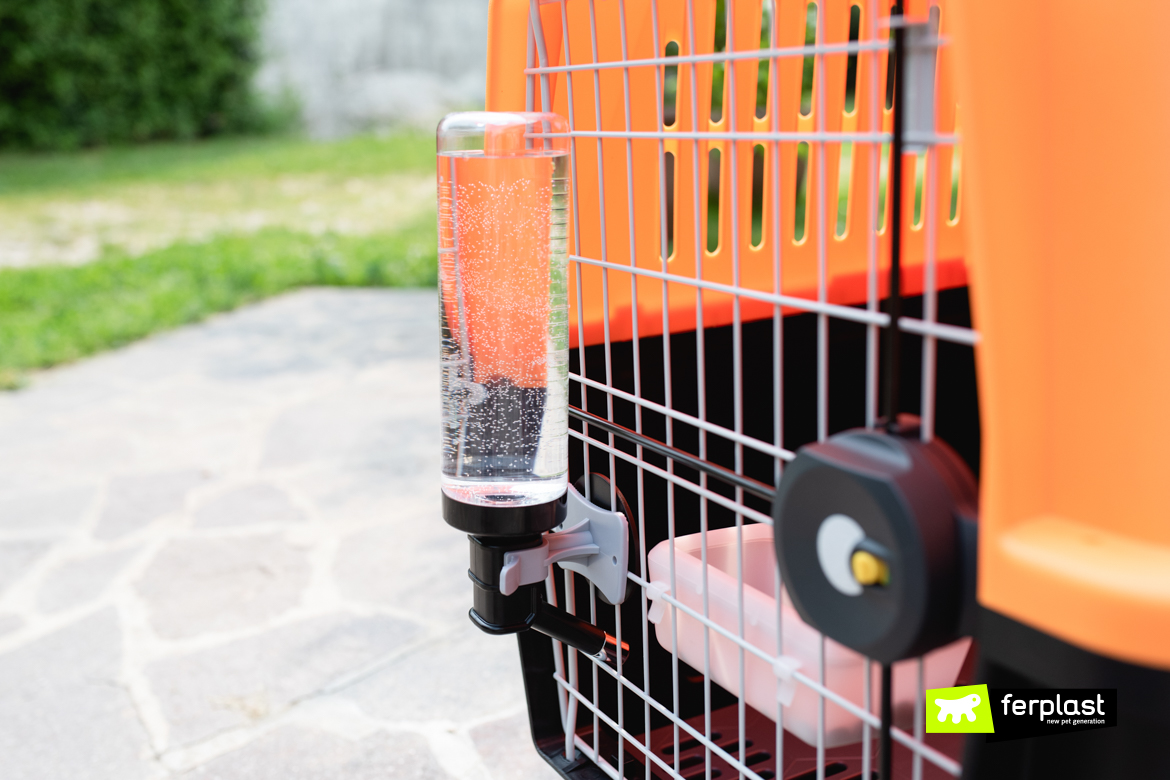 The Atlas Reflex pet carrier is equipped with a simple and effective safety fastening system: by turning the knob, in fact, four anchoring points are activated which fasten the door to the main structure of the carrier, avoiding accidental and unpleasant opening of the door during the journey. To facilitate transportation, it has a removable and extendable handle and four wheels that can be removed if required. The lower part of the carrier has high-visibility reflective elements!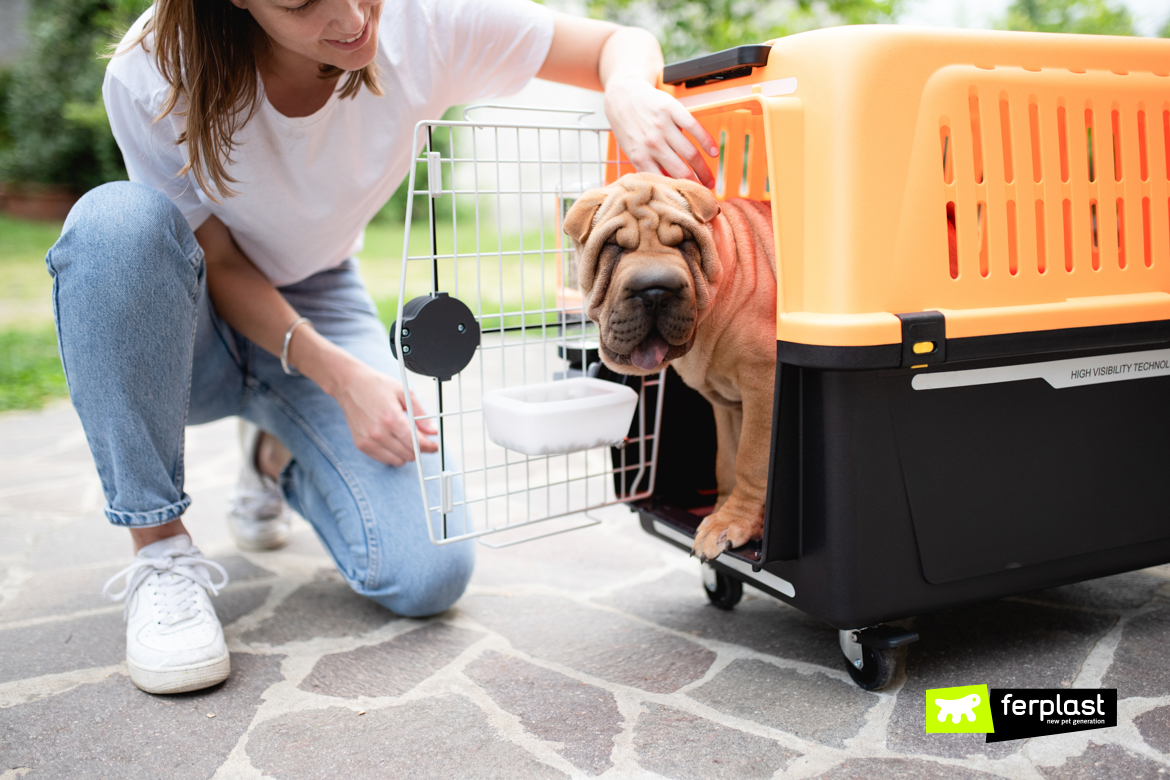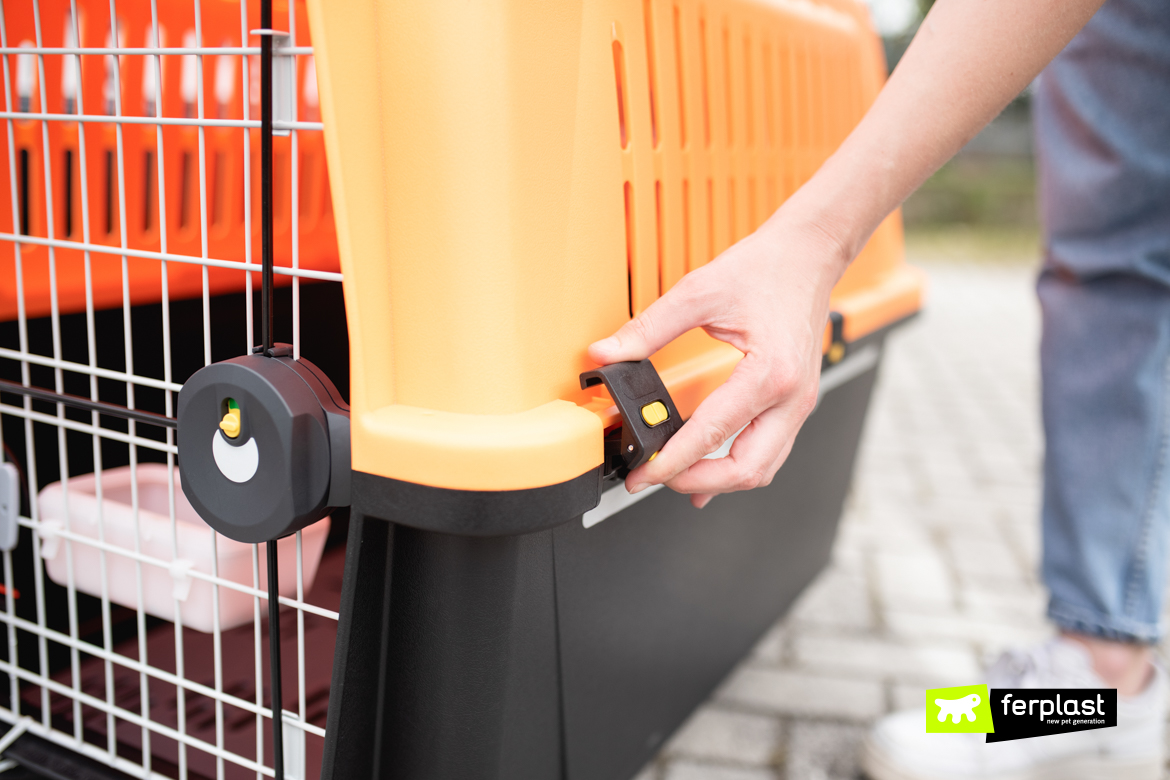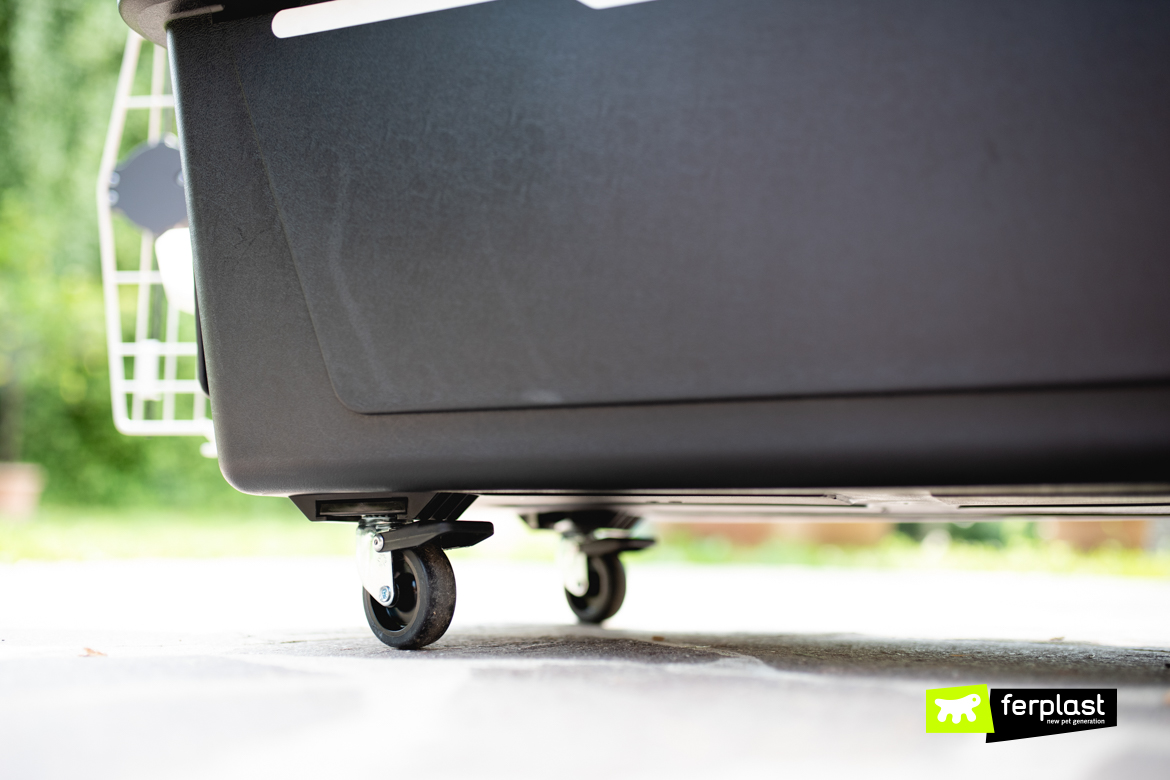 Never remove your dog's collar and name tag, as it could always be useful just in case your four-legged friend decides to make a run for it!