Travelling with your rabbit? Travelling with this pet is usually not recommended. Rabbits are territorial animals, do not like to travel and may suffer a lot during the trip. If you just can't do without them, however, you really must be very careful and bear in mind a few important precautions.
You will need to organise your departure days in advance and not overlook any details. Here are Ferplast's tips to ensure your bunny has the most comfortable and safe journey possible.
Road trip with a rabbit
Travelling with a rabbit may seem apparently simple, especially because of the animal's small size. In reality, even a short car journey could put a lot of stress on your pet. That is why you should try to make him feel comfortable and have some necessary accessories with you for safe transport. 
It will also be very important during the journey to make stops to allow the rabbit to eat and relax without noise. It is recommended to take the carrier out of the car, but be careful, never let the rabbit out of the carrier until the journey is over!
Travelling with a rabbit: the pet carrier
The pet carrier is an essential tool for travelling safely with your rabbit. Make sure it is large enough and comfortable enough for your pet to eat, move around and lie down to rest and also remember to bring along some hygienic mats for your bunny's needs.
Ferplast's Aladino Large is a pet carrier designed specifically for moving your small pet. It is made of durable plastic and equipped with a convenient handle and a transparent lid that can be opened. It has several holes to ensure proper internal ventilation and, thanks to the transparent plastic roof, you can keep an eye on your little friend at all times.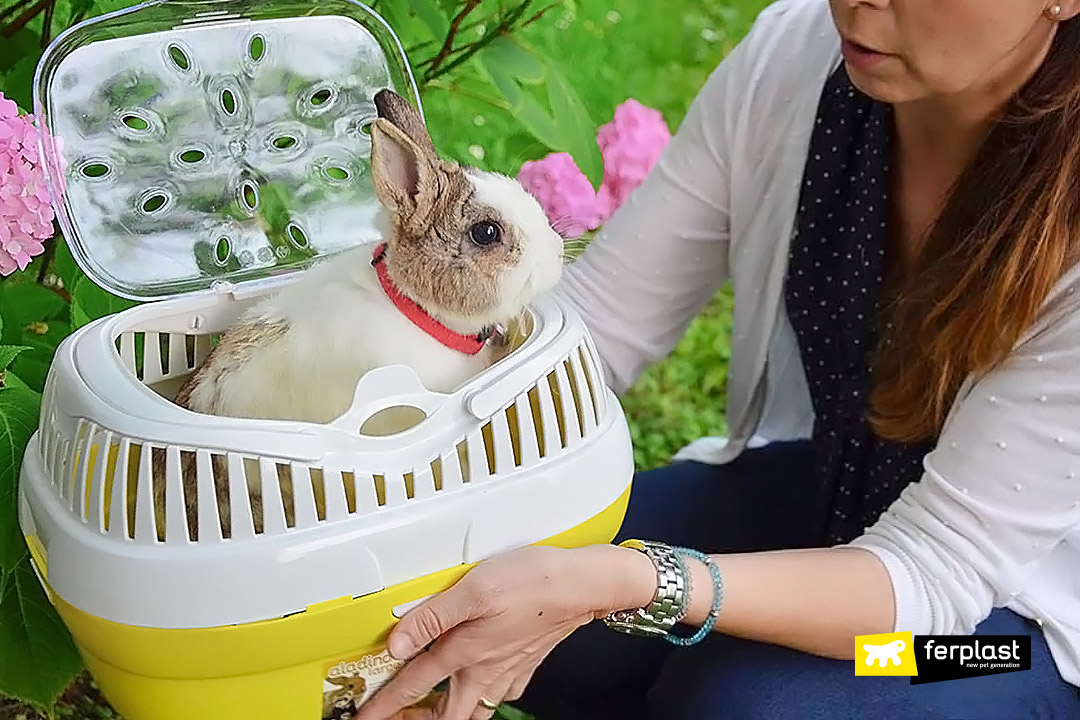 If you are looking for a larger pet carrier, the Atlas Open is ideal. It is equipped with a plastic-coated steel door, which can be locked from the outside with convenient safety clips. In addition, the canopy can be opened and has a grille, allowing the animal to be seen. Atlas Open comes complete with feeder and soft, washable cotton cushion and is available in two different colours.
Travelling with a rabbit: food and games
Always make sure you have food and water with you to give to your rabbit during the journey. You can bring along some hay, treats and vegetables that you can store directly inside the carrier and which your rabbit will nibble on when it gets hungry.
Toys will also become an important stress-reliever for him. You could distract him with some nibbling toys. They will help him pass the time and enjoy the journey more.
Travelling with a rabbit: beware of temperatures
Rabbits are animals that have no sweat glands and release heat from their ears. For this reason they suffer a lot from heat and very serious consequences may occur if the temperature of their environment exceeds 25 C°. 
So make sure your car is well ventilated and the temperature is appropriate for your pet's needs. 

Travel by train, plane, ship
Travelling with a rabbit by train, plane or boat is more complicated than by car and may cause your pet undue stress. That is why our advice is to avoid this type of travel. 
If the transfer is necessary, pay attention to the rules of each transport company! It may be necessary to reserve an extra seat, pay a supplement or have certain documents on the rabbit's health, such as vaccinations, health booklet and so on. 
The carrier will be the preferred place to transport your rabbit, along with absorbent mats, food, water, toys and some medication in case of need. It is extremely important to always be by your pet's side and never, under any circumstances, store them in the holds of planes or ships. 
Travelling with your pet is a wonderful experience, but take care to always provide a comfortable, healthy and safe environment for your pet.