If you have decided to get a rabbit as a pet, now is the time to consider which hutch to buy. The rabbit hutch is the ideal place to guarantee the animal a safe shelter and a place to move around in total tranquility. Do you want a durable and sustainable product? We advise you to choose a wooden rabbit hutch, here are the best ones from Ferplast!
Which material to choose? The FSC certified wooden rabbit hutches
Wood is the most suitable material for those looking for a durable and high quality product, while making a sustainable purchase in line with the principles of environmental protection.
In fact, if you care about environmental issues, we suggest you buy an FSC-certified wooden rabbit hutch, just like Cottage and Ranch models from Ferplast. The FSC brand guarantees the origin of wood, because it identifies products made with raw materials coming from forests or plantations that are correctly managed and controlled according to strict environmental, social and economic standards.

Ferplast's Cottage wooden rabbit hutches
The wooden rabbit hutches of the Cottage range are designed to be placed inside or under a porch, featuring a refined design, inspired by the Scandinavian style, with soft and delicate pastel colors, which match well with any type of furniture.
The structure consists of two floors: a lower one closed by a net, where the rabbit can move freely and an upper one allowing a peaceful rest. On this floor there is also a small house that serves as a sheltered nest for the little guest. The roof can be opened for easier access to the inside and the tray placed as a base can be removed for immediate cleaning. The tray is made by recycled plastic, a good compromise for those who love beautiful and quality objects without having to give up practicality.
They are available in the classic, mini and large version, equipped with accessories such as drinking bottle, bowl and hay feeder.

The Ranch wooden rabbit hutches by Ferplast
The Ranch wooden rabbit hutches are suitable for both indoors and outdoors, which is why the roof is treated with a special weatherproof varnish, while the whole structure is made of wood protected by a non-toxic ecological impregnating paint and anti-mold, resistant to UV rays and water repellent.
These rabbit hutches are divided into ground floor, fenced and equipped with a sliding door with safety closure, and upper floor, equipped with a plastic drawer to collect dirt that can be removed, to facilitate maintenance. The two floors are connected to each other by a practical wooden ladder, so the bunny can move freely in a larger space. The roof can also be raised to allow the rabbit to be extracted and its nest cleaned if necessary.
The Ranch rabbit hutch is available in different sizes and depending on the size also in two different colors.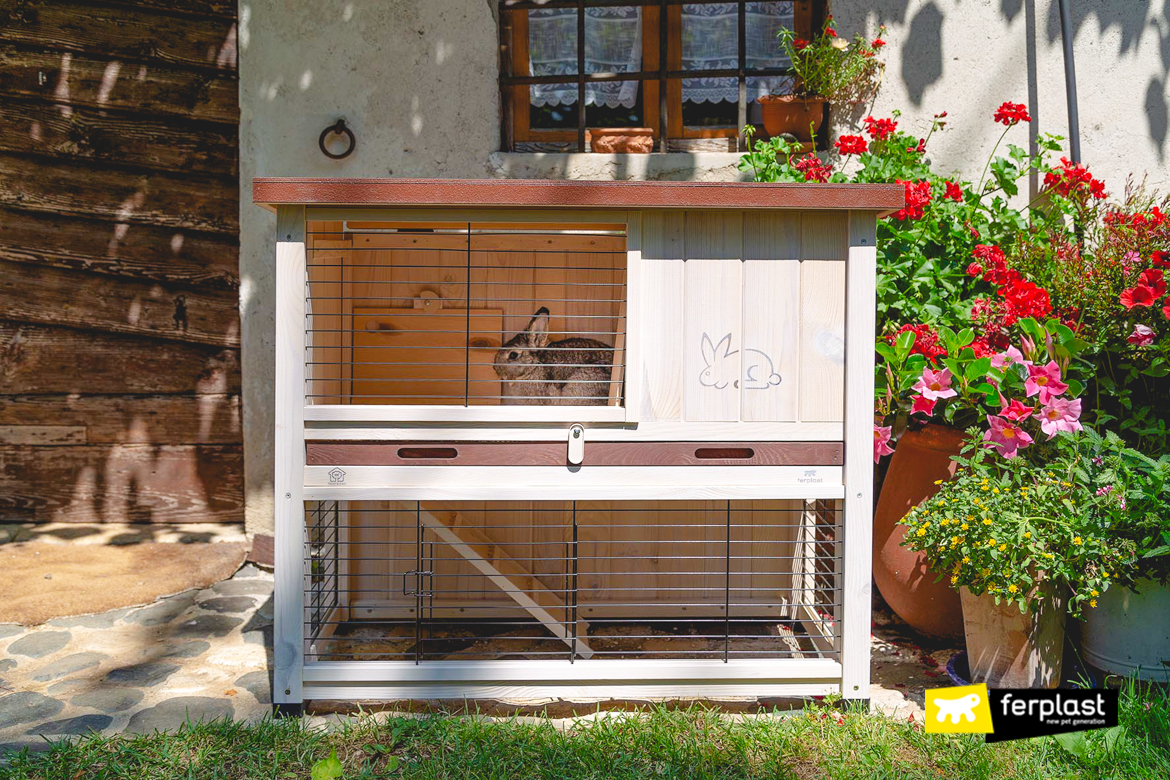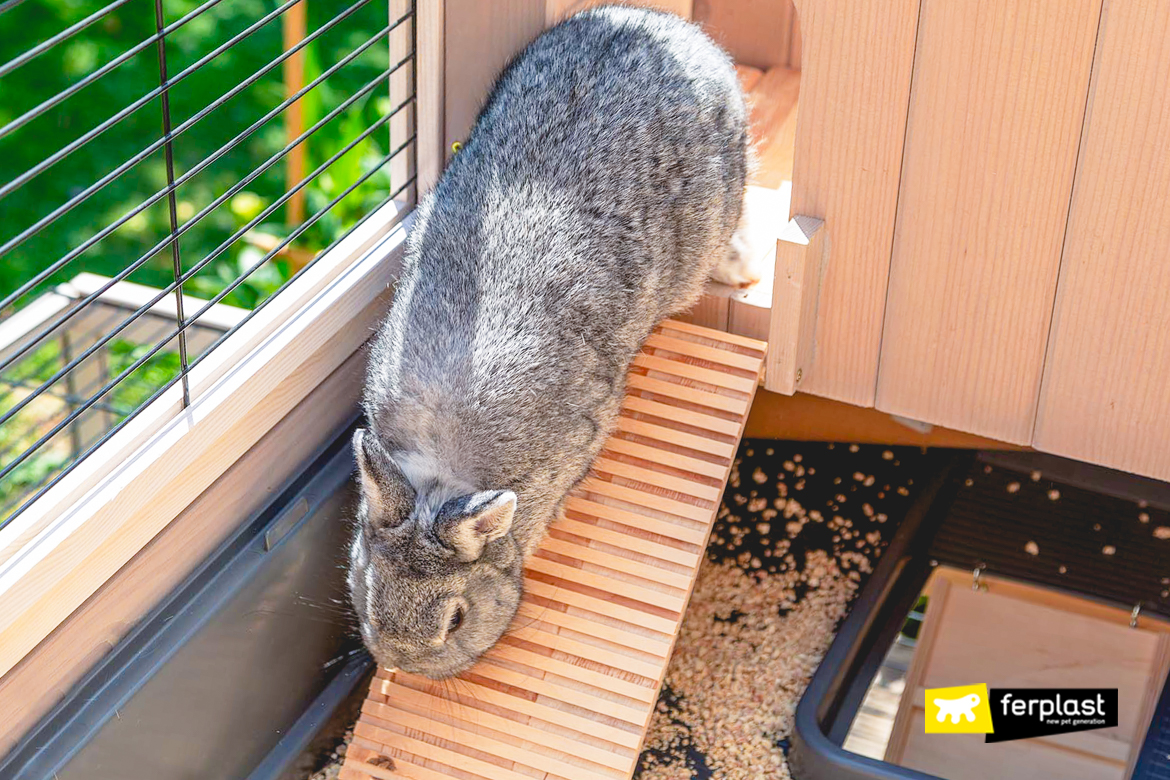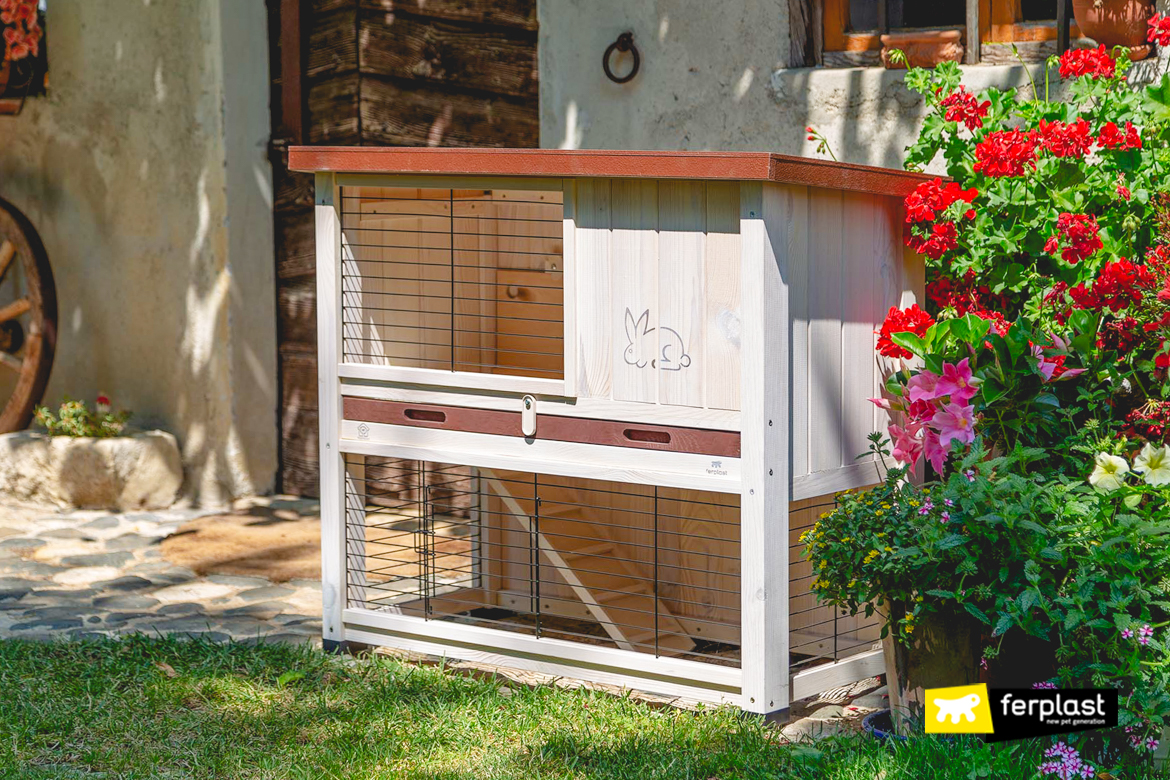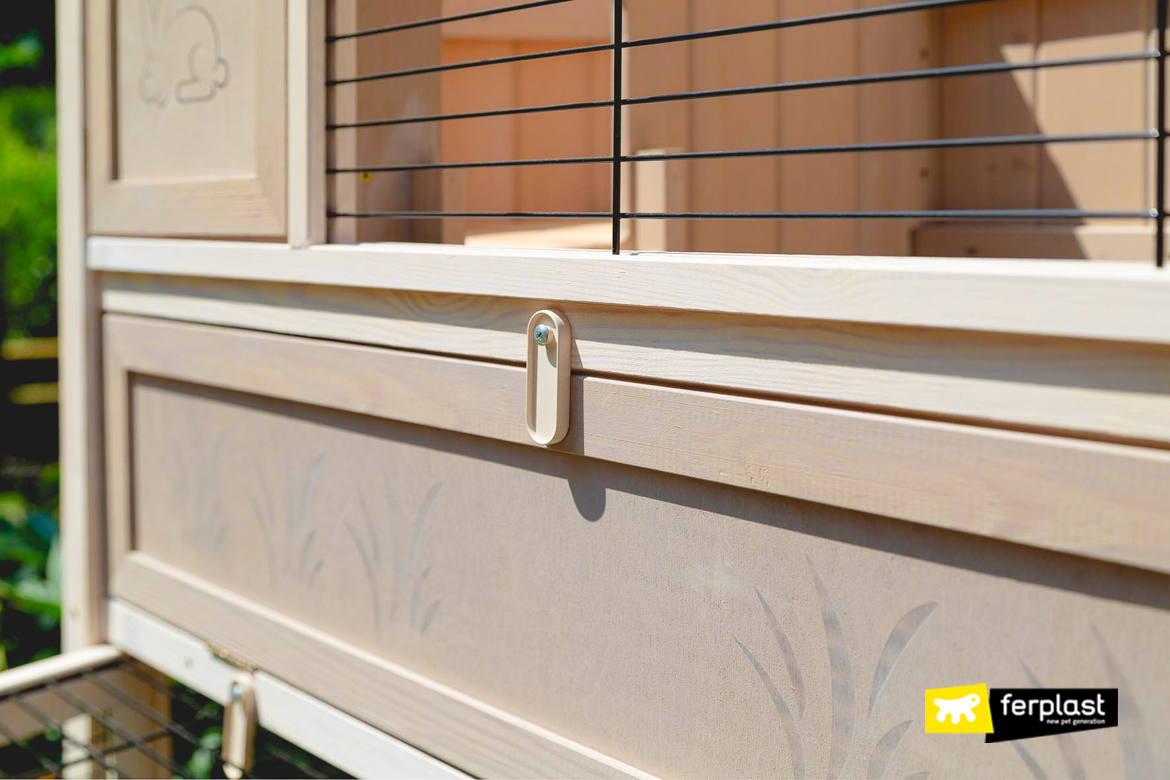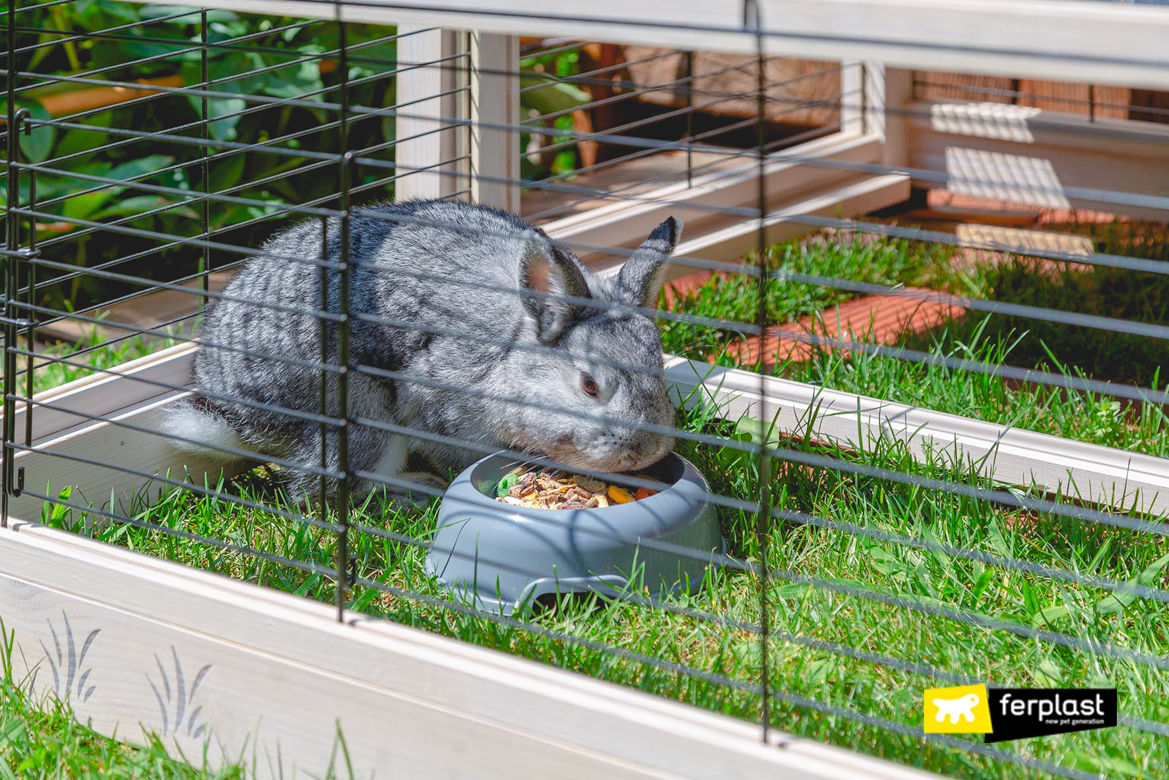 A very important aspect to take into consideration when preparing a rabbit hutch is choosing the perfect litter. It must be a soft layer and in line with the rabbit's respiratory needs, so avoid sand, clay or cat litter, preferring natural materials such as straw and hay instead. The rabbit hutches are a safe place for the animal, however, also remember to leave it free to roam around the house, taking all necessary precautions!