Have you ever wondered which garments our designers have fun creating? Guess what: T-shirts. Ferplast's designers go crazy whenever it's time to come up with new Ts for Toto. Among the most unusual and fun models for this summer is the summer hoodie – our T-shirt with a hood. Let's find out more.
If during the winter it seems only logical to have your dog wear rain jackets and jumpers to keep them warm and dry, when temperatures rise you can also have fun with light items that can help protect your dog from the sun.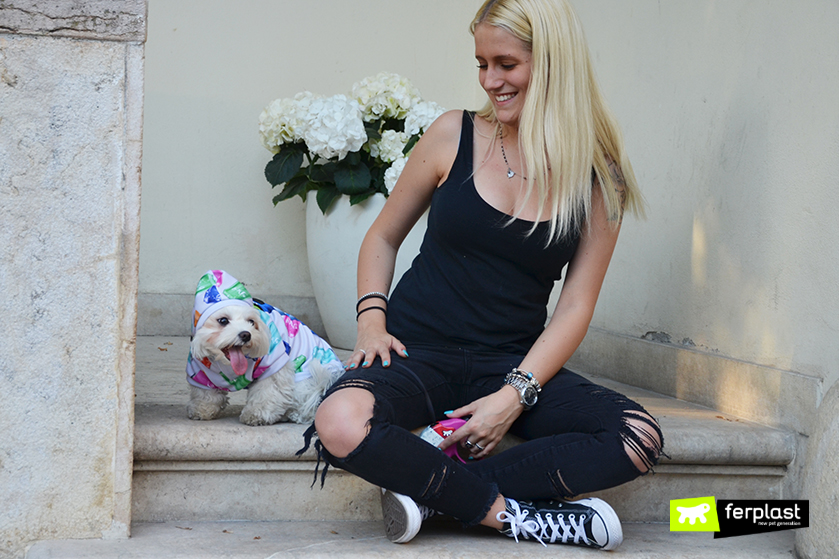 Of course, the most fashion-conscious part of it all can't be left aside: the world is full of vain dogs who love strutting around with different outfits, perhaps matching their owner's, and in line with the current trends. Speaking of trends, we've found an interesting one: T-shirts with hoods.
This is what gave rise to our new CITY COLLECTION for spring-summer. Studied in all detail to ensure maximum comfort and coolness for your dog, it's proud to pitch its Italian design. Because dogs, too, deserve some style!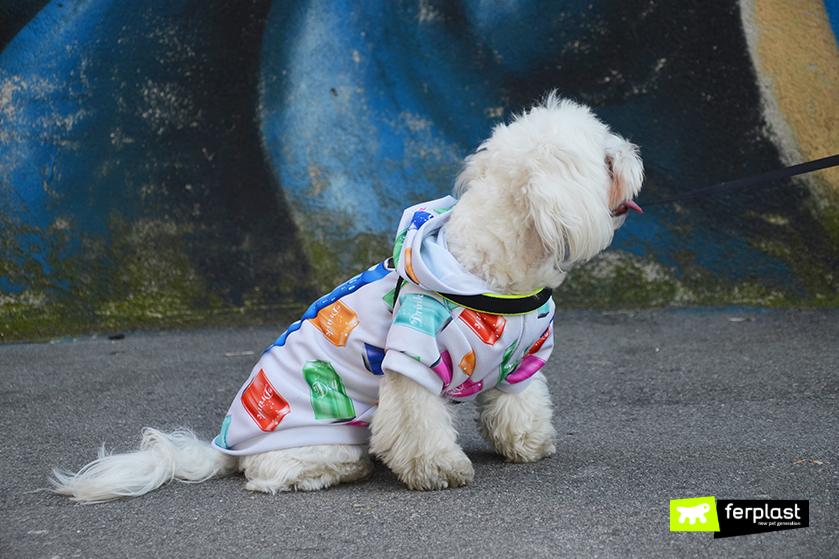 From among the many prints, we're particularly fond of those with patches: lively, fun and in line with the current trends. In these photos, Trilly walks downtown wearing a fun white T-shirt decorated with countless colourful cans. The detail that won't go unnoticed is certainly the hood.
In this street version, of course there's an evergreen classic as well: the denim T-shirt. Blue jeans are never outdated, especially because it matches any other colour perfectly well. This T-shirt is made of a very light, soft and comfortable technical fabric and it's very easy to put on, thanks to its Velcro closure. Trilly looks really pretty in this version, don't you think?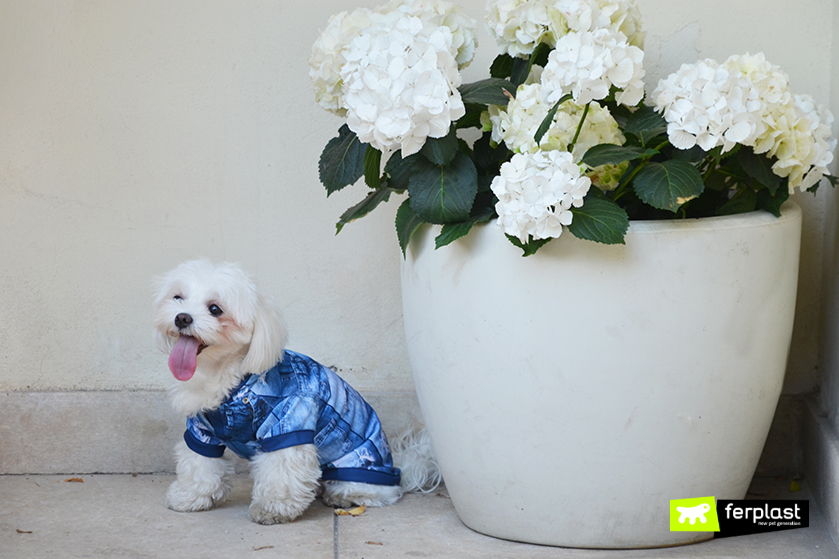 The hood can be very useful if the temperature changes unexpectedly, especially if its wearer is a delicate dog. It also adds a sporty and cool touch to your dog's outfit. Which T-shirt would you get for your friend?