Summer is the season for long walks on the beach and swimming in the sea, even for our four-legged friends. Dogs have a world of fun running on the sand, swimming and plunging into the water. If you want to book a holiday or just spend a day at the beach in Fido's company, make note of the best Italian beaches pet friendly.
Beaches in Veneto
Jesolo beach is a favourite destination for young people and families. This locality includes a stretch of beach entirely dedicated to our furry friends, the Bau Bau Beach, located inside the Nemo establishment. To gain access to the beach, you have to pay a fee and the dog must be kept on the leash at all times. Truly well-equipped with sunbeds, rinsing showers and enclosures with agility equipment to keep the dogs entertained, there are also shaded areas that are perfect for relaxing after long swims. For those who love untouched beaches, the Spiaggia della Brussa in Caorle is a true paradise. Being a free beach, there is no entry cost and you can swim at any time. To take shelter from the sun, you can relax in the flanking pine forest.

Beaches in Emilia Romagna
Only the beaches in the province of Ravenna allow dogs to swim in the water, being at Casalborsetti along a stretch of free beach south of the "Overbeach" and the Lido di Classe. No equipment is offered at such beaches, hence it is up to the owner to take care of the dog's needs.
Beaches in Tuscany
San Vincenzo is a seaside area in the province of Livorno, known for its Dog Beach. There is a fully-equipped section and a stretch that is completely free (with access at no cost). Unlike most pet-friendly beaches, there is no obligation to keep the dog on a leash, making the holidays much more relaxing for Fido and for us. Of course, it is still a good idea to always keep an eye on your furry friend. For those who don't want to renounce luxury, we recommend Bagno Flavio – Forte dei Marmi in Versilia. It is a private beach, ideal for more chilled pups.

Beaches in Lazio
The Sabaudia beach is one of the most beautiful and characteristic in the province of Latina, including Sabau Beach, being 80 metres of shore managed by the Associazione Mondo Cane. Umbrellas, chairs, a water drinking area, bowls, balls and other essential services are provided to make your day with your dog unforgettable. A great alternative for those in Lazio is La Pineta Blu, located in a splendid area of the Maremma Tosco-Laziale. It is ideal for those wanting to spend relaxing holidays in a quiet family atmosphere. Pet owners are always required to carry a leash, the dog's healthcare card and doggy-doo bags.
Beaches in Puglia
Puglia offers breath-taking landscapes and a crystal clear sea. If you want to holiday here with your dog, you can go to the Bau Beach Soleluna in Marina di San Cataldo (Lecce) and the Santos Baubeach in Fasano, the latter being the first in southern Italy. There are showers, sun beds and bowls for pooches of all sizes, who are also able to swim and run off the leash at any time. There is an entrance fee, but it is well worth it!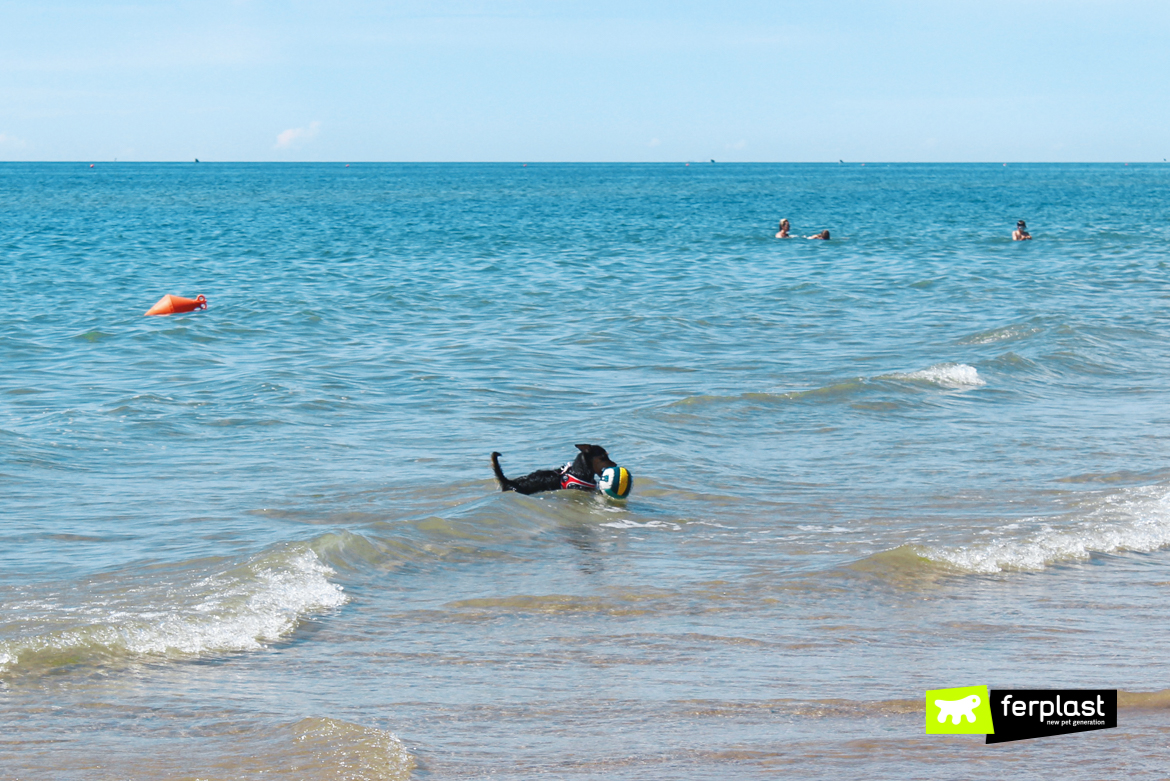 Are you ready to book your holiday with your four-legged best friend tagging along? Let us know what destination you choose!