Rabbits that live in apartments tend to be low on Vitamin D, so when the weather is nice you should try to get your rabbit outside and let him play in the grass, get some sun and fresh air, and feel the soft cool earth beneath his paws.
The idea that rabbits can be naughty little creatures is not just an urban legend. Has it ever happened to you that you let the bunny out of the cage and he sits there, quiet and still, until you take your eyes off him, then he suddenly takes off like a bat out of hell? When you take your rabbit out into the open, be ready to chase him around, don't think he'll just stick his cute little nose in every nook and cranny and then simply come home once he's done exploring. When your bunny runs, you need to be right behind him!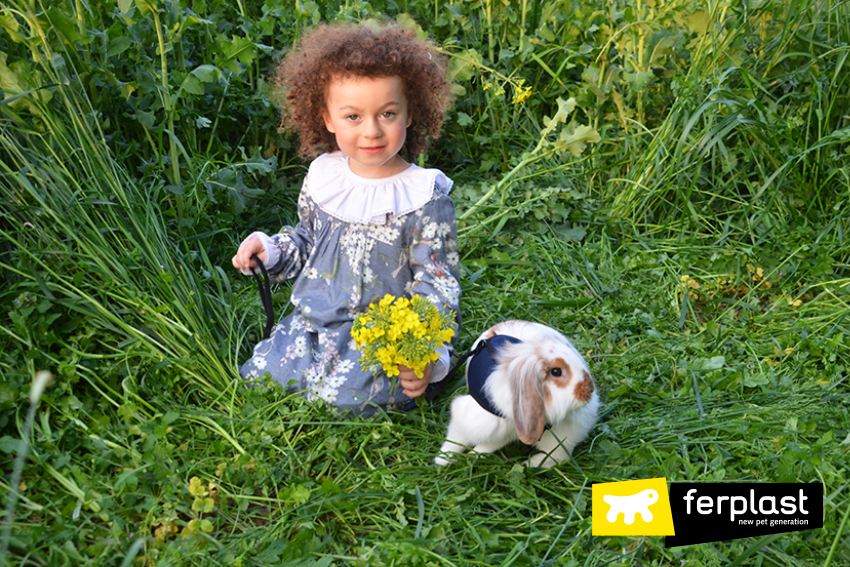 A great way to keep him safely under control is to use a specially designed rabbit harness and leash, that way you'll always be by his side wherever he goes, but he'll still be free to get outside.  Ferplast's Jogging rabbit harness is a perfect solution as it is made of elastic nylon and has Velcro strips so that it can be perfectly adapted to suit your rabbit's shape and size. Because it wraps around various parts of the body, when the rabbit tugs on the leash it won't just put pressure on the neck, leaving him great freedom of movement.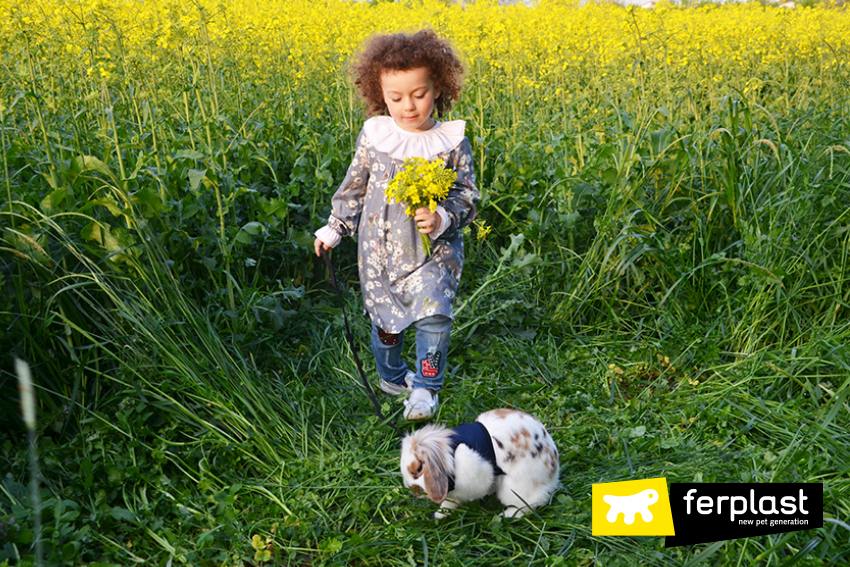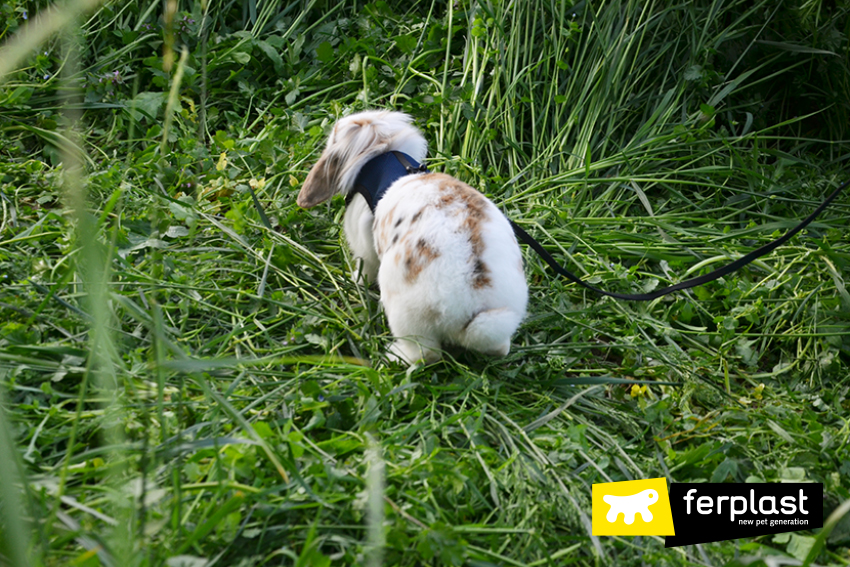 The rabbit might not always be in the mood to wear the harness, and if he doesn't, it's best not to force it on him and stress him for no good reason; just postpone the walk till later! It's a good idea to get the rabbit gradually accustomed to the harness, gently putting it on and taking it off at home.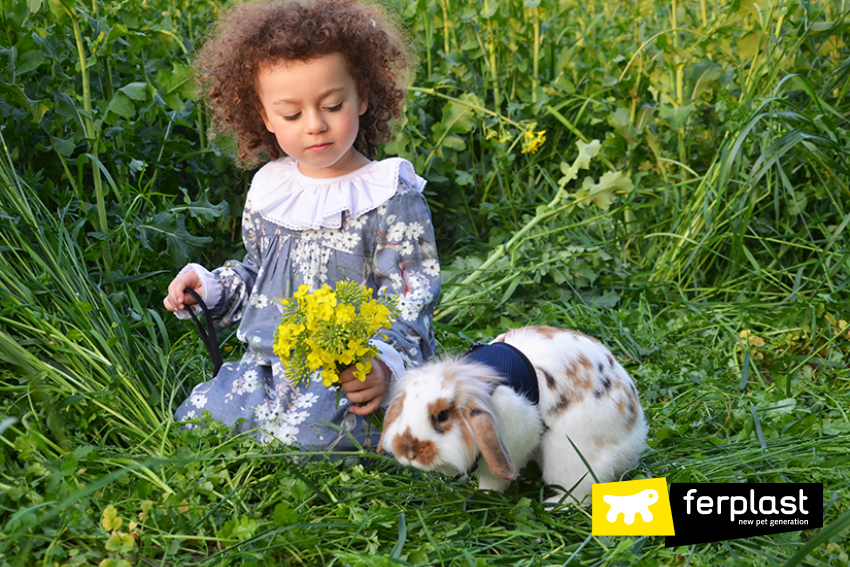 To get him used to wearing a harness, go somewhere nice and peaceful, far from danger or other animals. Have some treats ready to give him, such as bits of carrot or a piece of apple. First just try to get the rabbit into the harness, without latching it. Pet him while you do it, tell him what a good little boy he is, get him to understand that this new "gadget" is not something dangerous and soon he'll start to consider it a normal and familiar item. Once he's comfortable in his harness, start taking little walks, but let him decide in what direction and where to go. You need to be with him to reassure him and let him know that he is safe and protected.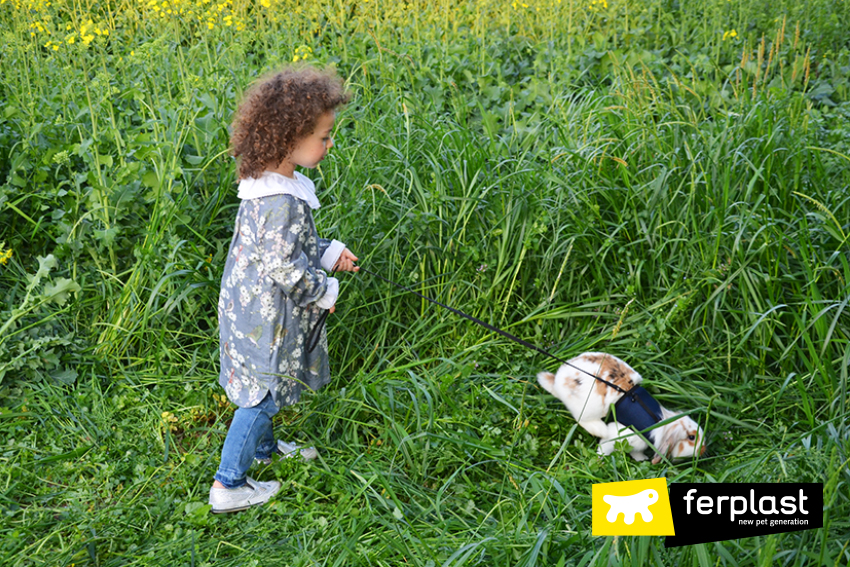 When we take Bunny out into the open air, make sure that there are shaded areas for relief from the sun, as they are very prone to heat stroke.
Now that the weather's nice we all want to go out, better yet if with our pets! If you have a rabbit, keep these simple yet important tips in mind, that way your walks with Bunny will be lots of fun, and very safe!