The warm weather is coming and it's time for some hiking in the mountains and walks in the open air in the company of your four-legged friend. An alternative that allows you to take your dog with you at all times, especially when he's a puppy or an elderly dog, is the Kangoo backpack by Ferplast. Let's find out together how this fantastic accessory can come in handy!
What is a backpack for dogs?
A backpack for dogs is a very useful and versatile tool, as well as being a very cool and fashionable accessory. So, what is it exactly? It is simply a variant of a pet carrier, which can be worn on your shoulder, your back or your chest, pouch-style, and is comfortable and durable enough to accommodate a little dog.
Of course, some may still be very sceptical about its use but there is really nothing to fear, as it is a product designed and built to ensure the total well-being of our furry friends that, for various reasons, cannot walk on a lead and are forced to travel closed inside it.

Kangoo backpack by Ferplast: technical features
Ferplast's designers have created a walk-about pet carrier that combines practicality and beauty: Kangoo is a backpack made of sturdy, resistant nylon, available in two sizes: Small (maximum load 6 kg) and Large (for dogs weighing maximum 8 kg), ideal for small and medium-sized dogs.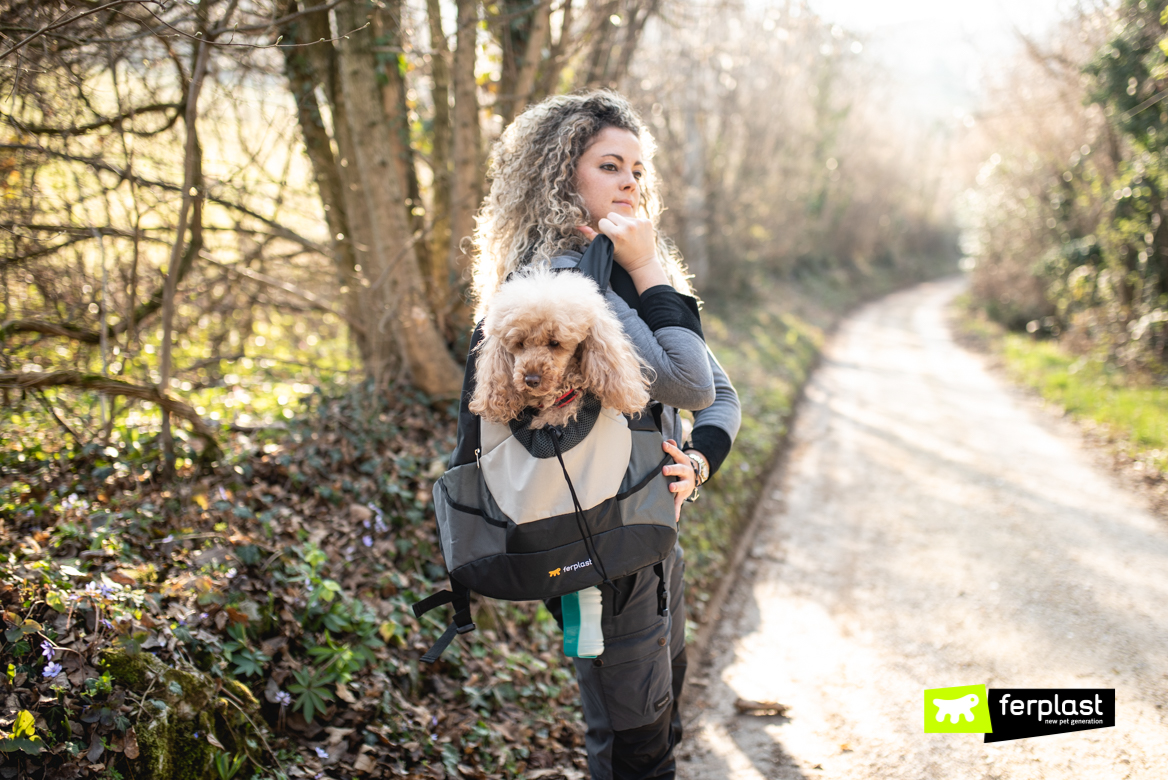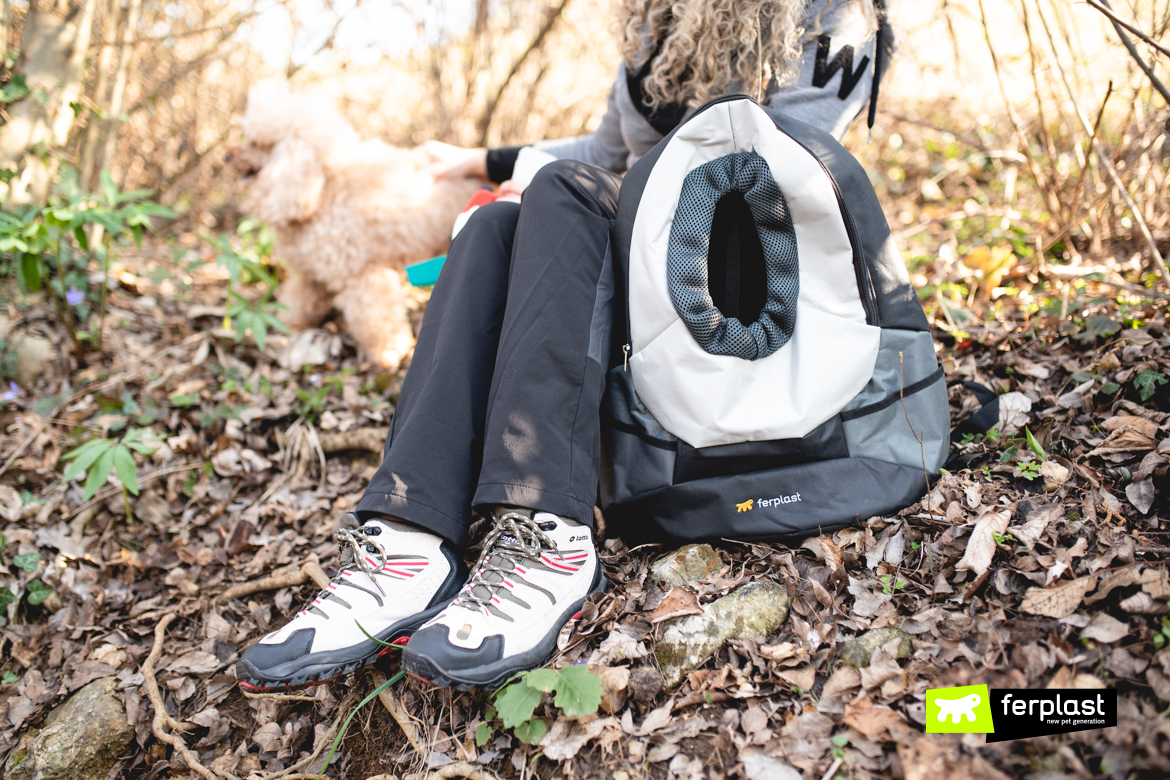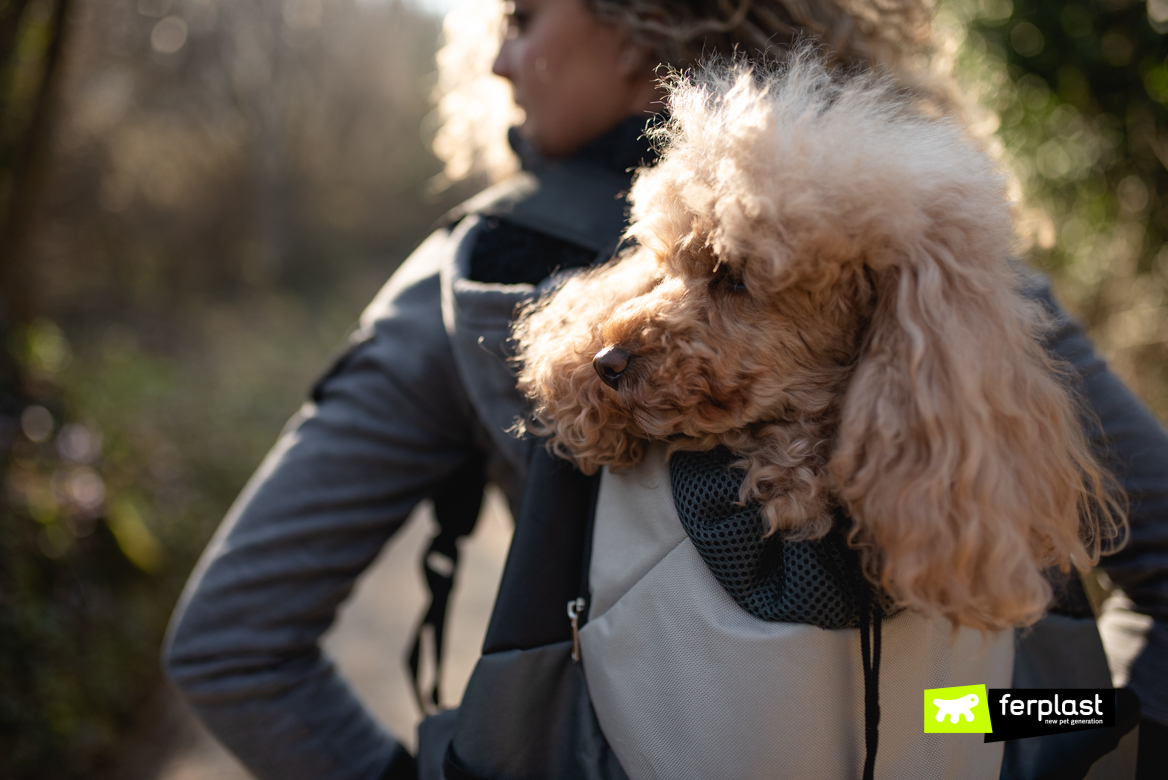 Thanks to the handy zip, the backpack can be opened up completely, to facilitate the entry of your furry friend, while there is a hole on the front, which allows your dog to observe what is going on around him, without running the risk of him jumping out. In fact, we decided to include a safety clasp inside the carrier, to attach to your pet's collar or harness. But there's more: by pulling the string, you can adjust the opening of the hole. If you are afraid of getting a backache, think again, because the shoulder straps are padded and super comfortable, to the point that you will almost feel like you're not wearing it at all! Furthermore, there are buckles to guarantee a perfect fit.
The Kangoo backpack comes in two colours: grey and taupe and grey and pink.

What is the backpack for dogs used for?
The backpack for dogs can come in handy on various occasions. Here are the main ones:
1. When a dog is a puppy, he is lazier and less inclined to making any physical efforts, but not only that… it is also normal for him to get tired more quickly when we take him for long walks. The same applies to older dogs, with their aches and pains and sore muscles.
2. It is useful in places where access to animals is forbidden, such as museums, shops and public places such as parks and restaurants. Inside the backpack, your pet won't disturb anyone!
3. If your dog is injured or has just undergone surgery, he cannot move, but taking him out to get some fresh air and sun is good for his health. He will be safe inside the backpack.