They have millions of followers and can influence the public to the point that brands elbow each other out to sponsor them. They're the so-called influencers, and in addition to being super popular on Instagram, they also have in common a passion for pets. Here they are.
There are influencers that talk about fashion, travel, cooking. Going through their Instagram posts, among outfits, breath-taking landscapes and avocado toasts, we might come across shots of furry, four-legged subjects.
There's more to it than Chiarra Ferragni and her French bulldog Matilda Ferragni: there are many other Italian influencers that love their pets. These are our favourite pairs:
1) PAOLA TURANI AND NADINE
Paola is a model from Bergamo with stunning blue eyes, a sunny disposition, a simple character, with an almost normal life. She won many new fans two years ago, when she touched everyone with her story of friendship and affection with Bracchetto, the Bernese mountain dog that died after a disease. Today, she keeps on making us smile with her funny and bubbly Nadine, often the undiscussed star of her Stories. If you don't follow her already, do yourself a favour: @paolaturani.
2) GIULIA VALENTINA AND LE WAWE
Giulia Valentina, historical ex of Fedez, is a beautiful and very funny young lady. Her followers are not only interested in her English lessons; they also love her Stories with her two chihuahuas, Chew and Gue, a.k.a. "Le Wawe". She loves taking them to the park, where they have a significant crowd of admirers. Would you like to see more of them? Follow @giuliavalentina.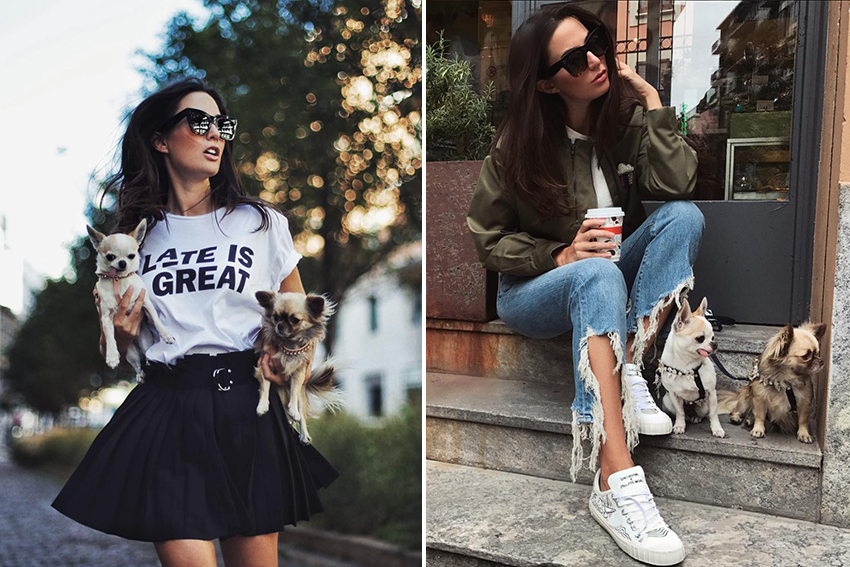 3) VERONICA FERRARO AND AMELIA
Veronica is a fashion blogger with almost 600,000 followers, a very glamourous and sports-loving girl, and yet she and her Cavalier King Amelia have been inseparable since 2013. Amelia is very elegant and looks a bit shy, but in her pictures with her owner she always looks fabulous. Take a look: @veronicaferraro.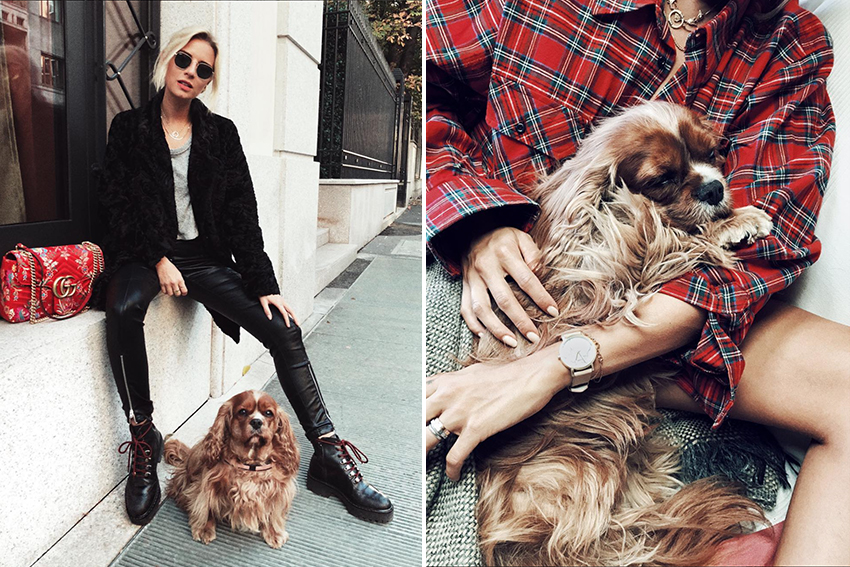 4) PAOLO STELLA AND BACCO
Actor, blogger and web star Paolo Stella is much beloved by men and women alike, and he's gathered even more followers since he got his greyhound Bacco. Together the walk around Milan and all over the world, traveling in expensive cars and working at the coolest fashion shows. Bacco is served and revered like a little prince, and he's a close friend of Le Wawe! @paolostella