Choosing a kennel for your dog, to put in the garden, is a fundamental step, especially if your furry friend lives outside all the time. The kennel is a place where your faithful friend sleeps, shelters from the bad weather or the scorching sun and finds some peace and quiet away from the daily grind. In addition to size and structure, it is essential to understand which material is the most suitable.
Where to put the dog's kennel
Before figuring out which kennel to buy, you need to decide where you will put it. Terraces and windy areas and places where unknown people pass by and may irritate and disturb your dog must absolutely be excluded.
If you decide to put the kennel in the garden, it should preferably be placed on an insulating base to prevent your dog from coming into direct contact with the dampness of the ground.
In order to choose the right size kennel, you need to remember that your dog must be able to stand inside it and turn around without difficulty.

Ferplast's wooden dog kennels
The kennel must be made of a suitable material, to be warm in winter and cool in summer, and wooden kennels are among the most widespread and popular ones, specifically for this reason. In fact, they have the advantage of being the most insulating and resistant to bad weather. Among Ferplast's wooden dog kennels, we recommend the Baita and Domus models, which are both made with special Nordic pine wood from sustainably managed forests. They are treated both internally and externally with a special non-toxic, anti-mould ecological impregnating paint, which is resistant to UV rays, is water-repellent and is able to protect them over time.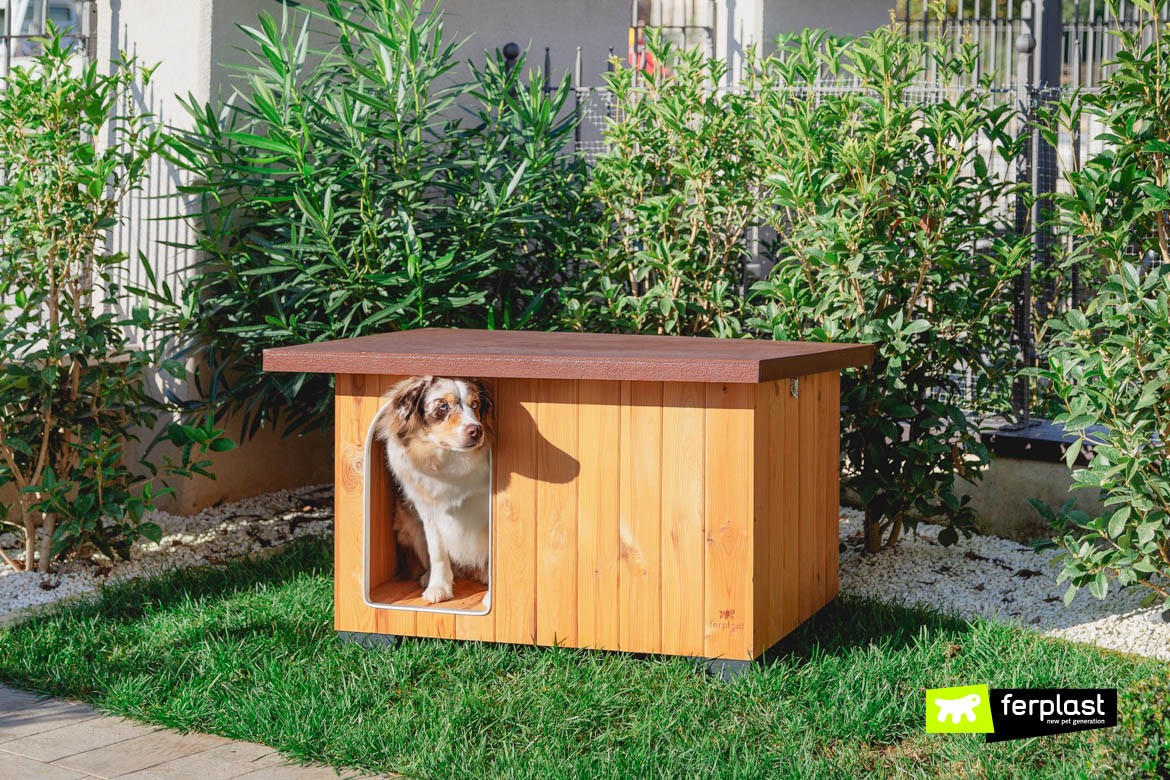 Both kennels have plastic feet, keeping them perfectly raised and isolated from the ground, and the entrance door is protected with a special aluminium anti-bite profile. Baita and Domus are destined to last over time and accommodate your dog from a young age up until old age!
As for the design, Domus features a classic roof with two sloping axes, which makes the interior more spacious and ventilated. Baita, on the other hand, has a single panel, slightly sloping, with a decentralised door, to offer your faithful friend a greater protected space. Both models allow the roof to be raised, in order to facilitate maintenance and cleaning.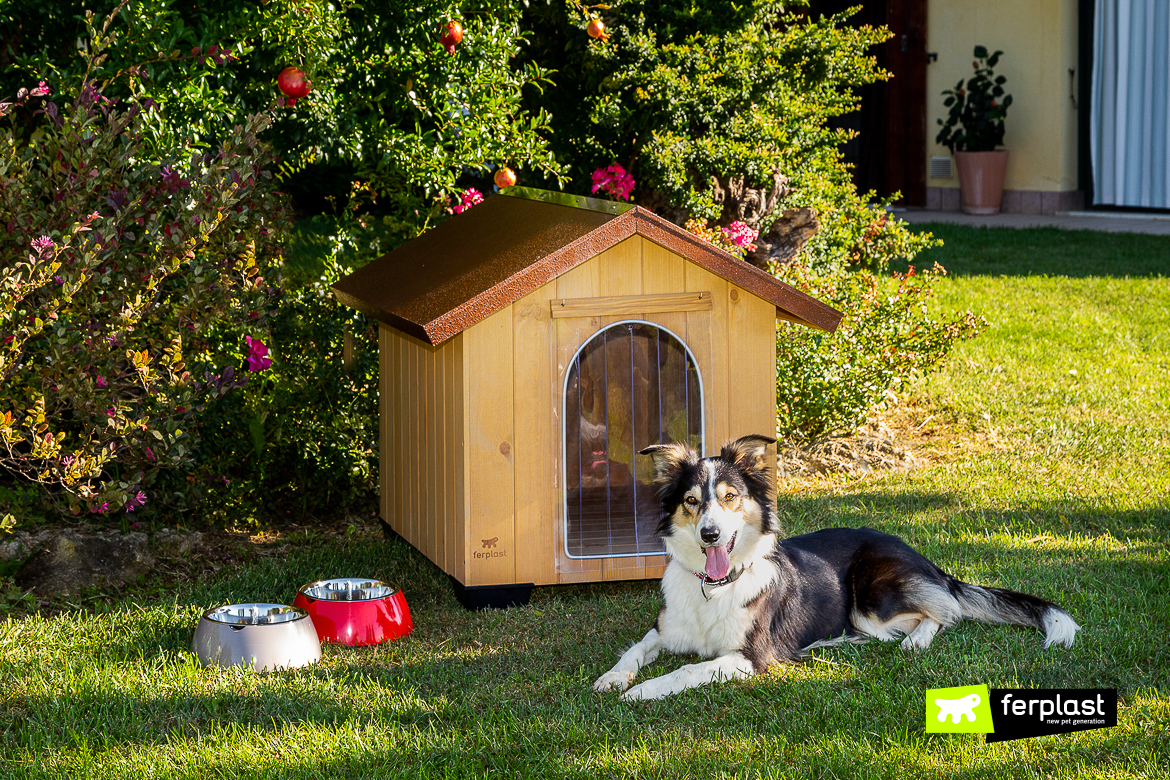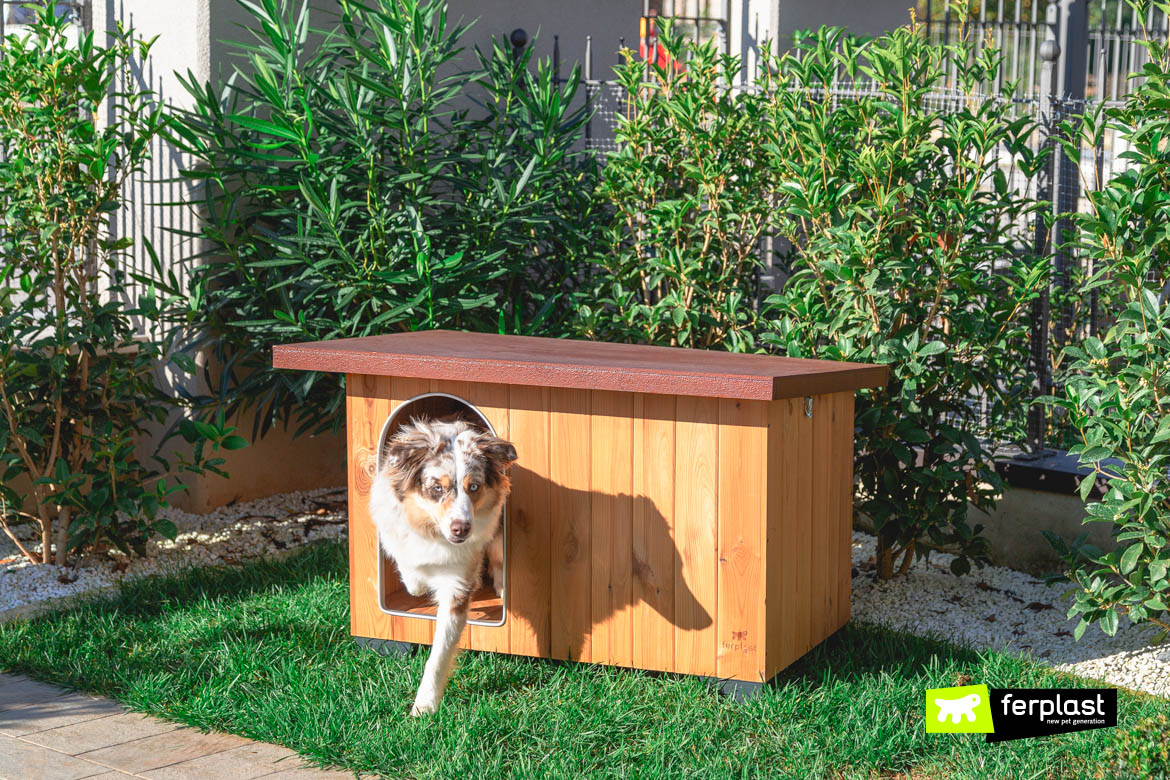 Ferplast's kennels are built with extreme care and attention, to prevent draughts passing through the inside between the planks. They are, in fact, made up of thick wooden boards, solidly assembled with screws.
Ferplast's plastic dog kennels
If you are looking for an easy-to-assemble kennel for your dog, which is durable and functional for cleaning and maintenance, then you may want to choose a plastic one. Plastic kennels are practical and economical even if they are do not insulate as well as the wooden ones: if the weather is too cold or too hot, they could prove to be inefficient. To overcome this problem, you can place them under a roofed area, a porch or a sheltered place. Among Ferplast's e plastic dog kennels, we suggest the Kenny and Dogvilla models.
Kenny is an igloo-shaped kennel in thermoplastic resin. This particular structure allows the kennel to stay perfectly isolated from the ground. It is equipped with a very useful vent system, a small openable and closable grille applied to the back wall, that ensures maximum ventilation inside, preventing the formation of damp. The drain system, entailing a base with special slits, allows the flow of water or humidity, thus ensuring an environment that is always dry and germ-free. It can be cleaned thoroughly as it is easy to disassemble into two parts. To make this kennel even more comfortable, you can place a soft cushion inside it.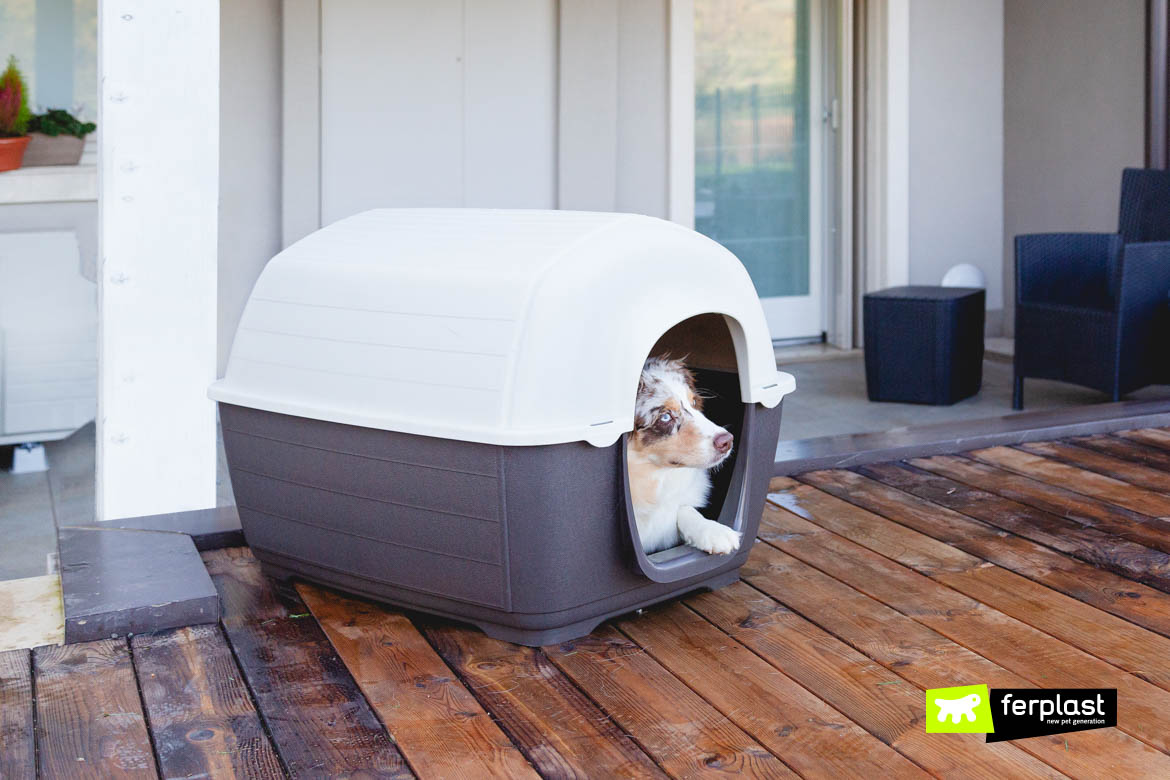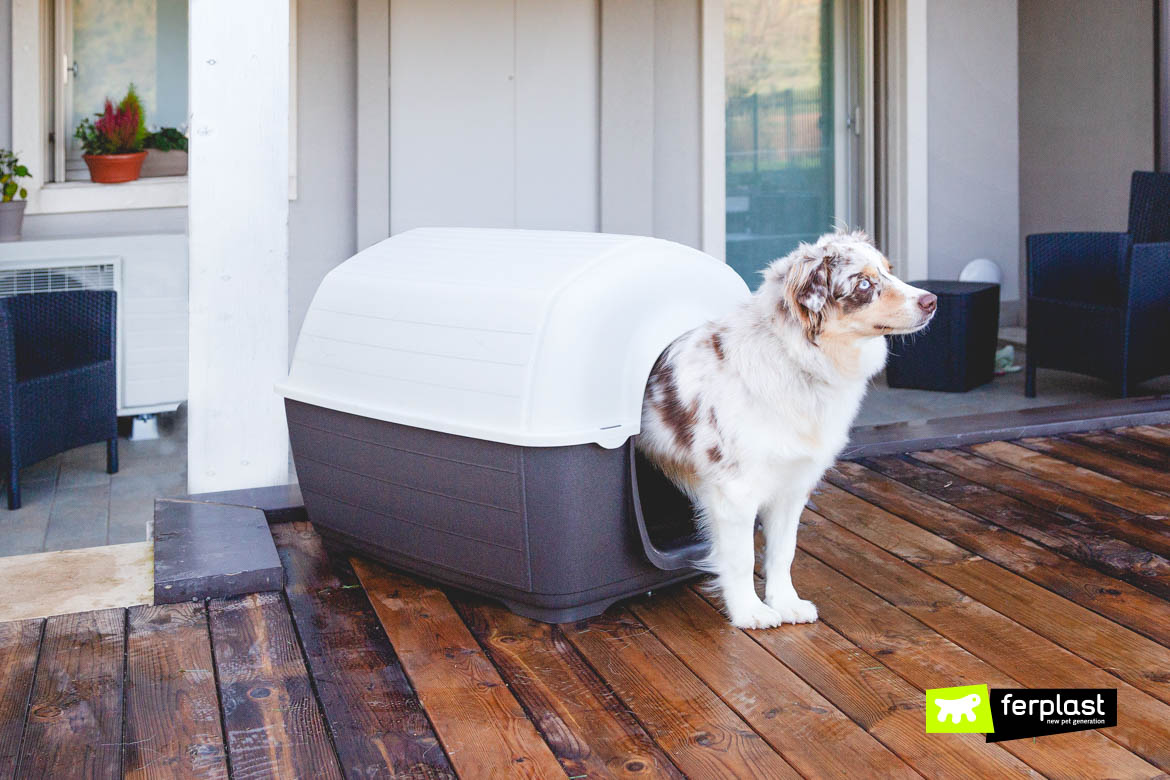 Dogvilla is also made of robust thermoplastic resin, a material that is very resistant to impacts and UV rays, and has an original design, patented by Ferplast, with a special side opening, causing one wall to be lowered, thus becoming a comfy deck for your dog. This system is very useful in the summer, offering your dog an airy place sheltered from the sun. Thanks to the ventilation and water drainage system, the house is always dry and airy. The roof can be removed for easy cleaning and it comes in three sizes. A very handy aspect of Dogvilla is that it is easy to assemble without the use of any special tools.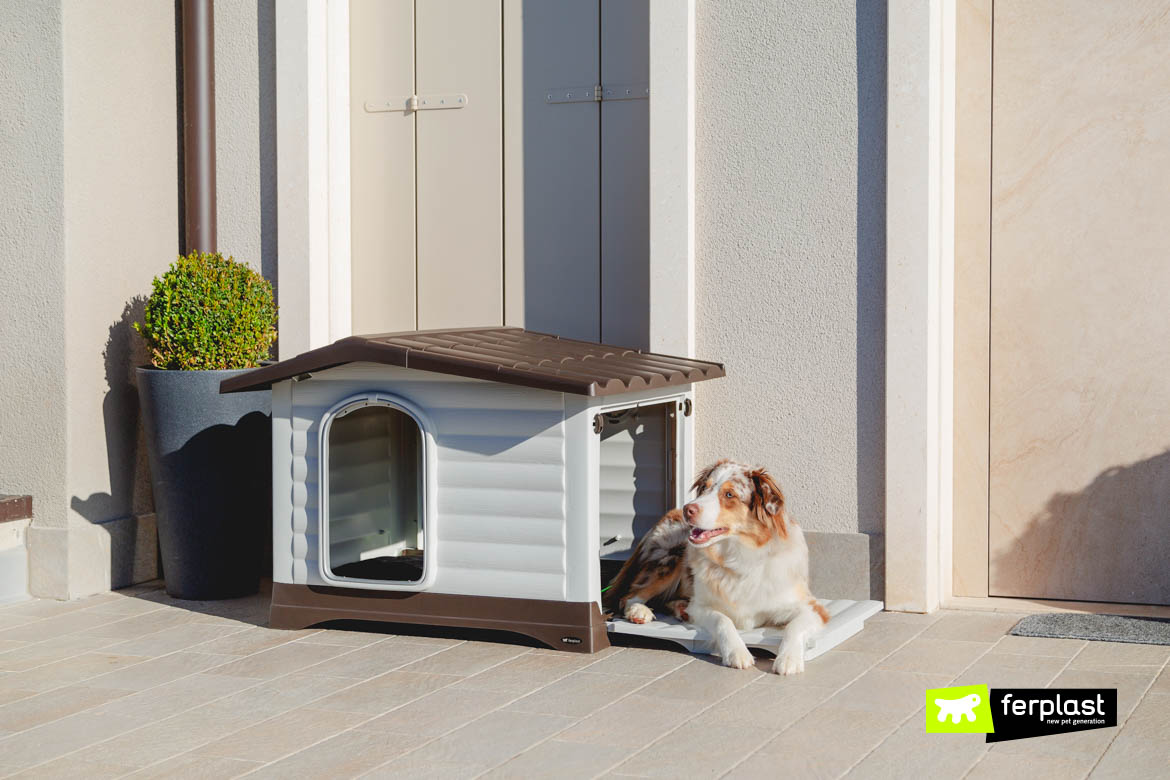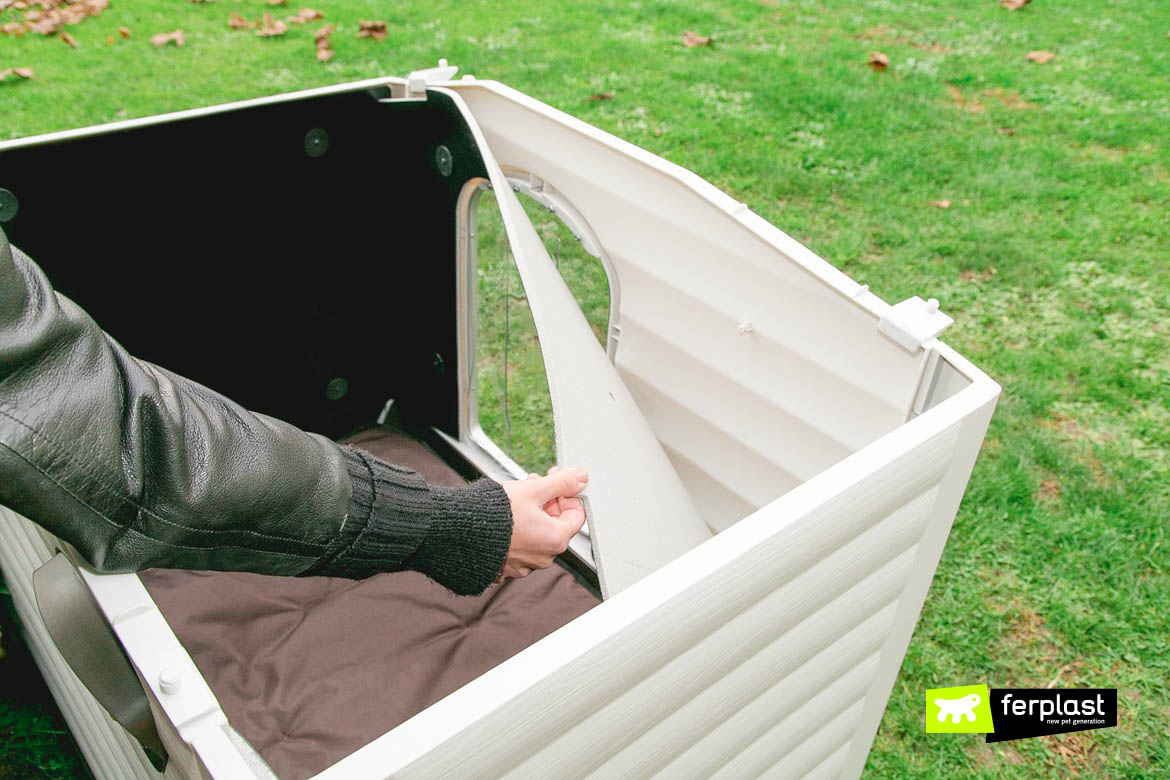 Choosing the right kennel for your dog is child's play. Have you managed to find what you are looking for among our proposals?