The best way to avoid dog unpleasant odour is to prevent it from developing. It is enough to keep an eye on some simple hygiene rules, in order to have a good-smelling puppy. Let's see together which are the most important tricks to regularly follow.
Very often the bad smell of the dog is not caused directly by him, but by objects that he usually uses such as kennels, beds, cushions and bowls.
Clean frequently intensively used items
Kennels
Dogs' kennels must always be clean, for this reason it is important to choose models and materials that are easy to wash. Plastic dog houses, such as Ferplast Kenny or Dogvilla, are certainly the best for this purpose. If, on the other hand, you prefer a wooden kennel, be sure it has a liftable and easily removable roof in order to be able to easily reach the inside and carry out cleaning operations.
Cushions
The choice of the cushion has to be very clever too. Always prefer washable fabrics or models with removable padding. The dog cushions of the Relax line by Ferplast can be machine washed at max 30° degrees and so be quickly sanitized. There are also mats in water-repellent fabric, such as Jolly and Oscar, which can be cleaned on the surface with a simple sponge wipe. In the case of stubborn dirt, it's still possible to wash them in the washing machine. The Polo model, also in water-repellent fabric, has a removable cover that allows for more frequent washing.
Bowls
The purchase of bowls must be made taking into consideration how easily they can be washed. Materials suitable for frequent use and washing must be chosen. Ceramics, steel and plastic are all washable without restrictions, both under running water and with suitable soap. In addition, to keep the floor clean in the bowl area, we recommend Lindo, the plastic tray with bowls included.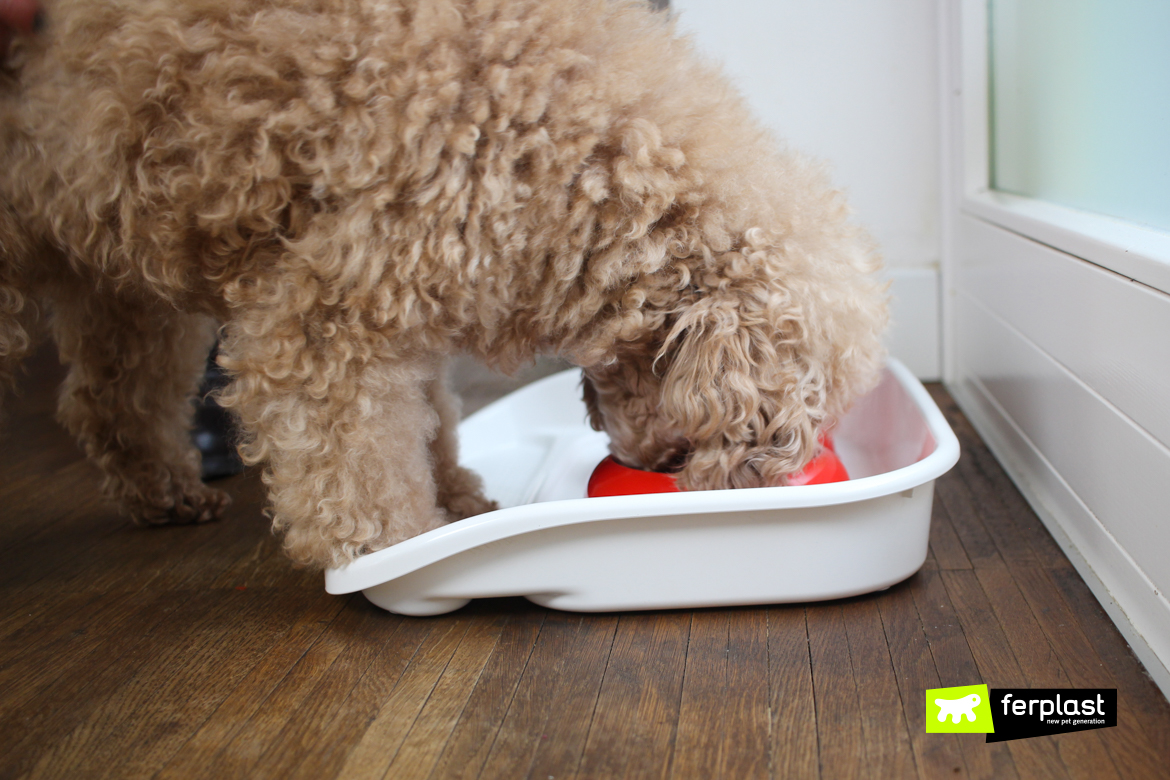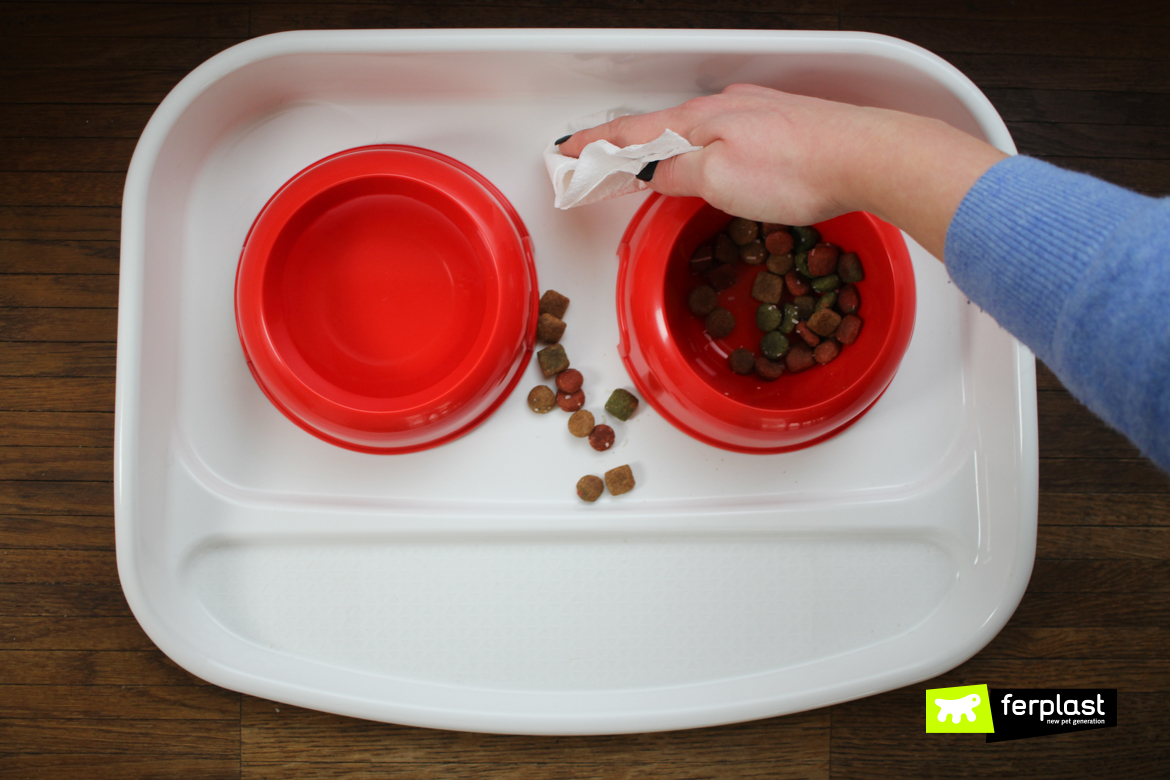 As for the weekly hygiene of the dog, here are some tips to keep him always well clean and avoid bad odours.
Groom the dog regularly
Combing the dog must become a daily action. It is a blessing for the animal and can also become a relaxing moment for the parent. It is necessary to take off all dead hair and remove dust or dirt that can stick to the fur during walks, for example mud or foliage residues. The choice of the best brush for your four-legged friend must mainly consider the type of coat he has. There are many types of brushes, from those that eliminate knots to those for dogs with undercoat.
Bathe your dog
To prevent your dog from having a bad odour it is necessary to wash him regularly. For short-haired dogs, a bath every month and a half is enough. For those with long hair once a month. For wirehaired puppies every two to three weeks. If, on the other hand, your four-legged friend has curly hair, he will need to be washed every 20 days.
Beauty tip: add apple cider vinegar to the dog shampoo, it will keep his fur bright.
Don't forget to dry it completely with towels or a hairdryer.
Keep your dog's mouth and ears clean at all times
Even the breath can stink! Anyone who owns a dog already knows that mouth and ears must always be kept clean.
In particular, ears must be sanitized with sterile egret following the vet's instructions.
The dog's teeth should also be cleaned to avoid tartar buildup, which causes mouth's bad odors. Ferplast Goodbite Naturals are not only a chew toy, but can also be used for its oral hygiene. As a matter of fact they help strengthening the teeth and promote cleaning.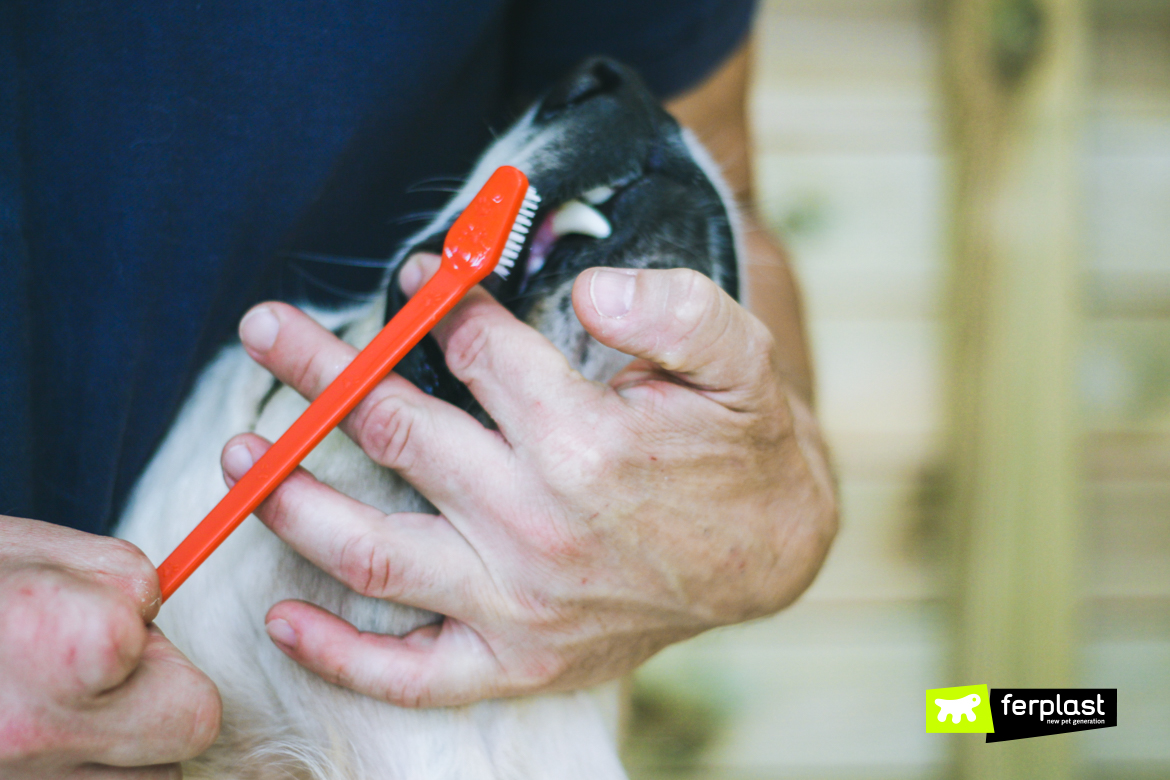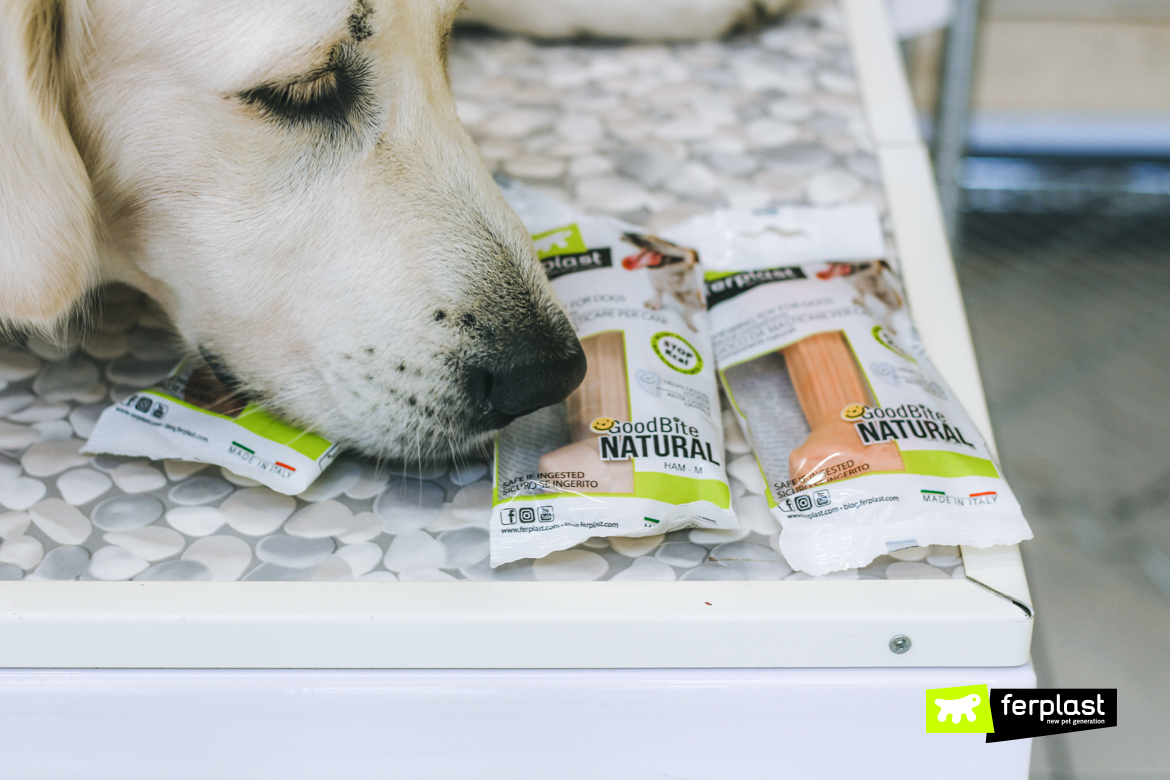 Having a dog that is always smells good is possible. Small tricks, constant cleaning of the objects he uses and its normal hygiene are all he needs. Have a good bath!