Going on holiday with your dog is an unforgettable experience, even if he's still a puppy. With puppies, it's best to start with close destinations and short trips. Michael, for example, has chosen to spend his first weekend away with his puppy Marcelo in Valdobbiadene, an amazing location in the North East of Italy, also called Prosecco hills.

Before going on a mini holiday with your dog, you need to make sure you have everything he needs to spend a couple of days out. Michael chose to take his Marcelo through the vineyards and on a walk through the village of Valdobbiadene. This is what he packed to travel with his Rottweiler puppy. Backpack on his shoulders and let's hit the road.
Holidays with the puppy: yes or no?
Many new pet parents wonder whether they should take their puppy on holiday with them. There is nothing to fear. Getting out of the home, even in the first months of life, is very important for your dog's growth and training, because it's the best way to socialise with the outside world. As travelling by means of transport is a source of stress for all animals, it's always best to start with close destinations in order to understand your puppy's reactions to the car.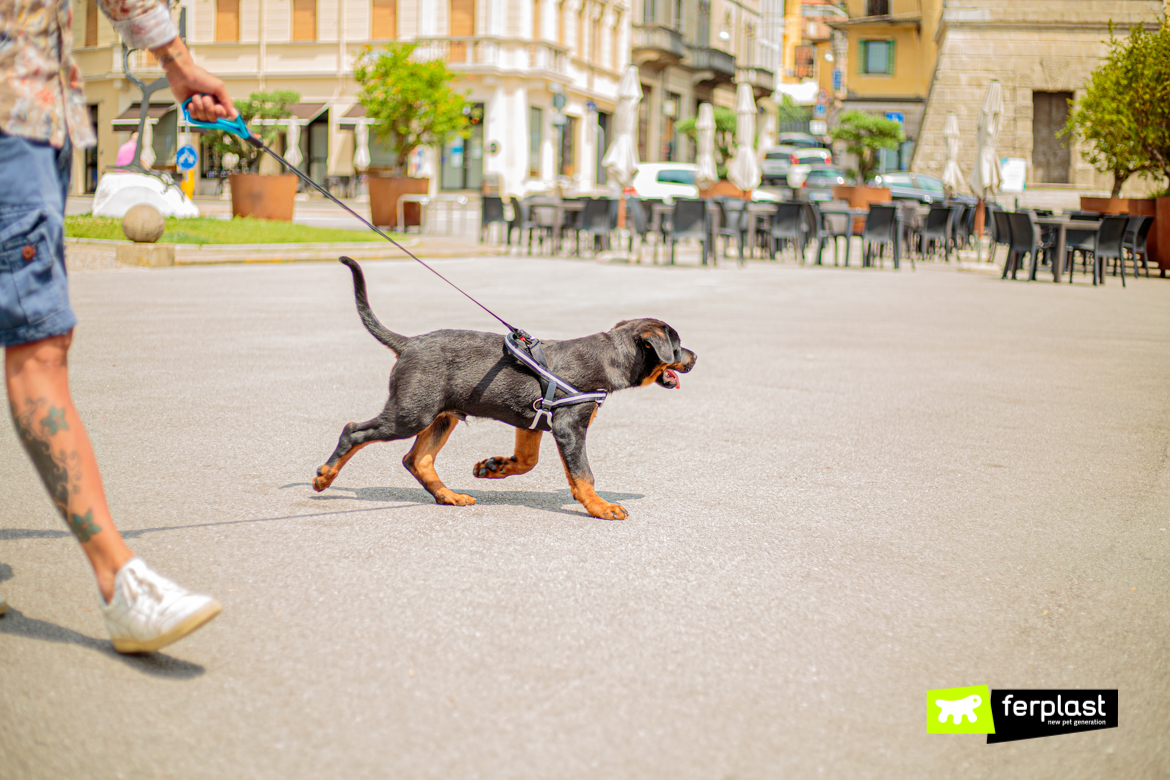 Holidays with a dog: what to bring?
The "must-haves" for a peaceful weekend out with your puppy are:
The carrier
toys and a cushion to make him feel at home
the right leash and harness
portable food and water bowl
the dog's up-to-date health booklet
Carrier
If you want to travel with your puppy, you need a pet carrier that suits his size and needs. Michael chose Ferplast's Superior 90, the folding dog box suitable for both car transport and training. Superior is designed to be used in different situations: for house-training your puppy, for creating a safe den-like space in your home, or for transporting Fido in your car's boot.  It's equipped with an internal divider panel, so that it can adapt to your puppy's growth. Sturdy and solid, it is made of metal mesh with plastic frames and base, has large ventilation grilles that allow excellent visibility of your friend.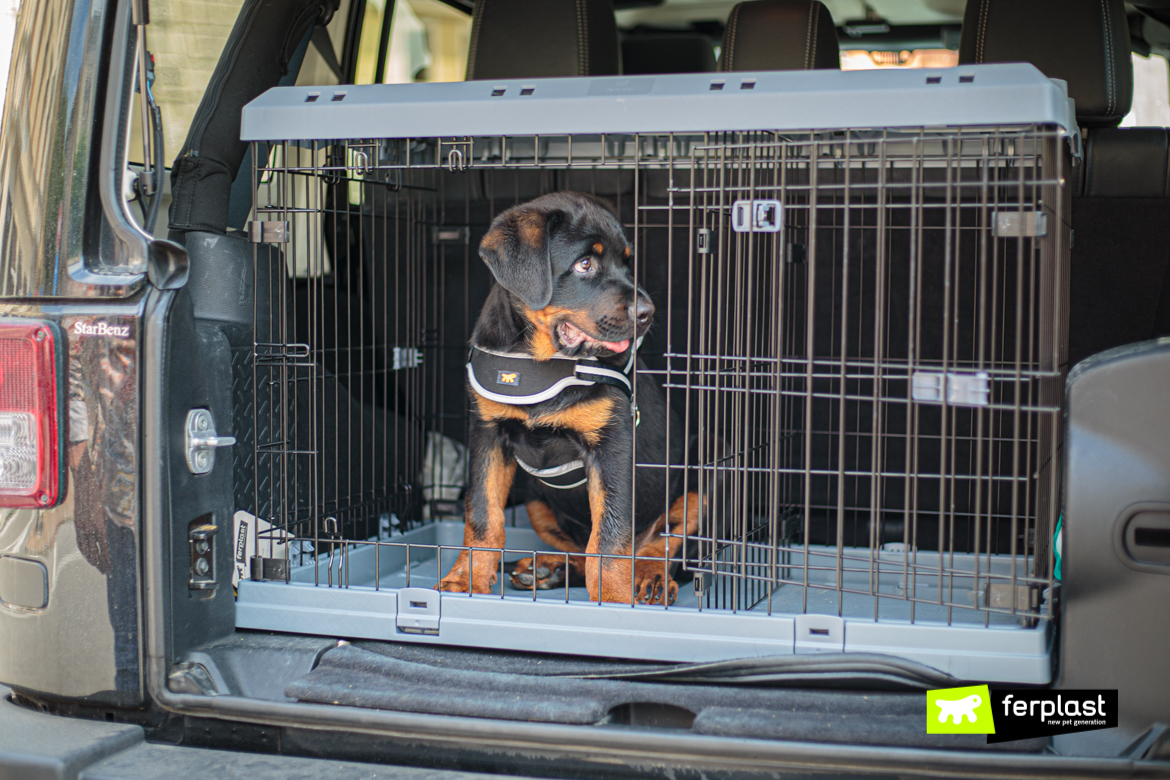 During the journey, it is advisable to make several stops so that the dog can move, drink and do his business. It is best to avoid food immediately before and during the journey, especially if this is the first time you are travelling by car with him.
Cushion
Once arrived in Valdobbiadene, it's time to relax and bring luggage in the room. So, while Michael prepares his backpack with everything he needs to go for a walk, Marcelo rests on Jolly, the mattress made of water-repellent and resistant technical fabric, easy to wash in the washing machine. It is important that your dog feels comfortable in the environment, so that he feels less the separation from home.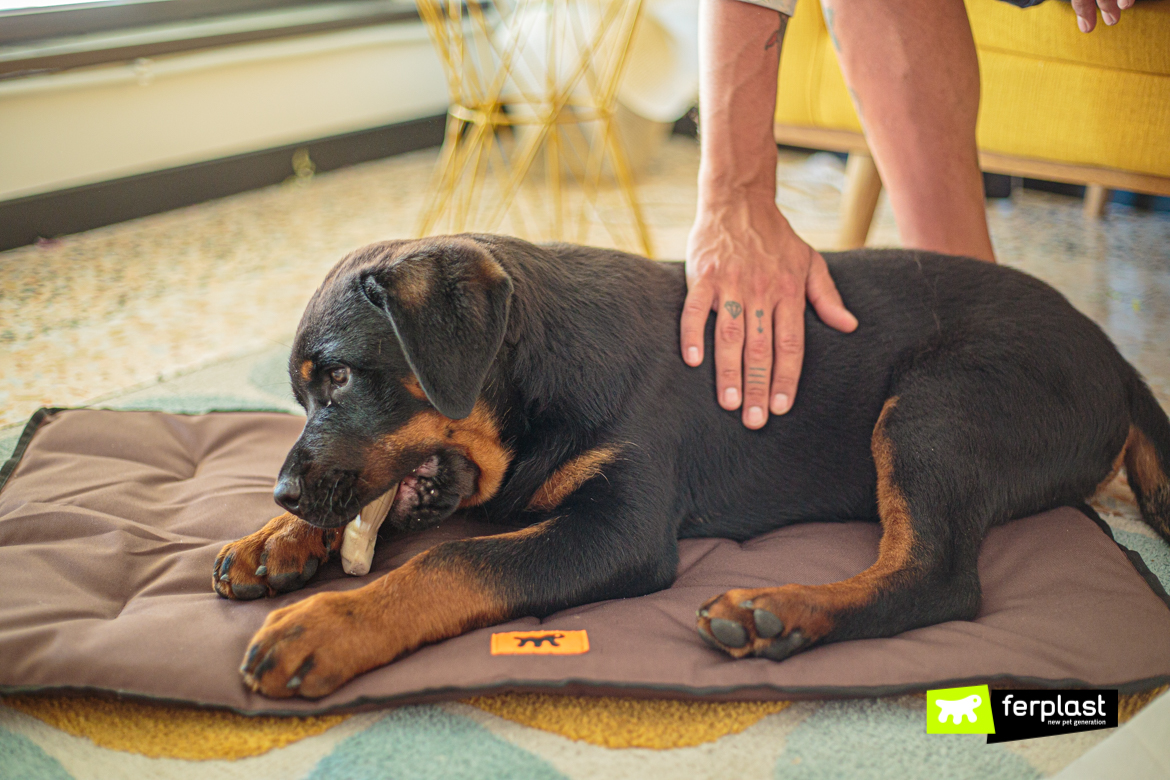 Leash and harness in the hills
It's time to get out, get some fresh air and enjoy your first holiday with your puppy. Marcelo is wearing a bright red Daytona Cross harness, with soft inner padding and an innovative automatic hook with magnetic mechanism, which is easy to put on, safe and reliable. The Daytona Cross also has reflective strips, perfect for the last walk of the day before bedtime. For walks in nature, Michael chose the Flippy One lead, Ferplast's new retractable model, in the cord version, which allows Marcelo maximum freedom of movement and Micheal full control on his puppy. The lead, in fact, is equipped with a single button that activates three different functions: among these, there is the block at a pre-established distance, ideal for preventing sudden dangerous situations.
Games
Other accessories we absolutely can't forget are toys. Playtime is very important even when we are on holiday and our puppy's favourite toys should not be missing in the backpack. Marcelo loves the chewable bone toy with cleaning teeth to satisfy his natural urge to bite. Or the braided cotton rope, which, as well as protecting dental health, can also be used as a tug-of-war or toss-and-fetch toy.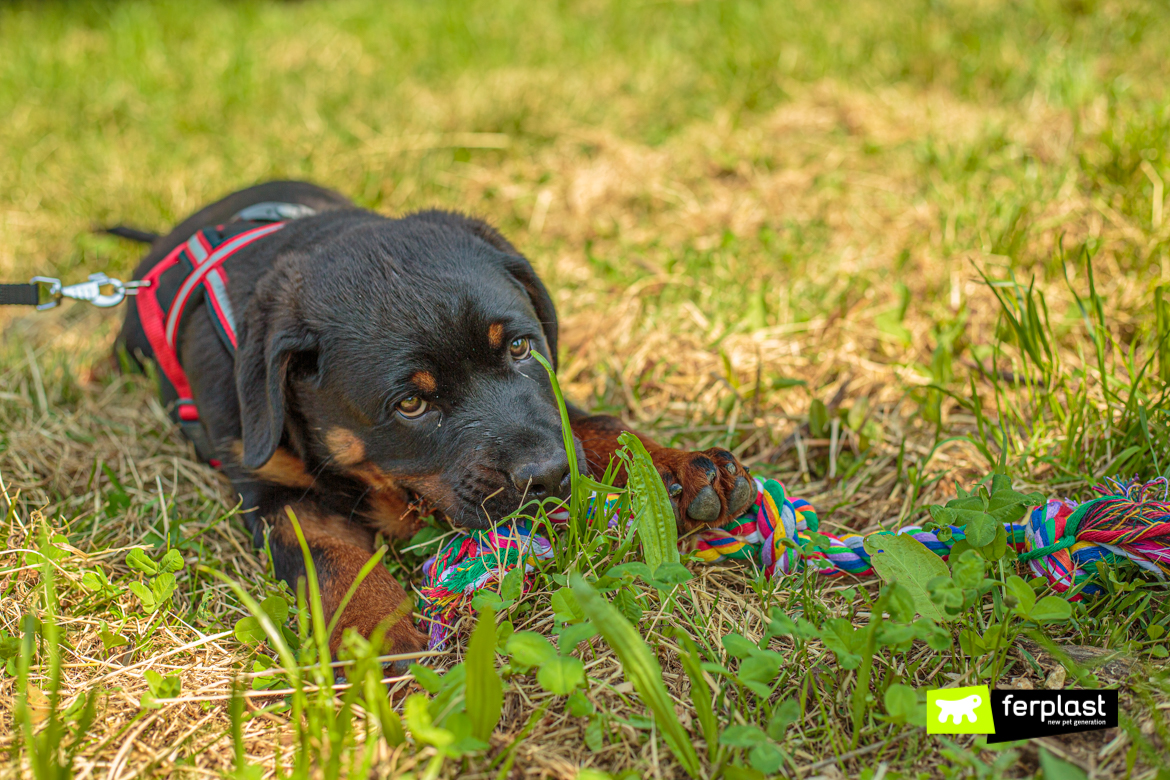 Water bottle, bowl and bottle holder
Finally, after playing and exploring every nook and cranny, it's time for refreshment. Yappy, the silicone rubber bowl, is perfect for holidays, thanks to its space-saving shape: it is completely collapsible and, once closed, can be kept in the backpack without taking up space.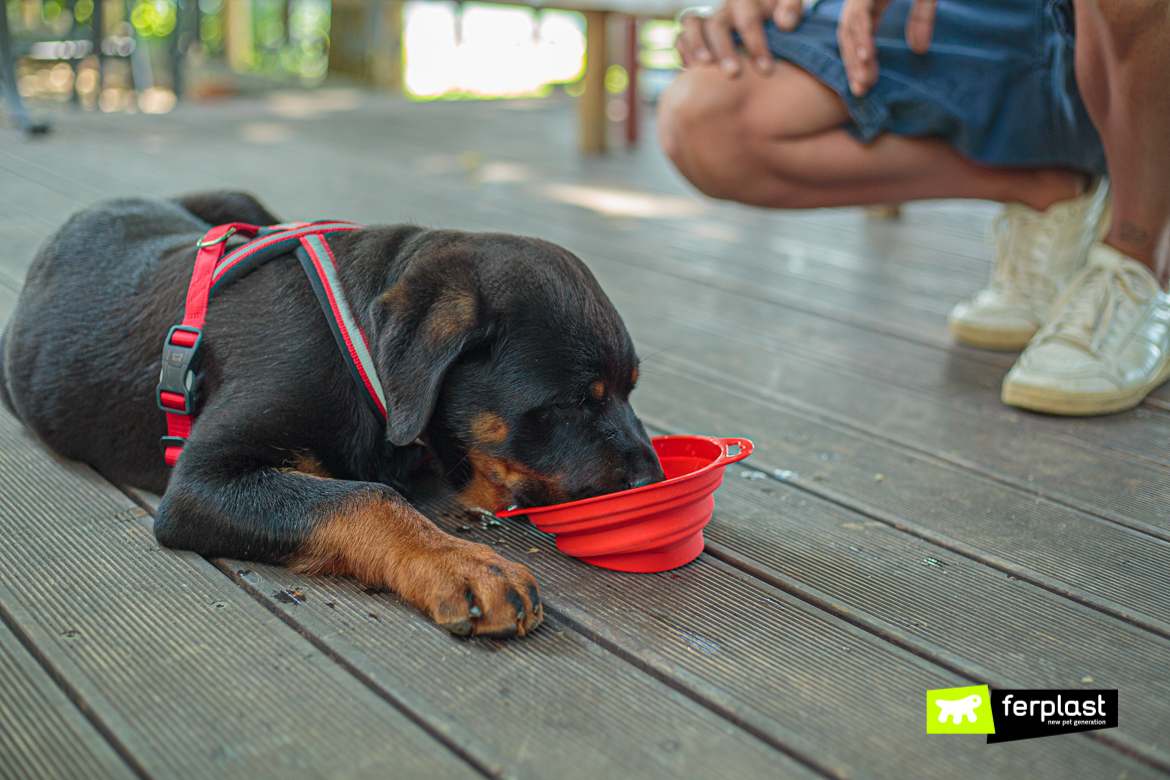 And for drinking, Michael took Ferplast's travel water bottle. It has an integrated drinking bowl, is resealable and easy to use. When your puppy gets thirsty, simply lift it upright and apply gentle pressure on the bottle and let the cool water drain away down.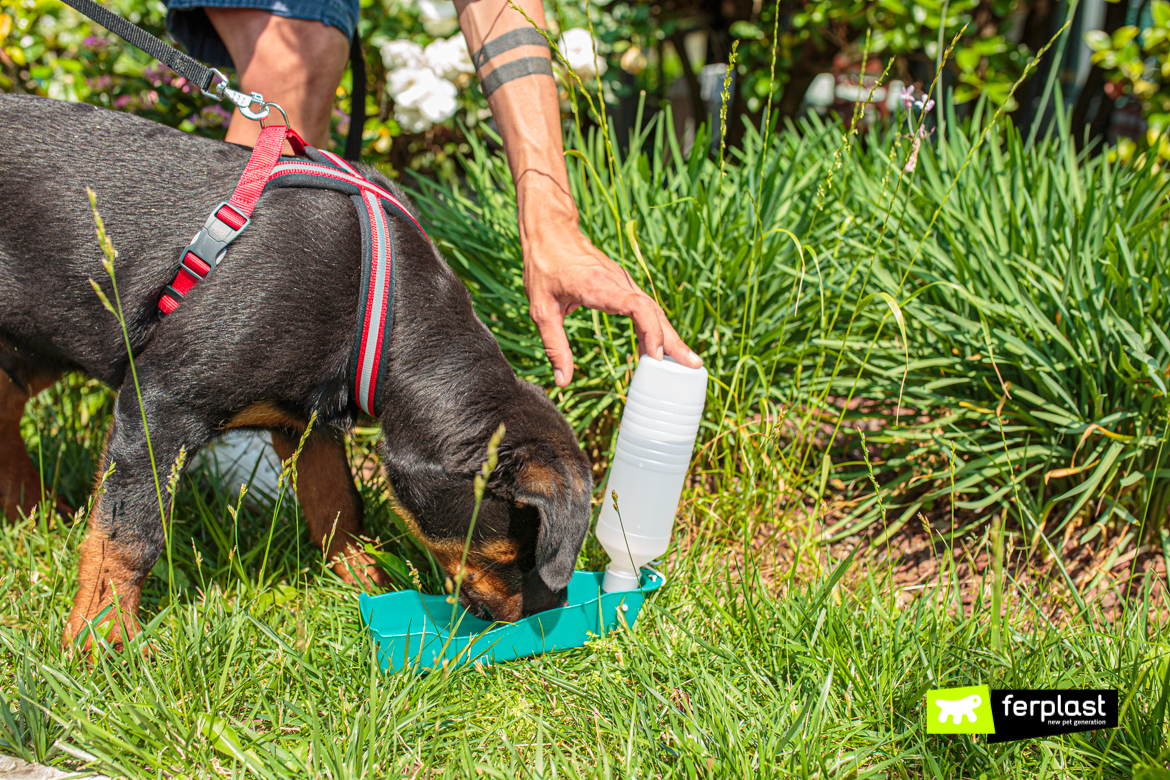 In order to always have some kibble with you, even on outings, Michael decided to bring Treats Bag, the nylon kibble bag with elastic cord closure, to be fixed to the belt. Perfect for keeping your puppy's treats close at hand!
Now that Marcelo is settled, Michael is hungry too. The Rottweiler puppy keeps him company during lunch by Ferplast's Goodbite Natural. These toys come in different shapes and flavours: helix and bone, flavoured with chicken, salmon and cereals. They are effective anti-stress, safe even if swallowed, non-toxic and biodegradable.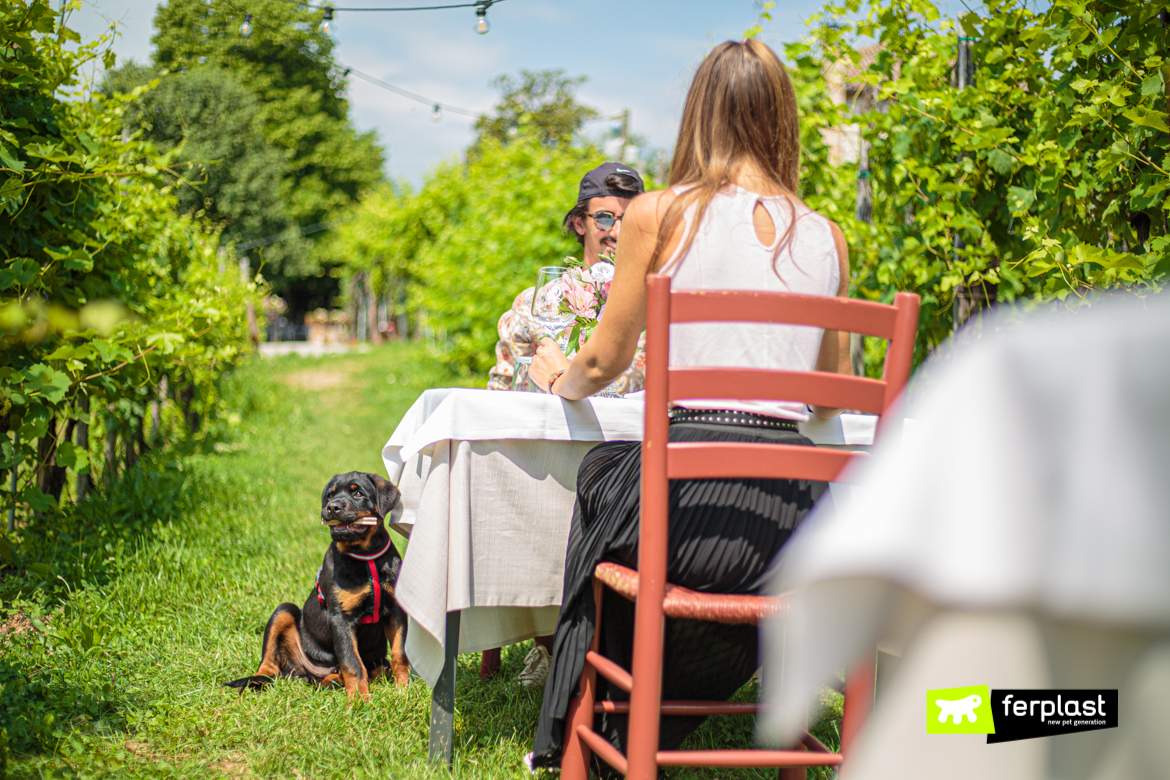 Leash and harness in the city
When going sightseeing in town, Marcelo changes outfit and wears an Ergocomfort Nordic harness. This model, like all the others in the range, features a patented micro-adjustment system that makes it easy to adapt to the dog's size. The practical padded handle on the upper part of the harness gives you more control over your dog. Comfort is also ensured by the choice of the Ergofluo Matic lead, with an automatic hook that can be easily attached and detached from the harness.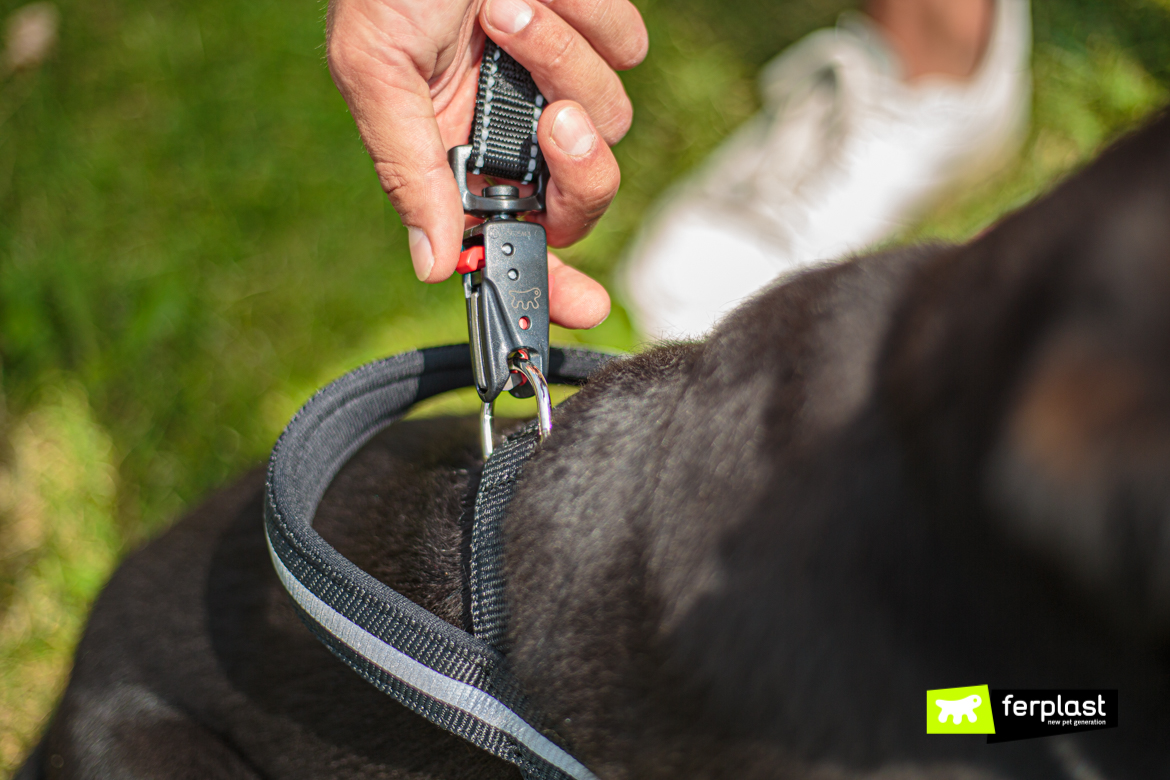 We leave Michael and Marcelo to enjoy their first holiday in the hills of Valdobbiadene. After this experience, puppy and owner's bond will be even more special and they will be ready for more fun.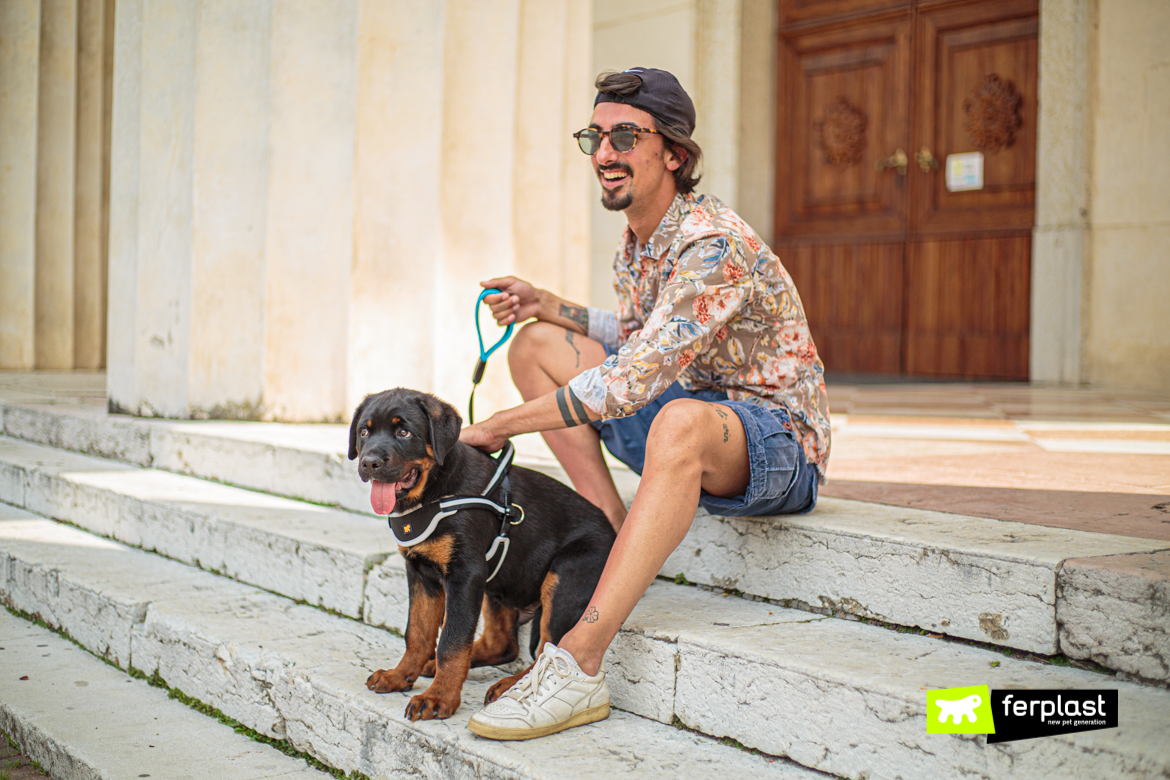 As you can see, the first weekend away with your puppy requires a lot of planning for his well-being as well as ours, but it is also a way to spend unforgettable moments together.