We are back, straight from the most important appointment of the year! We, Ferplast people, have enjoyed very much Interzoo fair in Nuremberg: this year we are celebrating our company's 50th anniversary, so this occasion has been even more special for us.
Our desire for this Interzoo 2016 was to celebrate our first 50 years acting big, with a really original stand. "Welcome" has been our keyword, since we chose the theme "Home Sweet Home". Inside our booth, that was bigger than in the past years, there was a wide area in which a restaurant, with tables and a rich buffet of fine Italian food, hosted our guests for breakfast, lunch and cocktail hour.
We didn't want to lack for anything, so our Interzoo started with a bang: on Thursday evening we had an opening party at our booth, with the unavoidable sparkling wines and a wonderful and delicious three tier cake. The entire Vaccari family took part to Ferplast's 50 years celebrations and made them starting with the toast, the cake cutting and some nice gifts for the guests.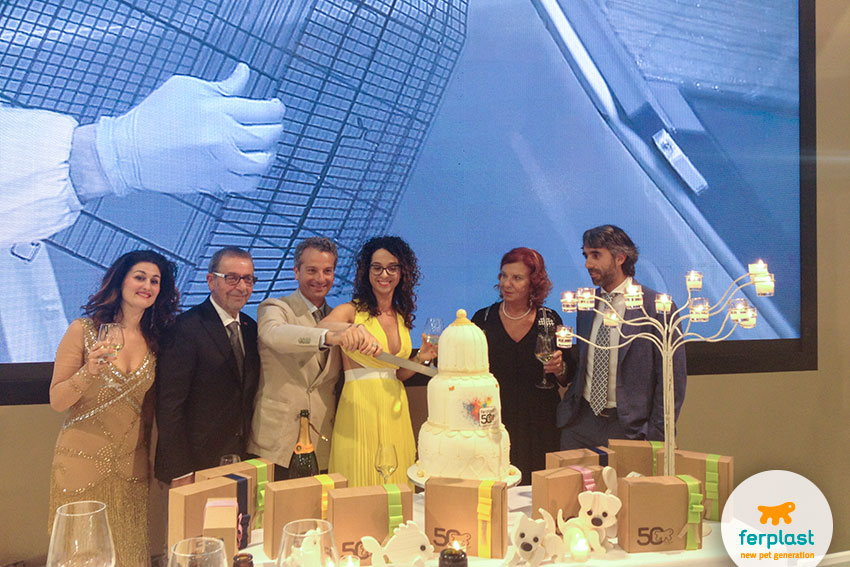 During the fair, many people came visiting our stand and joined us in celebrating our success, discovering the many novelties we have prepared for this special year. Among these, there was Matic, the much-appreciated automatic hook, a great and revolutionary invention that will change the way to attach the leash to dog collars and harnesses. Made of steel and solid plastic, it's absolutely safe, sturdy and above all very practical: thanks to its magnetic mechanism, it attaches automatically to your dog's collar or harness, you just need to press the two opening buttons and put it near the collar's (or harness') metal ring.
The "Home Sweet Home" theme characterized all our booth, since we created colourful and unique domestic settings to display our latest products in their effective application.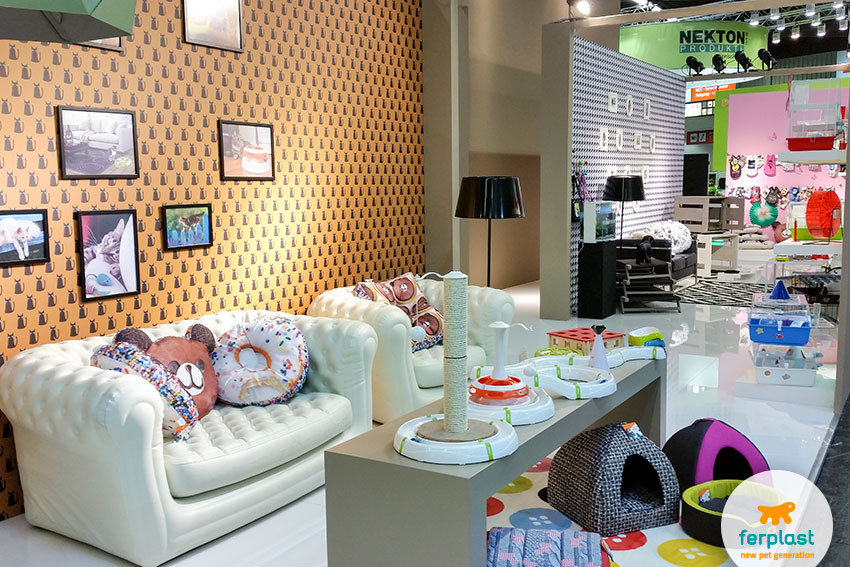 To present the news concerning cat and dog's universe, we set up some proper mini-living rooms, all of them cosy and full of colours, perfect to instill the spirit of Ferplast's new lines of cushions, beddings and other accessories. Nice teddy bears, tasty donuts, candies and some of the sweetest and cutest patterns, included of course the welcoming prints "Home Sweet Home", cheered up all our guests with their brightness. Instead, the experience for whom who visited the area dedicated to aquariums, was like immersing themself into the deep ocean, thanks to the marine atmosphere created by the soft lights, the illuminated fishes and the water tanks. Here are some photos that will make you get the gist.
Thanks to Ferplast nice and pleasant settings, who came visiting us felt at home for sure!