Italians relish celebrating the Feast of the Epiphany and if you too want to rejoice in this great La Befana tradition, you could also prepare a stocking for your four-legged friend. It is very easy to make one by hand, before filling it following our advice!
To render even more special the last holiday of the festive season prior to returning to routine, prepare a beautiful stocking for the La Befana feast day that is personalised and brimming with delicacies and special gifts. One for each family member, including our furry friends!

Making a stocking for La Befana
Take some felt or other fabic in the colour of your choice, perhaps from a a haberdashery or hobby shop. Cut the pieces of cloth into a stocking shape and sew it all up – you can find many useful patterns online as a starting point if needed. If you are not such a deft hand at sewing, you can take some old socks (make sure they are long enough to fit a mulitude of goodies) and decorate them with themed patches, such as in bone, paw or sweets shapes. If necessary, you could even buy a ready-made one – after all, it is the thought that counts!

How to fill your pet's Le Befana stocking
Pleasing your cat or dog takes very little. All that is required is a touch of imagination.
A STOCKING FOR FIDO. Dogs love gifts so you can easily imagine just how much joy could bring waking up to find a beautiful stocking hanging from the fireplace, full of treats just for him. There is nothing better than a tasty treat, kibble and a super-colourful Glam bowl, or perhaps a rubber bone, flavoured dental games like the Ferplast Goodbite Natural that also helps keep teeth and gums healthy – and of course some fun toy balls. Add a sweet Donuts pillow and you're done!
A STOCKING FOR KITTY. Cats are the hardest to satisfy, always being quite opinionated about everything! If you don't want to take any risk, fill their stocking with little mice, fishing poles with a pendant to 'catch', balls of wool and – as their favourite pastime is to snuggle up to sleep – a nice bed decorated with colourful sweets and confectionery to instantly win them over!
A STOCKING FOR HAMSTERS AND BIRDS. If you prefer birds or rodents as your pet, do not despair – we have original ideas for you too. From playful customisable pens with Dragster and Lady Bug stickers that every hamster and mouse would love to call home, to hanging toys and colourful swings, perfect for adorning a parrot or canary cage. The paints used to colour the wood are completely non-toxic, to be enjoyed by your birds in complete safety!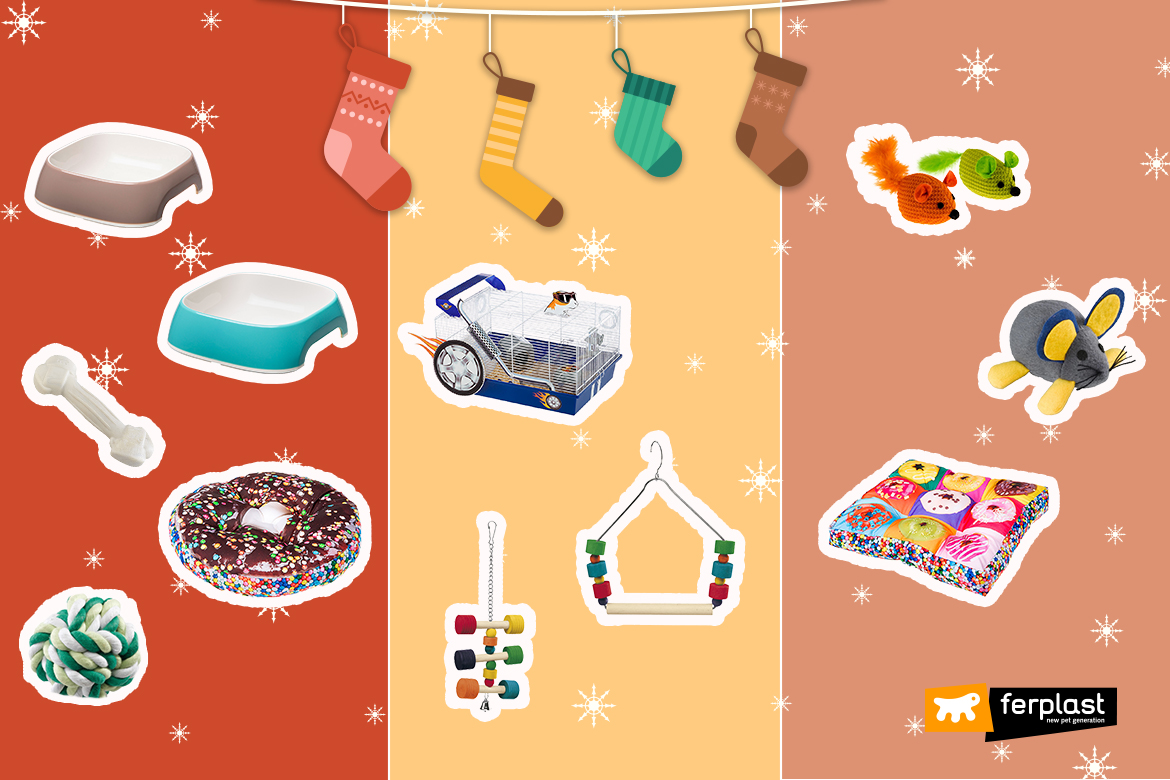 What are you waiting for? Get on with preparing your pet's La Befana stocking!