Prints, studs, bling and, of course, bright and fluo colours: for Ferplast, the autumn/winter 2017 collections are lively and cheerful, just like the dogs that wear them. The Agila and Ergocomfort lines that you're all familiar with are now brimming with new colours and prints. But the absolute novelty is, without a doubt, the Matic carabiner.
Autumn has just arrived, but it won't keep us from walking outdoors with our furry friends: in addition to being a healthy habit, going out means your pet will be having fun and getting to know the world outside. Some dogs are content with a brief walk in the park, while those with more of an adventurous nature love trekking in the mountains. No matter which one you choose, make sure your dog is wearing a practical and fashionable leash and chest harness, like Ferplast's Agila Fluo and Ergocomfort Fluo.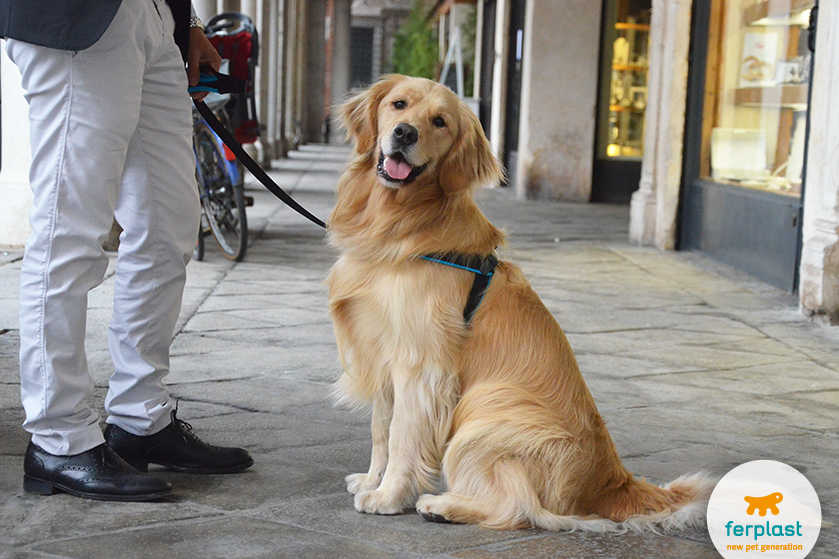 The Ergocomfort Fluo leashes are made of top-quality high-tech materials, sturdy and durable. Their padded ergonomic handle was designed to ensure safe grip and maximum comfort for your hands, and can be used with dogs of any size, as they're available in three different sizes.
The uniqueness and the novelty of these leashes is the Matic automatic carabiner, an exclusive Ferplast patent. With its magnetic system, hooking it to the chest harness or leash is faster and simpler, all the while ensuring maximum rapidity and safety. Ergocomfort Fluo leashes are now available in two new fluo colours, blue and orange, in addition to the existing fuchsia and yellow. You'll be hard pressed to pick a favourite!
Ergocomfort Fluo C collars are also available in fluo colours: made of nylon, they come with soft padding as cushioning against strain and for more comfort for your dog. Thanks to its closing system with double micro regulation, patented by Ferplast, putting it on your dog is even easier and quicker, while its quick-release opening system allows you to remove it with a simple click.
To wrap it up nicely, of course we had to come up with matching Agila Fluo chest harnesses, perfectly adaptable to all body types thanks to their patented closing system with micro regulation and to the joints between the harnesses. They're available in eight sizes, according to neck and chest girth and to weight.
Take a look at our beautiful, proud model, Isotta, as she struts around Vicenza wearing our chest harness!