Cats are very clean animals and particularly attentive to their own hygiene. That is why if you have decided to adopt a kitten as a pet, a cat litter box is a must-have in your home!
It is a sacred place for your kitten and it is good to observe a few precautions to prevent your cat from feeling discomfort and refusing to use it, doing its business elsewhere.
Cat litter: a few tips
It is recommended to store your cat's litter box in a private and easily accessible place, away from heat sources or pathways. Avoid placing it outside, where adverse weather conditions or the presence of other cats could disturb your cat's peace of mind. 
Also, remember not to move the litter box! Cats are very habit-forming animals, changing the location of the cat litter box often may annoy them.
Then try to choose a grit made of small, rounded grains so that it is not pungent, and help yourself to baking soda and activated charcoal filters to prevent unpleasant odours from escaping into the house. 
What if you have more than one cat? Cats don't particularly like to share things! Make sure there is a litter box for each pet and that they are well spaced out.

Which cat litter box to choose? The Ferplast selection!
Ferplast offers a very wide range of both closed and open cat litter boxes, suitable for every need. Which one should you choose? Here is a selection of Ferplast's favourites!
The closed litter box for your cat
The closed litter box is very convenient especially for those who do not have much space. In addition to ensuring maximum hygiene, it is very functional and prevents odours from escaping.
Magix by Ferplast is an enclosed cat litter tray made of sturdy plastic and with ventilation slots equipped with odour-absorbing activated charcoal filters. Thanks to its special sieve cleaning system, it eliminates dirty litter and stores clean litter, ensuring a dry environment for your kitty at all times.
Prima is the easiest cat litter tray complete with a handle (allowing you to easily move it wherever you like), a swinging door and indispensable activated charcoal filters to neutralise unpleasant odours.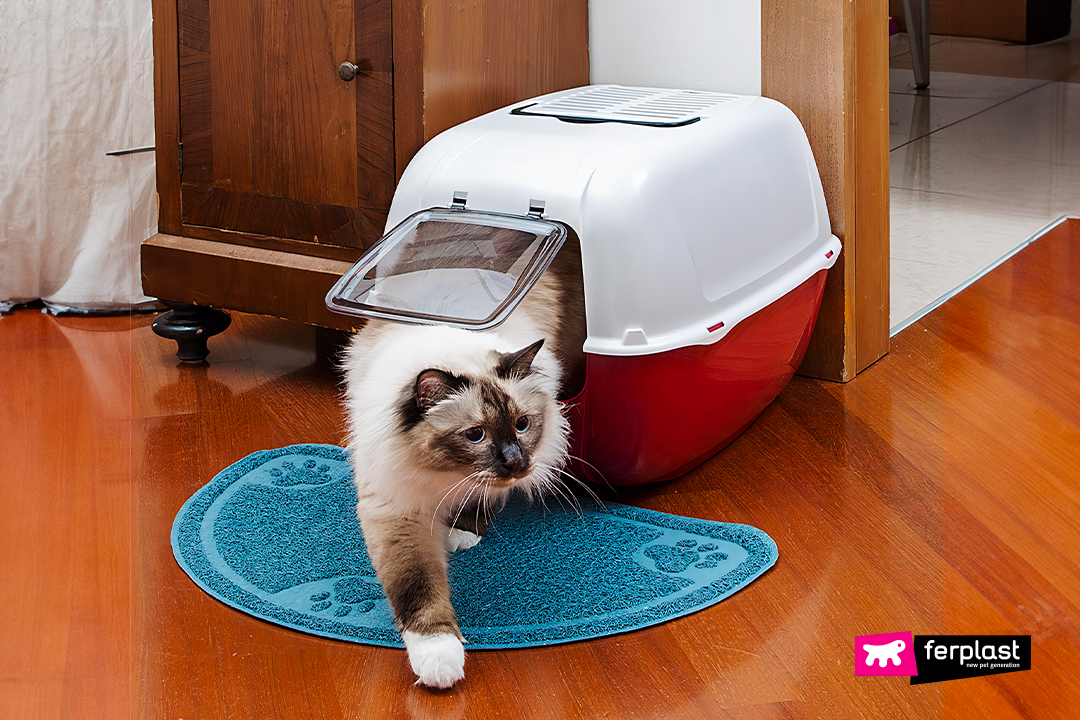 If you want a litter box for your cat with an innovative design, try the Jumpy toilet! It is designed with an entrance from the top, from which your cat can comfortably get in and out without soiling anything. Dirt and liquids will accumulate on the bottom and the small holes in the lid will allow any residue left on your cat's paws to fall into the box. 
Are you looking for a toilet that is suitable both indoors and outdoors, perhaps on a terrace? Ferplast's Bill is the solution. Thanks to the filter placed on the side and not on the roof, it protects from humidity and rain, guaranteeing comfort and dryness even when placed outdoors. Bill is also equipped with a darkened overhead door, roof handle and activated carbon filters. 

The open litter box for your cat
If you are looking for an open and functional litter box, Ariel 10 is the litter box for you. It is made of solid plastic and equipped with a sieve system that avoids litter waste and ensures a comfortable and clean environment for your cat. The bottoms can be separated for easy cleaning and no hygienic bags are needed. 
And if you are short of space at home? Don't worry, you can opt for Dama, an open cat litter box designed to be placed even in the corners of rooms. 
Once you have chosen the perfect toilet for your cat, you can rely on the comfort of the Tapix mat, made of thermoplastic rubber and suitable for both closed and open toilets. It should be placed in front of the litter box and is ideal because the upper part of the mat has a special structure that retains dirt and grains of sand or litter that stick to the cat's paws.
New kitty in the house? Choose the most suitable litter box for your cat and ensure your little pet's hygiene, comfort and convenience with Ferplast.